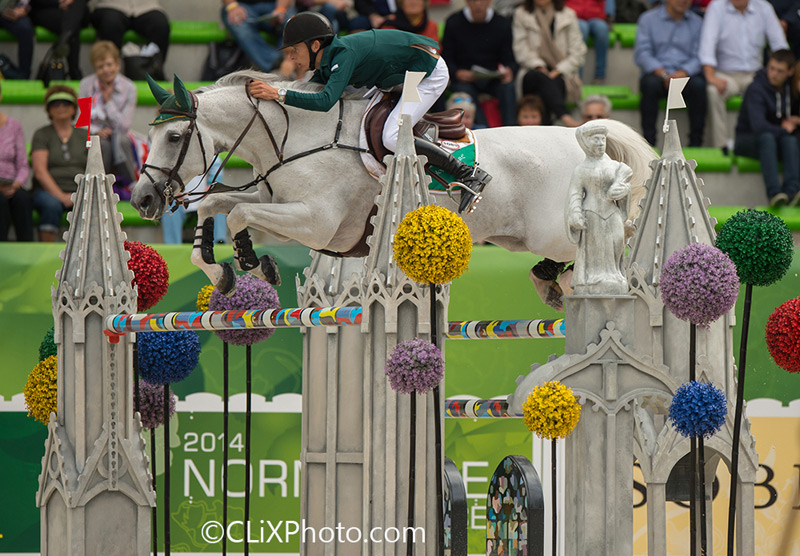 Bertram Allen and Molly Malone V are in first place individually after the opening speed round of show jumping at the Alltech FEI World Equestrian Games. Photo: CLiXPhoto.com
Although he was competing against the reigning world champion, the world's current number one show jumper and several Olympic medalists, Irish rider Bertram Allen kept his cool to win the first jumping test at the Alltech FEI World Equestrian Games in Normandy, France—the speed class.
The 19-year-old rider from County Wexford was riding Molly Malone V, a 10 year old gray A.E.S. mare. His time of 77.01 was the fastest out of 160 riders.
"It all went according to plan which was to get a sound round," said Bertram. "She just jumped everything in her strides. We had some tight turns, but she can handle it, and we really got the distances right today. The course is really nice."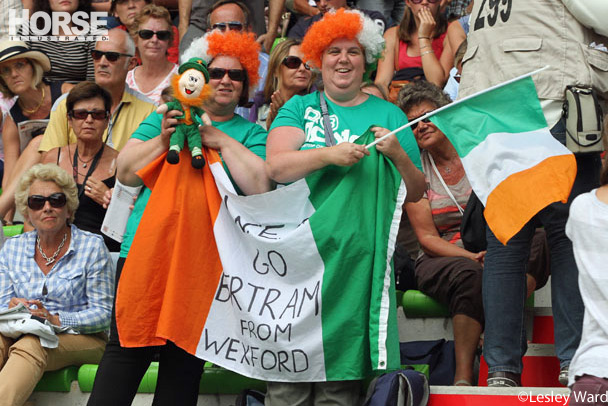 Irish show jumping fans were thrilled to see Bertram Allen take the lead. Photo: Lesley Ward
The course had a French flair, including a fence that featured bottles of Calvados, an apple brandy made in Normandy, and the Etretat Wall fence, named after a town in Normandy.
When asked if he was nervous at all, Bertram shook his head.
"I rode quite a lot of ponies when I was young, and I competed in two pony team championships," explained the young rider. "I'm used to competing in team championships. I don't get nervous or worked up. I stay relaxed."
Bertram wasn't worried about running his mare too hard on the first day of competition.
"I had a smooth, good run. The plan was to run her a bit today. I don't think it will affect her for the rest of the week."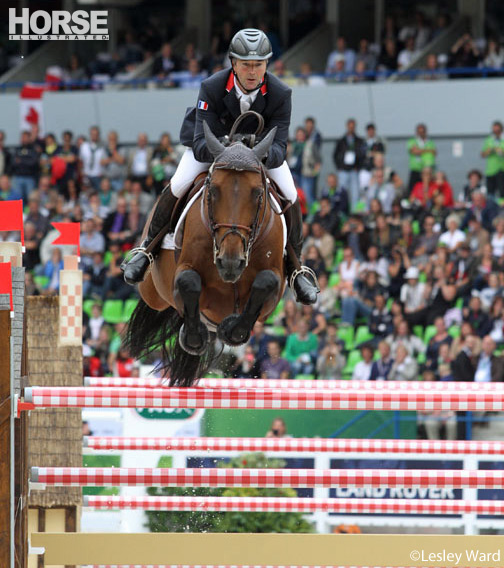 Patrice Delaveau and Orient Express HDC. Photo: Lesley Ward
The crowd in D'Ornano stadium went crazy when local French rider Patrice Delaveau cantered into the arena, but Patrice's round, although speedy, earned him a score of 77.18 and second place.
Third place went to Belgium's Gregory Wathelet with Conrad de Hus.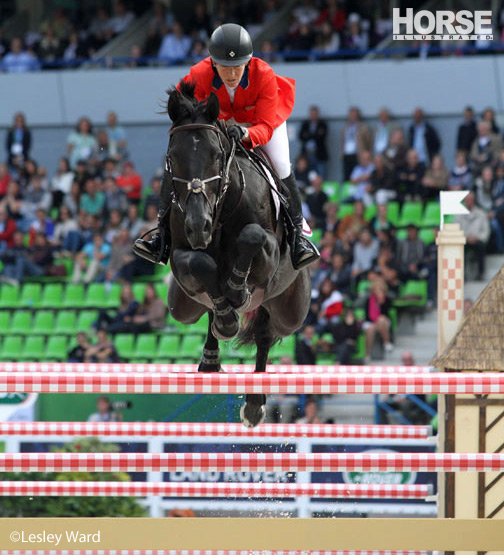 Beezie Madden and Cortes C. Photo: Lesley Ward
Beezie Madden was the highest placed American. She and Cortes C were second to last to jump and had breezed round the course to finish in fourth place with a time of 77.34.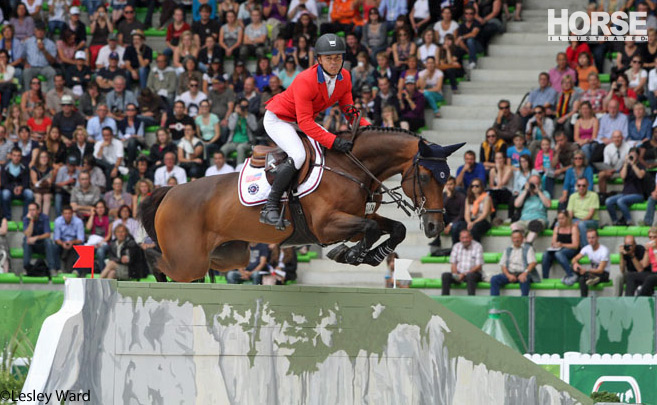 Kent Farrington and Voyeur. Photo: Lesley Ward
Kent Farrington and Voyeur were having a good round until they tipped the back rail of the eleventh fence, an influential oxer that caught out many riders and horses.
Mclain Ward and Rothchild finished 22nd after knocking a rail down at the same fence.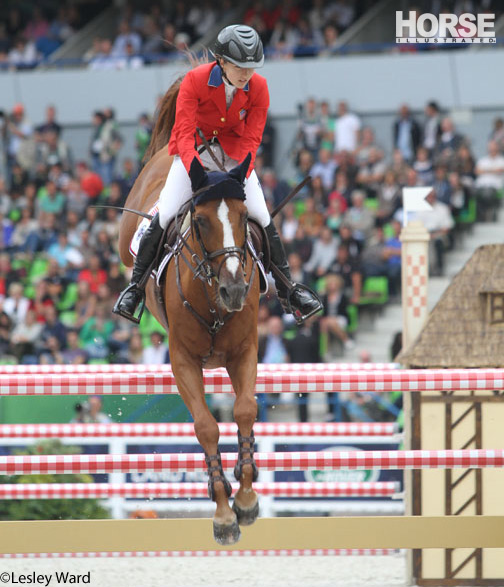 Lucy Davis and Barron. Photo: Lesley Ward
Lucy Davis's Barron crashed through fence 5, the Etretat Wall, knocking the gray bricks in every direction. Lucy almost fell off, but pulled herself back into the saddle and galloped on to the next fence. The pair went on to jump clear around the rest of the course and finish in 70th place.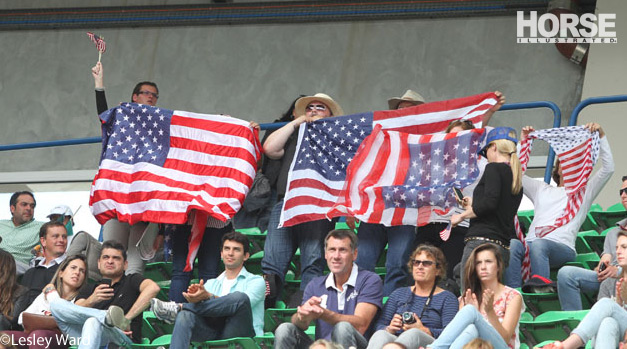 American fans cheer for their show jumping team. Photo: Lesley Ward
Just jumping at these games is an achievement for Lucy, 21, as the young rider from California cut her hand so seriously at the barn two weeks ago that it needed stitches.
The United States team is currently in the bronze medal position, with the Swedes in second place and the very popular French team leading the way in first.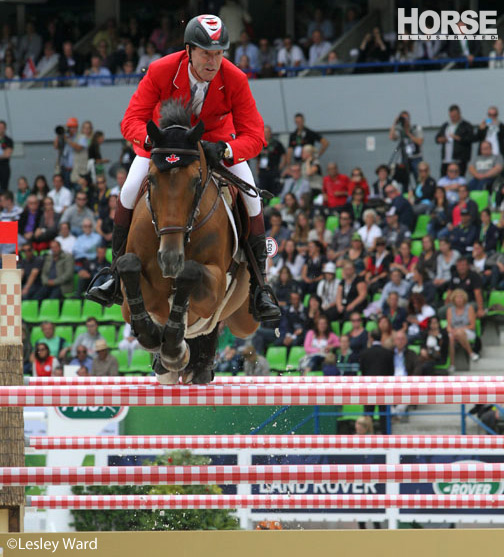 Ian Miller and Dixson of Canada are currently in eighth place individually. Photo: Lesley Ward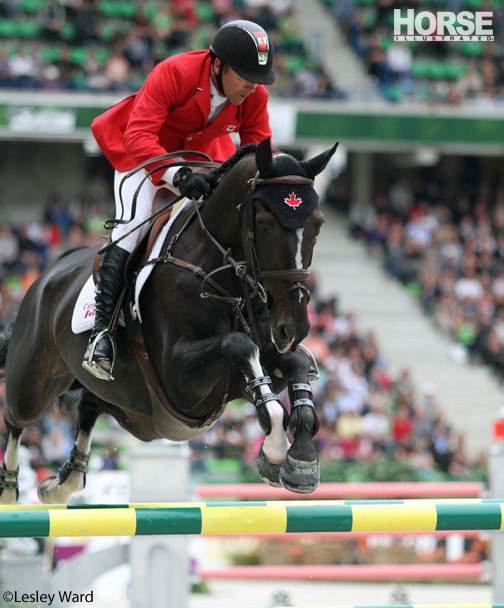 Eric Lamaze stands in 17th place with Zigali P S. Photo: Lesley Ward
Keep up with all the World Equestrian Games news at HorseChannel.com/Normandy2014.
Get competition schedules, results and more at Normandy2014.com.