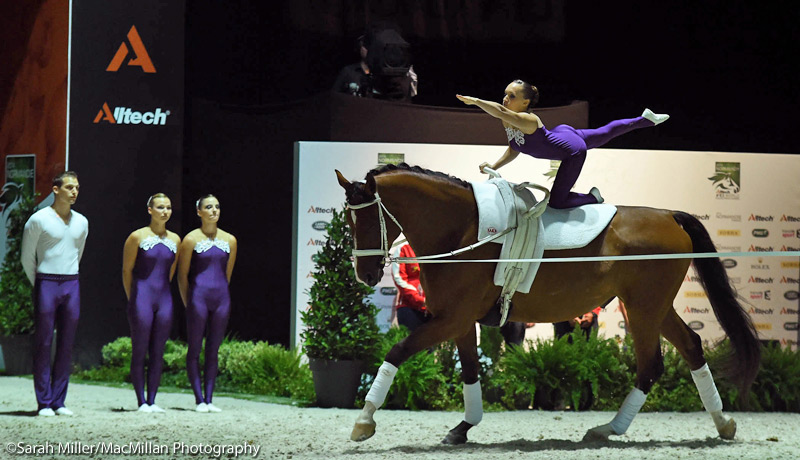 The team from Austria is in first place after the compulsory round at the World Equestrian Games. Photo: Sarah Miller/MacMillan Photography
The second week of the 2014 Alltech FEI World Equestrian Games began with vaulting competition in the Zénith Exhibiton Center.
Vaulting begins with compulsories, where the vaulters perform a series of seven essential exercises on the back of a cantering horse on a longe line. Unlike other WEG sports, male and female athletes compete separately in vaulting, except in the team and pas de deux divisions. The first day included compulsories for men, women, and teams.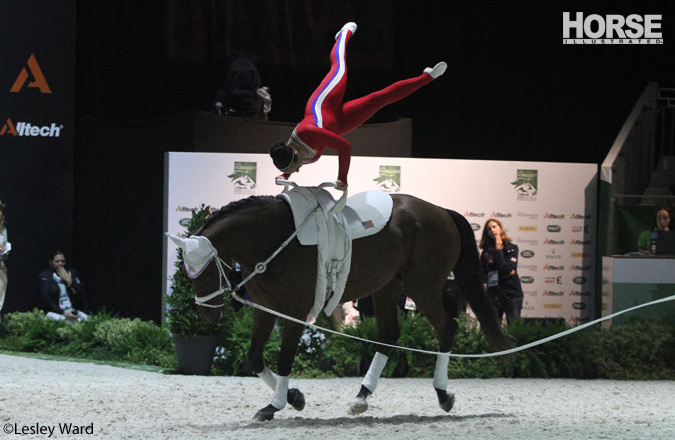 The Woodside Vaulters of California are representing the U.S. Photo: Lesley Ward
The U.S. is the defending WEG gold medalist in the team division, but they face tough competition this year. After the compulsory round, Austria is in the lead with a score of 7.873, but the team from Germany is close behind. Switzerland is in third place with less than 0.1 point separating them from the leader.
Team Brazil. Photo: Lesley Ward
The Woodside Vaulters out of California are representing the U.S. in team competition. Their strong performance earned a score of 6.666, putting them in seventh place out of 17 teams. The team competes with Stanford, a Hanoverian gelding.
The Woodside Vaulters. Photo: Lesley Ward
In the women's division, reigning European champion Rikke Laumann of Denmark topped the leaderboard with an 8.453. 2010 WEG champion Joanne Eccles of Great Britain currently sits in second place with an 8.35, followed closely by Simone Jäiser of Switzerland. Mary McCormick of California is the leading U.S. vaulter in the women's division, currently in sixth place with an 8.080. McCormick is vaulting with 2010 veteran Palatine, a Westphalian gelding.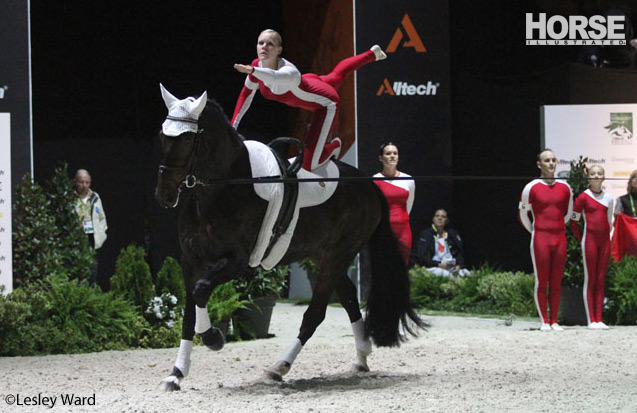 Team Canada. Photo: Lesley Ward
In the men's division, it was another European champion, Jacques Ferrari of France, leading the way with a score of 8.410. Nicolas Andreani, also of France, is in second with Victor Brüsewitz of Germany in third. Gabe Aniello of Texas is the highest placed U.S. vaulter for the men's division, currently in 13th place with a 7.456. Aniello vaults on a Hanoverian gelding named Ferdinand 194.
Team South Africa. Photo: Lesley Ward
Vaulting continues on Wednesday with the individual and team free tests.
Keep up with all the World Equestrian Games news at HorseChannel.com/Normandy2014.
Get competition schedules, results and more at Normandy2014.com.