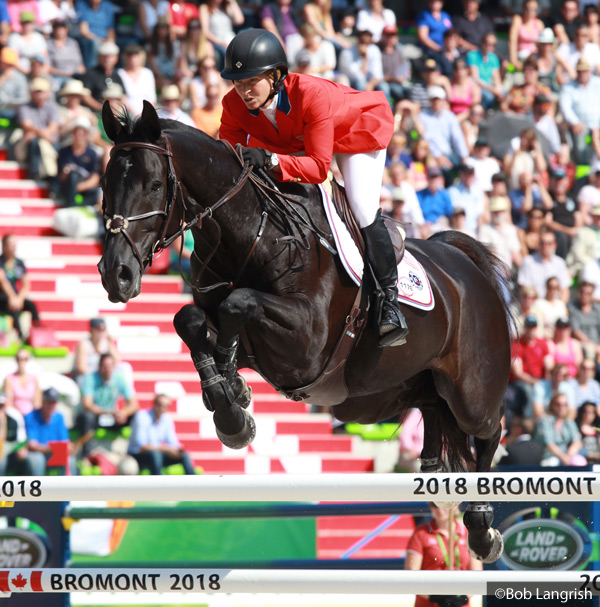 American Beezie Madden is currently in second place individually with Cortes C. Photo: Bob Langrish
The U.S. has an undeniably strong show jumping team for the 2014 Alltech FEI World Equestrian Games, but formidable competition from the European powerhouses of the sport is making them work for their medal hopes.
The second round of competition on Wednesday shook up the individual leaderboard considerably. Tuesday's leader, Bertram Allen of Ireland, had a rail down on the penultimate fence, which moved him down to 14th place. French favorite Patrice Delaveau, yesterday's second place finisher, went double clear to move into the top spot in front of the cheering home crowd.
For the Americans, veteran competitor McLain Ward lead the way as the first rider of the day with the always opinionated gelding Rothchild. Even with an energetic buck mid-course, the pair had a fast, clear round and moved up to eighth place from 22nd on Tuesday.
Kent Farrington was next for the U.S. He added four faults for one unfortunate rail on the second-to-last jump, putting him in 25th overall out of nearly 150 starters. Farrington is riding the Dutch Warmblood gelding Voyeur.
Lucy Davis was next with Barron. The pair had one brick down on the wall to add four faults to their score, putting them in 26th place.
Beezie Madden and Cortes C were the final American pair to tackle the course. An easy double clear round added no faults to their score, allowing them to move into second place behind Delaveau with a narrow lead ahead of third-placed Rolf-Goran Bengtsson of Sweden.
The U.S. team's solid performances today moved them up to second place behind the team from the Netherlands. But the U.S. is only 0.1 point ahead of the third-placed German team and less than two points ahead of France in fourth place, meaning there could be no room for error if they want to stay on the podium.
Show jumping competition continues on Thursday with the individual qualification and team competition. The third individual qualifying competition takes place on Saturday with the exciting final four and individual medals bringing this WEG to a close on Sunday, Sept. 7.
Keep up with all the World Equestrian Games news at HorseChannel.com/Normandy2014.
Get competition schedules, results and more at Normandy2014.com.