The final sport to take the stage at the 2014 Alltech FEI World Equestrian Games in Normandy is combined driving, which started today with the first half of the competitors completing the driven dressage phase.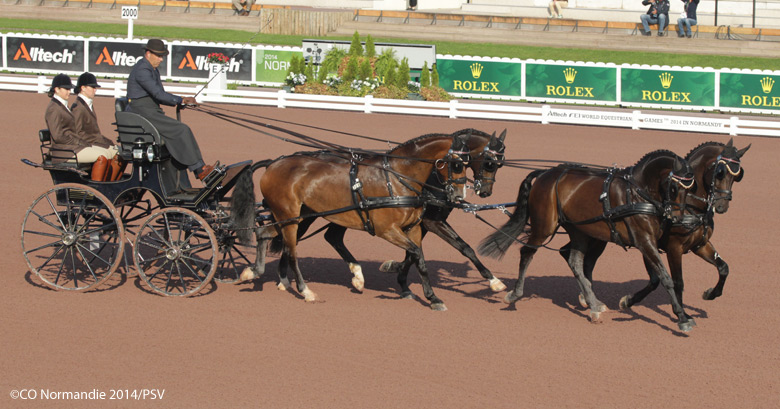 Ijsbrand Chardon of the Netherlands. Photo: ©CO Normandie 2014/PSV

This week's competitors escaped the persistent rain that plagued the first week of WEG competition. Under sunny skies, driving started with one of the world's best four-in-hand competitors, Ijsbrand Chardon of the Netherlands.
Dressage in combined driving is similar to dressage in three-day eventing, although the execution is different. The court is much larger to accommodate four horses and a carriage, and the horses are never asked to canter. Drivers are permitted to use vocal aids to direct their teams. They perform familiar elements, including extended trot, free walk, halt and rein back.
As the trailblazer, Chardon provided a perfect example of how driven dressage should be performed. His team of matched bays performed a relaxed but athletic test with no major mistakes to earn a 42.12.
The first American to drive was Misdee Wrigley Miller of Kentucky. Miller switched from pairs driving to four-in-hand less than a year ago. Although this is her first time competing at WEG, she was involved behind the scenes as part of the organizing committee for the 2010 games.
Miller's flashy team of chrome-lined bay Dutch Warmbloods made an impressive picture in the arena. She lost valuable points when one of her wheel horses took a few canter steps, but her score of 58.05 was good enough for 13th out of 23 on the first day.
Allison Stroud of the U.S. was the final driver of the first day of dressage. Like her teammate Miller, Stroud only recently moved into the four-in-hand horse division, having competed for many years with a four-in-hand pony team. She's made a smooth transition to driving her team of Dutch Warmbloods. A conservative but solid test earned her a 56.1 for a ninth place finish.
On the individual standings fellow Dutch driver Koos de Ronde stands in second behind Ijsbrand Chardon. Christoph Sandmann of Germany is currently in third.
The second half of the drivers will complete their tests tomorrow. One of the most anticipated competitors is American Chester Weber who is currently ranked No. 1 in the world and will undoubtedly help the U.S. medal quest.
Keep up with all the World Equestrian Games news at HorseChannel.com/Normandy2014.
Get competition schedules, results and more at Normandy2014.com.