Watch the Swiss team's squad freestyle test.
Vaulting continued on Wednesday at the 2014 Alltech FEI World Equestrian Games with the men's and women's individual and the squad free tests.
Squad Free Tests
In the vaulting squad competition, the Woodside Vaulters of California are representing the U.S. with the horse Stanford. For their freestyle, the team performed a routine based on The Wizard of Oz. Two unfortunate falls dropped their freestyle score a bit, but they maintained ninth place overall.
The team from Switzerland had a flawless free test for a score of 8.956 to move into second place overall with an 8.357 overall. The German team currently has a narrow lead over the Swiss, standing in first place overall. Austria stands in third place.
Squad competition will continue on Friday, Sept. 5.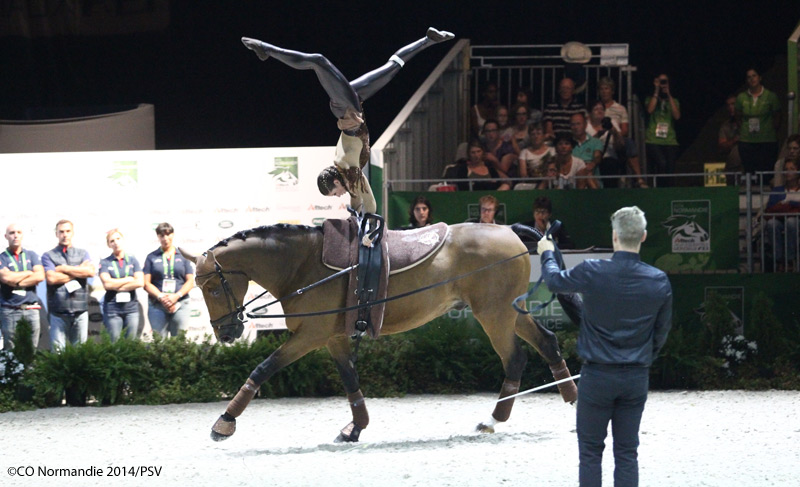 Manon Noel of France. Photo: ©CO Normandie 2014/PSV
Women's Individual Free Tests
Mary McCormick was the first American to take the stage with the veteran vaulting horse Palatine. She had a strong, clean test, but landed a bit unbalanced after her dismount, causing her to put her hands on the ground. Her score of 7.869 put her in eighth place.
McCormick's test was immediately followed by teammate Mary Garrett, also vaulting on Palatine. Garrett performed well, but missed her dismount. Her score for the test was a 7.301, a 20th place finish at the end of the day. Only the top 15 will continue to the next rounds, which means Garrett's individual quest has ended. However, she will compete with fellow Kristian Roberts in the Pas de Deux later this week.
Reigning 2010 individual women's gold medalist Joanne Eccles of Great Britain returned to defend her title. Vaulting is a family affair for the Eccles, with father John Eccles as lunger for both Joanne and her sister Hannah. Hannah vaulted first of the two today aboard WH Bentley. A slight error in the shoulder stand marred an otherwise impressive test. Her 8.217 put her in 11th in the championship classification at the end of the day.
Joanne's test demonstrated exceptional strength and balance with big jumps, concluding with a perfect dismount. A big score of 8.888 gave her a decisive lead in the women's individual competition.
Elizabeth Ioannou was the next American to vault aboard Jarl, a 16-year-old Dutch Warmblood gelding. Ioannou vaults with the Mt. Eden Vaulters in California and is a veteran of the 2006 WEG in Aachen, Germany. Her test today was confident and bold, earning her a 7.959 for the round and securing her spot in the next round.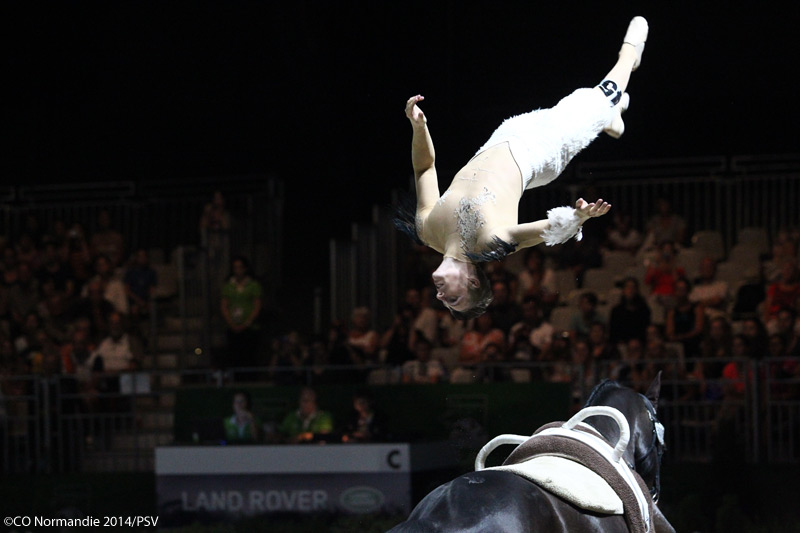 Jacques Ferrari of France. Photo: ©CO Normandie 2014/PSV
Men's Individual Free Tests
In the men's division, France's Jacques Ferrari is having a phenomenal WEG in front of the home crowd. Vaulting on Poivre Vert, he earned a score of 8.846 for his free test, which proved unbeatable by day's end.
Another French vaulter landed in the second place spot. Nicolas Andreani, reigning world champion, scored an 8.740 despite a botched landing. Germany's Erik Oese currently sits in third place.
Of the American men, Patrick Stevens was the first to go. Vaulting on Palatine, he performed well but had a mistake on the dismount. His 7.127 put him in 17th place, which unfortunately isn't enough to qualify him for the technical tests on Thursday.
Kristian Roberts was the next American with Diva 506, an Oldenburg mare. A bold and error-free test brought him a score of 7.459 and put him in 12th place. The top 15 will continue on to the next round.
The final American was Gabe Aniello of Texas, vaulting on Ferdinand 194 to music by Peter Gabriel. A good performance put him in 13th place, allowing him to continue to the next round.
Vaulting continues on Thursday with the technical tests and Pas de Deux.
Keep up with all the World Equestrian Games news at HorseChannel.com/Normandy2014.
Get competition schedules, results and more at Normandy2014.com.