The second day of the driven dressage phase of combined driving at the 2014 Alltech FEI World Equestrian Games started under gray, foggy skies. But spectaors were out in force to see some of the sport's top names compete for a world championship title.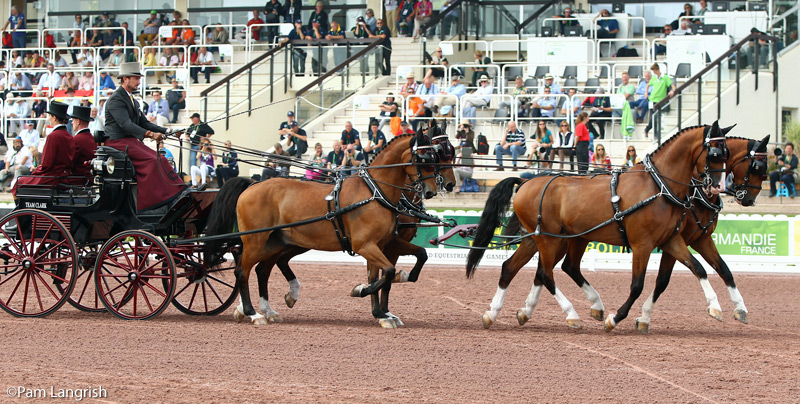 Chester Weber of the U.S. stands in first place after the dressage phase. Photo: Pam Langrish.
The 2010 WEG gold medalist, Boyd Exell of Australia, is again one of the favorites to medal at these games. He lived up to the high expectations , piloting his team of black horses through a smooth, accurate test. Like eventing, the scores are given in penalties, meaning a lower score is better. Exell's score of 35.51 was more than seven points ahead of the overnight leader, Ijsbrand Chardon of the Netherlands.
Theo Timmerman for the Dutch team entered with his team of bays and expertly executed a clean test. His 37.28 was enough to surpass his teammate, Chardon, but not quite enough to best Exell's score.
The much-anticipated arrival of American Chester Weber and his team of Dutch horses occurred in the middle of the afternoon session. Weber is a longtime international competitor and is far and away the top American competitor in the four-in-hand division. He's at a high point in his impressive career right now as he is currently the No. 1 ranked driver in the FEI. If the pressure to perform well here affected him, he didn't show it. Weber's test was not just clean and accurate, but his horses were powerful and athletic, creating a picture-perfect image of dressage. With an unprecedented perfect score for presentation, Weber earned a 32.21 for a three-point lead over Exell.
With the completion of the dressage phase of this three-phase event, the team from the Netherlands has an 11-point lead over the second-place team from the U.S. Hungary is six points behind in third.
Driving continues on Saturday with the marathon phase, which is a carriage-driving version of eventing's cross-country. The competitors will drive through open country and will navigate their teams through obstacles, called hazards, while being timed.
Read more about combined driving at the 2014 WEG:
Combined Driving Begins at WEG
Keep up with all the World Equestrian Games news at HorseChannel.com/Normandy2014.
Get competition schedules, results and more at Normandy2014.com.