Today's show jumping individual qualifier at the 2014 Alltech FEI World Equestrian Games separated the top four individual riders from a group that had started at more than 150 at the beginning of the week.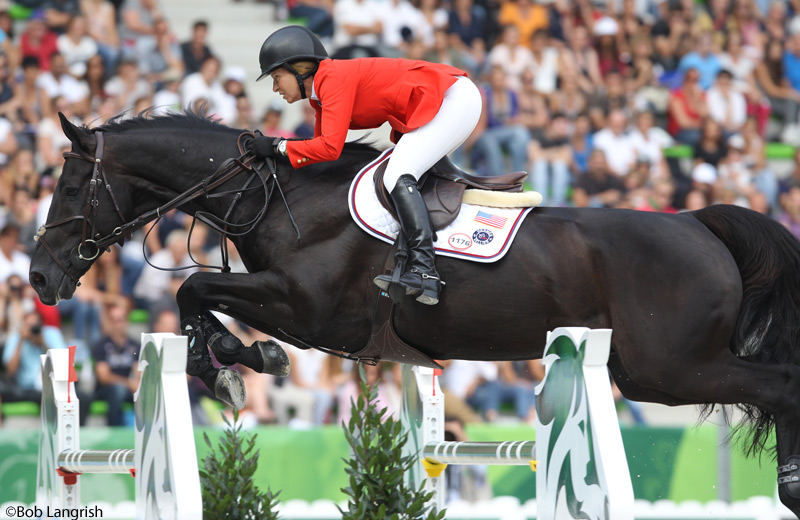 Beezie Madden and Cortes C of the U.S. have qualified for the show jumping's final four at the 2014 Alltech FEI World Equestrian Games. Photo: Bob Langrish
The top 30 horse-and-rider pairs after the team competition returned for the first round of the individual qualifier on Saturday morning. Several riders who had qualified, including American Kent Farrington, knew their cumulative scores made it highly unlikely that they would reach the top four, and opted out of this round in favor of saving their horses for another day.
The first American on the start list was McLain Ward with his 13-year-old gelding, Rothchild. "Bongo," as he's known around the barn, is capable of double-clear rounds, but Ward would have to manage the horse's energy to make it happen. Things came together for the pair in the first qualifying round today, and they were able to pull off a clear round to move them up to sixth place individually.
After their silver medal in the team competition, the French were hopeful for another show jumping medal at these games. But rails down by both Kevin Staut with Reveur de Hurtebise HDC and Pénélope LePrevost with Flora de Mariposa knocked them out of the running. That left Patrice Delaveau and Orient Express HDC as the final hope for a French contender in the final four. The pair pulled it off with a double clear round, putting them in second place.
As the standing leader, U.S. team anchor Beezie Madden was the final rider to go in first round. Madden and her Belgian Warmblood gelding, Cortes C, hadn't dropped any rails or picked up a single time fault in the competition thus far. Unfortunately, one early rail in this round tarnished their record, but they held enough of a lead to remain in third place.
Rolf-Goran Bengtsson and Casall Ask of Sweden took over the lead at the end of round one with just 0.34 penalties carrying over.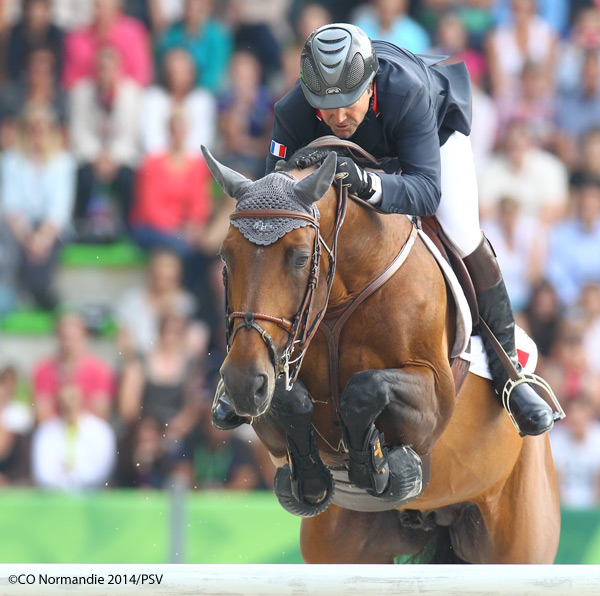 Patrice Delaveau and Orient Express HDC. Photo: CO Normandie 2014/PSV
After a brief break, the leading horse-and-rider pairs returned for the final qualifying round where even a single rail down had the potential to reshuffle the top four standings.
Ward and Rothchild pulled off another double clear round to maintain their score of 6.56 penalties. But in order to reach the final four, two of the remaining five riders would have to make mistakes.
Daniel Deusser of Germany with Cornet d'Amour, standing in third, dropped a single rail, which was enough to move them below Ward and Rotchild.
Madden and Cortes C were up next. They returned to their flawless form, turning in a clear round to secure her spot in the final four. Madden now has a chance to add another medal to the team bronze the U.S. earned earlier this week.
Delaveau and Orient Express HDC were next, performing under the pressure of carrying France's medal hopes with them. A few close moments undoubtedly kept the French crowd on edge, but they pulled off a clear round to maintain their spot in the finals.
Rolf-Goran Bengtsson and Casall Ask had a rail in hand to stay in the final four, and he used it early on course. But he finished without picking up any more faults, putting him in third place to give him a spot in Sunday's finals.
Jeroen Dubbledam and Zenith SFN of the Netherlands, Rolf-Goran Bengtsson and Casall Ask of Sweden, Beezie Madden and Cortes C of the U.S. and Patrice Delaveau and Orient Express HDC of France will ride in Sunday's final four. After completing the course on their own horses, the riders will switch horses three times and ride the course on each of their competitor's mounts. This will not only determine the medal winners among the riders, but the horse with the best finish from the four rounds wins the title of "Best Horse in the World."
This World Equestrian Games will conclude with the finals of jumping and combined driving tomorrow, Sept. 7.
Read previous 2014 WEG Show Jumping coverage:
Opening Day of Show Jumping at WEG
U.S. Show Jumping Team Moves into Silver Medal Position
The Netherlands wins Show Jumping Gold
Keep up with all the World Equestrian Games news at HorseChannel.com/Normandy2014.
Get competition schedules, results and more at Normandy2014.com.