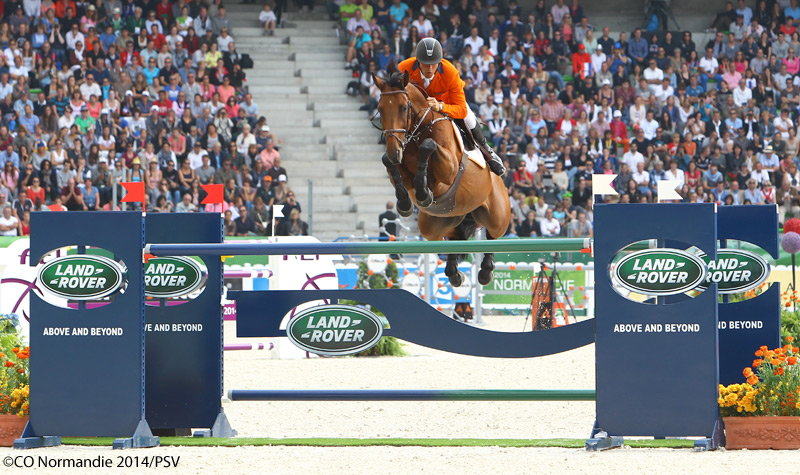 Jeroen Dubbeldam and Zenith SFN of the Netherlands. Photo: CO Normandie 2014/PSV
The 2014 Alltech FEI World Equestrian Games concluded today with show jumping's final four. In this round, the top four riders return to complete a course on their own horses, then swap mounts with their competitors to complete the same course another three times on the other horses.
The final four competitors were:
Jeroen Dubbeldam from the Netherlands with Zenith SFN, a 2004 Dutch gelding.
Rolf-Goran Bengtsson from Sweden with Casall Ask, a 2002 Holsteiner stallion
Beezie Madden from the U.S. with Cortes C, a 2002 Belgian Warmblood gelding
Patrice Delaveau from France with Orient Express HDC, a 2002 Selle Francais stallion
Rolf Goran Bengtsson had an unfortunate rail down in his first round with his own horse, Casall Ask. The other three went clear for the initial round.
Bengtsson was the first to return for round two, this time mounted on Dubbeldam's Zentith SFN. He had one rail down and two time penalties added to his score. Madden had one rail in the middle of the triple combination with Casall Ask, but stayed within the time to pick up just four penalties. Delaveau went clear with Cortes C, as did Dubbeldam with Orient Express HDC.
Madden was up first with Zenth for round three. Another four faults, this time from the third fence of the triple, went on to her score. Delaveau left the rails up with Cassal Ask, but picked up a single time fault. Dubbeldam went double clear with Cortes. Bengtsson was having a perfect round with Orient Express until a heartbreaking rail on the final jump.
Delaveau started the final round with Zenith. He went double-clear, guaranteeing at least silver. Dubbeldam would have to go clear with Casall Ask to hang on to his gold, and he did, adding an individual championship to the Netherlands' team gold earlier in the week. That left just the bronze medal up for grabs.
Bengtsson had a clear round on Cortes, but with 14 faults carrying over, he would need Madden to make several mistakes in order to secure a medal. Madden had a rail down in the triple, but with a six fault lead over Bengtsson, she could still take a medal if she rode carefully. She pulled it off, nabbing the bronze.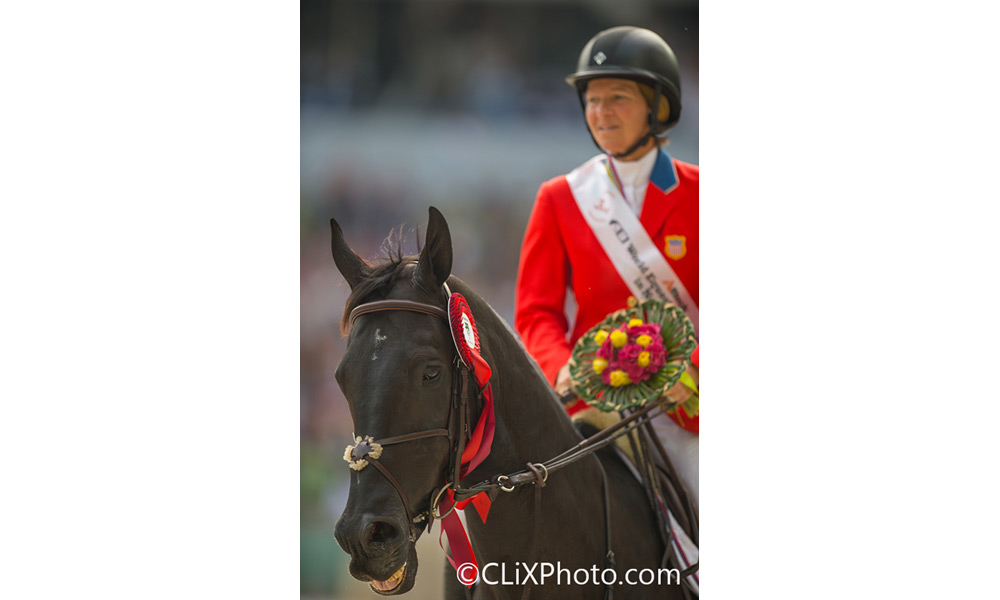 Beezie Madden and Cortes C of the U.S. Photo: CLiXPhoto.com
Notably, Cortes C took the distinction of being the only horse to go clear with all four riders, an honor earned by the great Hickstead in 2010.
The show jumping final concluded competition at the 2014 WEG with just the closing ceremonies left to go. The next games will take place in 2018 in Bromont, Canada.
WEG Show Jumping Medal Standings

Individual
Team
Jeroen Dubbeldam (NED)
Netherlands
Patrice Delaveau (FRA)
France
Beezie Madden (USA)
United States
See more 2014 WEG Show Jumping coverage:
Opening Day of Show Jumping at WEG
U.S. Moves into Silver Medal Position
The Netherlands Claims Team Gold
Beezie Madden Keeps Medal Hopes Alive
Catch up on all the World Equestrian Games news at HorseChannel.com/Normandy2014.
Get competition schedules, results and more at Normandy2014.com.