The ad read: Beginner safe horse needs a good home. Extensive trail experience. Easy to handle. Since the price was right too, I rushed up to see this Quarter Horse mare for myself. She was calm and stood quietly while tacked up. I was attracted to her size, demeanor, and soft expression. Except for some head tossing and fussing with the bit, she rode decently for a horse who hadn't been ridden in a year. I was considering her as a lesson horse, and her low energy and smooth gait further increased her appeal.
Shortly after arriving at the author's barn
Though her conformation wasn't award-winning, her legs were clean, correct, and she was barefoot and sound on varied footing. However, I was told she'd blown abscesses the year before in each and every foot! While unusual, strange things happen with horses. I wasn't concerned that it was a metabolic problem since she appeared to be a hard keeper (a 3 on the Body Condition Scale). She was underweight in a pasture with well-fleshed horses – not a pudgy candidate for insulin resistance.
As a trainer and passionate problem solver, I was creating my checklist of what to do for this horse before committing to buy her: Address diet, dental work, condition, trim hooves, build balance and confidence under saddle. I felt comfortable with what I'd seen and eager to get to work, so I purchased her.
The day she arrived was bitterly cold. Since she was underweight, putting on a blanket was necessary but turned into an unexpected challenge instead of an easy task. I figured I could simply walk into the pasture and throw the blanket on this 13 year old mare. Not true! I couldn't get near her. It took at least 20 minutes of following her on icy ground before she let me slip a lead over her neck and then a halter. What followed as I attempted to place the blanket on her was ear pinning, bared and biting teeth, and a deliberately aimed hind foot swinging at me when I neared her backend. The blanket finally went on after many minutes spent rubbing her with a dressage whip and setting rules about respecting halter pressure and personal boundaries. My fabulous boyfriend who at the time had no horse experience graciously volunteered to help. He kept her head steady while I cautiously secured leg straps. I figured I had a better shot at avoiding a kick, while he kept her chomping teeth at bay.
I later discovered that she had probably never worn a blanket, yet her behavior was too extreme and persistent to pin on lack of experience. My interpretation was that she was defensive because she felt fearful or insecure; not desirable traits for a lesson horse.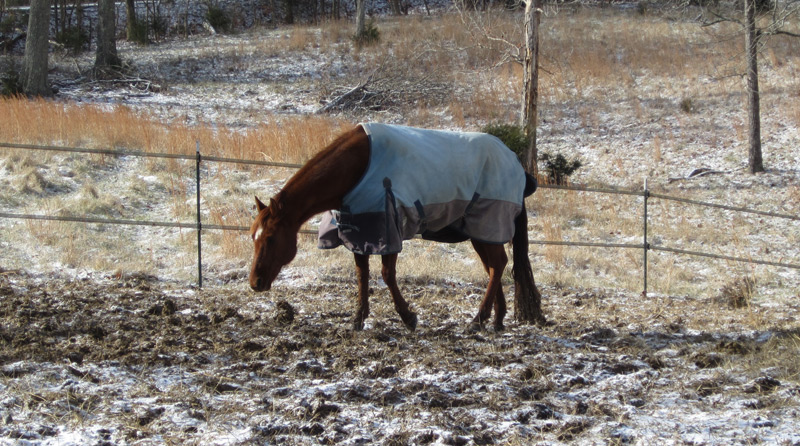 The mare eventually learned to love her blanket.

The next problem was putting weight on her. The arctic winter didn't help, but even with worming, equine dentistry, free choice hay, and low glycemic/high caloric foods, her ribs were persistently visible. Once Spring arrived, her flesh began to fill in, but with it came the laminitis. I was only surprised long enough to remember that I knew she'd abscessed on all four feet the year before. It turns out that she is highly sensitive to sugars despite her body type, and had a couple of significant events that left her with sore feet, me scrambling to figure out a metabolism-balancing diet, and a checking account less robust after spending money on various supplements, feeds, hoof boots, more hoof boots, and pads.
It's late summer now and there have been no more surprises. After 8 months of trial, error, and discovery, Rayna is doing really well. She is still recovering from her bouts with laminitis, but trots around easily with her hoof boots on and moves well even when they come off to give her feet a rest. Overall, she's made great strides physically and mentally. Her metabolism is in check with a special diet she'll be on for the rest of her life. She's no longer the cranky scaredy-cat she once was – no more biting and kicking! Yay! She's easy to catch, groom, and pick feet without a halter. Though formerly reserved and detached, she now enjoys attention and she and my boyfriend have formed a close bond. The two have learned a lot from each other and she feels confident with him. He can halter her, take off and put on her boots, and fly spray her (if I try to fly spray her she has a fit!).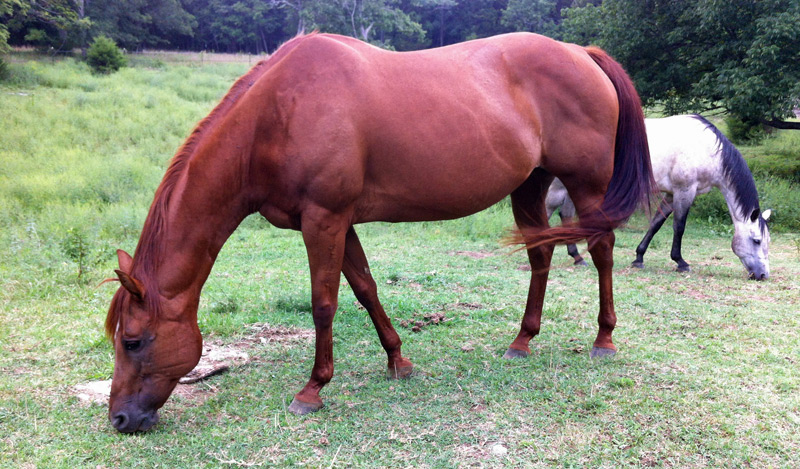 Looking like a new horse this summer after months of care and training.
Riding is our next challenge. I have no expectations and we will cross whatever bridge presents itself. If it turns out to be a rickety one, I'll find a way to make it stable and secure. Despite what you're told and what you might see when you meet a horse for the first time, you don't really know what you've bought. Nevertheless, I am glad Rayna is here and part of our family. She's taught me a lot and I am grateful to have the opportunity to help her too.
Liked this article? Here are others you'll enjoy:
Life with Horses: Buyer Beware
Be Smart When Horse Shopping