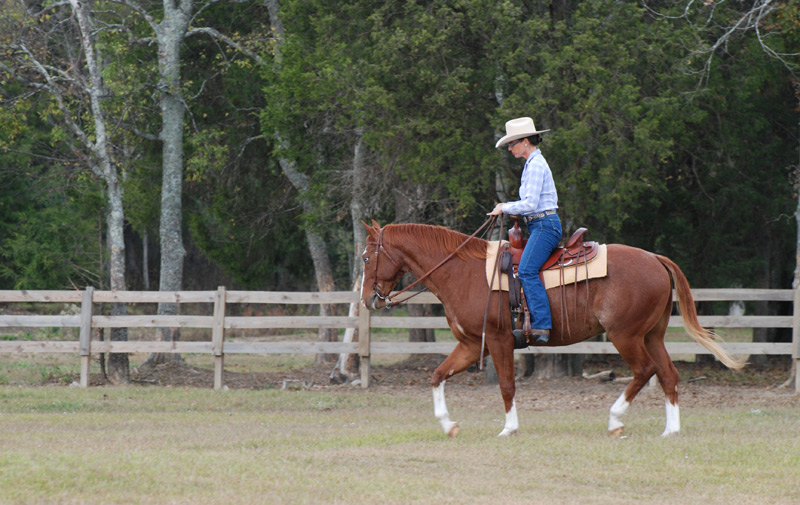 When trying out a potential horse, ride in the same manner you intend to ride him at home. Photo courtesy Dale Rudin

You're horse searching with carefree confidence in your ability to choose "The One," but do you have the shopping savvy to know for sure? Buying a new horse is a thrill but elation dissipates quickly if you bring the wrong horse home. Caution is your friend. A horse is a significant purchase, whether you spend $500 or $50,000. Once money exchanges hands, the horse is yours. Having a shopping strategy increases the odds that the horse you bring home with is exactly what you want.
Begin the shopping process by educating yourself about horse conformation and movement, paying special attention to the breed(s) in which you're interested. Objectivity and knowledge provide you with the critical eye needed to evaluate a horse for purchase. If you are not confident in your ability to assess the suitability of a horse, bring along an expert or competent friend to help you.
When you schedule your visit ask that the horse not be worked prior to your arrival so he's fresh from the stall or pasture and you can see him being caught, haltered, and led.
Once you arrive:
Watch the horse work at liberty in a round pen or on a longe line. Notice how he moves through his gaits, his energy level, personality, and how he interacts with his handler.
Watch the horse as he's being tied, groomed, saddled, and bridled.
See if the horse stands quietly while being mounted and unmounted.
Ask questions. The more you learn about the horse and his background, the easier it is to make a final decision. Here are some to get you started:
Why are you selling your horse?
Does he have any health issues, special dietary needs, injuries (old or recent), or illnesses?
Is he up to date on vaccines, farrier, and dental care?
What are the two worst things about this horse?
What kind of experiences has he had inside and outside the arena?
Has he been taken to any shows, trail rides, or events?
How is he with other horses?
How does he behave when separated from herd or barn mates?
Does he tie, bathe, haul, stand for the farrier, and accept being groomed, saddled, and bridled?
How would you describe his current level of training?
What type of bit do you use on this horse and why?
Is there anything else I should know about your horse?
If you like what you have seen and heard so far, it's time to see how you and the horse work together.
Handle the horse and ride him in the manner you would at home to see if he's compatible with your personality, level of experience, and riding/handling style.
Ask him to perform whatever tasks you may ask of him at home, such as performing in all gaits, backing up, bending, flexing, stopping, standing quietly, and opening a gate.
Ride around the property or take him on a trail ride if that's in his future with you.
Be aware of his behavior and responsiveness to your cues and reactions to changes in his surroundings.
Judge the horse with an open mind. Avoid preconceptions.
Your horse needs to be a good fit for your needs to be a contender. Don't be swayed by beauty, potential, or an enthusiastic seller. Judge the horse as he is on that day to determine whether or not he's a good fit.
Even if the horse fits all your criteria, don't rush to purchase. Make arrangements for a pre-purchase exam and a second visit (you may need to leave a deposit to hold the horse). A veterinary evaluation is a worthwhile expense because it can reveal conditions that may otherwise be hidden. Your vet can also tell you if the horse is structurally suitable for the work you'll be doing with him. His behavior during the process of being examined can be enlightening as well. While there are no rock-solid guarantees when it comes to horse buying, careful diligence and a satisfactory veterinary report increases the odds that the horse you bring home is the right one for you.
Liked this article? Here are others you'll love:
I Bought a Rescue
Horse Shopping Step-by-Step
Be Smart When Horse Shopping