Double Dan Horsemanship's Dan James is a successful clinician, trainer and equine entertainer. HI spoke with him about his career, how he got started, and what he likes to do when he's not working with the horses.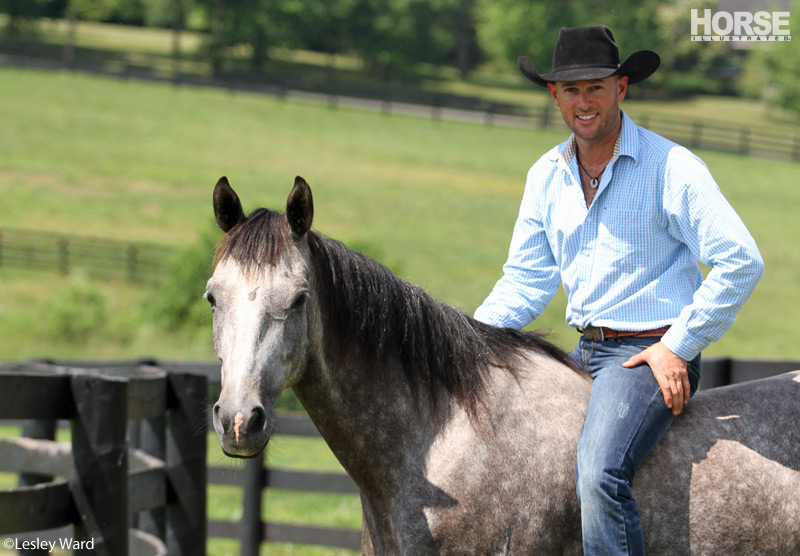 Swampy travels with Dan and appears in demonstrations around the U.S. Photo: Lesley Ward

HI: How have your methods for starting horses evolved since you broke your first horse at age 14?
DJ: I guess there are a couple of major things. Obviously I've become a little better at using those methods. I think at that point in time, I did a lot of the things that were shared with me because that's how I was told to do it, rather than understanding [why]. Methods have evolved and become more refined, but there are still a lot of the same basic principles that we apply.
HI: What was the greatest learning experience for you?
DJ: I don't know that it's ever been just one particular case. I think it's the horses that have changed and evolved us, because just as soon as you feel like you've got this great system, one comes along that doesn't fit that bill, and they're the ones that change us.
HI: How did you get started with Dan Steers, the other Dan in Double Dan Horsemanship?
DJ: I was on a million-acre cattle station up in the far northwest of Australia. During what we would refer to as the wet season, when things kind of slowed down for us, I would compete in working cow horse events. Dan Steers' horses always went nicely, and I just walked up and introduced myself and said, "Can I come to work [with] and learn a bit from you?" That was kind of the ice breaker because up until that point he didn't really want anything to do with me, and I take full credit for it, of course.
Dan competed with Smart Little Mustang (aka "Punk) at the Mustang Million in 2013. Photo: Lesley Ward
HI: What brought you to the U.S. from Australia, and are you happy with the move?
DJ: Dan [Steers] and I always felt the U.S. was somewhere we'd go. As time and what we were doing progressed, I wouldn't say we necessarily outgrew Australia. But in terms of the audience we have the opportunity to share our entertainment with, coming to America was the obvious next step.
HI: Who has been the greatest influence on your career? Why?
DJ: It's kind of tough to narrow it down to one particular person. To a degree, God has been a huge influence. I often find myself being able to relate to certain things that I feel he might be trying to teach me in my life by using the horses as a way to demonstrate those things. You have those days when a little frustration comes out and you're like, "Why the heck aren't you getting this?" referring to the horse. I imagine God sitting there going, "Yup, I know how you feel!"
From a training aspect, Heath Harris has probably been one of my greatest influences. He's a movie horse trainer. I would consider a lot of the ground control things we do in that part of our system to be heavily influenced by him. And people like Punk Carter, a cutting horse hall of famer; Clay Maier, who specializes in long-reining; and Jose Mendez, who came from the Spanish Riding School.
HI: What's your favorite thing to do when you're not working with the horses?
DJ: I love wakeboarding and wakeskating. The one that's really fun is wakeskating. Instead of having foot holds, it looks more similar to a skateboard that you stand on and then surf the waves behind a boat.
HI: If you weren't working with horses, what do you think you'd be doing for a living?
DJ: I'd love to have been a dolphin trainer or a professional wakeboarder or motorcross rider. The funny thing about it all is I can't swim. I'm as brave as anything with a life jacket on, but you'll see me curl up into a fetal position and nearly cry if somebody tries to throw me in the water. It's a life jacket and not the yellow floaties on my arms, just so you know.
HI: What was being on "Australia's Got Talent" like?
DJ: It was kind of a whirlwind experience. It was one of those deals where we came out and said, "Wow, did all that just really happen?" I think it took a little longer for it to soak in, when it finally started coming out on TV. It's something that very few people have done, and then to have done it with horses was the amazing part. Those horses didn't have any rehearsals. We just had to go straight out there and perform, and they did an incredible job.
It really helped us to bridge some gaps and reach out to a lot of people more quickly than we probably could have through our marketing strategies.
HI: How do your acts generally develop?
DJ: Usually it's all in driving down the road. And it's usually on the way to a show that we're already committed to doing but we haven't yet told them what we're going to do, because we've got no idea ourselves. Then, what generally happens is we get there and figure out the parts that do and don't work, and over a period of time they become more refined. It honestly takes about 12 months for things to get smoothed out.
HI: What's your favorite act and why?
DJ: Definitely my favorite one has always been my liberty Roman riding act with Apollo and Amelia. As many times as I do the Roman riding, it's just the fact that those horses actually make the choice to stay with me. It's a pretty incredible feat to be able to stand on the backs of those horses in an atmosphere where there's no reason why they should do that, but they choose to do it anyway. That part never gets old.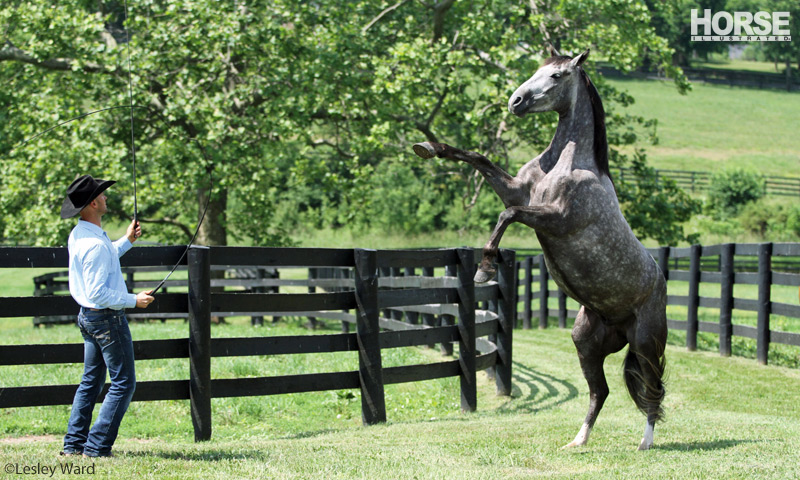 Dan's inspiration for equine trick training came from watching horses in movies as a kid. Photo: Lesley Ward
HI: How did you get started in trick training?
DJ: I was always interested in it because of watching movie horses growing up. I wanted to be a movie horse trainer, but it's very difficult to find somebody that will allow you to do that. I guess that's where my inspiration came from, and then I just went to fooling around and trying to figure out how they got it done. I got a break doing a show called "Spirit of the Horse" in 2007, where they needed somebody to train a horse for an act that [equine entertainer] Tommie Turvey did called "The Riding Instructor." They sent me a video of what they needed to have done, and I went out and trained a young colt to do the act. Tommie flew in the night before and then came out and performed. That was confirmation that I was doing good work.
HI: When did you realize you wanted to do equine entertainment as part of your career?
DJ: I think it just kind of happened. If the opportunity still came along to be a movie horse wrangler, I'd jump on that in a heartbeat. But there's a very theatrical part to our live shows. Both Dan and I love and enjoy that, and seeing the reactions of people when they see what we can do and achieve with our horses.
Liked this articles? Here are others you'll love:
Dan James Wins Freestyle Reining World Championship
Video: Bareback, Backwards Reining
Slideshow: 2013 Road to the Horse
---
This article originally appeared in the September 2013 issue of Horse Illustrated. Click here to subscribe!