Sometimes I'm in denial. Despite the fact that I was born in Colorado, I am a Texan. My family and I moved to Houston when I was about 2 years old. And as much I absolutely love mountain sunsets, Texas is what I know.
Texas has quite the reputation – ranging from good to bad and annoying to awesome, I'm sure. When traveling abroad, I find that when Texans are asked where they are from, about 50% say, "The US," and the other 50% say, "Texas."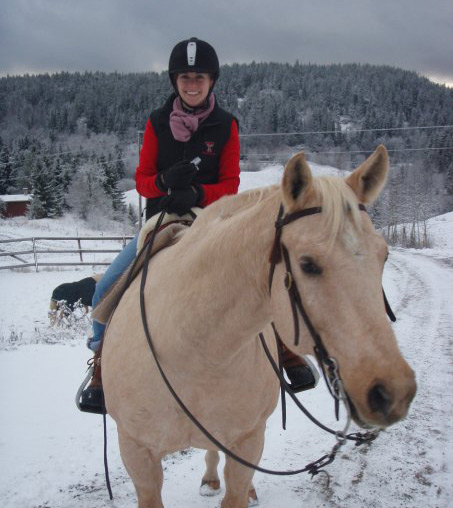 The author riding Nimbus the American Quarter Horse.
I don't blame them. Texas is famous around the world. However, Texas isn't necessarily famous around the globe for the huge cities of Dallas and Houston and the up and coming tech capitol of Austin.
Texas is famous for horses. Cowboys. The wild, wild west.
Even though I've spent summers as a wrangler and horseback riding instructor, I am not a member of the wild, wild west. I'm a product of the huge city of Houston and the amazing barns where I've grown up riding.
Interestingly enough, my Texas background gets me cred even when I don't realize it. The summer I moved to Colorado to wrangle at a guest ranch, it appeared that the guests were extra excited to have a wrangler from Texas take them out on the trails.
"No – I don't ride horses to school," I'd tell the adorable kiddos on the trail rides. "But sometimes I ride horses after school!"
More interesting than my "Texan in Colorado" experience is my experience in Oslo, Norway. Several years ago my parents moved to Norway on an expatriate assignment. My family dog Mattie made the move with them, and my mom met a horse-crazy girl named Linda at Mattie's vet clinic.
Linda and her horse, Jac. Photo: John Hermansen
The power of Facebook put Linda and me in touch, and the rest is history. Linda rides Quarter Horses in Norway. There aren't that many Quarter Horses in Scandinavia, but I got to ride one of them. Acorn's Jac, known as Jac, is an absolutely breathtaking palomino, and Nimbus Commander ("Nimbus") is another wonderful mount. Both are registered Quarter Horses with the American Quarter Horse Association (AQHA).
The author with Linda
Together we rode through the snowy woods of Norway, and even though the snow prohibited us from doing any kind of fast-paced horsemanship pattern, it was clear these were very nice horses.
When I told Linda how wonderful the horses were, she was ecstatic. I remember her saying something to the effect of, "I can't wait to tell everyone that a rider from Texas loves our horses!"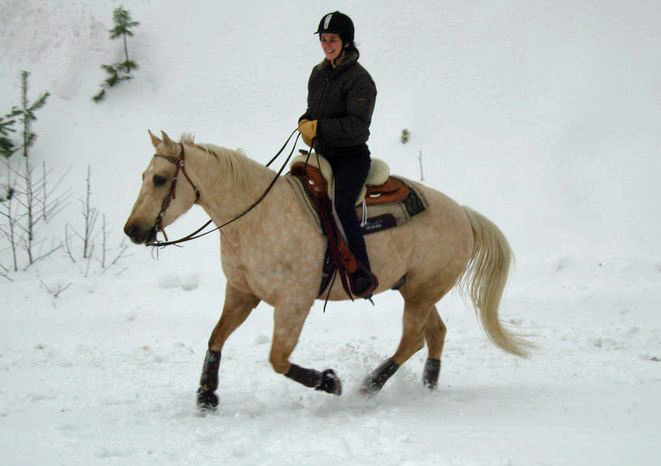 Linda and Jac.
It was true – I am a rider from Texas. But when I gave her the compliment, I wasn't necessarily thinking it would make her happy because of where I was from. I'm glad I didn't embarrass myself or my state with a bad ride!
The next time I came to Norway, I brought Linda some tack, including a headstall, with Texas star conchos on it. She was so excited, and I must say, Jac looked very handsome.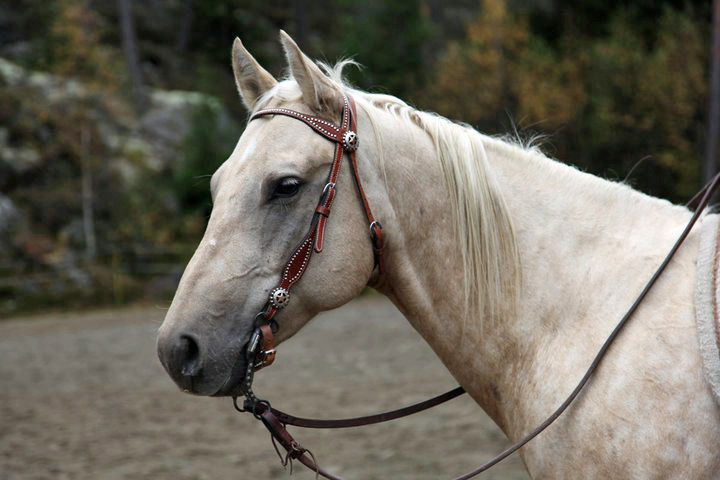 Jac in his new Headstall.
While my state of Texas helped with the first impressions, it's the horses that are the amazing part of my Norwegian experience. It doesn't matter where you're from or what language you speak. As sappy as it sounds, it's true. The love of horses is a universal language, and a shared love of horses can lead to a lasting friendship. And it never hurts to have some Texas cred, too.
Liked this article? Here are others you'll love:
Misconceptions about Horses from Non-Horsey People
The Near Side: The Not-So-Secret Equestrian Society