As a horse-crazy kid, you probably either had or wished you had shelves full of My Little Ponies, Breyer Models or plush horses. Fun toys, without question, but were they educational?
A pair of enterprising sisters from Rhode Island is hoping to use young girls' love of horses to produce a toy that is fun while developing essential leadership skills.
Raina to the Rescue! is designed to engage girls by combining storytelling with hands-on activities. The story's central character, Raina, and her friends work together to help animals. The storybook provides readers with a challenge that they must solve using the included model horse. According to the designers, Marisa Banigan and Mia Godbout, girls must use skills in science, math and reading to successfully complete the tasks.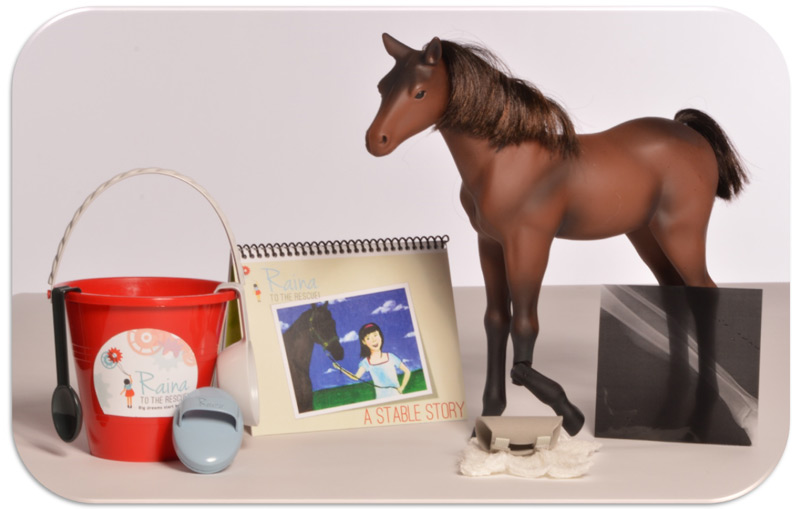 Banigan and Godbout believe that leadership training begins at a young age, and that the pink and sparkly aisles of toys marketed toward girls are not doing a good job of promoting important leadership skills. They developed Raina to provide an alternative and have created a prototype and tested it in local schools. In order to reach a wider audience, they are currently running a crowdfunding campaign on Indiegogo and are seeking backers to support the initial run of the toy.
The campaign offers thank you gifts for backers at amounts as low as $10. At $40, backers will receive one of the first run toys, and rewards continue from there. Find out more on Raina to the Rescue's Indiegogo page.
Liked this article? Here are others you'll love:
Horse Lover's Math Aims to Get Girls Excited about Math and Science
---
Leslie Potter is Sr. Associate Web Editor for HorseChannel.com. Follow her on Twitter: @LeslieInLex