With autumn come pumpkins galore. While these orange beauties are perhaps the quintessential fall decoration around home and barn it sure seems a waste to just throw them out at the end of the season. What about feeding them to your horse instead? Here are some ways to turn your leftover pumpkin harvest into a horsey treat.
Can Horses Eat Pumpkin?
Pumpkins are a great source of nutrients, having high levels of vitamins A, E, and folate, as well as fiber, and many horses love the taste. For a quick and easy way to dispose of your jack-o-lanterns simply put the used pumpkin minus stem (and any candle or wax inside) into the pasture for an edible toy (note the caution about mold spots below.) It's best to just throw away the stem since it could be a choking hazard for over-eager pumpkin eaters. Pumpkin seeds are fine for a horse to eat if you don't feel like cleaning the pumpkin out. No part of a pumpkin is toxic to horses.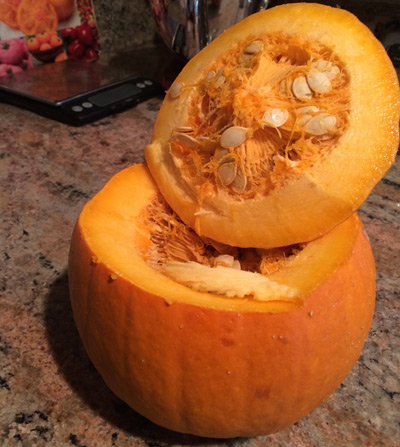 No part of the pumpkin is toxic to horses, but be sure to remove the stem and any other potential choking hazards. Photo: Anna O'Brien

For horses with a more refined palate, or those that are unwilling or unable to crunch through raw pumpkin, you can easily bake a pumpkin to soften it. To do so, simply pre-heat your oven to 400°F and place the pumpkin (de-seeded and with top removed) in a glass casserole dish. Baking times vary based on the size of the pumpkin. A three to six pound pumpkin usually takes 45 to 60 minutes to become soft. After baking, you can either scrape the pumpkin flesh out and mix with your horse's feed or slice the soft pumpkin up and offer pieces to your horse that way. Pre-slicing the pumpkin prior to baking is also a way to reduce cooking time.
Homemade Pumpkin Horse Treat Recipe
For those who want to really get festive and spoil their horses at the same time, pumpkin-based horse treats are the way to go. Here's a recipe to try.
1 small pumpkin – already baked with flesh removed

1 tablespoon cinnamon

1 teaspoon nutmeg (optional)

18 oz oats

¼ cup molasses (other options include honey or applesauce)

½ cup brown sugar
Mix the pumpkin flesh with the other ingredients in a large bowl and spoon out in evenly sized balls on a cookie sheet. If the mixture is too runny, add more molasses for binding. Bake 12 to 15 minutes at 375°F.
While you're at it, why not consider baking a bunch for the whole barn? These treats freeze well, too, for a bit of festivity later in the winter.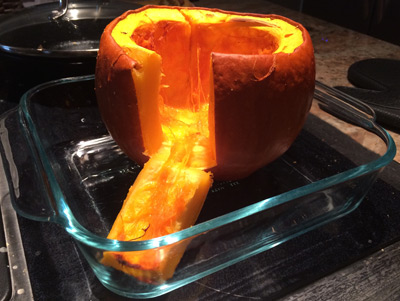 Cooking the pumpkin softens the flesh and makes it easier for horses to eat. Photo: Anna O'Brien
Other than removing the stem, there are a few other safety tips to consider when serving up pumpkin to your horse. First, carefully inspect the pumpkin for signs of rot, mold, or mildew. If there are areas that have already spoiled—typically at the base or whichever side has been in constant contact with the ground—cut them out. The remaining pumpkin is fine to feed your horse.

Second, if you decide to bake pumpkin treats and your horse is overweight or has a metabolic condition that restricts him to a low-carb diet, opt out of the brown sugar and molasses, using natural (no sugar added) applesauce instead. For those horses on a diet, plain pumpkin is a great low-calorie snack with a low glycemic index.
Finally, if your horse has hyperkalemic periodic paralysis (HYPP), avoid feeding pumpkin since this member of the squash family has relatively high levels of potassium, the element that can exacerbate HYPP clinical signs.
When your goblins and ghouls are finished haunting the barn this Halloween, consider recycling your used pumpkins with your horse in mind! Whether raw, cooked, or baked into a treat, jack-o-lanterns can make a wicked good seasonal addition to your horse's diet.
Liked this article? Here are others you'll love:
Are You and Your Horse Ready for Halloween?
Is Halloween Candy Safe for Horses?
Your Horse Can Enjoy Holiday Treats in Moderation
---
Anna O'Brien, DVM, is a large animal veterinarian in Maryland and a frequent contributor to Horse Illustrated magazine and HorseChannel.com. Follow her on Twitter: @annaobriendvm