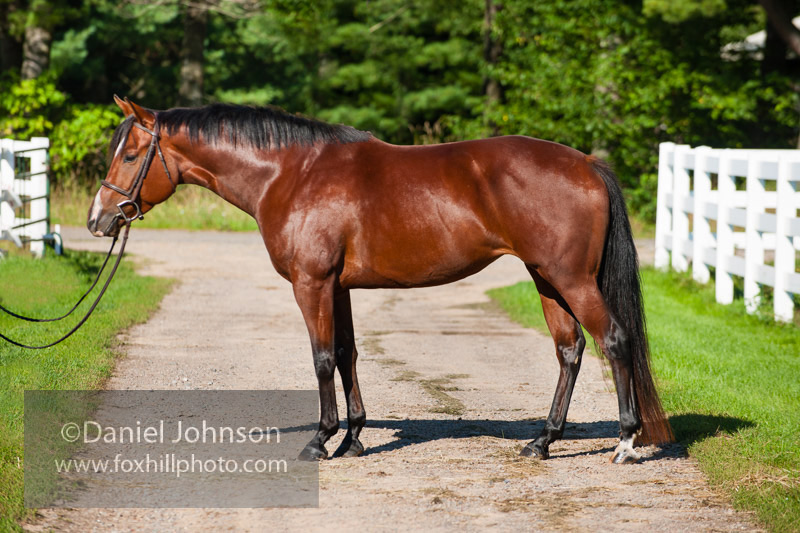 A well-groomed horse, an uncluttered background and a flattering angle are essential to making your horse look his best. Photo: Daniel Johnson/Fox Hill Photo
Whether you're planning to sell your horse locally or long-distance, quality sales photos can be an important part of finding your horse the perfect new home. Between print and online advertising, Facebook, Twitter and other social media, good photography is an essential for selling your horse these days. But crafting a good photograph can be a challenge, and horses can be particularly challenging subjects. Fortunately, with a little bit of planning and a few pointers, you can secure some nice photos of your horse that will present him at his best. Let's take a look at some ideas.
Get Him Groomed
Before you even think about breaking out the camera, stop and ask yourself if your horse is really ready to be photographed. Chances are, he's got a few stains on him, or maybe he needs to be clipped and have a new mane job (and has he seen a farrier lately?). Just as you do before a ride, take a few moments to get your horse looking his best. Sure, you have those fun snapshots on your phone that are cute enough to you, but don't put up sales photos that represent your horse as ungroomed—there's no reason to have him look anything less than his best.
Choose a Location
Don't bring him out of the barn just yet! You've still got to select a location with a good background for your photos. Fences, sheds, tractors, trucks, jumps, and gates might be a normal part of the barn scene, but they don't necessarily make the most attractive backgrounds for photos. In the case of a sales photo, you want to highlight one thing and one thing only: the horse. Any other included elements have a tendency to become distracting—even if they aren't necessarily unattractive in their own right (like a fence). When it comes to footing, keep in mind that level ground is ideal.
Choose a Camera
Your choice of camera and lens is important, too. While there are always exceptions, horse portraits are typically most successful when a somewhat long (telephoto) lens is used. For this, you'll need a DSLR camera with a lens of about 150mm, or preferably a bit longer. At a minimum, you'll need a point-and-shoot camera with a lens that extends and allows for optical zooming. The camera on your phone doesn't have this ability, so smartphones aren't the best choice for horse portraits.
Get the Shot
When the time comes for pictures, be sure to get an experienced horse person to help you hold your horse, and remember that an attractive halter or bridle is essential for posing conformation shots. Decide ahead of time what type of photos you want. Are you looking for a head portrait? Zoom in, and move yourself closer until all that fills the frame is your horse's face and neck. Try holding the camera vertically for some shots. Ready to move on to full body portraits? Try to determine the direction from which your horse looks his best and shoot from that angle. For ponies, you might need to get yourself down closer to the ground to avoid shooting down at the pony. And for all horses, try to keep their legs slightly separated from your view, so you avoid the dreaded "three-legged horse" look!
Most horse buyers are looking for conformation photos to help evaluate your horse, but a few natural images might be a nice addition, as well as some photos that show your horse's movement and, if applicable, under saddle.
Liked this article? Here are others you'll love:


Photo Tips from Dusty Perin


Equine Photography Tips from the Pros
---
Daniel Johnson is a freelance writer and professional photographer. He's the author of several books, including How to Raise Horses: Everything You Need to Know, (Voyageur Press, 2014).See more of Dan's horse photography at www.foxhillphoto.com or like his Facebook page: www.facebook.com/foxhillphoto