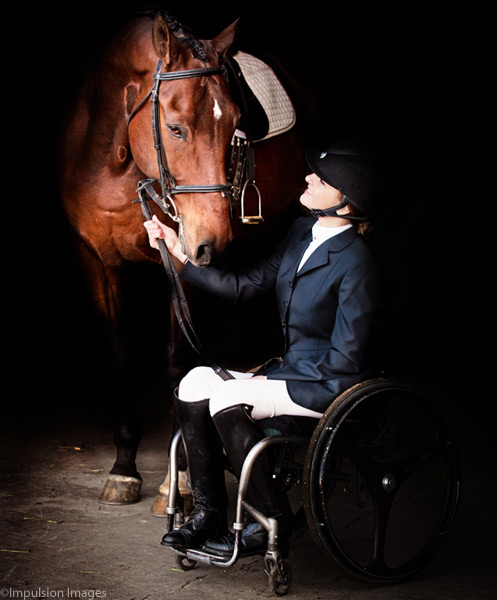 How do life's setbacks bring you to whole new dreams? Just ask Cambry Kaylor, a young and vibrant equestrian who wears many hats: para-dressage rider, vaulting coach, and American Vaulting Association apprentice judge.
Equestrian vaulting was the perfect childhood fit for Kaylor, combining her love for horses, ballet, and gymnastics. Family moves brought her opportunities vaulting with various teams on the West Coast, where she competed in individual and team events through the top levels in the sport.
A competitor with drive and love for the sport, Kaylor hoped to one day represent the U.S. in international competition. In 2005 while preparing for the national championships, the 18-year-old athlete suffered a freak accident, over-rotating in a dismount after miscommunicating with a teammate. The result: a severed spinal cord which left her paralyzed from the waist down.
With grit and determination, Kaylor chose to carry on with her plans to attend Brigham Young University for her freshman year in college, all while undergoing physical therapy and adjusting to life in a wheelchair.
Her forward-thinking plans didn't stop there; together with her mother, Kaylor founded Technique Equestrian Vaulting Club, a Utah-based vaulting team which now boasts numerous national champions. "I started the vaulting club because I didn't want to leave the sport," she explains. "It's really dear to me. I've found a lot of joy in coaching." In the nearly ten years 'Technique' has been in operation, the group has grown to now nearly forty vaulters.
It Takes a Village
Standing behind Kaylor is 'Team Cambry,' a group of individuals and companies who have come together to sponsor and support Kaylor on her path to achieving her dream of international para-equestrian competition. Hear Kaylor tell her story in own words in Team Cambry's clip, Cambry Dream On. Get ready for some serious inspiration!
While vaulting may seem quite thrilling, it's widely considered one of the safest equestrian sports. "I would wholeheartedly agree that it's one of the safest horse sports," remarks Kaylor. "There are so many safeguards in place. The foundation is laid on the ground and on the barrel [a stationary practice apparatus], and the horse is controlled by a longeur. I feel like my accident was a fluke. Statistically, I am the only really serious injury involved in vaulting."
Although coaching has proven a perfect fit for Kaylor, her involvement with horses still hadn't come full circle. "I did some 'pony ride' style riding on bombproof horses, but it wasn't the same- I wasn't performing." Until two years ago, that is, when Kaylor took a dressage lesson with her mother who cross-trains the team's horses, filling in last-minute for her mom's lesson partner.

"After ten minutes, I realized I'd been missing out on a huge part of my life and needed to get back on the horse again." Twice-weekly lessons on her wonderful Haflinger mare, Opal, turned into a trip to Denmark to purchase Markgards Donnewind, a Danish Warmblood seasoned in the FEI-level para-dressage ring. Since then Kaylor has set her own sights on international-level para-dressage.
Para-dressage, the only equestrian sport in the Paralympic Games, takes place in the horse world from the grassroots level through the World Equestrian Games. Para-equestrians are graded according to their disability, riding tests appropriate for their physical function. Para-dressage corresponds to mainstream dressage in terms of tests, scoring, judging, turnout, and so on, modified appropriately for riders' needs.
A Grade 1B para-equestrian, Kaylor competes at the walk and trot, with her aids consisting primarily of hand, voice, some core, shoulder position, and whip.

While Kaylor already knew horses inside and out, riding as a paraplegic meant learning to use her body in new ways. "I didn't realize how much ability I had and how in tune the horse I could be with my body," says Kaylor. "Luckily, I found a trainer that had worked with a para-rider before, and he knew the importance of body mechanics- how whatever function I had would influence the horse. Now that I have all these tools, I feel the horse's movement is my legs. I feel much more connected than when I had use of my legs. It's been difficult and there have been a lot of bumps along the way, but every lesson I have on my horse is empowering- it's an addictive feeling. I ride one day, and can't wait to get back on again, even if it's been a rough go."

Although Donnewind's movement is huge, Kaylor trusts him to care for her. "I feel like we're flying, but he's so patient with me. He's a great mix- he's sensitive to my body position and reins, but he's developed an understanding that I don't have use of my legs, so when I'm bumping him with my legs, he doesn't react."

The pair's next plans include winter CPEDI* (Concours Para-Equestre de Dressage International) competitions, with 2016 Paralympic Games in Rio their ultimate goal.
Buoyed by a positive outlook, the indefatigable Kaylor is pursing not only her riding ambitions, but a Master of Science degree in occupational therapy at the University of Utah, and her vaulting judge's certification as well.
Kaylor's advice to all riders: "Remember, it's not just you- you have a partner. That goes across all equestrian disciplines, and is something that sets us aside from other sports. You are working with a living, breathing partner. It can be discouraging as there are so many variables that happen with a horse, but never give up."
And keep on dreaming!
Liked this article? Here are others you'll love:
Scholarship Established to Honor Para-Equestrian
2010 WEG Para-Dressage News
Adventures in Vaulting
---
Natalie DeFee Mendik is an award-winning journalist specializing in equine media. Visit her online at www.MendikMedia.com.