More video from the 2014 National Horse Show: Gambler's Choice Costume Class >>
An incredible field of 153 junior equitation riders came to compete in the ASPCA Alfred B. Maclay Championship—better known as the Maclay Final—this week at the National Horse Show. Judges McLain Ward and Christine Tauber, both Maclay alums themselves, had the difficult task of whittling this field down to a single winner.
Tori Colvin and Patrick
Riders qualify for the finals at hunter/jumper shows around the country. Once they've made it to the NHS, there is still a grueling journey ahead. Initial rounds started at 7:00 a.m. on Sunday morning. From there, the top 20 riders returned for flatwork where they were asked to demonstrate their proficiency at all gaits, along with lateral work, lead changes and no-stirrups work.
Once flatwork was completed, the judges selected fifteen riders to return for a final round of testing over fences. This final course included a trotting fence, a hand gallop, and a halt on course followed by a counter-canter, among other challenges.
Hunter Holloway and Any Given Sunday
From there, the judges have the option of asking riders back for a tiebreaker, if necessary. Ward and Tauber called back their top two riders, Hunter Holloway of Kansas and Tori Colvin of Florida, to ride the final course again, this time on each other's horses.
Colvin had an excellent ride aboard Holloway's mount, the dark bay Any Given Sunday. Holloway then returned with Colvin's chestnut gelding Patrick for a solid round, but an added stride to the final fence put a ding in her otherwise flawless day of riding.
Michael Hughes and Campreoll
The top ten riders returned to the ring for the awards presentation, and it was Tori Colvin who was named the champion. Colvin's name will be added to the ASPCA Horsemanship Trophy alongside past winners including William Steinkraus, George Morris, Michael Plumb, Leslie Burr (Howard), Nicole Shahinian (Simpson) and Jessica Springsteen.
Ali Tritschler and Helio Rouge
For more information on the Maclay and the National Horse Show, visit www.nhs.org. To watch video from the show, visit USEFNetwork.com.
2014 Maclay Final Results
Victoria Colvin, Patrick

Hunter Holloway, Any Given Sunday

Michael Hughes, Campreoll

Ali Tritschler, Helio Rouge

Spencer Smith, Beau Van Het Keyershof

Madison Goetzmann, Sierra

Rebekah Chenelle, Arandelli

Kelli Cruciotti, Monterrey

T.J. O'Mara, Kaskade

Lilly Higgins, Valentino F

Sophie Simpson, Eclipse
Spencer Smith and Beau Van Het Keyershof
Madison Goetzmann and Sierra
Rebekah Chenelle and Arandelli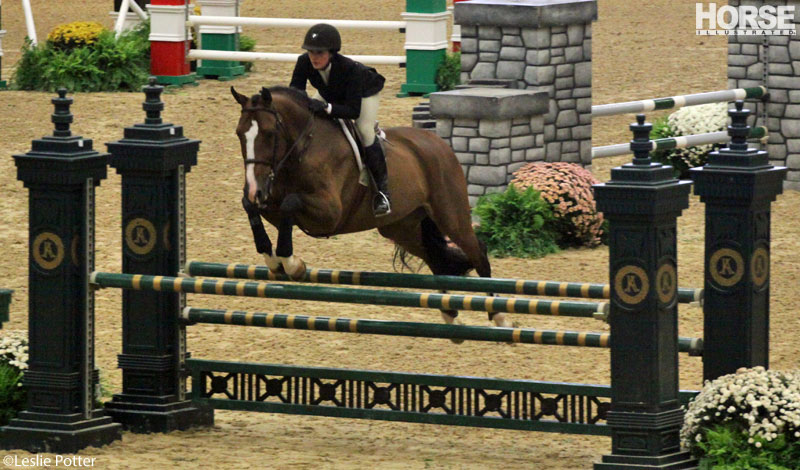 Kelli Cruciotti and Monterrey
T.J. O'Mara and Kaskade
Lilly Higgins and Valentino F
Sophie Simpson and Eclipse
---
Leslie Potter is Senior Associate Web Editor of HorseChannel.com. Follow her on Twitter: @LeslieInLex.