Chances are that your barn, whether a large show barn or your personal property, is home to some things you don't use on a regular basis. Do you have some random pieces of leather? Perhaps you have some very worn out polo wraps and bell boots. Maybe you're selective about your halters, and the ones you won at that schooling show have been sitting in a corner, not deemed perfect for your horse's standards.
Depending on your style, you can create some awesome crafts with random barn remains. It can be for your barn or for your home or even for a gift – your style is all your own. Here are some ideas for the beginner and expert crafters in your world.
A Bell Boot Wreath
I moved recently, and I decided to go through everything before unpacking in my new home. I was looking through my old tack box and found two bell boots. I clearly haven't been using them, and I bet my barn friends have a couple old pairs as well. I am a crafting nerd, and I thought to myself, why not make a wreath?
For this craft, all you need are bell boots and some string or wire. If you want your wreath to hold a circular shape, you want to get an old coat hanger or firm wire and bend it in the shape you want. You can also get wire wreaths in the garden sections at most craft stores. (Important note: The wire wreath is only an option if the bell boots Velcro together or have an opening in the plastic.)
Your main supply? Bell boots! While the example in the picture shows new bell boots, they don't have to be! You can mix and match fabric boots with rubber ones and arrange them in a circle. Hang it on your horse's stall on your barn door. Those muddy bell boots have a home after all!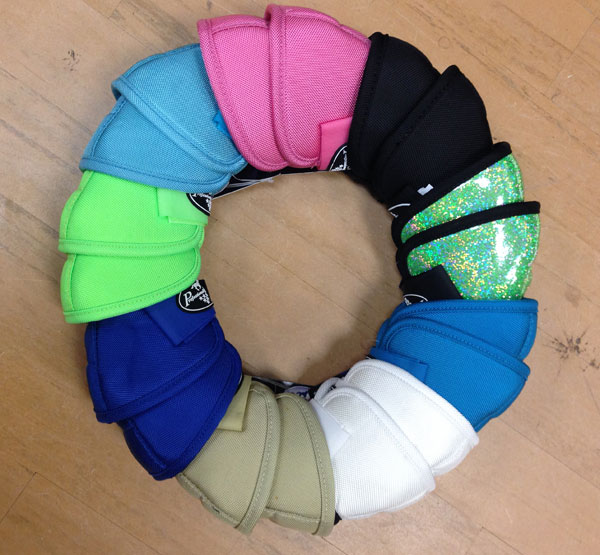 The Polo Wrap Horse Costume
Holiday parties are coming. Tis the season! I, for one, am usually taking silly holiday photos with horses at my barn, and I love to add some flair to the horses. Many horses seem to dislike the Santa hat I have for them, so here's a new idea: decorate the mane with polo wraps. Perhaps you changed your horse's color from hunter green to baby blue and you have no need for those old green ones. Crafting, here we come!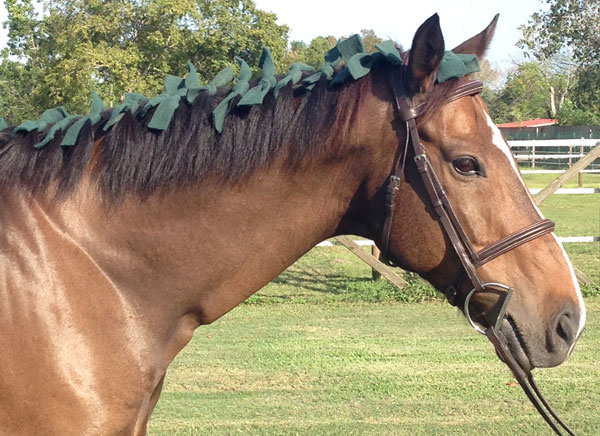 You need: polo wraps and scissors
Start by cutting the wraps in half. You want the pieces of fabric to be long enough to tie in a knot and skinny enough to tie easily.
Once I had cut the polo wraps in half, I cut each piece somewhere between 6 and 8 inches long. It all depends on how long you want the ends of the ties to be. Now you're ready to decorate your horse's mane.
Make sure your horse is groomed and his mane is brushed. Then start decorating the mane. I gathered the mane in 2-3 inch sections and then tied a simple knot.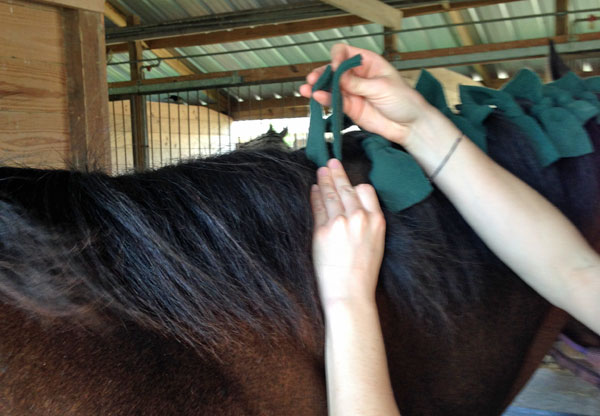 You can put tie just one color down the mane or even alternate colors depending on what kinds of polo wraps you have hanging around the corner of your tack room.
If you have extra pieces of fabric, you can even put pieces in your horse's tail. Just remember to stand to the side of your horse's hindquarters.
You can always add these as elements to a costume, but this idea could be all you need for a cute holiday photo shoot.
Turn Old Leather into a New Gift
This craft idea requires some leather working tools, but if you're up for it, you can make something really neat.
Without fail there are random billets or reins or pieces of leather hanging around a barn. Often the leather is worn and sometimes quite dirty, but that's OK. If you have some leather hanging around, clean it off and condition it with some leather cleaner, and then create a key fob or Christmas ornament!
My friend Randy is an expert leather craftsman, and he assures me that most savvy do-it-yourself-ers can make a simple key fob from scratch leather with a few inexpensive tools and supplies.
There are lots of options for key fobs (as seen in Randy's Etsy shop), but let's focus on the riveted fob option for this craft.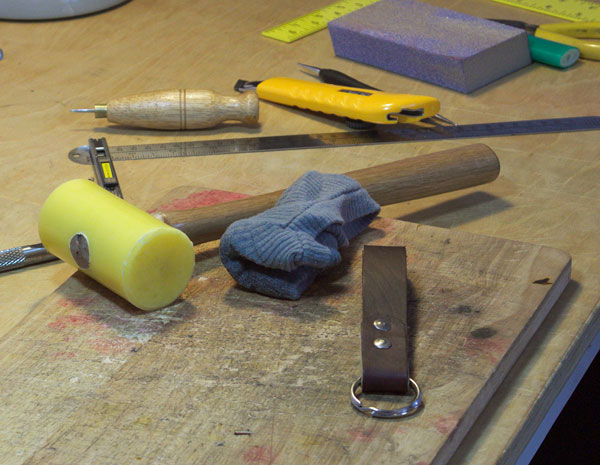 Depending on what type of leather creation you choose to make, you may not need all of these tools. You can find leather tools at your local craft store.
You'll need:
Scrap leather
Utility knife
Ruler
Split key rings
Sanding block (optional)
Small hole punch (or any leather punch hanging around the barn)
Steel Quick rivet and Tool Kit
When you prepare the leather, trim it to the size you want. That's when the trusty ruler comes into play. Start with a strip of leather between 6 and 18 inches long. As the creator, so you get to decide the dimensions.
The key fob in the example is from a strip of leather measuring about 7/8" wide and 12" long. If you want to round the corners of the leather, use a nickel on the backside of the leather and make a few small cuts to remove most of the corners. Then smooth it out with your sanding block.
Once your leather is sanded and ready to be assembled into the key fob, decide how you want to attach the key ring. This picture gives a good visual.
Make a small loop for the key ring on one end and a larger loop on the other end. Once you figure out the length of the loops, you can glue the pieces of leather together. Finish off by adding the rivets that you purchased. You can use a leather hole punch to make the holes or use a hammer method shown in the photo above.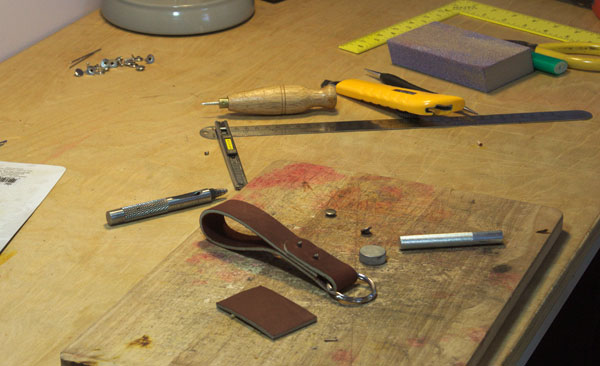 Because this craft project requires so many small pieces, I'd recommend doing it in an uncluttered space away from distractions, including horses, barn dogs and barn cats.
No matter what you decide to make, before you throw away old barn items, think of what you could create with them!
Liked this article? Here are others you'll love:
11 Ways to Show off Your Horse Show Ribbons
DIY Holiday Crafts
How to Make a Horse Hair Necklace
---
Follow Allison on Twitter: @allisongriest.