All photos by Kim & Allen MacMillan, Tammy Brown and ShelleyHiggins/MacMillan Photography & Media Services
The winning entry in a Welsh Pony driving class. Welsh Ponies were part of the action at the Royal with under-saddle, in-hand and in-harness classes.
November arrives and late fall settles in… It seems like the end of horse show fun for the year; at least until the winter circuit starts down south in January. What a downer! But wait, there is still one more big show to cheer you up – the Royal Agricultural Winter Fair in Toronto. There is truly nothing like it.
Why should you add the Royal Agricultural Winter Fair to your list of "must-do" road trips for 2015? It is a chance to see one of the last remaining all-inclusive traditional horse shows in North America while also enjoying a unique combination of other non-equestrian activities. The Royal celebrated its 92nd year in 2014. It began in 1922 after being granted the Royal designation by England's King George V.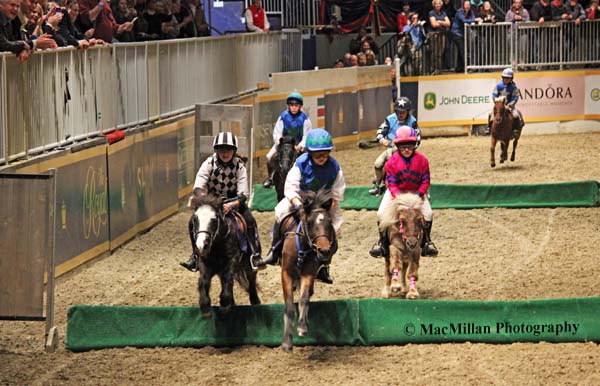 The Grand National Shetland Pony races were a huge hit with the crowds. The scrappy little jockeys raced their tiny steeds over simulated steeplechase fences in the Ricoh Coliseum.
This iconic fair is the largest combined indoor agricultural exhibition and horse show in the world. It is best described as a cross between a Midwestern state fair and the old National Horse Show during its heyday in Madison Square Garden. Amazingly, this 10-day run of non-stop equestrian action and agricultural exhibits takes place entirely indoors at the Canadian National Exhibition Place in the heart of Toronto, Canada's largest city.
The Royal is the perfect getaway for a family or friends trip. In a day's time and in one location you can enjoy Grand Prix dressage, top-level show jumping, antique coaches pulled by four matching horses, six-horse draft hitches, Standardbreds in harness, breed classes, hunters, Hackney horses, Welsh Ponies, and pony jumping.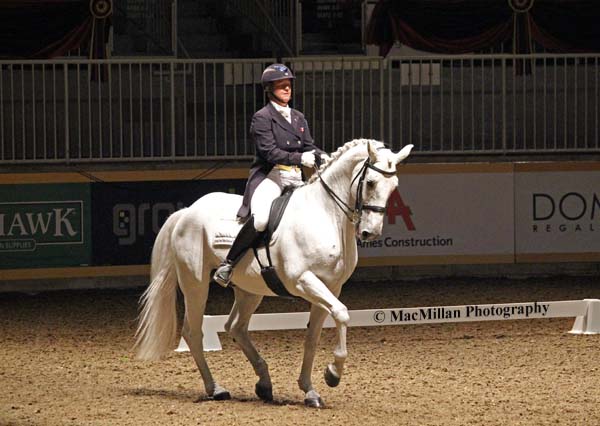 Canadian Olympic rider Jacqueline Brooks rode her D-Niro to win the Royal Invitational Dressage Freestyle class.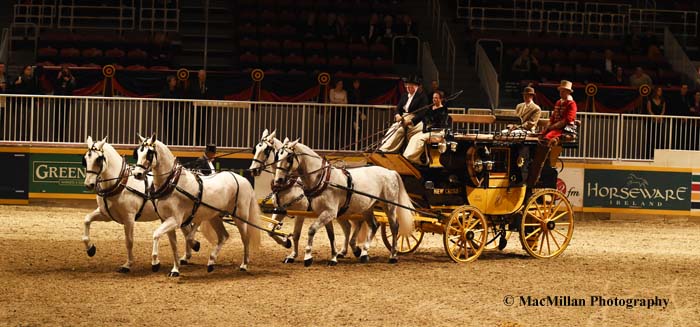 The Green Meadows Carriage competition was for antique carriages pulled by four matching horses. The drivers, passengers and grooms were all dressed in formal costume.
It's final stop on the North American Nations Cup indoor show jumping tour, and the Royal also hosts Canada's most prestigious breed show with classes for draft horses, sport horses, Thoroughbreds and Welsh Ponies. Beyond the competition, you can also enjoy other horsey activities such as breed demonstrations, educational clinics and the featured equestrian entertainer of the year (this year's star was Australian horseman Guy McLean and his four red dun Australian Stock Horses.)
The featured equestrian entertainer at the Royal Winter Fair in 2014 was Australian "Bush Poet" Guy McLean and his four red dun Australian Stock Horses.
McLain Ward from the U.S., leading international jumper rider at the 2014 Royal, talked about his connection with the show.
"The atmosphere here is great – the fair and the livestock – it is phenomenal," says Ward. "It's something out of a different time. It really has kept its luster; so many big shows have lost that. And you're in the heart of the city. It is really an enjoyable time. I was thinking today that this is my 19th or 20th year here and I hope I come back for another 20."
U.S. rider McLain Ward won the coveted Leading International Rider sash at the 2014 Royal Winter Fair. He has been competing at the Royal for around 20 years and loves the atmosphere.
Walking around the Royal, it becomes clear how important agriculture still is to the economy of Canada. The fair offers a wide variety of classes for dairy and beef cattle, sheep, goats, llamas and alpacas, hogs, poultry, rabbits and cavies (guinea pigs). Judging of farm crops and garden produce, wool and mohair yarn, wine, jams, jellies, maple syrup and honey are also included in the competition schedule. As you stroll past the butter sculptures, the artistry amazes and you imagine how many hours each sculpture must have taken to complete.
Star Wars character Darth Vader made entirely of butter. The Royal butter sculpture contest is always a hit with fairgoers.
Besides the competition and entertainment, there are activities for everyone at the Royal. Kids can milk a life-sized fiberglass cow, get their face painted, ride a mechanical bull, play with toy tractors or visit the farmyard petting zoo. Adults have their choice of test driving a new car, participating in a cooking class or shopping the day away as they make their way through hundreds of booths offering a wide variety of tack and equestrian gifts, Canadian agricultural products, clothing and home improvement merchandise, health and beauty items, and gifts from around the world.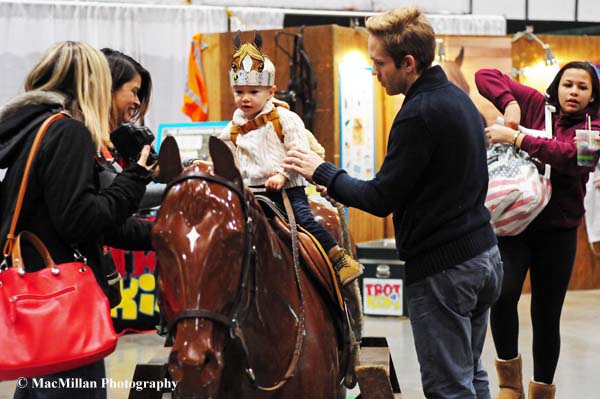 A youngster in a paper
crown sits atop the fiberglass riding horse in the "EquiMania" kids educational
play area sponsored by the University of Guelph.
"Super Dogs" entertained the crowd and their handlers as they performed in agility.
4-H bunny jumping was a huge hit at the Royal Winter Fair. Featured in the President's Choice Animal Theater, each 4-H member attempted to put their rabbit through a cross between a show jumping course and a dog agility course.
You won't go hungry either. Many merchants offer complimentary samples of their wares and the food court is extensive. Epicurean delights available at the Royal include goat cheese, maple sugar coated pecans, bison burgers, ice cream and candy, Canadian-grown produce, a variety of Canadian fine wines, apple dumplings with ice cream and butterscotch sauce, traditional Canadian butter tarts, perogies, international dishes from India and China, and, of course, poutine (a Canadian dish consisting of French fries covered with melted cheese and brown gravy.)
A Royal merchant offered lollipops, pastries and caramel and candy apples for sale. The blue-green colored apples were coated with wild berry flavor candy coating.
So mark your calendars to visit the Royal Agricultural Winter Fair November 6 – 15, 2015! For more information visit www.royalfair.org.
Liked this article? Here are others you'll love:
Over the Fence: A Chat with Beezie Madden
Video: Dressage and Western Pas de Deux