This year, Horse Illustrated will be giving readers a behind-the-scenes look at the Maker's Mark Secretariat Center (MMSC) in Lexington, Ky. Following three horses throughout their time at the center, readers will find out how Thoroughbreds end up there, some of the retraining techniques they undergo while learning skill sets necessary for a second career and more. This article is the sixth and final installment in the series. Catch up on previous articles here:
As 2014 comes to a close, so do Sully, Moshi and Noah's stay at the Maker's Mark Secretariat Center. As a wrap-up to their journey from retired racehorse, through retraining, and onto second careers, the Maker's Mark Secretariat Center is happy to share a glimpse of these wonderful Thoroughbreds' future homes.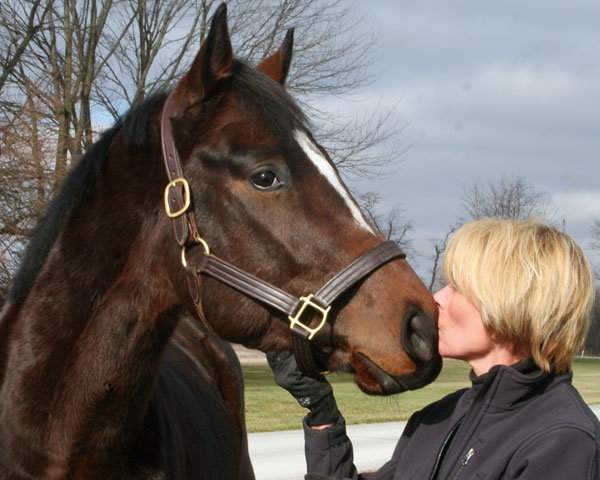 Sullenberger, also known as Sully, was adopted by Susan Offenhouser of Indianapolis, Indiana. Susan is an intermediate level adult amateur rider. Sully is her first horse and fulfills one of Susan's childhood dreams. They work together every day doing some type of activity to build and boost their relationship.
With Sully's "baby brain," Susan is working on consistency under saddle. She also does a lot of groundwork and ground manners. She sees him every day and rides him in the ring, though they are not jumping quite yet. Susan does hope to show in time, but she explains that he is young and they have lots of years together ahead of them, so they aren't in a rush.
Susan says that everyone at the barn who sees Sully wants a horse like him because he is so attractive, funny and smart. She has bought him a Superman saddle pad, which he regularly sports because he has been dubbed Super Sully.
Kincora Bay, known as Moshi, was adopted by Rebecca Morani of Queenstown, Maryland. Rebecca is an experienced event rider and foxhunter as well as a feed consultant for Cargill Feeds' Nutrena line. She adopted her first horse from MMSC in 2012, Littlegirlofmine, who is now known as Mia. She loves Mia so much that she returned to MMSC for another horse.
Moshi spent the summer being ridden by Rebecca, her husband Marty, and their 14-year-old daughter who took him to Pony Club camp. He has done low-key stuff, primarily ring work and trail riding.
This fall he started fox hunting with Marty in preparation for event training in the spring of 2015. Marty, who is having a blast fox hunting him, has evented up to the Advanced Level. Rebecca explains that Moshi has a forever home…with Marty! She is already on the lookout for another MMSC horse to hopefully adopt in the spring.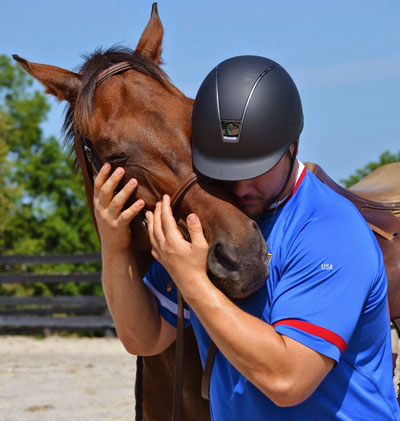 Nowheretohide, also known as Noah, was adopted on October 4, 2014 by Jeff Tow-Arnett of Prior Lake, Minnesota. Noah took the longest of the three horses to adopt out because he was body sore and stiff. For a long time he was very "race-tracky" in his way of going, meaning he was tense, quick, inverted, grabbed the bit, and was prone to jig and bolt. It took a while to convince him that he had worth as anything else other than a confirmed racehorse.
Noah has already had an impact on many people over the course of his lifetime: his owner who claimed him back; the trainers and track riders who worked with him during his racing days; Susanna, director of the MMSC; a summer MMSC intern from Massachussetts; and now Jeff.
Jeff and Noah share a special bond, as Jeff is a former professional football player with many injuries and was in need of a new career. The story of how Jeff and Noah found each other and what the adoption entailed is documented in detail (along with Noah's rehab needs) at www.horsecentered.blogspot.com. Jeff's brother and sister-in-law were both so taken with the MMSC Horse Centered Reschooling Program, that they, too, each adopted a horse from the Maker's Mark Secretariat Center this year.
Sully, Moshi and Noah have new homes for the holidays, but there are still thousands of off-the-track Thoroughbreds that need help. In Spring 2015, the Maker's Mark Secretariat Center will welcome a whole new group of sweet, intelligent, and athletic horses searching for the second phase of their lives after leaving the track. To learn more about MMSC or how you can get involved and help OTTBs, please visit www.secretariatcenter.org.
As you celebrate this holiday season with your family, remember that horses everywhere, especially those in adoption and rescue centers, rely on our willingness to give to them.