You'll encounter styles and products you didn't even know existed at an equestrian trade fair.
There was a time when I lived in Lexington, Kentucky. The city is a horse lover's paradise: city parks with equestrian trails; a state-of-the-art horse show venue, the Kentucky Horse Park, on the north side of town; vendors at the horse shows throughout the year; tack shops all over town.
Houston, my current city of residence, is not the same. I've also lived in Indiana. Not the same.
There is a lack of tack shops in the rest of the United States.
So what happens when I go to a horse show and see vendors? I'm like a kid in a candy store. Or it's like that moment in TV shows and movies when wind chime sound effects fill the speakers and sparkly glitter fills the edges of the screen.
Horse show shopping is addictive. Let's be honest – when I'm there, I will make purchases.
There's something about purchasing items at a show that has an element of fun (and immediate satisfaction) that I can't get if I order from an online store and check the tracking number on a daily basis in anticipation of its arrival.
Maybe it stems from the fact that I'm a catch rider and don't have my own horse. I can't buy things for my horse, so at a show I buy things for myself, or for my friends with horses.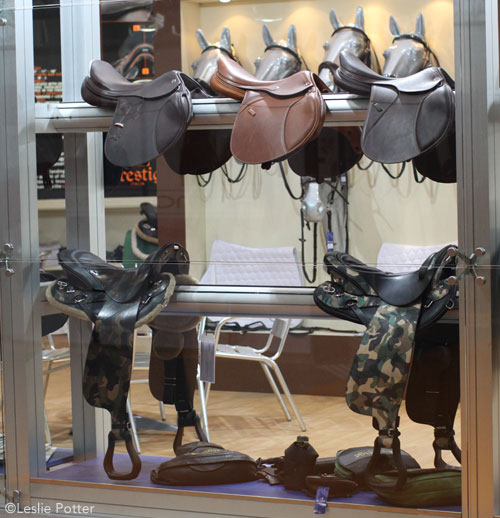 I love giving horsey gifts to horsey friends, and at the most recent horse show I bought the most colorful mane and tail brush for my friend's horse. I sent it to her for her birthday (the friend's birthday, that is. Not the horse's.) I think my fellow horse show shoppers will understand.
Then there's the clothes. I recently rode at a show for the first time in over four years. I do not need more than one, maybe two show shirts. I own two already, but look at all the colors! And they've started doing this awesome thing on the inside of the shirts – cute patterns on the ribbon liner. There's piping on the show jackets. I just have to try them on – but I'll resist the purchase.
Then there's the leather-goods trailer, the one that's at every show. When I went to cheer friends on in Oklahoma City, it was a different trailer than I'd seen at the Houston shows – same awesome trade and products. I love wandering around the vendor tack trailer. Girths, bridles, reins, saddles … the smell of high quality, genuine leather.
(Sidenote: every time a sales lady at a fancy purse place tries to sell me on the leather, I'm comparing it to Edgewood, a legit tack manufacturer. Edgewood's products are so soft, and I love their stitching. And yes, Tory Burch sales rep, I do love your bag, but your leather isn't as soft as my friend's horse's headstall. Sidenote to the sidenote: Tory Burch, I really do love your bags.)
I also love talking to the owners and employees at vendor booths and trailers. You know you already have one thing in common: horses. That means you could talk for hours! I love finding out they know someone I know, and I love asking them about their horses and their favorite products.
I love horse show shopping – and I'll make a purchase every time, even if it's just a bag of treats.
Liked this article? Here are others you'll enjoy:
The Near Side: Going Shopping at the World Equestrian Games
Life with Horses: Let's Go Shopping
The Near Side: Know Your Tack Shop