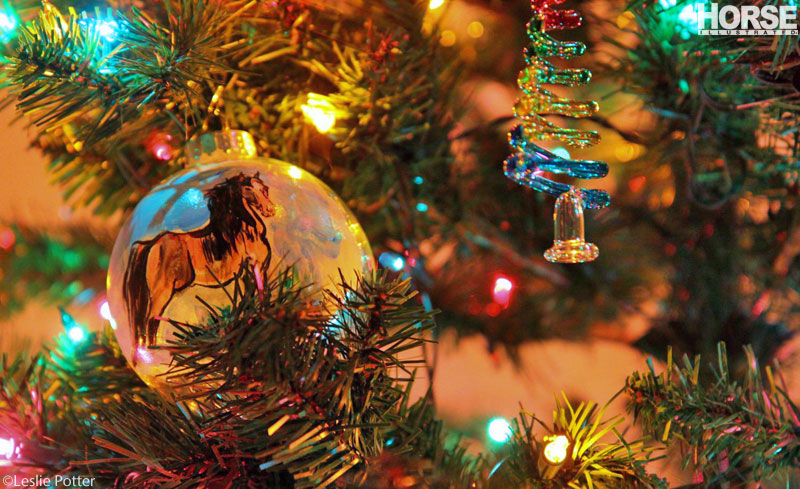 When you're making your gift list and checking it twice, you may come back again and again to the names of your horse-enthusiast friends. What should you get your trainer or barn buddies—especially when they seemingly have everything? These thoughtfully horse-themed ideas will help you decide on the ideal gifts for the equine lovers in your life.
The gift of your skills
Consider your skills and talents, as these can provide you with an extremely special approach to gift-giving. Are you a talented photographer? Take pictures of your friend and her horse so she can make them into Christmas cards. If you're good at sewing, make handmade or personalized horse-related items. If computer skills come naturally to you, craft a website for your trainer to showcase her horses. Look for ways that allow you to exercise your creative expertise while giving your friends a unique, one-of-a-kind gift.
The gift of your time
Certificates are an often-overlooked option when it comes to gift-giving. Make a gift certificate that says you'll care for your barn buddy's horse for the weekend, or make a gift certificate for your trainer that says you'll help with grooming. Your friends can redeem the certificates whenever they wish, and you'll be helping them out precisely when they need help the most.
The gift of your friendship
The gift of simply being friends is one of the best gifts you can give to your horsey pals. Treat your barn buddies to a pre-holiday lunch or go on a long trail ride through the snowy woods. Offer to host a barn party that will celebrate fun and friendship, or reach out to someone who's new at the barn. Just taking the time to make and deepen friendships is a priceless, memorable gift.
The gift of practicality
Maybe you want to give your friends tangible gifts that they can look at and enjoy all year long. Try some of these simple ideas for maximum enjoyment: horse-themed calendars (we need a new one every year!), helpful day planners, horse-themed décor, or personalized items with a photo of your friend's horse. Items that display a love of horses while still being useful in their own right are among the best choices for holiday gift-giving.
So why not try some of these ideas this season? They can be a great way to not only strengthen your shared bond of horse enthusiasm, but also a way to give truly thoughtful gifts to your friends.
Happy holidays!
Liked this article? Here are others you'll enjoy:
DIY Holiday Craft Ideas for Horse Lovers
Make Your Own Cowgirl Christmas Wreath
Horsey Holiday Gift Tags
---
Samantha Johnson is a freelance writer and the author of several books, including The Field Guide to Horses, (Voyageur Press, 2009). She raises Welsh Mountain Ponies in northern Wisconsin and is a certified horse show judge. Follow her on Twitter: @miraclewelsh