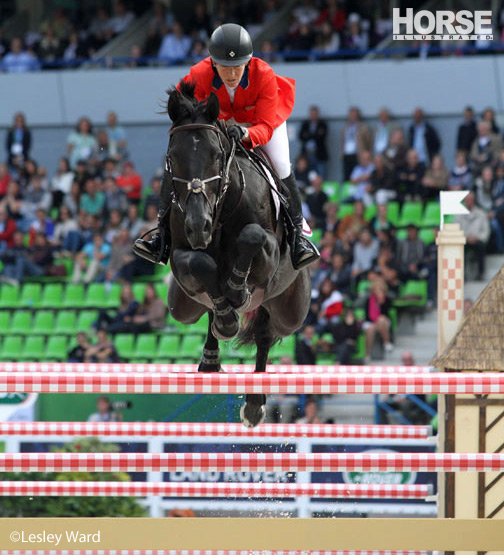 USEF Press Release
To close out a year of milestones, Beezie Madden of Cazenovia, N.Y. was awarded the Robert P. Strub Trophy as the 2014 United States Equestrian Federation (USEF) Equestrian of the Year at the Pegasus Awards Dinner on Friday, January 16. In the process the jumping superstar again made history as the first athlete to ever earn the coveted title four times.
The 2005, 2006, and 2013 Equestrian of the Year extended her legacy in 2014 with a remarkable campaign that saw her collect victories throughout North America and Europe. Her season began with multiple top placings at FTI Consulting Winter Equestrian Festival before claiming her third American Invitational title in Miami and a win in the Gran Premio Veracruz at CSIO4* Coapexpan.
In May, Madden suffered a broken collarbone that forced her out of the saddle, but the steely veteran returned on remarkable form, helping the U.S. to Furusiyya FEI Nations Cup victories at CSIO5*s Hickstead and Dublin. In addition to producing a double-clear in Hickstead's Nation Cup, she made history two days later as the first women to ever win the The Longines King George V Gold Cup. Madden closed out the summer by anchoring the Hermès U.S. Show Jumping Team to Team Bronze at the Alltech FEI World Equestrian Games, where she also added Individual Bronze to her medal haul. Her season came to a conclusion with strong performances jumping at indoors, including scoring a remarkable win in the CP World Cup Qualifier at the National Horse Show.
Cortes 'C' and Elis GV Earn 2014 Horse of the Year Titles
On a night dedicated to the horse, two special athletes were recognized for their excellence in 2014 during the USEF's Year End Awards Gala. In a year that witnessed equestrian athletes excel, Cortes 'C' and Ellis GV reached the pinnacle of their sports and for their achievements were named International and National Horse of the Year, respectively. Voting was open to the public through January and both horses, already fan favorites, were rewarded for their tremendous results throughout 2014 with support from voters.
International Horse of the Year:
Cortes 'C' (Randel Z x Orchidee Van De Tombeele)
2002 Belgian Warmblood gelding
Owner: Abigail Wexner
Cortes 'C' enjoyed a banner year in 2014, cruising to some of the most coveted titles in the sport of show jumping. Abigail Wexner's scopey Belgian Warmblood gelding began his campaign by twice collecting victory in the Ruby et Violette WEF competition at the FTI Consulting Winter Equestrian Festival with Beezie Madden. Then in August at CSIO5* Hickstead, Cortes 'C' jumped a double-clear to seal victory for the U.S. in the Furusiyya FEI Nations Cup, and two days later again produced two clears to seal a historic victory in The Longines King George V Gold Cup.
Next on the docket was the Alltech FEI World Equestrian Games, where Cortes 'C' had a single rail in nine rounds to propel the U.S. to Team Bronze and Madden to Individual Bronze, and with four impressive clears in the Final Four, he earned the "Best Horse" title. The final victory of the season for Cortes 'C' came in the CP World Cup Qualifier at the National Horse Show, as he and Madden earned victory in a jump-off for the ages.
"He's a horse I've believed in from the very beginning," said Madden, "I'm so glad he got his year to shine."
National Horse of the Year:
Elis GV (Mintse 384 x Berber Fan't Nije Libben)
2009 Friesian gelding
Owner: Beth Kornegay
Elis GV is the first homebred for Jim and Beth Kornegay of Grandview Farm, and the Friesian gelding is already proving to be quite the competitor. With an exceptional temperament, Elis GV carried seven junior riders, an adult amateur driver, and his trainer, Bruce Griffin, into the winner's circle a multitude of times in 2014.
This season alone, Elis GV scored 11 IFSHA National and World Championships, eight IFSHA Reserve National and World Championships, two IFSHA National Top Fives, 24 Regional Championships in three Regions, seven Regional Reserve Championships, and six Regional Top Fives. His results were across a variety of disciplines, including carriage pleasure driving, dressage, dressage hack, drive & ride, driven dressage, English show hack, hunter pleasure, sport horse in hand, trail in hand, western dressage, western pleasure, and working trail. Although busy in the show ring, Elis GV continued to show his exemplary character by being a mount in a therapeutic riding program, further demonstrating his versatility.
"I just want to thank God, my husband, my wonderful trainers, my people at home that show, and all my Friesian family," said Beth Kornegay while accepting the award for Elis GV.
"Elis is a great horse," added Jim Kornegay, "but he wouldn't be where he is without Bruce and Stacy [Griffin]."