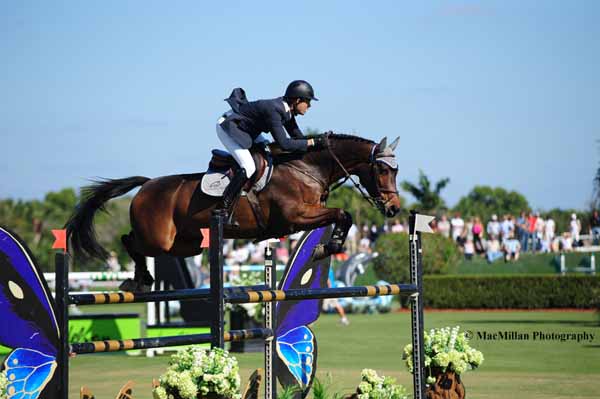 Show jumper Andres Rodriguez from Venezuela riding Caballito competes on the grass derby field at The Stadium at PBIEC. Photo by Allen MacMillan/MacMillan Photography
Looking out the window of the jet as we circle to land in West Palm Beach, I know I'm not in northern Indiana anymore! We glide in over the Atlantic coast and touch down amid palm trees and sunshine. It's a welcome break from the snow and ice of a normal Midwestern winter.
I'm lucky to be here for a couple of weeks to cover equestrian happenings 20 minutes inland from the airport in the village of Wellington and at other facilities in surrounding Palm Beach County. I always enjoy my time in South Florida, because it is an amalgam of many things that I love – a plethora of horse events, warm weather and flowers, tasty fresh fruit grown locally and many opportunities to photograph a variety of wild things in the copious natural areas nearby.
Wellington is the landlocked center of all things equestrian amid the tropical paradise that is south Florida. Located about an hour and a half up the Atlantic coast to the north of Miami and about two and half hours southeast of Orlando, Wellington is the largest incorporated village in Florida with a population that swells during the busy season from the first week in January through the end of March.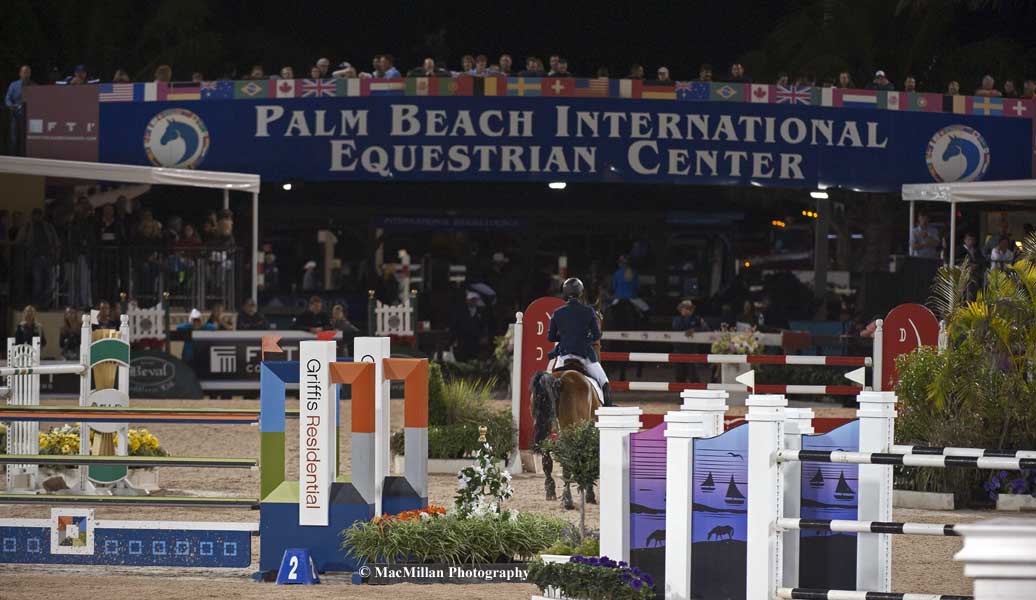 The iconic bridge that hovers over the entrance to the International Arena at the PBIEC is often filled with spectators watching the competition. Photo by Allen MacMillan/MacMillan Photography
It is home to the Winter Equestrian Festival (WEF), an international-level hunter-jumper circuit, at the Palm Beach International Equestrian Center (PBIEC), with the affiliated Global Dressage Festival (GDF), an equally highbrow dressage scene, at The Stadium at PBIEC just around the corner. The village also offers a healthy dose of polo at the International Polo Club Palm Beach where you can see high and mid-goal and junior matches each week.
The South Florida circuit affords a great opportunity to watch top equestrians, including Olympians and World Champions, in action. Horse people from all over the globe flock to the area each winter to compete for big prize money and to enjoy the weather and recreational activities. The region is a great place for any animal lover to visit whether you are planning a "splurge" trip with a more upscale bent or you are more budget minded in your vacation plans. To help you plan for your trip here are a few tips and must-see things to put on your agenda.
Getting There
The closest airport is West Palm Beach (airport code PBI), but you can also fly into Fort Lauderdale (FLL) which is about an hour away to the south or into Miami (MIA) which is about an a hour and a half away. My first choice for convenience is West Palm Beach since it's close to the action and is a slightly smaller airport with fewer hassles, although it may cost a few dollars more than flying into the other two airports. You will need to rent a car since Wellington is about 20 minutes from the West Palm Beach Airport and you'll want to explore the area to see the sights as well. There is a variety of rental car agencies right in the airport terminal; simply do your paperwork there then take a short bus ride to pick up your car.
Where to Stay
There is only one hotel that I know of in the village of Wellington, but do an Internet search for hotels near the West Palm Beach Airport or in the nearby towns of West Palm Beach, Royal Palm Beach, Greenacres City, Lake Worth, Boynton Beach and Rivera Beach. If you really want to live the high life, the historic Breakers Hotel on Palm Beach Island is a beautiful landmark with all of the amenities including a golf course, beautiful gardens and a private beach.
A green hunter competes in one of 18 rings at the Winter Equestrian Festival at the Palm Beach International Equestrian Center in Wellington, Florida. Photo by Kim MacMillan/MacMillan Photography
What to See and Do
Plan on at least two to four days to attend the horse shows at the WEF and GDF. The hunter-jumper and dressage shows generally run Wednesday through Sunday each week. There are 18 rings of hunter and jumper action at the WEF, as well as a good number of shopping and dining options. The Stadium at PBIEC boasts four outdoor dressage rings, a large covered arena, a polo field and a grass jumper derby field for staging both competition and educational events throughout the year. In January 2015 the WEF also hosted a modified eventing competition for the first time.
The winter show circuit in Wellington attracts many top international stars including Olympic dressage rider Tinne Vihelmson-Silfven from Sweden who won the 2013 World Dressage Masters in Florida with Don Auriello. Photo by Allen MacMillan/MacMillan Photography
Admission to both WEF and GDF is free every day, except tickets are required for the Nations Cup show jumping competition held this year on Friday, Feb. 27 ($35/seat general admission, first come, first served, will be only sold online). A $20/car parking fee is charged on Saturday nights only at the WEF, but parking is always free at the GDF. Check out the special Friday Night Stars competition at the Global Dressage Festival, which features FEI-level competition and live entertainment, and the Saturday Night Lights at the Winter Equestrian Festival, which includes featured jumper classes, entertainment and a children's fair complete with petting zoo, pony rides and a genuine Venetian carousel.
Another fun thing to do at the WEF is the "Lunch & Learn" educational series. Or if you would like a guided tour of the PBIEC grounds, make reservations for a lunch and tour package. If you want to experience the winter circuit hunter-jumper scene, but can't take your own horse down to Florida, perhaps the Palm Beach Riding Academy might fit the bill for you; they offer lessons and show horses for lease at the WEF. For more information on visiting the WEF and GDF download the helpful visitor's guide.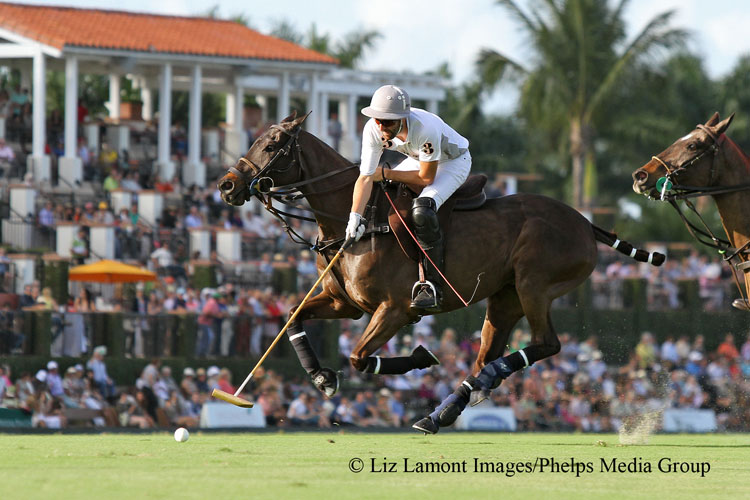 International polo superstar Polito Pieres of Argentina in the finals match of the 20-goal Herbie Pennell Cup in January 2015 at the International Polo Club Palm Beach in Wellington, Florida. Photo by Liz Lamont for Phelps Media Group
For the full Wellington equestrian experience, polo should be next on your list. Featured high-goal matches are on the program each Sunday at the International Polo Club Palm Beach on 120th Avenue South in Wellington. Admission prices range from $10 to $30 for general admission or you can opt to attend a pavilion reception for $55 – $65 per person or have a full champagne brunch while watching the action in preferred seating for $100 to $120 per person.
Looking for polo in a slightly more laid-back setting? Try the Gulf Stream Polo Club just one town to the south in Lake Worth where you can view medium-goal polo with free admission to the grandstands and where tailgate parties are encouraged. Itching to try your hand at polo? Sign up for a Saturday afternoon polo clinic at the Palm City Polo Club in Boynton Beach where they are offer instruction from beginner to advanced level riders. For $200 you get a polo lesson with an experienced horse and equipment included. Just bring your boots and helmet.
If trail riding is your thing and you really want to experience south Florida from the saddle, there are public trail riding facilities in the area. Though I've not been to either one yet, American Horse Trails, in Southwestern Ranches, Florida, and Bar-B-Ranch in Davie, Florida, both had excellent "Yelp" reviews and offer pre-trail lessons, trail horses for rental and pony rides for kids.
One last recommendation, if you make it to South Florida, do not leave without a little non-equestrian tourism. The ecosystems, history and culture of the region are quite different from the rest of the U.S. A word of caution, before you head out for sightseeing on Mondays, make sure to check that the attractions you want to see are open. Here are my top four favorite South Florida extras to do while in the area.
Side Trip # 1: An Afternoon Trip
Explore Palm Beach Island and then do dinner and shopping at City Place Mall in West Palm Beach before going back to your hotel. Go east to Palm Beach Island, home of oil and railroad tycoon Henry Flagler's residence which is now an interesting museum, and the historic Breakers Hotel built by Flagler in 1896. Take the museum tour (admission charged, but worth it) and stroll through the Breakers' grounds and lobby. Another beautiful garden on the island is at the Society of the Four Arts; admission to the gardens is free.
Side Trip # 2: An Easy Day Trip
Drive north on Highway 1 to Juno Beach and the Loggerhead Marinelife Center to see rescued sea turtles being rehabilitated to return to the wild; admission is free and the center is really interesting for any animal lover. About a half an hour farther north along the coast climb the steps of the Jupiter Lighthouse for a breathtaking view and learn about early Florida settlers in the surrounding village.
A Tricolored Heron fishing in the Everglades. Photo by Allen MacMillan/MacMillan Photography
Side Trip # 3: The Everglades
Take at least two days to see one of the most spectacular ecosystems in North America. From Wellington, you are only two and a half hours from the entrance to the Everglades National Park, home to both American alligators and American crocodiles (the only place in the U.S. where you can see both), the Florida panther, a multitude of birds, fish, turtles, frogs, snakes, manatees and other flora and fauna. On your way to or from the Park stop and buy fruit or homemade fruit milkshakes at the Robert Is Here fruit stand, a fun and flavorful refreshment stop.
The author's husband Allen MacMillan interacting with a dolphin at the Dolphin Research Center. Photo by Kim MacMillan/MacMillan Photography
Side Trip # 4: The Florida Keys:
Allow three or four days to really see this line of islands interconnected by miles of bridges. The drive down the keys is a scenic journey even if you don't stop along the way. Sights and attractions in Keys include: the John J. Pennekamp State Park on Key Largo where you can take a glass bottomed boat ride to see marine life; the Key Deer National Refuge on Big Pine Key where you can see this diminutive sub-species of Whitetail; the Dolphin Research Center where you can swim with dolphins, and the southernmost location in the continental U.S. in Key West. A quick internet search for Florida Keys information will yield tons of information, but start with www.VisitFlorida.com.
Liked this article? Here are others on vacations for equestrians:
Travel Guide for Equestrians
Selecting the Right Riding Vacation