Donna Barton Brothers was born to ride. Her father was a rodeo rider and her mother blazed a trail for female jockeys by becoming the first woman to ride more than 1,000 winners. Brothers followed her brother and sister into the race-riding profession and duplicated her mother's feat of 1,000-plus victories by the time she retired in 1998, the same year she married racehorse trainer Frank Brothers.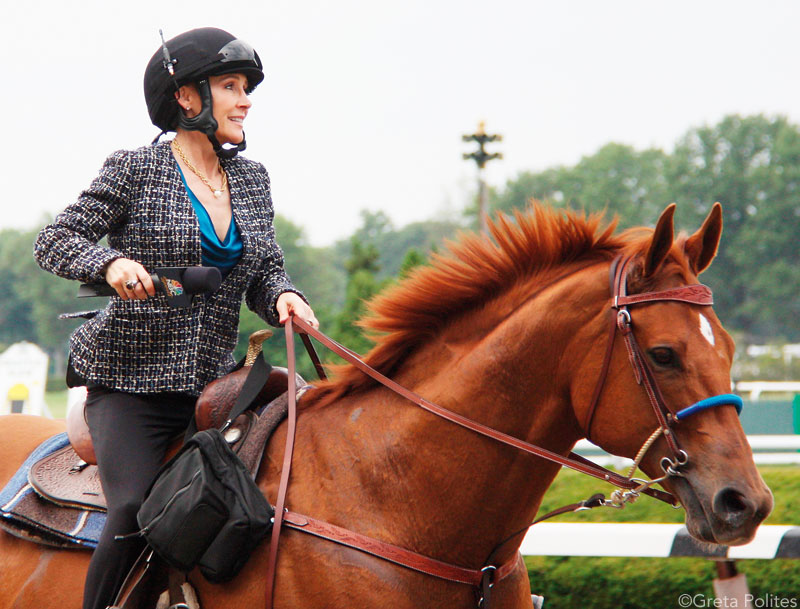 Donna is best known these days as a racing commentator on NBC's broadcasts. She rides alongside the winning Thoroughbred and interviews the jockey immediately after high-profile races such as the Kentucky Derby, Preakness and Belmont Stakes. For that work, Sports Illustrated named her best sideline reporter of 2014. Brothers usually chooses her mounts for each broadcast from the local lead ponies at the track. These horses are used to escorting racehorses to the starting gate and must be incredibly calm to withstand the day's frenzy.
Horse Illustrated: Did you ever consider a career away from Thoroughbred racing?

Donna Barton Brothers: Because of my family's racing history, I really wanted to do something that I thought would be more exciting, like be a vet or an attorney. But I graduated high school a year early and spent the next four and a half years galloping horses at the track. I planned to use the money for college. I decided to ride in just one race to eliminate being a jockey as a career option, and rode my first race in 1987 when I was 21. I was blown away. Not only was it the most exciting thing I'd ever done, it was the most challenging. I found a career and new respect for my family at the same time.
HI: How did you become a racing commentator?


DBB: I started in the winter of 1998-99 by doing post-race interviews on weekends at Fair Grounds Race Course in New Orleans where I was riding horses in the morning for my husband. That spring, Churchill Downs in Louisville, Ky., hired me to do a pre-race handicapping show. In 2000, NBC was looking for someone to be their on-track reporter on horseback and I was hired. The first show I did for them was the 2000 Breeders' Cup at Churchill Downs.
HI: Where do your mounts come from?

DBB: I've been on the racetrack my entire life, and my husband has been in the business for 40 years. I have a network of people who have horses, and if they don't have one suitable for me to ride, they know someone who does. When I go to New York, I usually ride a pony named Tucker.
HI: Do you ride your mounts before doing the broadcast?

DBB: That depends. If I haven't ridden the horse before, I'll ride him during the rehearsal the day before. Other times, I tell the producers that I know the horse and don't need to ride beforehand, but if they want me on horseback to test equipment, I'll do it.
HI: You're so fashionable, both in and out of the saddle. How do you choose an on-air riding outfit?

DBB: I have a lot of leather blazer-type jackets for that reason. They look good both on and off the horse. It's not easy to transition from wearing a pink suit and interviewing people on foot to wearing a pink suit on horseback! If I'm doing some commentary off horseback first, I might wear a statement necklace to make my shirt or blazer look nicer. But I'll take it off before I get on the horse.
HI: What was your favorite jockey interview?

DBB: It wasn't my favorite at the time, but it was when Calvin Borel won his first Kentucky Derby on Street Sense in 2007. I had lots of questions on my index cards for him, but he was very emotional and began saying he wished that his mom and dad were there. I was speechless, because I wasn't sure if they were still living. All of my questions went out the window. All I could do was go with what he was talking about. I thought I would get fired, but my producers told me what a great job I did. I learned a lot from that. I learned to live in the moment, instead of focusing on what I had planned.
HI: How do you stay fit and fabulous?

DBB: Back when I was riding Thoroughbreds for a living, staying fit wasn't a problem!
I started doing yoga when I was still a jockey. I felt like it helped my balance, my core strength and, maybe, most importantly, helped to maintain the integrity of my spinal alignment. Rebalancing my body after riding was best achieved through yoga or Pilates. I love yoga; it's a great workout.
Until my husband retired in 2009, I rode horses for him every day. Now I run trails in the park with my dog, Molly, three days a week. On the other days, I work out at the gym. I prefer the 60 to 90 minute core/sculpting/cardio classes.
Photo courtesy Donna Barton Brothers
HI: Tell us about your pups.

DBB: We have two rescue dogs, Molly and Holly. Molly is probably half Jack Russell Terrier and half Rat Terrier. I have no idea what Holly is. Maybe a Lab/Rottweiler/Beagle-mix? And, by the way, they came to us already named. It's not really a good idea to give dogs names that sound so similar. To a dog, Molly and Holly sound exactly the same!
HI: As a jockey, you had to think carefully about what you ate. Which foods fuel your active lifestyle today?

DBB: I love clean eating—meaning no processed or packaged foods. Frank and I eat at home five days a week on average and all our meats are antibiotic-and hormone-free from free-range animals. I eat as much organic produce as possible, but my diet isn't boring or bland. I love chicken enchiladas. I make lots of different types of soups. I love roasted chicken with winter vegetables—and who doesn't love a great steak? I know I do. Of course, I also eat lots of salads and I'd be remiss to omit that I eat a piece of dark chocolate every day without fail!
LIANE CROSSLEY is a freelance writer based in Lexington, Ky., with a lifelong passion for Thoroughbred racing.
---
This article originally appeared in the May 2015 issue of Horse Illustrated magazine. Click here to subscribe!