Tim Price and Wesko (NZL), currently tied for first place
After a long day of dressage in the bright sun, Germany's Michael Jung came out tied for the lead with New Zealand's Tim Price on a score of 36.3. Winning the dressage was all but expected of Jung, who was aboard his second mount in the competition, La Biosthetique – Sam FBW. Sam and Jung won individual gold at the 2010 World Equestrian Games at the same venue as Rolex, Lexington's Kentucky Horse Park.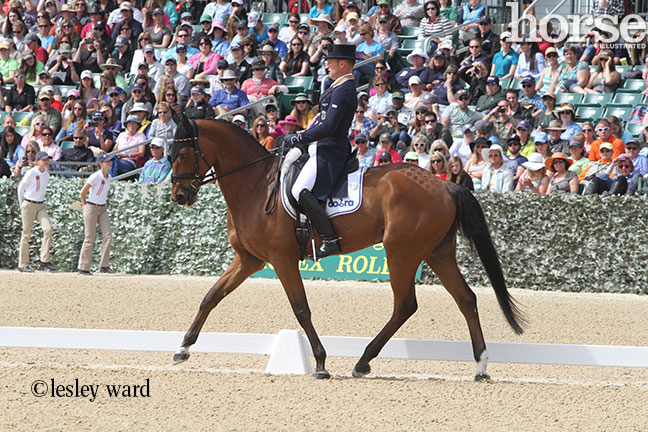 Michael Jung and La Biothetique – Sam FBW (GER), currently tied for first place
Price, though somewhat of a surprise atop the leaderboard, has a solid resume with his mount Wesko; the two won the four-star at Luhmühlen in Germany in 2014.
William Fox-Pitt and Bay My Hero (GBR), currently in third place
Sitting in third on a 38.5 going into cross-country is Great Britain's William Fox-Pitt, riding the horse he won Rolex with last year, Bay My Hero.
Michael Jung and FischerRocana (GER), currently in fourth place
Michael Jung's second mount in the competition, FischerRocana FST, sits in fourth place on a 39.3, giving Jung a fantastic chance at a top placing. This mare won individual silver with Jung at last year's World Equestrian Games in France while subbing in for Sam during a minor injury.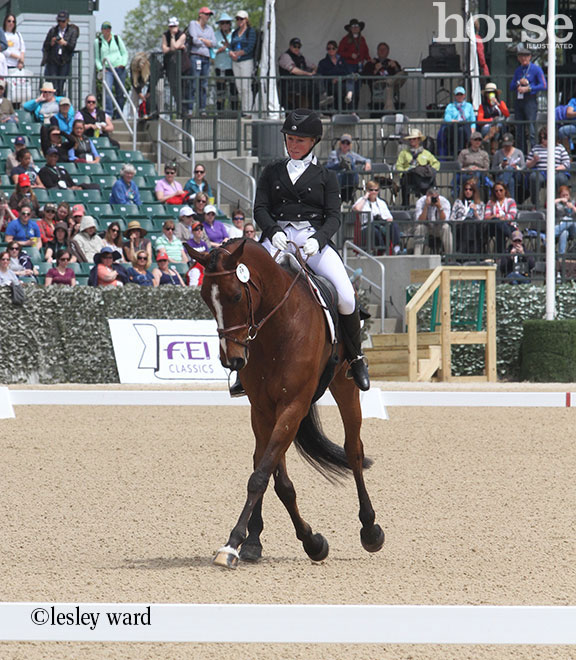 Colleen Rutledge and Covert Rights (USA), currently in fifth place
Fan favorite Colleen Rutledge took fifth place with a 42.3 aboard her newer mount, Covert Rights. Her famous partner Shiraz sits in 49th place.
California-based Mackenna Shea somewhat surprisingly snuck into sixth place aboard Landioso with a 43.7. No doubt the 22-year-old will be proud of this moment, besting all other Rolex rookie riders going into cross-country.

Mackenna Shea talks to USEFNetwork after her ride.
Laine Ashker and her ever-popular off-track Thoroughbred Anthony Patch had a stellar test on Thursday to sit in seventh on a 44.2 at the conclusion of the dressage phase.
Laine Ashker and Anthony Patch (USA), currently in seventh place
Lauren Kieffer and Veronica, who finished second at last year's Rolex, sit in a good eighth place of 44.3 with much still left to do.
The top 10 are rounded out by Marilyn Little on RF Demeter and Canada's Jessica Phoenix on Pavarotti.
With a forecast of non-stop rain for Saturday, organizers have reduced time between horses on cross-country from five minutes to three minutes in the hopes of finishing the day before the ground becomes too bogged down with mud.
Stay tuned to HorseChannel.com for more updates after cross-country on Saturday!
For a complete list of placings and scores, go to www.rk3de.org. For live streaming of cross-country, visit www.usefnetwork.org.
Phillip Dutton and Fernhill Fugitive (USA), currently in 14th place
Francis Whittington and Easty Target (GBR), currently in 15th place
Jolie Wentworth and Goodknight (USA), currently in 21st place
Elisa Wallace and Simply Priceless (USA), currently in 22nd place