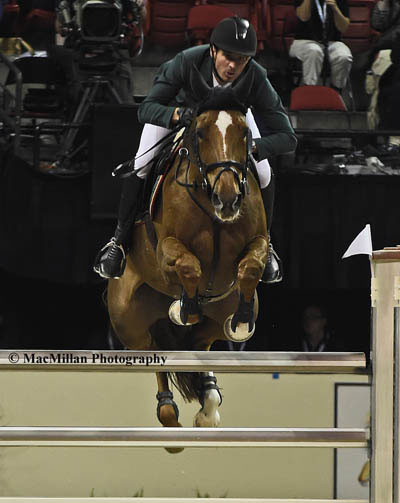 Swiss rider Steve Guerdat riding Albfuehren's Paille triumphed in the 2015 Longines FEI World Cup Jumper Finals in mid-April in Las Vegas, Nevada. Photo by Allen MacMillan/MacMillan Photography
For a girl from the Midwest arriving in Las Vegas, Nevada, is kind of like Alice tumbling down the rabbit hole to Wonderland. Last week I headed to Vegas to cover the Longines FEI World Cup Show Jumping Finals. On the approach to land at McCarran International Airport, which is only a couple of miles from the aptly named Vegas "Strip", I could see through the jet's window amazing rock formations shaped by thousands of years of wind and water. The rising sun colored the desert in pink and orange pastels. It looked peaceful and serene.
The Vegas Experience
Then I stepped off the plane and wham! The experience was similar to what I imagine Alice would have felt if she had met the Mad Hatter, the Cheshire Cat, the Caterpillar, the White Rabbit and the Queen of Hearts all at the same time. Move over Alice, and Dorothy from the Wizard of Oz too, I wasn't in Indiana anymore.
No neon was spared in making the city glow at night either, although I have to admit the lights were a breathtaking spectacle to behold. Walking along the strip I was bombarded with people handing out flyers and coupons, music coming from all directions, and hotels and casinos with every gaudy theme imaginable. High-end shops (Gucci, Prada, etc.) and restaurants (nearly all the big-name chefs have a presence there) line the streets too.

The Bellagio Hotel & Casino dancing fountain. Video by Allen MacMillan/MacMillan Photography
If you like music, comedy or magic currently you can choose from Brittany Spears, Donny and Marie Osmond, a large number of tribute bands, Blue Man Group, Cirque du Soleil, Carrot Top, Jerry Seinfeld, David Copperfield, Penn and Teller and many, many more. And, of course, you can take your pick of Elvi (that's the plural form of Elvis).
Staging the World Cup in the U.S.A.
I have to admit that Vegas is not my scene since all of my "gambling money" goes into horses and cameras. The only thing that brought me back there was the lure of seeing the world's best horses competing on U.S. soil at the World Cup. The Finals have been held previously in the U.S.A. four times: once in Las Angeles (1995) and three times in Las Vegas (2005, 2007 and 2009). The competition was amazing and I was not disappointed!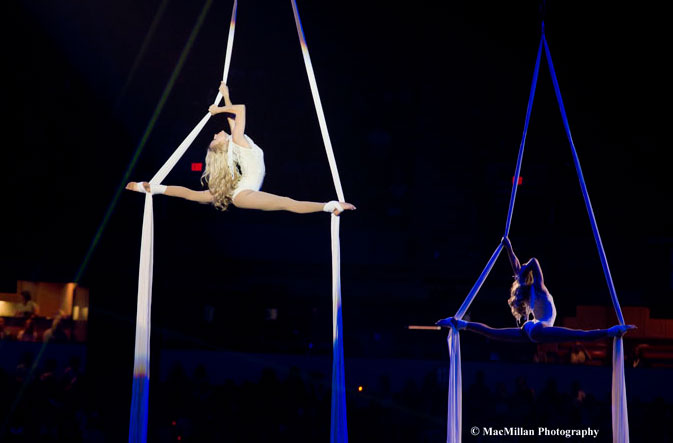 Twisted cloth ribbons and lots of practice were the only things between these two acrobats and a really long fall. They appeared to be performing effortlessly, but don't try this at home! Photo by Allen MacMillan/MacMillan Photography
At the beginning and end of each competition session, and sometimes in the middle too, there was Vegas-style entertainment. They even had a guy with an amazing pitching arm throw rider-autographed World Cup tee shirts into the audience from the arena floor – he could toss them all the way into the upper level seats! The announcer and cameramen conspired to feature audience members with a "kiss cam" which provided a platform for one young man to propose to his girlfriend – she said "Yes!"
Duel in the Desert
Saturday night after the Canadian Pacific Grand Prix, the "Duel in the Desert" entertained the audience by pitting cowboys versus jumper riders. The jumpers were challenged to ride a working cow horse following a steer and the cowboys were asked sit in an English saddle and guide their horses over a jumper course.
Jumper rider Lucy Davis of the U.S.A. tries her hand at working a steer. Photo by Allen MacMillan/MacMillan Photography
The three jumper riders were Steve Guerdat of Switzerland and Lucy Davis and Tanya Levorchick, both from California. The three cowboys from the National Reined Cow Horse Association were Brandon Buttars (paired with Guerdat), Zane Davis (paired with Levorchick) and Tucker Robinson (paired with Davis). With only one practice session each under their belts, Guerdat proved that he had a competitive inner cowboy and Buttars put in a smooth trip on his jumper to win the duel. Both credited their horses with the win and said that they would be happy to compete again if the opportunity came up.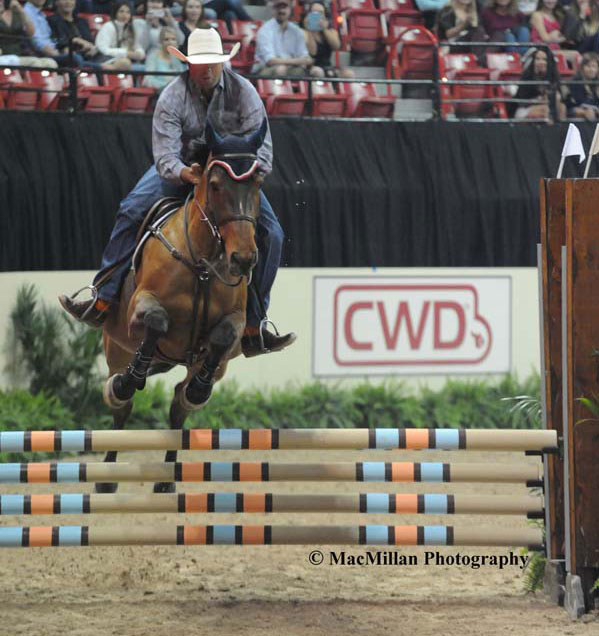 Tucker Robinson was one of three reined cow horse riders who took the jumper course as part of the "Duel in the Desert" on Saturday night in the Thomas and Mack Center. Photo by Allen MacMillan/MacMillan Photography
Guerdat talked about the experience of riding a cow horse, "I practiced last night. Actually the practice last night was better than today, so I was a little bit disappointed. But the horse was really great and he knows exactly what he has to do. So, it was lot of fun; I like it. It is very different. I would do it again. I like to watch this type of thing on YouTube."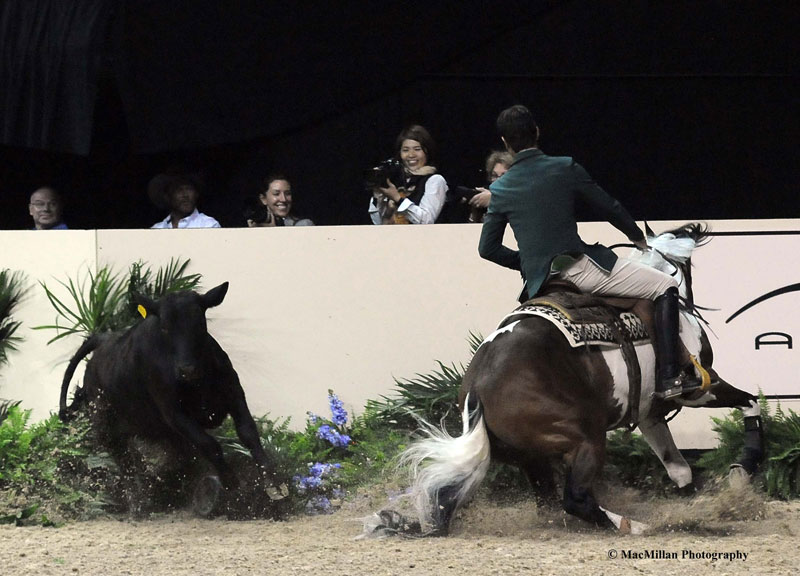 Olympic gold medalist in show jumping Steve Guerdat from Switzerland took first place in the "Duel in the Desert" partnered with cowboy Brandon Butters who jumped a course. Photo by Allen MacMillan/MacMillan Photography
Buttars, who trains reining cow horses on his ranch, smiled ear to ear when talking about the experience of jumping and being on a team with Guerdat, "When they invited me to come here I went and practiced once. I like jumping – it's fun! Steve rode really good. We talked about it last night; I just think he had a better cow last night. Tonight that cow challenged him right off. I might not have held the cow on the fence tonight. I'd offer Steve a job on my ranch."
Jumpers Fly High
The show jumpers took center stage each evening at 7 p.m. on Thursday and Friday, then the two-round final jumper competition took place on Sunday at noon. If you arrived early in the week you could even get a ticket to watch them school on Wednesday. There was also an open jumper class on Tuesday and the Canadian Pacific Grand Prix on Saturday (these classes were for horses not in the finals).
I walked two of the jumper courses with course designer Anthony D'Ambrosio from New York. D'Ambrosio designed each day's course to challenge the competitors and sort out the leaders, but also to safely transition the horses and riders who were up to the task on to the next round. The small oval arena of the Thomas and Mack Center proved challenging for the horse and rider pairs with turns that came up very fast and some lines with tight distances.
Beezie Madden of the U.S.A. and Abigail Wexner's Simon, winners of the 2013 World Cup Finals, tried their hearts out and finished a respectable fourth in the 2015 Longines World Cup Finals. Photo by Allen MacMillan/MacMillan Photography
There were 40 starters from 19 countries in Round I of the World Cup competition. Past World Cup winning pairs vying for another trophy this year included Rich Fellers from the U.S. A. riding Harry and Molly Chapman's Flexible (2012), Beezie Madden, U.S.A., riding Abigail Wexner's Simon (2013), and Germany's Daniel Deusser riding Stephex Stables' Cornet d'Amour (2014). In addition, the 2012 Olympic gold medalist Steve Guerdat from Switzerland made the trip to Vegas with Albfuehren's Paille. Guerdat had been runner up in both the 2012 and 2013 World Cup Finals and was fourth in 2014.
The World Cup Finals started with a warm-up on Wednesday, April 15, then a first round of competition on Thursday, April 16 and a second round competition on Friday, April 17. Then the World Cup jumpers took a rest day (Saturday, April 18) and, finally, they jumped over two courses in the final round to decide the winner on Sunday, April 19. The horses and riders accrued points over the three rounds in order to determine the ultimate winner of the finals, although they did award ribbons and prize money to the winners of each round too.
Thursday was a lucky day to be 19 years old and Irish in Round 1 of the World Cup. Nineteen-year-old Bertram Allen from Ireland topped the class riding Ballywalter Farm's grey mare Molly Malone V, with Rich Fellers riding the 19-year-old Irish Sport Horse stallion Flexible to finish second.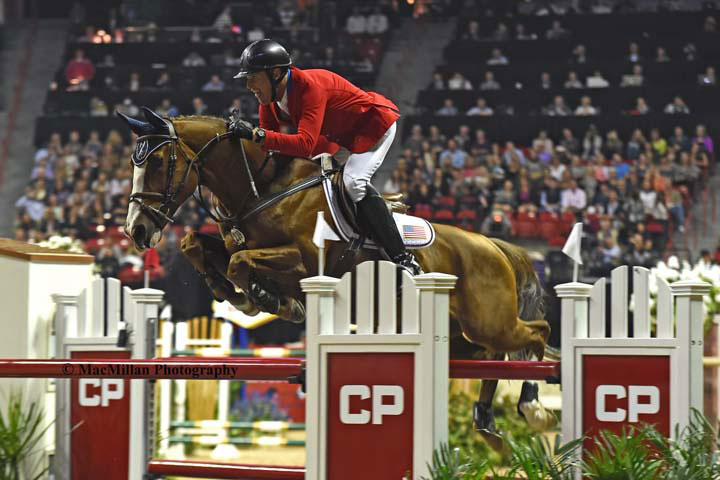 Richard Fellers and Harry and Molly Chapman's 19-year-old Irish Sport Horse stallion Flexible returned to the 2015 World Cup Finals after Flexible recovered from potential career-ending injuries. They had previously won the 2012 renewal of the World Cup. Photo by Allen MacMillan/MacMillan Photography
While I was hoping that all of the competitors would have a great go, for sentimental reasons I really wanted to see Fellers and Flexible do well at this World Cup again. The scrappy little stallion had been brilliant in 2012, then had a bad injury that would have kept most horses in retirement, but he'd come back for what may be his final World Cup. Fellers talked about his long-time partner, "He feels as good as he's ever felt. I think the crowd took four or five years off his age. I felt his back rise up and off we went."
Friday's Round II put Guerdat one step closer to the awards podium as he topped a field of 35 to take the lead in the point standings with the U.S.A.'s Fellers and Flexible only one point behind and Allen and Molly Malone just two points back. France's Penelope Leprevost riding Genevieve Magret's Vagabond de la Pomme and Madden and Simon were also within striking distance.
When Sunday rolled around, the competition was down to 29 horse and rider combos for the first course and then the field was narrowed again to 20 for the final go round. The closing day's competition proved to be everything you'd expect in World Cup Final: very challenging courses; some great riding and jumping; tense moments and costly mistakes, and jubilation and Longines watches for the winners. The audience loved it.
In the end Guerdat took the overall top spot, with Leprevost in second and Allen in third. U. S. riders Madden finished fourth, Fellers in seventh and Lucy Davis and Old Oak Farm's Barron from the U.S.A. in ninth.
"It is an amazing feeling," said Guerdat. "I am blessed to be able live this moment and to sit here. I just want to share this with all of the people who have been all the way with me; I have so many people to thank. It's a long time I've been trying to win this. I came close many times.
"Today I nearly messed it up again. Coming to the last fence I felt more of a cow horse rider, than a real jumper rider," he laughed referring to their rough jump at the final Longines fence that seemed to take both Guerdat and his horse by surprise, "But, OK, I made it and I am happy."
Looking ahead, the next two World Cup Finals will be in Gothenburg, Sweden, in 2016 and Omaha, Nebraska, in 2017. I overheard many spectators in Vegas talking about making the trek to Sweden next year and wondering what the planners in Omaha had in mind for 2017. The competition should be great regardless of the location, but Las Vegas certainly put their own unique stamp on this year's World Cup that is unlikely to be duplicated. What happens in Vegas stays in Vegas, baby!
Click here to read about the 2015 Reem Acra FEI Dressage Finals >>