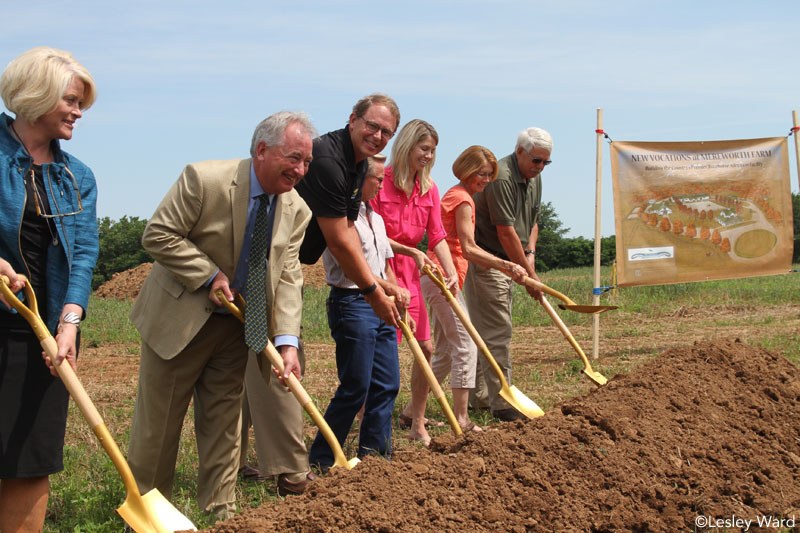 New Vocations Program Director Anna Ford and other retired racehorse advocates, including Hall of Fame jockey Pat Day, prepare to break ground to celebrate the opening of the New Vocations facility.
New Vocations, the nation's largest racehorse adoption program, broke ground on an 85-acre adoption facility in Lexington, Ky., today. The facility will feature two 15-stall barns, an indoor arena with viewing area, an outdoor arena, an office and multiple pastures and paddocks for retired racehorses. The Susan S. Donaldson Foundation has given New Vocations a free long-term lease of the property located on Mereworth Farm. The foundation has also agreed to supply feed to the Thoroughbreds that are accepted into the New Vocations program.
New Vocation currently runs seven facilities in four locations and serves more than 450 horses. The facility will be the first permanent home for the program.
Anna Ford, New Vocations Thoroughbred Program Director, said that the charity had several goals that would be achieved by the opening of the new facility.
"First, we'll be able to take more horses," said Ford. "A day doesn't go by when I don't get a call or email from a trainer or owner who has a Thoroughbred that needs a home.
"We'll have a facility that will be open to the public. We'll be able to showcase what these amazing Thoroughbreds can do.
She continued. "We'll be also able to host clinics and educate people about racehorse aftercare. And finally, this facility will be an example of how many people in the racing industry care about their horses after they lead the track."
The new farm will also give New Vocations the chance to do what they haven't been able to do before:
"For the first time, we'll have the space to retire horses to pasture," explained Ford.
To learn more about New Vocations and the new facility at Mereworth Farm, visit www.newvocations.org.