American Pharaoh has created a Moneigh – a painting named after French artist Claude Monet and the neighing sound horses make. He is the most recent in a line of horses to create one and may be the most famous with his recent Triple Crown win.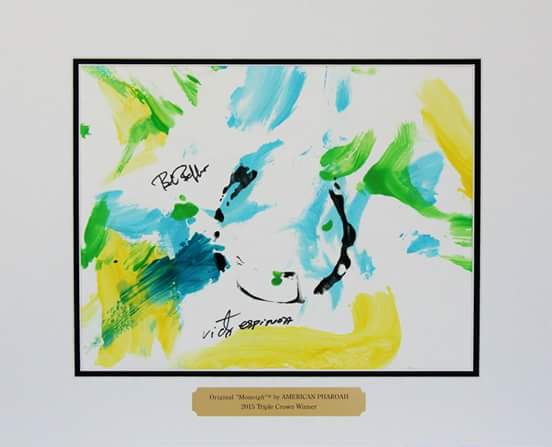 The paintings are done through After the Finish Line, a nonprofit organization that raises funds for retired Thoroughbred horses throughout the United States, as well as through Rerun Inc., a nonprofit that takes in Thoroughbreds and rehabilitates and retrains them. A Moneigh is an abstract painting done with watercolors. The non-toxic paint is placed on the horses' muzzles and hooves, using their racing colors as well as complementary colors. The horses move their muzzles on the paper, creating a unique abstract that is then sold on eBay. The funds raised go toward After the Finish Line and Rerun Inc., Fox Sports reports.
American Pharaoh's Moneigh – the finished item. Auction starts July 19! @ReRunOTTB pic.twitter.com/PUVsoAsUsY

— Lisa Molloy (@lisaky72) July 16, 2015
American Pharaoh's painting, seen above, will be available at auction starting this Sunday, July 19. The auction will also have Moneighs by Ocho Ocho Ocho, Distorted Humor, Mine that Bird (along with a poster signed by his owners), Tiznow, Justin Philip (along with a shoe worn at the farm), Turkoman, Firing Line and Texas Red.

Liked this article? Check out this painting horse:
Meet Metro the Painting Thoroughbred