Norman, originally called Alydeed's Leader, started out as a racehorse. He was Alydeed's son and a Northern Dancer descendent. He raced for seven years, starting 40 races, winning two. He placed second or third in several of them,
according to Ottawa Citizen
. After his racing career he was sold to a neglectful owner, who Norman lived with for two years before being relinquished to a horse shelter.
In 2010, Heather Young signed up for English riding lessons at the rescue Norman was at. When he saw her, he walked over to her. "He just kept walking and literally stopped right in front of me, and put his head down. And that was it: 'OK I'm in love,'" Young told Ottawa Citizen. She, of course, adopted him.
Norman became stronger in the initial months Young had him. However, his eye was watery and a veterinarian was called. Not knowing the cause, the veterinarian suggested an equine ophthalmologist, who misdiagnosed the issue as uveitis, Ottawa Citizen reports. The treatment caused further damage to Norman's eye. Due to the severity of the damage, Young was told she could either put Norman down or have the eye removed.
"I just couldn't put him down, I just couldn't," Young told Ottawa Citizen. "With everything he went through — and if you have ever scratched your eye it is the most painful thing in the world — he never once struck out at anybody, he was never angry, he never stopped eating, he was the same horse… And if we had to relearn everything, I was willing to give him the time to do it."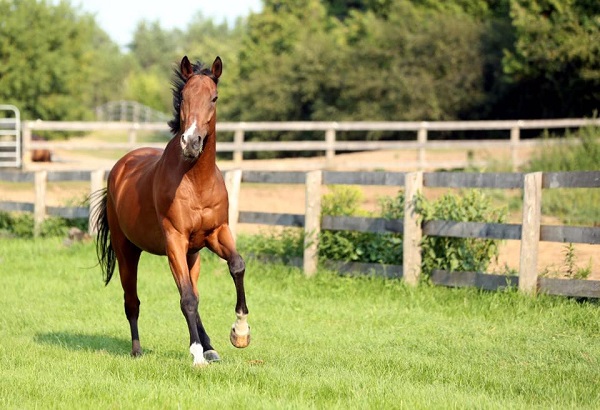 Norman experienced balance issues and bumped into a few things as he adjusted to having only one eye. He overcame his adversity, though, and began jump training. He placed second and third in his first show. His perseverance inspired Young to write two children's books. One, called Norman, is about being different after losing an eye. The second book is called Norman and the Bully. Both are stories that many children may relate to.
Unfortunately, on July 17, 2015, Norman had to be euthanized after fracturing a leg. Many expressed their condolences on his Facebook page.
For Young, there are touching images on the Facebook page that reflect the bond they shared. As she told Ottawa Citizen, "He was my heart and soul."
Liked this article? Read more on horses overcoming adversity:
Horse Survives Loss of an Eye
Equine Cancer Survivor Wins Big