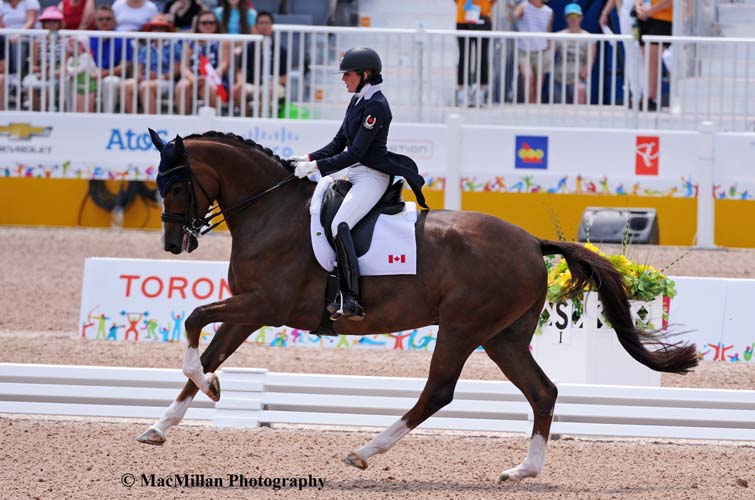 Canada's Brittany Fraser and All In were just a smidge over one point behind Peters and Legolas in the standings at the close of the first day scoring 76.105%. Photo by Jen Emig/MacMillan Photography
In past years Pan American Games dressage competition has been contested at the international Prix St. Georges/Intermediaire level (also called the "small tour"); the idea being that more Pan American countries would be able to participate that way. This year for the first time the Fédération Equestre Internationale (FEI) decided to try allowing countries to send a mix of small and "large tour" (Grand Prix level) horses if they chose to do so. Several countries did send teams of mixed level competitors. Regardless of the level ridden, the horse and ride with the highest percentage score wins the day's competition.
Saturday's competition proved to be very exciting with both the U.S.A. and Canada coming to win! By the end of the day the top eight places were held by the four U.S. and the four Canadian riders with every score over 70%. The U.S.A.'s Steffen Peters riding Four Wind Farm's Legolas 92 was in the lead with Canada's Brittany Fraser riding All In taking second. Find the scores at
results.toronto2015.org
.
Steffen Peters gets a hand shake from Jerry Yang, co-founder of Yahoo! and co-owner of Four Winds Farm with his wife Akiko Yamazaiki, while Akiko and their daughter look on. Peters and Four Winds Farm's Legolas 92 finished the day in first place with a 77.240%. Photo by Sarah Miller/MacMillan Photography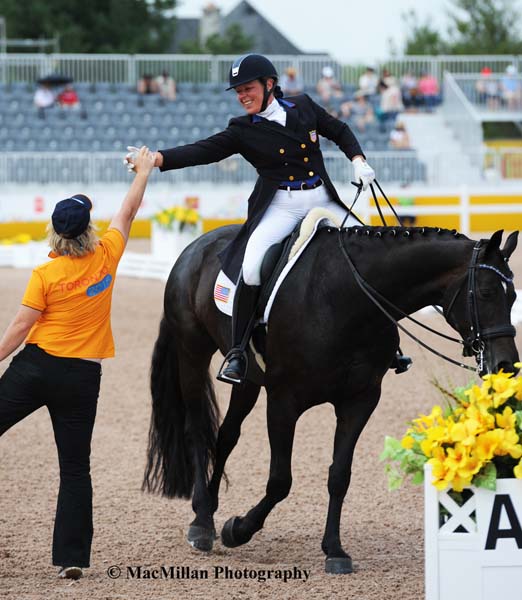 Kimberly Herslow of the U.S.A. gets a high five from Canadian Olympic dressage rider Jacquelyn Brooks who decided to volunteer at the Pan Am Games. Herslow and Rosmarin put in a beautiful test to take third at the end of day 1. Photo by Jen Emig/MacMillan Photography
Laura Graves from the U.S. and her Dutch Warmblood gelding Verdades sat fourth in the standings at the close of competition on July 11. Photo by Shelley Higgins/MacMillan Photography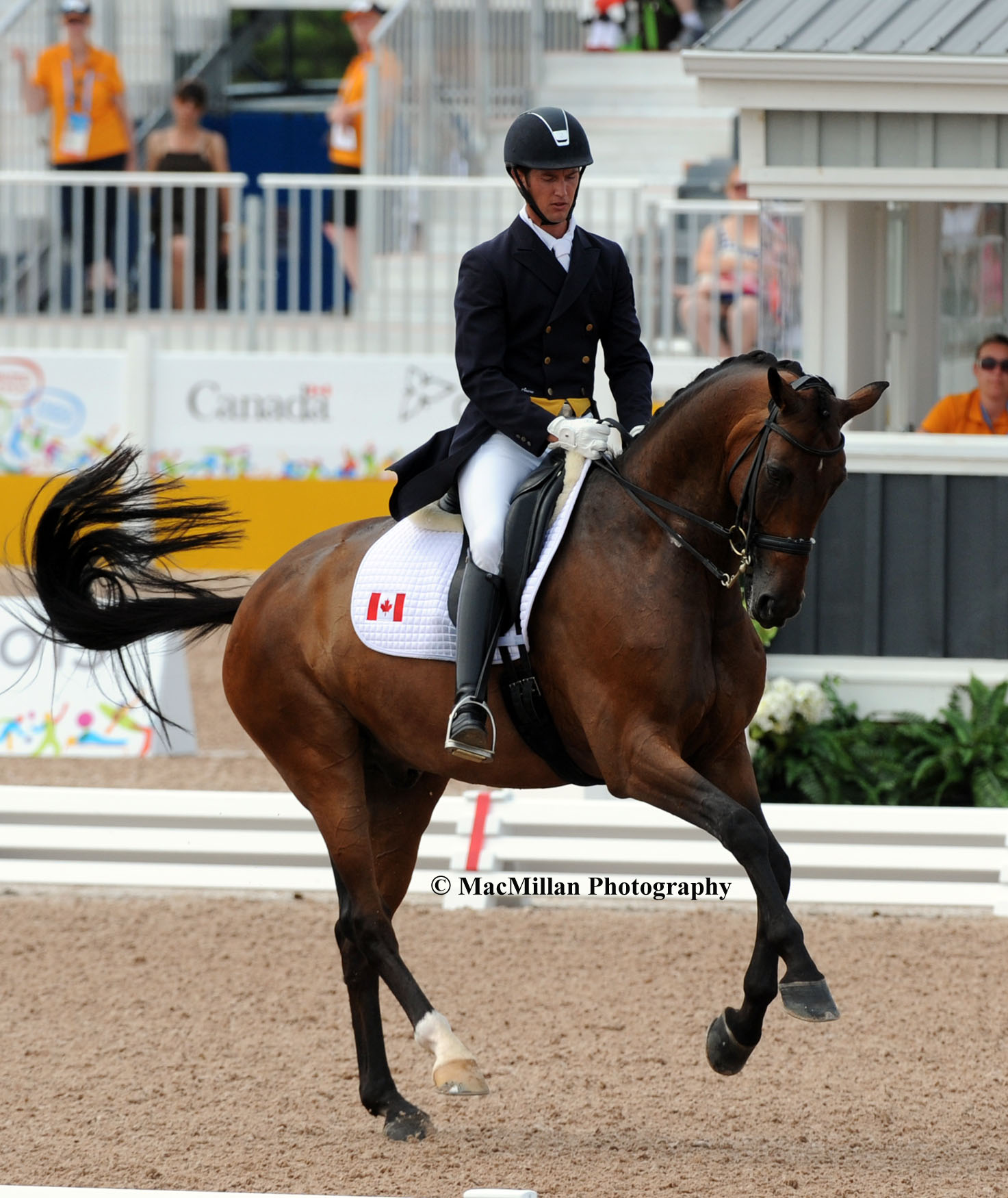 Fifth place on day 1 of Pan Am dressage went to Canada's Christopher von Martels riding Zilverstar. Photo by Jen Emig/MacMillan Photography
Belinda Trussell did a great job of finessing Anton through his test after he spooked just before going into the ring. They finished in the sixth spot. Photo by Allen MacMillan/MacMillan Photography
Sabine Schut-Kery from the U.S.A. rode in her first Pan American Games with the Hanoverian stallion Sanceo. They placed seventh. Photo by Allen MacMillan/MacMillan Photography
Canada's Megan Lane rode her mare Caravella to eighth place doing their part to contribute to the team score. Photo by Jen Emig/MacMillan Photography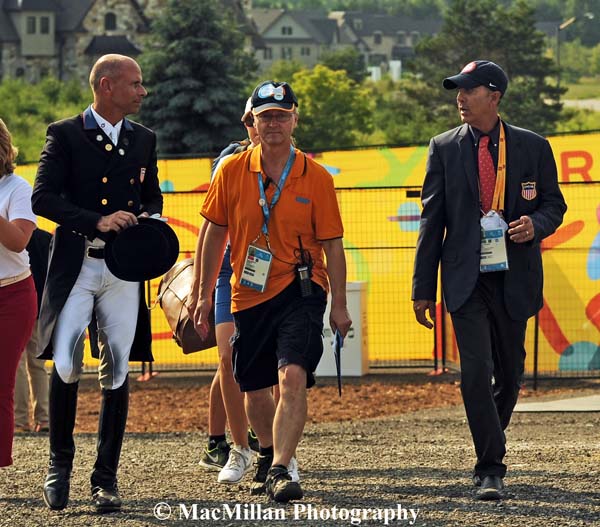 A Toronto Pan Am volunteer (center) in the burnt-orange shirt escorts U.S. rider Steffen Peters (left) and U.S. chef d' equipe Robert Dover in the warm-up area. Photo by Sarah Miller/MacMillan Photography
Uruguay's Ramon Beca Borrego gave his horse Zaire, an 11-year-old Lusitano stallion, the credit after their Grand Prix ride. Photo by Sarah Miller/MacMillan Photography
Joao Victor Marcari Oliva from Brazil was very happy with his ride on Xams Dos Pinhais which put them in 15th. Xams Dos Pinhais is a 13-year-old Lusitano stallion. Photo by Sarah Miller/MacMillan Photography
See more photos from the 2015 Toronto Pan-Am Games:
Initial Dressage Horse Inspection