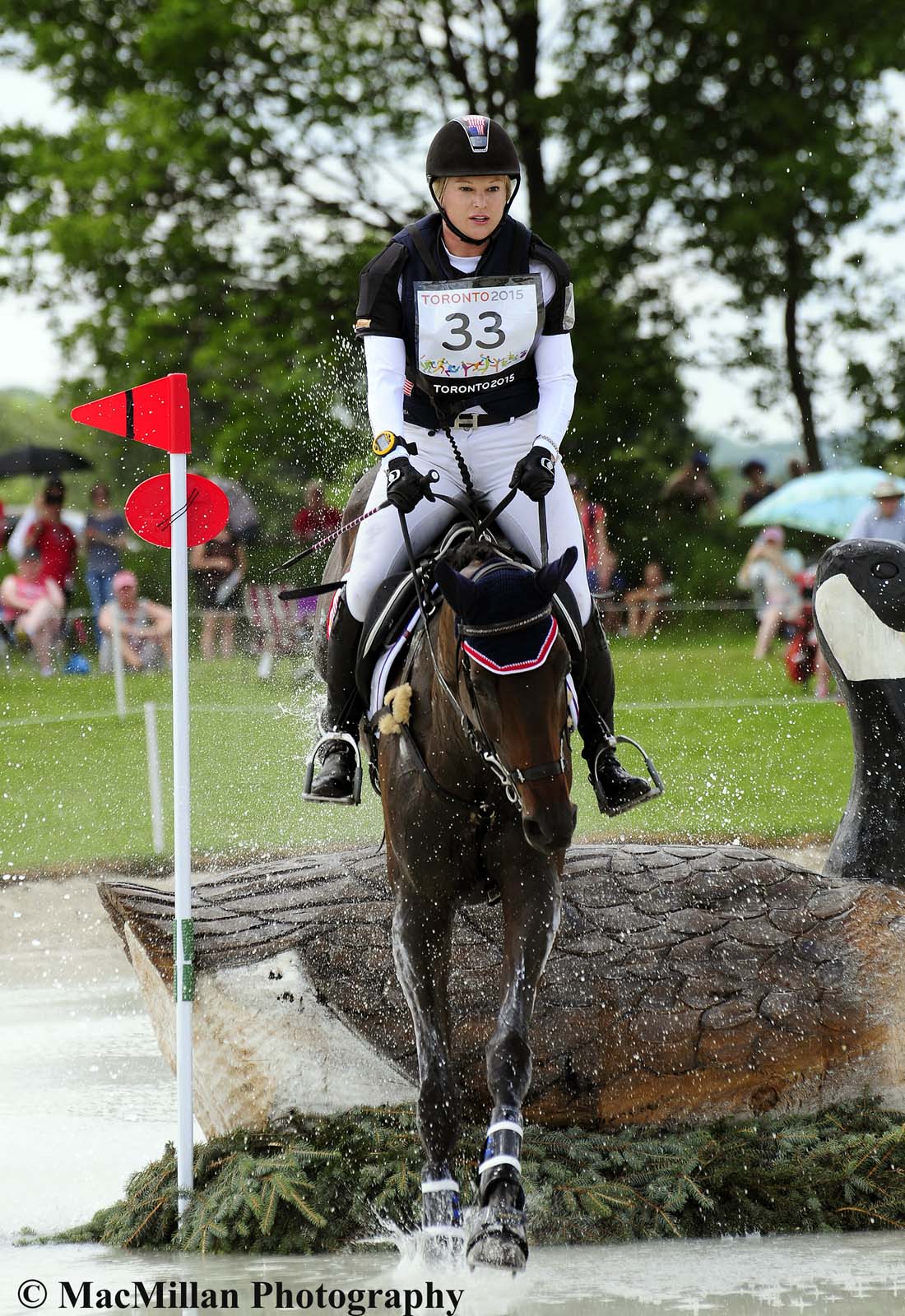 The U.S.A.'s Marilyn Little and her mare RF Scandalous made cross-country look easy and finished the day in second. Photo by Sarah Miller/MacMillan Photography
Saturday was the day every eventing fan eagerly awaits – cross-country. Forty-two horses started Wayne Copping's new Pan Am cross-country course at Will O' Wind Farm. There had been 43 in the dressage phase, but Guatemala's Alvaro del Valle withdrew his horse Nahual before cross-country to narrow the field by one. No word so far as to why he withdrew Nahual.
Boyd Martin walking cross-country in the morning before he rode the final round of the day. Photo by Allen MacMillan/MacMillan Photography
After Friday's cool, rainy weather for dressage, it was mostly sunny and quite hot and humid for cross-country. The only saving grace, weather wise, was a nice breeze that probably spared many spectators, and hopefully the horses and riders, from heat stress. The Pan Am Eventing Organizing Committee did plan well to deal with hot weather. They had water bottle filling stations placed at several spots on course for spectators, a misting fan tent for the horses to use when they came off cross-country and a huge contingent of medical staff on hand to deal with any emergencies whether they be horse or human related.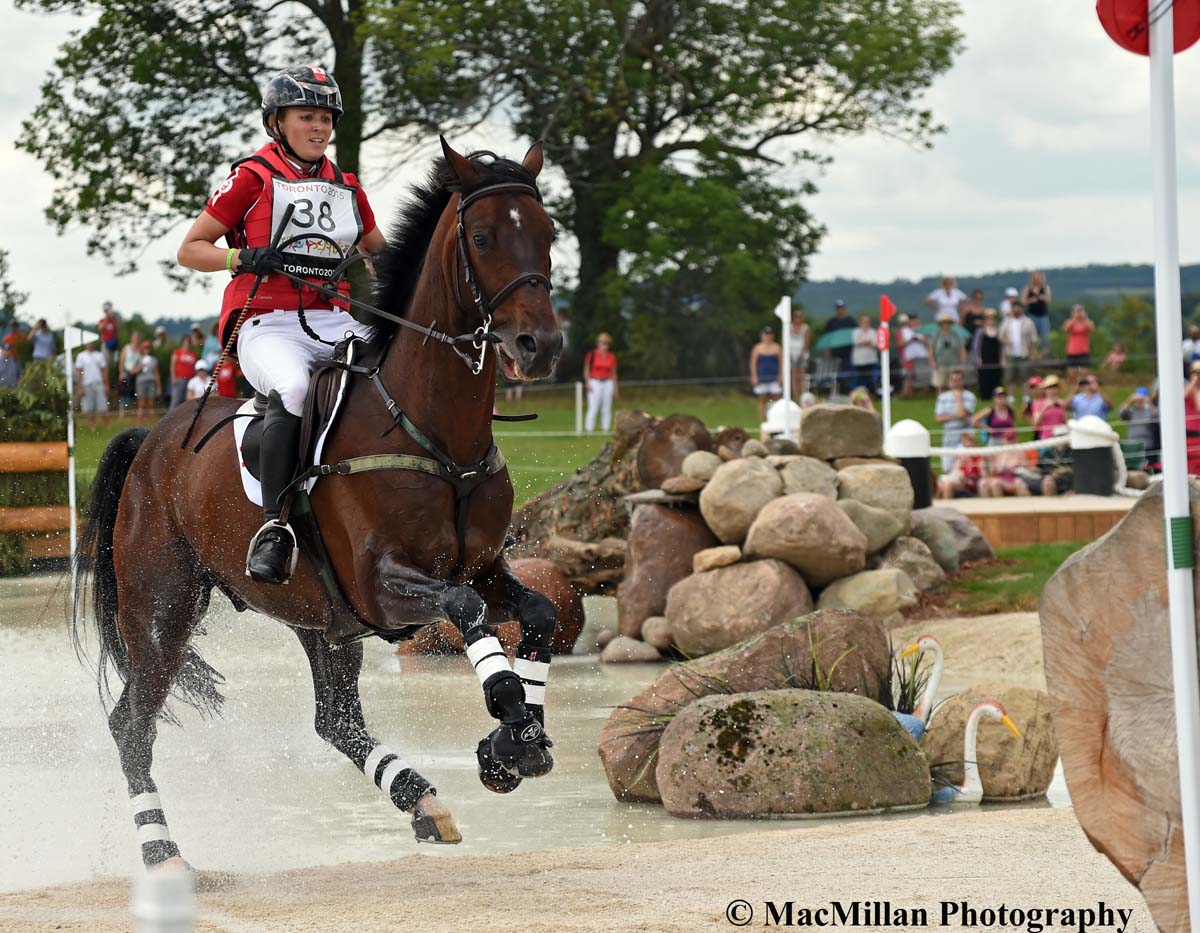 Defending Pan Am Games champions Jessica Phoenix and Pavarotti from Canada sailed around cross-country. Photo by Allen MacMillan/MacMillan Photography
There some very familiar faces to die-hard eventing fans coaching a number of the teams: Karen O'Connor, U.S.A., for the Mexican team; David O'Connor for the U.S. team; Mark Todd, New Zealand, for the Brazilian team; Peter Gray, Canada, for the Guatemalan team; Kyle Carter, Canada, for the Venezuelan team, and Clayton Fredericks, Australia, for the Canadian team. If Karen is any indication, the coaches must be using many techniques to get around the language barriers when teaching; I overheard her saying to the Mexican riders as they were walking the course, "This is where you must sit down and ride, you know…vroom, vroom."
Course builder Eric Bull discusses with the volunteer fence judges the procedure for replacing the frangible pins used on fence 13. Photo by Allen MacMillan/MacMillan Photography
There were some great rides by a number of key players, and some new faces too, with 18 making it around the course with no jumping and no time penalties to finish on the dressage score. This list of faultless riders included: all four Brazilian and U.S. riders; three riders each from Canada and Ecuador, and one rider each from Chile, Mexico, Venezuela and Uruguay. In addition, Lauren Billys from Puerto Rico, who rides in the U.S., and her horse Castle Larchfield Purdy jumped clear and had only 0.8 time penalties. Click here to see the results from cross-country and the fence analysis showing where refusals and falls occurred.
Brazilian team veteran Ruy Fonseca's determined look says he didn't just come to play, he came to win. He took first in dressage and rode a faultless round on cross-country to maintain his lead on Tom Bombadill Too. Photo by Sarah Miller/MacMillan Photography
The overnight individual leader after dressage, Ruy Fonseca from Brazil, rode Tom Bombadill Too brilliantly around the course to maintain his lead. Perhaps the most significant shake up of the day was the rider in second after dressage, Kathryn Robinson riding Let It Bee for Canada, had a fall at fence 2 to end their hopes for an individual medal. I was photographing the start and took photos of them out of the box and over fence 1 and all looked well. They galloped on to fence 2 and I heard her horse hit that fence hard which catapulted Robinson out of the saddle although the horse did not fall. Both horse and rider were fine afterward and made the long, disappointing walk back to the barn. Because of their elimination the riders just below her in order of finish after dressage (third through eleventh places) moved up a spot by the end of cross-country.
Sitting in second after dressage, Canada's Kathryn Robinson had an unfortunate fall at fence 2. She and her horse Let It Bee were fine afterward. Photo by Kim MacMillan/MacMillan Photography
There were a few rider falls (3), horse falls (4) and a number of refusals on course (see cross-country fence analysis), but all are reported to be doing well after the fact. The most significant horse fall was that of Argentina's Larthago, a big grey horse ridden by Javier Marcelo Rawson. They jumped down into the water at fence #20a and the horse didn't have both feet firmly under him (as best we could tell from the photos we took) and he went down on his front end and completely submerged in the water. Rawson was unseated and also took a bath. When Larthago came up he had scraped the skin off his face in a patch between his ears about the size of a silver dollar and must have cut his chest behind his elbow with a stud from his shoe or from the gravel lining the pond because he was bleeding. He did appear sound, but as a precaution they took him away in the horse ambulance.
U.S.A.'s anchor rider Boyd Martin made the best of his round on Pancho Villa and finished inside the time and clean over all of the obstacles to end up fourth at the end of cross-country. Photo by Sarah Miller/MacMillan Photography
Team Canada suffered due to Robinson's elimination and dropped from silver medal contention to third after cross-country. Canada's Waylon Roberts and his horse Bill Owen did redeem themselves on cross-country by going double-clear after a disappointing dressage test, but the loss of Robinson's second place spot after dressage was a big hit. Canada's loss was Brazil's gain when they moved up to a strong second place when all of their riders went double clear on cross-country. Team U.S.A. maintained their lead by 3.7 points over Brazil and 26 points over Canada. The Brazilians clearly came to make a statement about their eventing skills and their coach Mark Todd has made a positive influence since I saw the Brazilian riders four years ago in Guadalajara.
Carlos Lobos of Chile had a clean run on cross-country to finish fifth after Saturday's cross-country. Photo by Sarah Miller/MacMillan Photography
Sunday's stadium jumping will tell the final tale. The top three are separated by less than one rail, so it should be exciting. Here's hoping that everyone leaves the rails up! For more information, results and schedules go to www.toronto2015.org.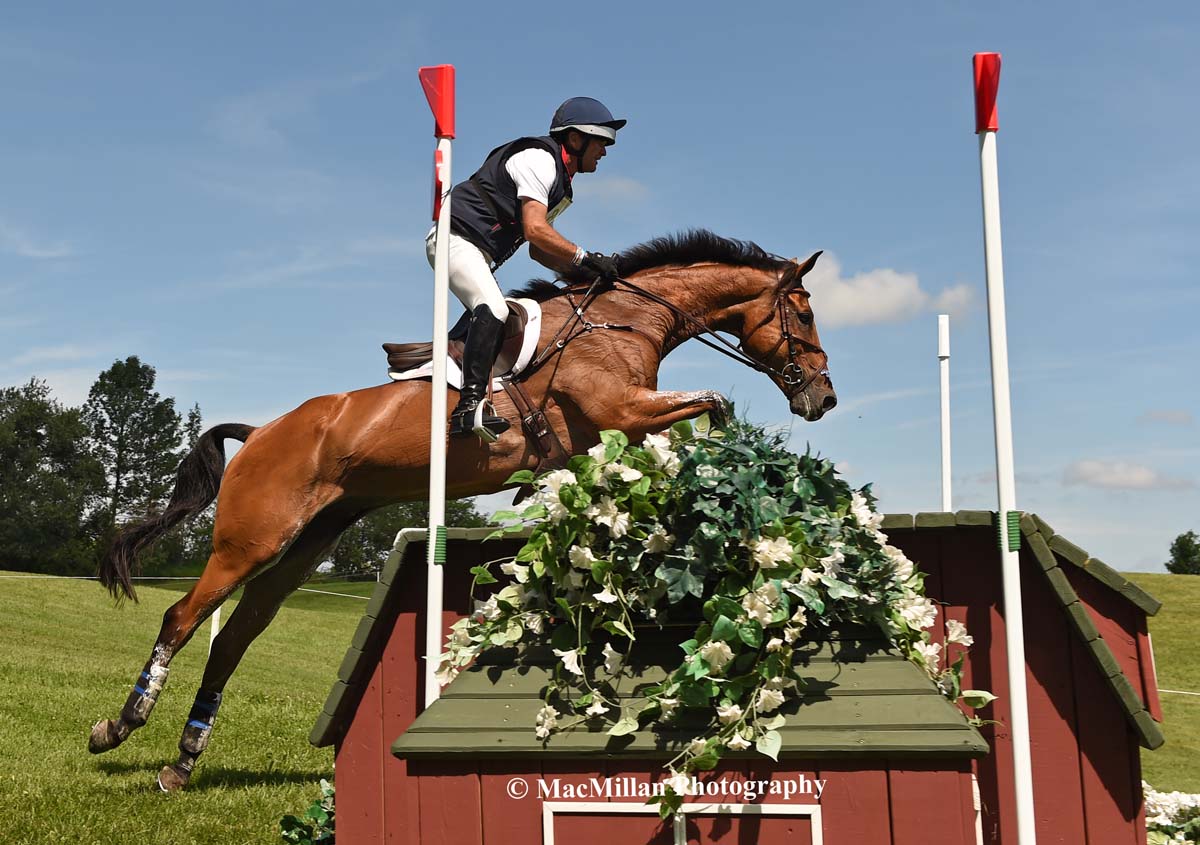 The U.S.A.'s lead-off rider Phillip Dutton blazed around the course jumping clean and well inside the time on Fernhill Fugitive finding the way for his teammates to follow. Photo by Allen MacMillan/MacMillan Photography
Team U.S.A. rookie Lauren Kieffer and the young American-bred mare Meadowbrook's Scarlett tied with teammates Phillip Dutton and Fernhill Fugitive ending in seventh place at the close of cross-country. Photo by Allen MacMillan/MacMillan Photography
Riding on her first Canadian Team competing in a major games, Colleen Loach piloted Qorry Blue d'Argouges safely around the cross-country course to finish on their dressage score. Photo by Allen MacMillan/MacMillan Photography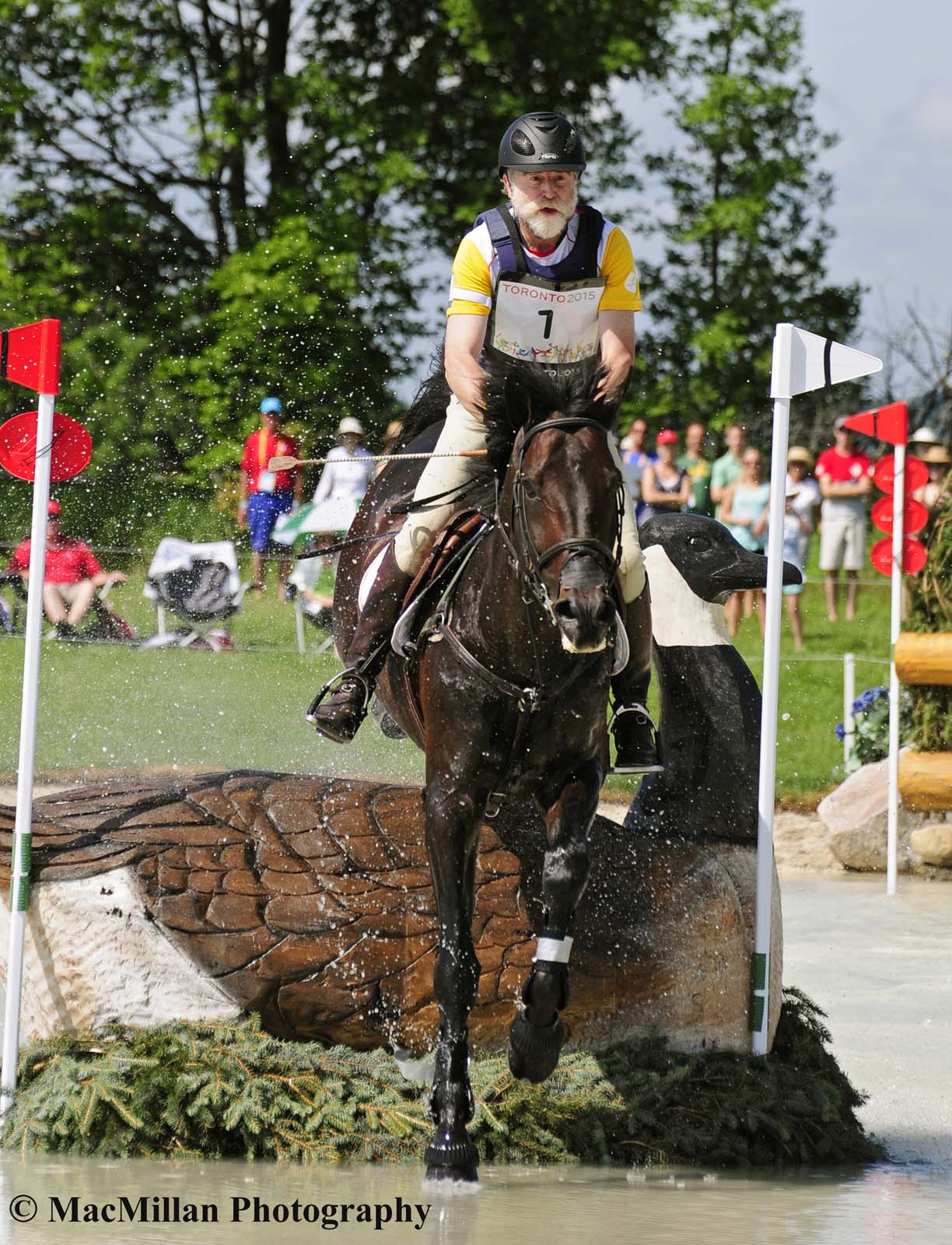 Juan Carlos Tafur of Columbia and the stallion Quinto were first of the day on the new Pan Am cross-country course. Course designer Wayne Copping said he congratulated Tafur on the good ride he put in to inaugurate the course. Tafur is the veteran rider for Colombia. He and Quinto also competed in 2011 Pan Am Games in Mexico. Photo by Sarah Miller/MacMillan Photography
Peter Gray from Canada assessed the cross-country course before sending out his riders from the Guatemalan team. Gray is one of many seasoned event riders who have also taken on a coaching role for other country's teams. Photo by Allen MacMillan/MacMillan Photography
See more photos from the 2015 Toronto Pan-Am Games:
Initial Dressage Horse Inspection
Dressage Team Competition Day One
Dressage Team Final
Dressage Individual Final
Eventing Preview
Eventing Dressage