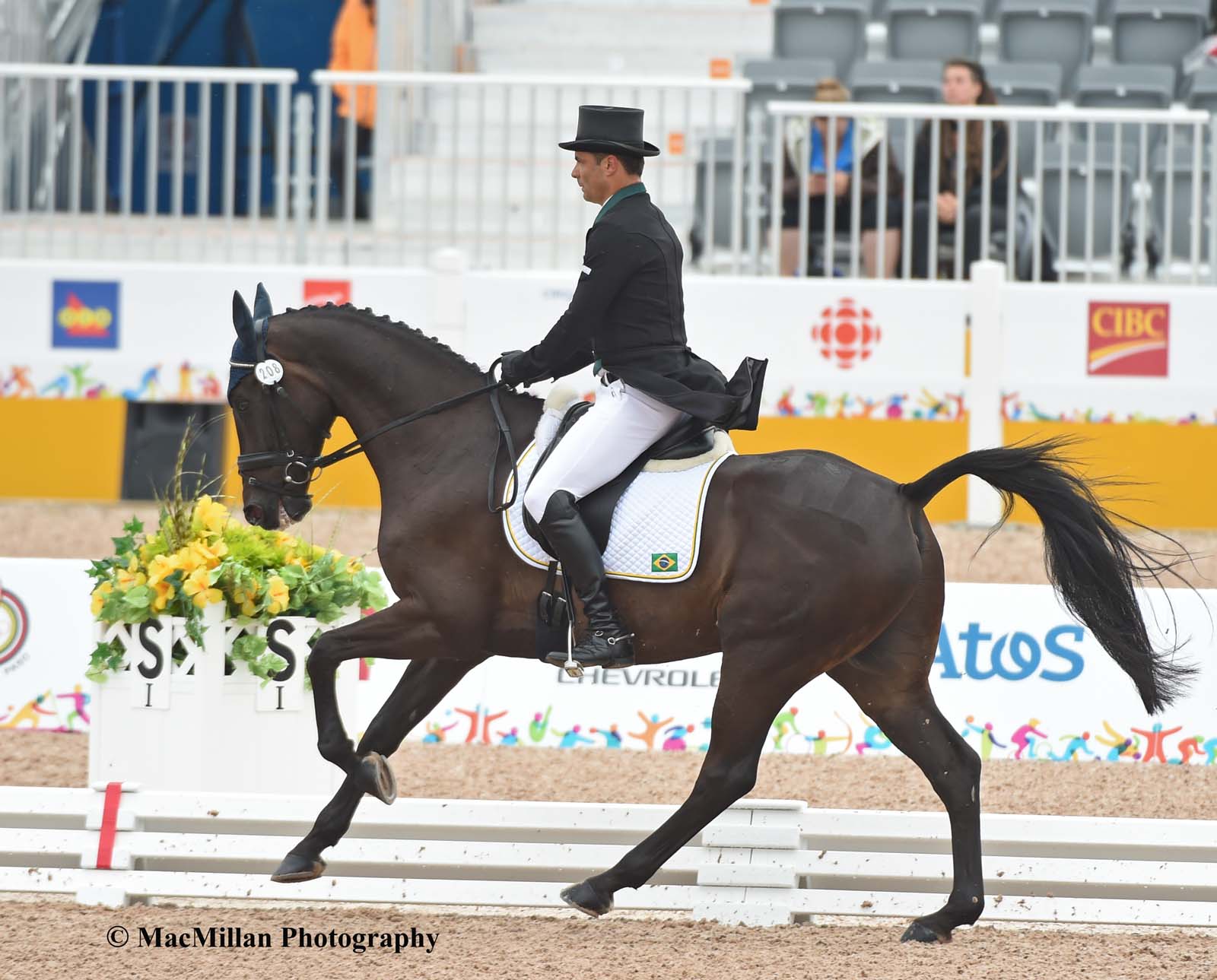 The leaders in eventing after dressage are Brazil's Ruy Fonseca and Tom Bombadill Too. Photo by Allen MacMillan/MacMillan Photography
The weather today at the Caldedon Equestrian Park was damp and dreary for the dressage phase of the eventing, but the competition was heated with a lot on the line, especially for the U.S. team. Since they are not yet qualified for the Rio Olympics next year, they need to win gold or at least place as the top unqualified team.
Canada's Kathryn Robinson sits in second position with Let It Bee. Photo by Allen MacMillan/MacMillan Photography
With the disqualification of the French eventing team from last year's Alltech World Equestrian Games, the Canadian Team moved up and are now already qualified. But for Team Canada, bragging rights are on the line as well as validation of their position on the world stage of eventing. Forty-three horse and rider combinations from 12 nations trotted down centerline and saluted to complete day one of eventing.
Marilyn Little and RF Scandalous put in a very nice, consistent test to earn third place after dressage. Photo by Allen MacMillan/MacMillan Photography
Brazilian Team veteran Ruy Fonseca and his 15-year-old Holsteiner gelding Tom Bombadill Too were well up to the task scoring a 38.90 to put them in the top spot. The only other rider to score under 40 was the Canadian rider Kathryn Robinson, who is based out of Great Britain, riding the 14-year-old Westfalen gelding Let It Bee; they scored a 39.8.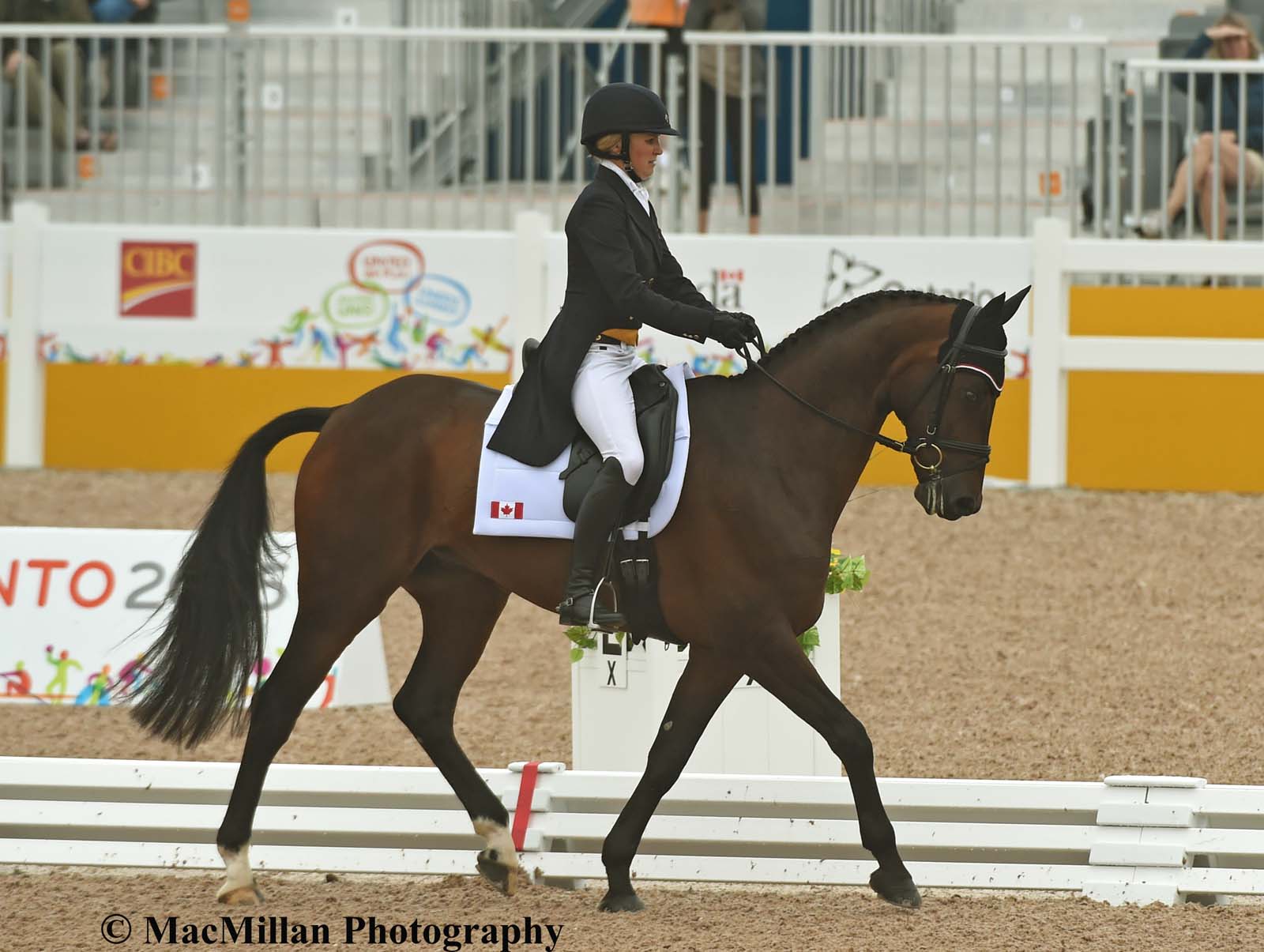 Pan Am gold medalists from the last Games in Guadalajara, Mexico, have returned to defend their title and currently sit in fourth. Photo by Allen MacMillan/MacMillan Photography
Marilyn Little of the U.S.A. and her 10-year-old Oldenburg mare RF Scandalous scored 40.3 to land in the third slot, followed closely by the reigning Pan Am champions Jessica Phoenix and the 13-year-old Westfalen gelding Pavarotti with a 42.10.
After a tenuous warm-up including some big spooks from Pancho Villa, the U.S.A.'s Boyd Martin skillfully guided him through the dressage test to take fifth place. Photo by Allen MacMillan/MacMillan Photography
The other American team members were very consistent with all of their scores in the 40s. Boyd Martin (Pancho Villa), Phillip Dutton (Fernhill Fugitive) and Lauren Kieffer (Meadowbrooks Scarlett) are in fifth, eighth and ninth respectively. This puts them in the gold medal position after the first phase with a score of 133. But, Canada is hot on their heels only. 0.7 points behind. Team Brazil was also very consistent and currently sits in third with 136.7. They are out to prove there are more than just international show jumpers in Brazil. For a full set of results visit results.toronto2015.org.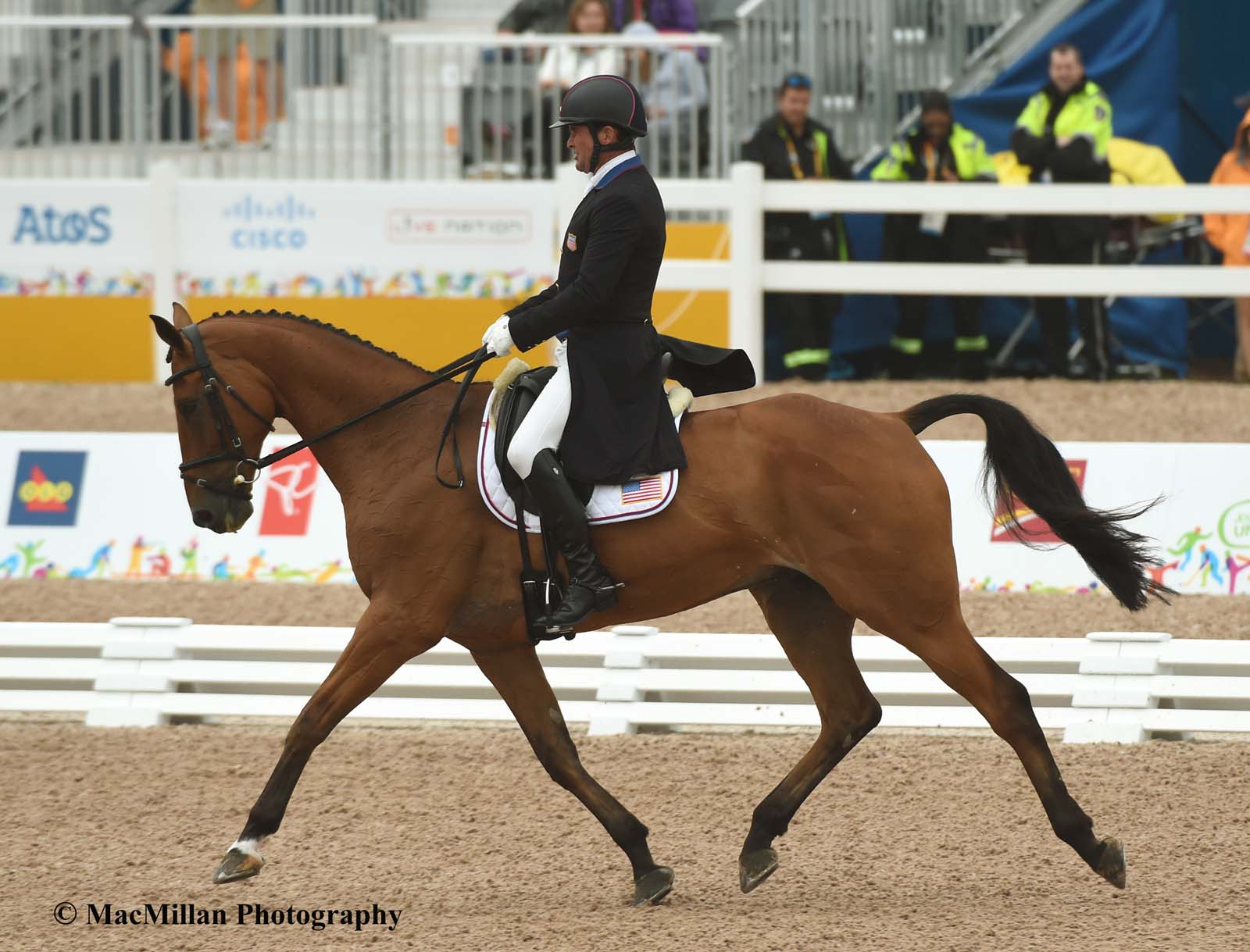 Phillip Dutton, U.S.A., and Fernhill Fugitive put in a safe, solid test to earn a 48.40 and eighth place after dressage. Photo by Allen MacMillan/MacMillan Photography
Tomorrow's cross-country will "separate the wheat from the chaff" as my farmer grandfather used to say. I spoke with course designer Wayne Copping from Australia about his new Pan Am course at Will O' Wind Farm and the strategy in designing a course for horses and riders from many different countries and with a variety of skill levels. "I just designed a classic two-star course. I wanted it as forward and open as possible. There is plenty of galloping to get the horses and riders into a rhythm. I wanted to get the riders riding forward and confidently and the horses in shape and actually jumping. I want to see the people get home; they just need to use their heads, that's all. We've given them plenty of options. If they have an early one [refusal], they can still get home, they just need to go the other way round," said Copping.
Lauren Kieffer and Meadowbrooks Scarlett also earned a 48.40 and are currently ninth. Photo by Allen MacMillan/MacMillan Photography
Cross-country starts at 11 a.m. on Saturday, but we will be getting there several hours early to beat the traffic and the caravan of horse vans and trailers shuttling the horses the half-hour drive from Caledon to Will O' Wind Farm in Mono.
Colleen Loach in her first Pan Am Games rode Qorry Blue d' Argouges to a score of 51.80 to land them in tenth place after dressage. Photo by Shelley Higgins/MacMillan Photography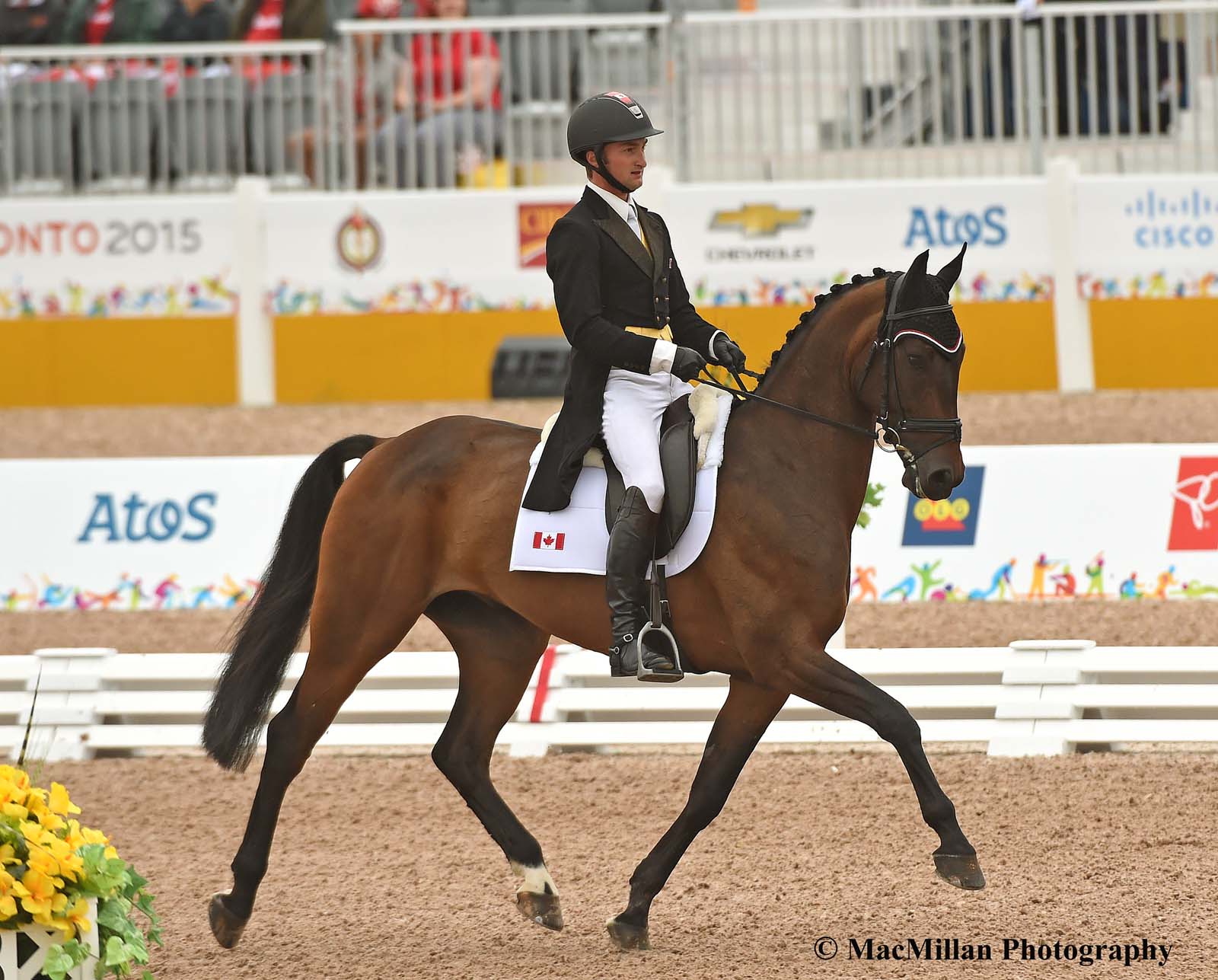 Waylon Roberts from Canada had his hands full keeping Bill Owen under control during their test in their Pan Am Games debut, but he stuck it out for the team. Photo by Allen MacMillan/MacMillan Photography
Boyd Martin addresses the press following his dressage test on Pancho Villa. Photo by Allen MacMillan/MacMillan Photography
See more photos from the 2015 Toronto Pan-Am Games:
Initial Dressage Horse Inspection
Dressage Team Competition Day One
Dressage Team Final
Dressage Individual Final
Eventing Preview