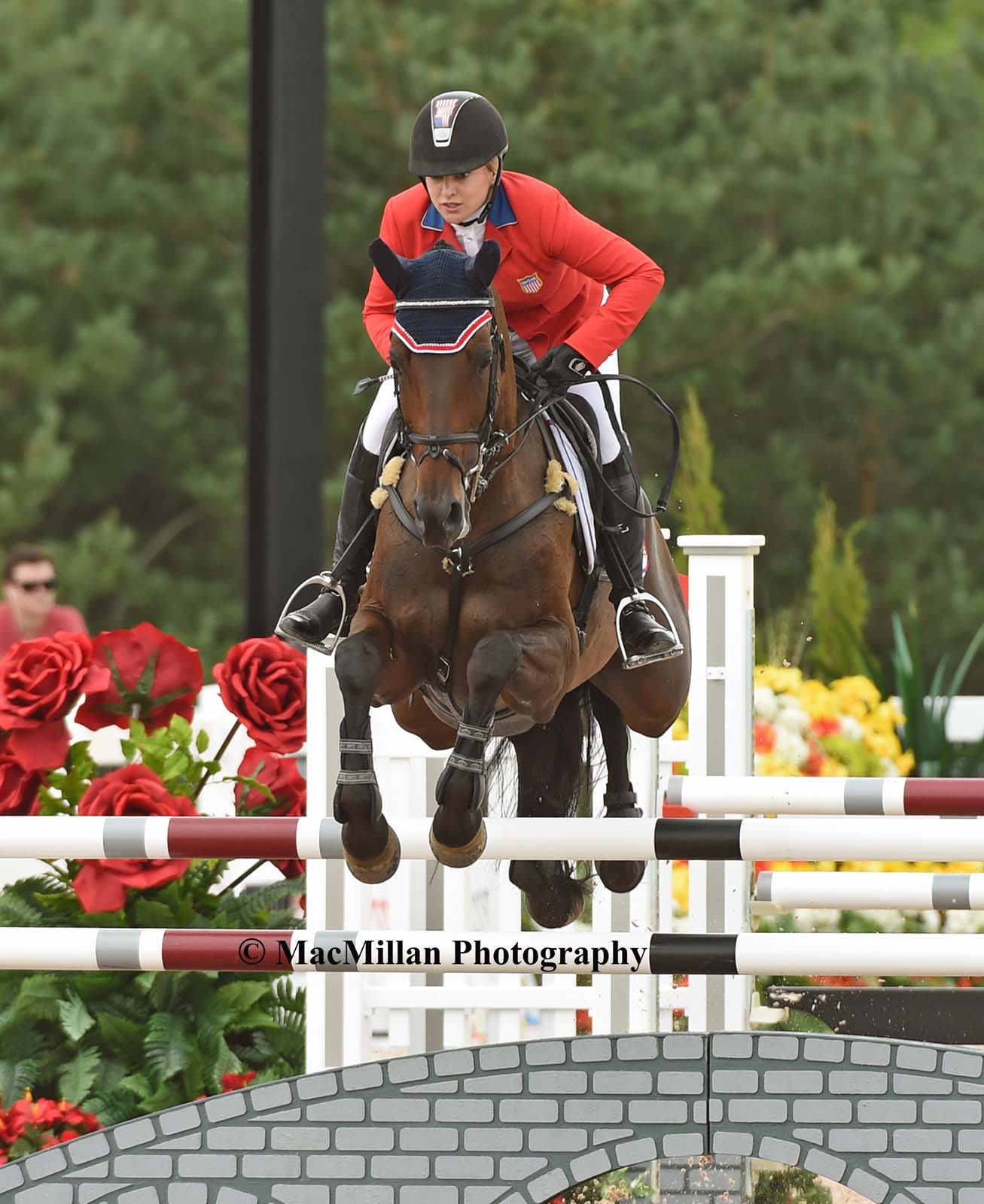 Marilyn Little, U.S.A., and her Oldenburg mare RF Scandalous jumped their way to gold at the 2015 Pan American Games. Third after dressage, they turned in two clear rounds, in cross-country and then in stadium, to earn their hardware and help their team to gold as well. Photo by Allen MacMillan/MacMillan Photography
On Sunday, the 2015 Pan American Games eventing came to a close with the second horse inspection, then stadium jumping and medal ceremonies. The second horse inspection was held at 10:30 a.m. on a stone lane just behind the media center.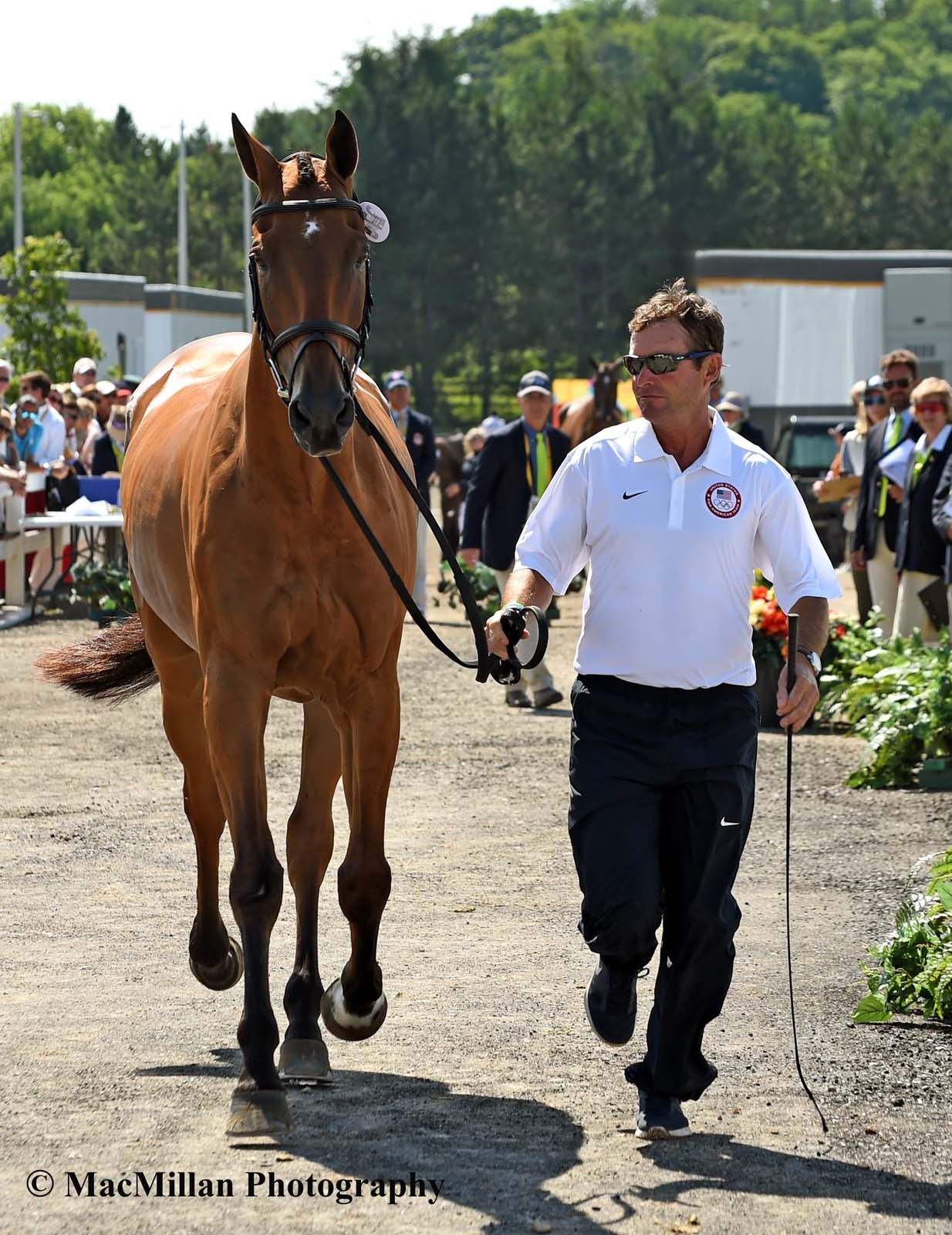 Phillip Dutton, U.S.A., and Fernhill Fugitive at the second horse inspection for the 2015 Pan Am Games eventing competition. Photo by Allen MacMillan/MacMillan Photography
Amazingly after the hot humid conditions on Saturday for cross-country and the two-star championship course that the horses had tackled that day, all 32 horses who finished cross-country were presented for the second inspection and all passed without any holds. Only one horse was asked to jog a second time – Argentina's Erevan (Claudio Luciano Brunello) – but Erevan was not put into the hold box and was accepted after the second look.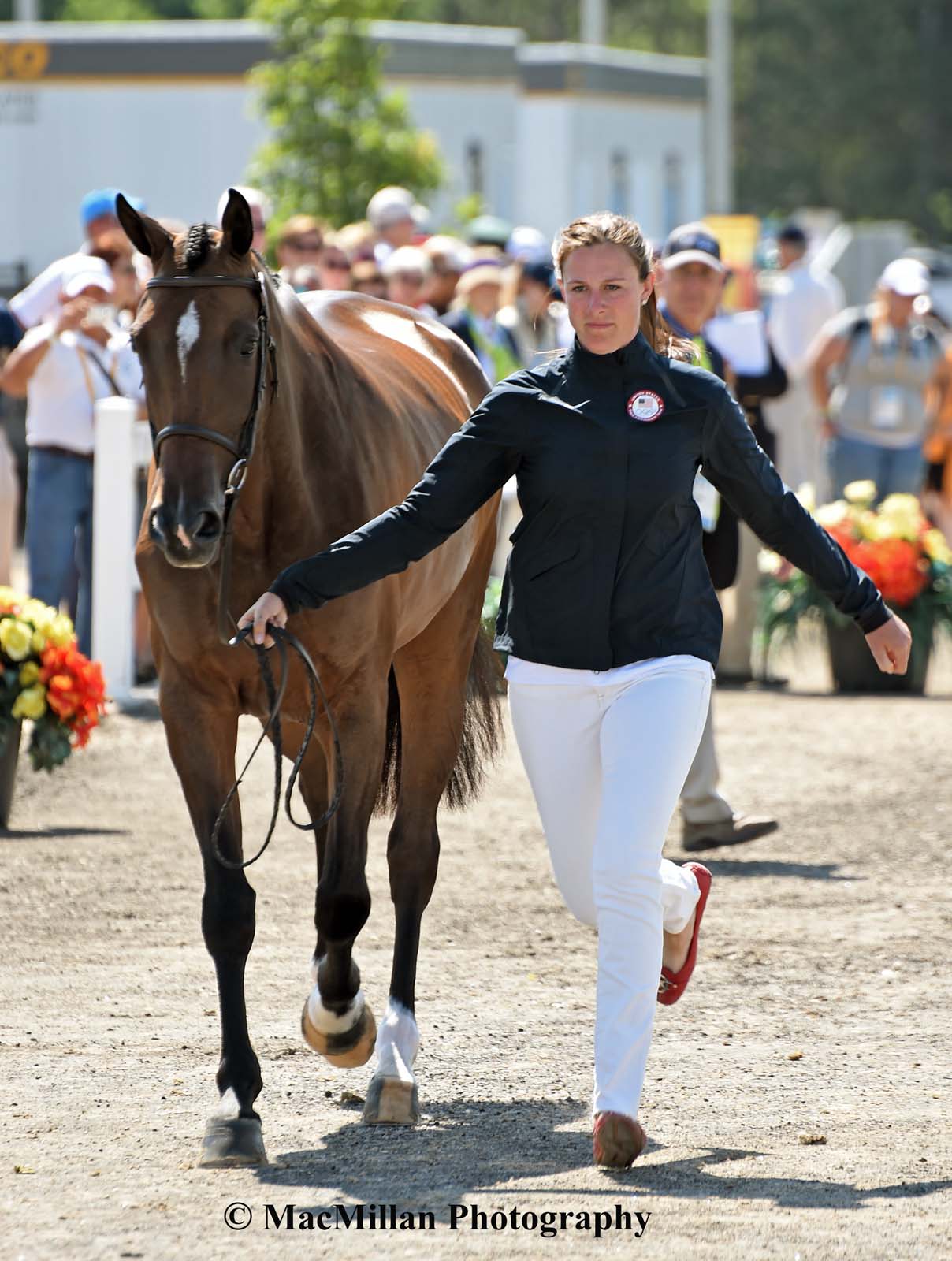 Lauren Kieffer, U.S.A., and Meadowbrook Scarlett at the second horse inspection for the 2015 Pan Am Games eventing competition. Photo by Allen MacMillan/MacMillan Photography
As at other big eventing competitions, the competitors went in for their stadium rounds in reverse order of placing based on the cumulative score after cross-country. The course was designed by Canada's Michel Vaillancourt and included 11 numbered fences with double and triple combinations for 14 jumping efforts. Eighteen of the 32 horse and rider pairs, (including three of the U.S. riders, two of the Canadian riders and three of the Brazilian riders), jumped clean and within the time to add no points to their three-day score.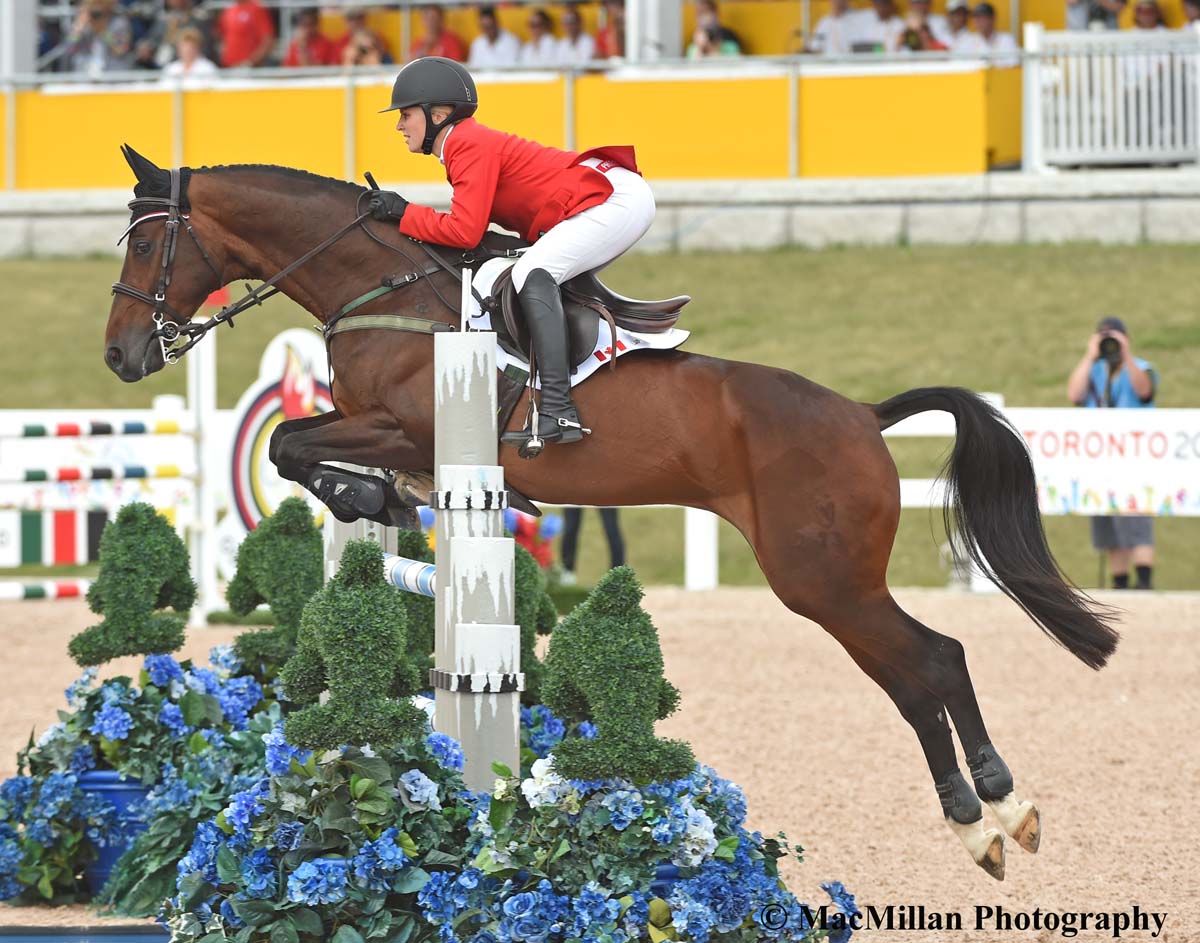 Defending gold medalists Jessica Phoenix, Canada, and the 13-year-old Westfalen gelding Pavarotti were sitting fourth after dressage, but turned in clear rounds on cross-country and in stadium to finish with the silver medal. Photo by Allen MacMillan/MacMillan Photography
The drama of the day boiled down to the final three riders. Canada'?s
Jessica Phoenix and Pavarotti, who were the gold medalists in eventing the
2011 Pan Am Games, entered the arena to thunderous applause. The jumped a
clear round to do the best they could to win another medal. Then American
team rookie Marilyn Little on RF Scandalous entered the arena and laid
down a perfect trip as well. Last in was the leading pair, Brazil?s Ruy
Fonseca and Tom Bombadill Too. It had started to rain as they cantered
through the in-gate and they had a beautiful trip going, but they took the
last rail down in a cruel twist of sporting fate. Ironically Fonseca and
Tom Bombadill Too had only knocked down one other rail in the previous
seven months of competition.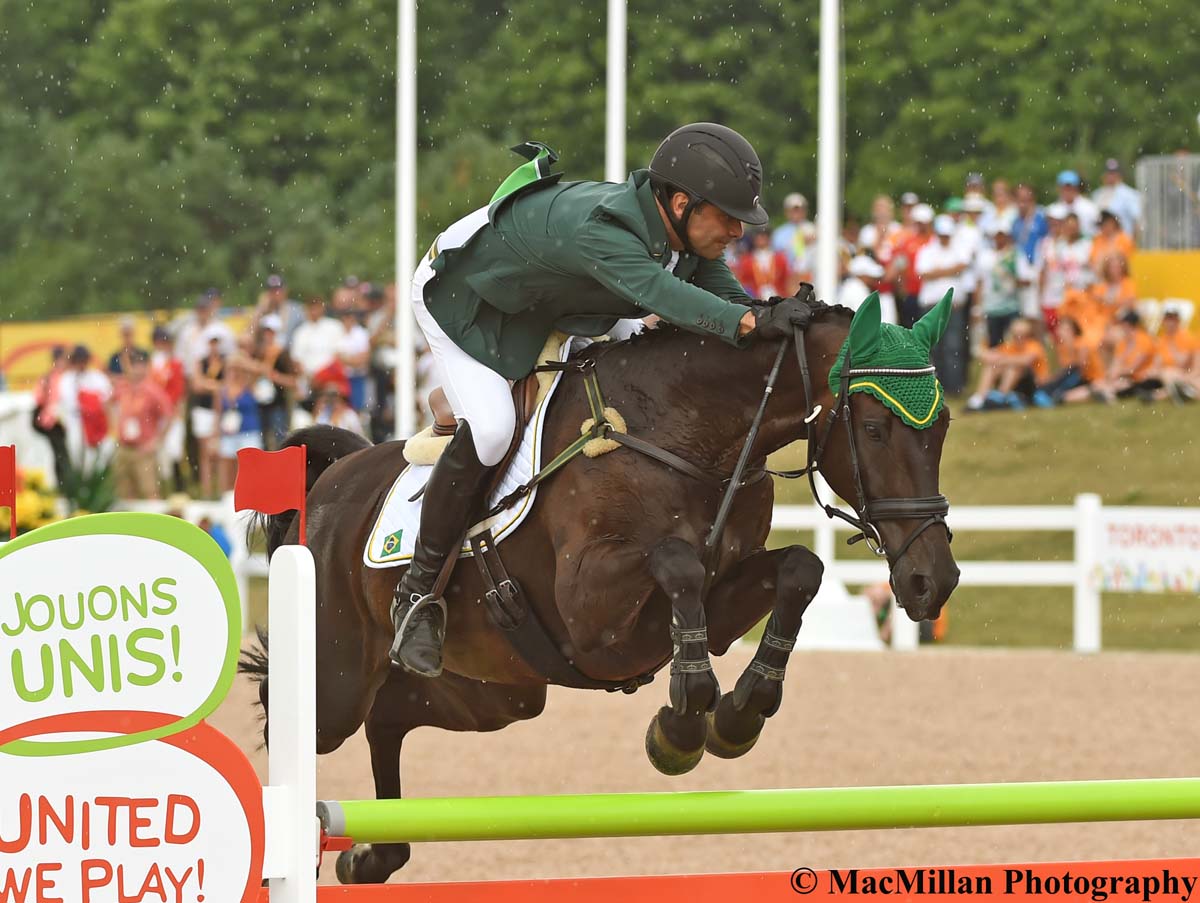 Brazil's Ruy Fonseca riding the former livery horse Tom Bombadill Too led after the dressage and cross-country phases, but had the misfortune of lowering the final fence in stadium and had to settle for bronze. Photo by Allen MacMillan/MacMillan Photography
With that rail the individual gold went to Little, silver to Phoenix and bronze to Fonseca. Team gold went to the U.S.A., team silver to an elated group from Brazil and team bronze to Canada's home team.
Team U.S.A. were repeat winners of the gold medal for eventing. The team won gold four years ago in Guadalajara and won again in Toronto. Left to right: Marilyn Little; Boyd Martin; Phillip Dutton, and Lauren Kieffer. Photo by Allen MacMillan/MacMillan Photography
Little called her win a childhood dream come true, "Nothing really compares to a day like this. It's my first major games. This day is indescribable. It's a very exciting day for us [the U.S. team] and for all of the people who made it happen. Kitty [RF Scandalous] was everything we hoped she would be and everything we know she can be. She's been in our stable for a year now and she's a very, very special horse. She's a pleasure to work with. She really loves her job – she loves all three days. She truly wants to be great at it. She was exceptional this weekend and I'm so proud of her."
The silver medal team from Brazil, left to right: Ruy Fonseca; Carlos Parro; Jorge Marcio Carvalho, and Henrique Plambon. Photo by Allen MacMillan/MacMillan Photography
Phoenix was happy and thankful to win another Pan Am medal on her long-time partner, "For Pavarotti to go in and have the round that he had in front of our hometown crowd was amazing. He's the horse of a lifetime and such a competitor in all three phases. He definitely knows what day is which phase and he comes to complete every single time. I'm very lucky to have the ride on him and I honestly love every single day. I'm so thankful to be on this team for the Toronto Games. Walking away with any medal was awesome."
Team Canada won bronze on their home turf, left to right: Kathryn Robinson; Jessica Phoenix; Colleen Loach, and Waylon Roberts. Photo by Allen MacMillan/MacMillan Photography
In a post competition interview Fonseca showed his sportsmanship and appreciation for his fellow competitors, "It was a fantastic games, our whole team went really well. It's just one of those things. I said yesterday that in the end it could be in the details. It was to a little detail – the last fence. That's the sport. It's a beautiful sport when it happens like that. I think everybody liked it. Marilyn's a great rider and we are good friends. We were texting before we went in and we said that we just need go in there and enjoy ourselves. One's going to win and one's going to get second, but we are all friends. It's a lovely family, the eventing family. So, I am happy that she won and Jessica second. I am thrilled with myself to get a medal. This is the second individual medal for Brazil in 10 years. We won gold in 1995, so to win silver [team] and a bronze here…next year we can look very good for the Olympics."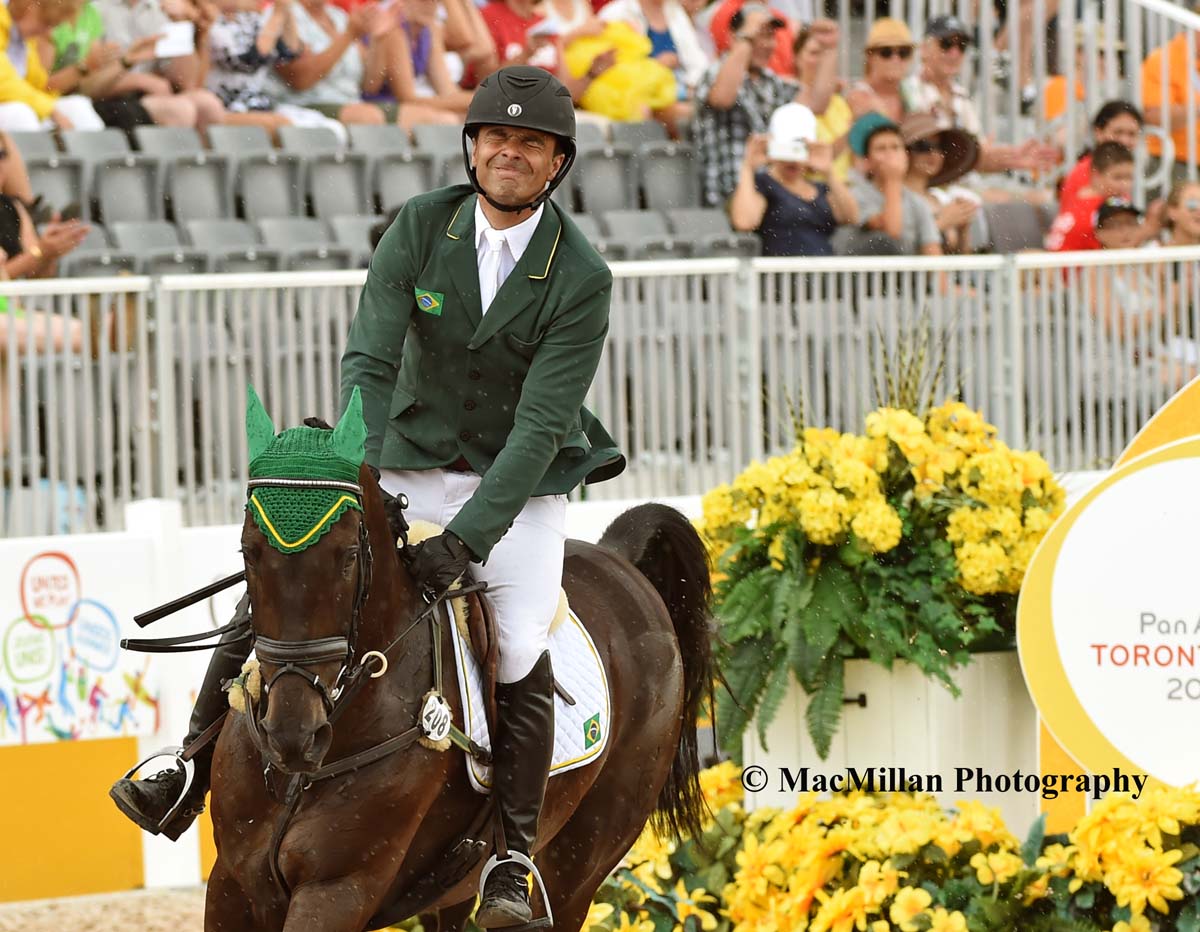 Disappointment and frustration show in Ruy Fonseca's face as he finishes his stadium round on Tom Bombadill Too after taking down a rail on at the final fence on course. Photo by Allen MacMillan/MacMillan Photography
As one sport ended the next prepped for its 2015 Pan Am Games debut. The show jumpers had arrived and were examined for readiness at their first horse inspection held earlier on Sunday morning. Sixty jumpers (including some teams with a traveling reserve horse) from 16 nations (Argentina, Barbados, Bermuda, Brazil, Canada, Chile, Colombia, Dominican Republic, Ecuador, Guatemala, Mexico, Peru, Puerto Rico, United States of America, Uruguay and Venezuela) were presented to the ground jury. Three horses were sent to the hold box: Tamerino from Bermuda, Hardrock Z from Venezuela and W Zermie 13 from Puerto Rico. But, all successfully completed their inspections after being held for re-examination. Show jumping competition starts on Tuesday afternoon.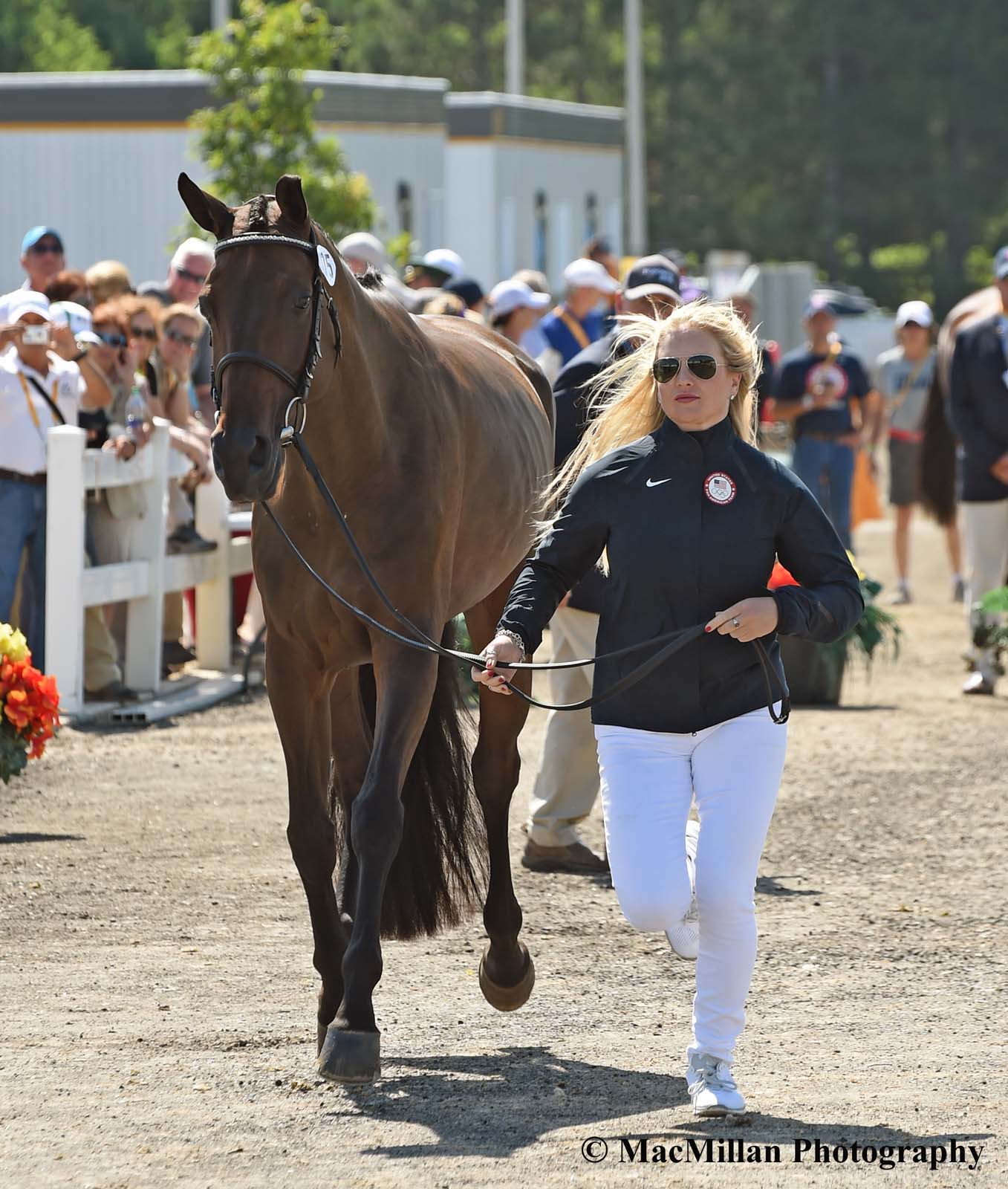 Marilyn Little, U.S.A., and RF Scandalous at the second horse inspection for the 2015 Pan Am Games eventing competition. Photo by Allen MacMillan/MacMillan Photography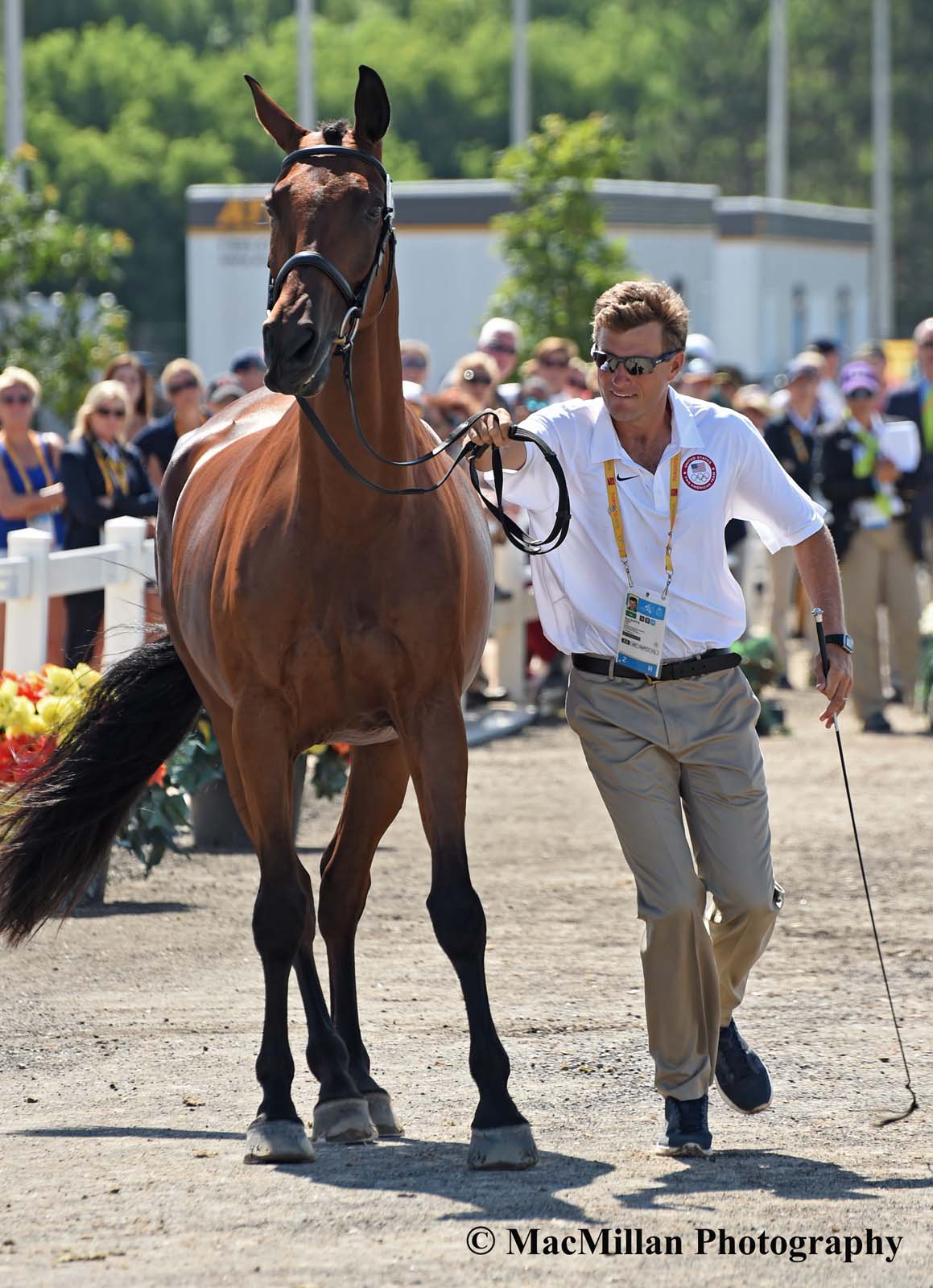 Boyd Martin, U.S.A., and Pancho Villa at the second horse inspection for the 2015 Pan Am Games eventing competition. Photo by Allen MacMillan/MacMillan Photography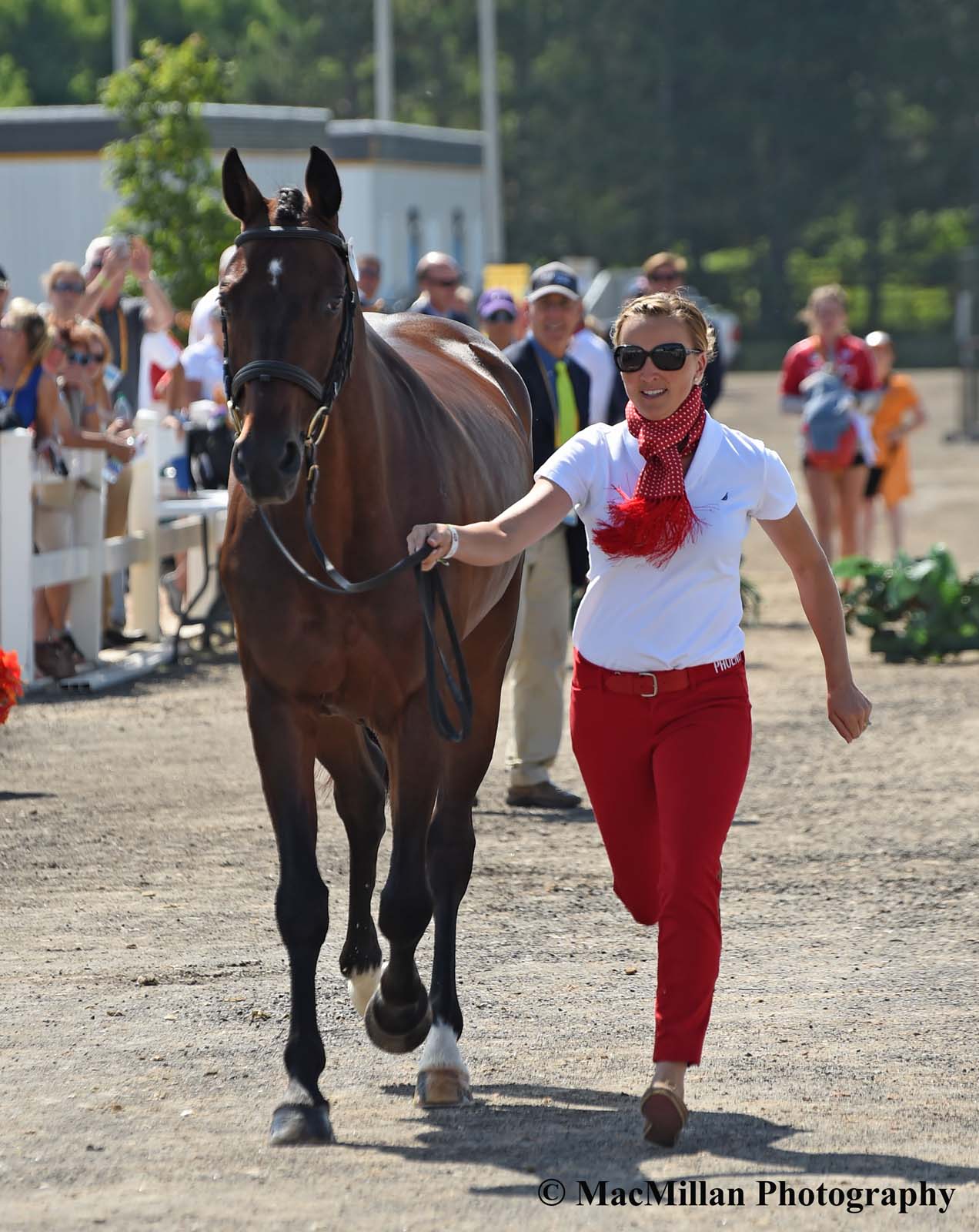 Jessica Phoenix, Canada, and Pavarotti at the second horse inspection for the 2015 Pan Am Games eventing competition. Photo by Allen MacMillan/MacMillan Photography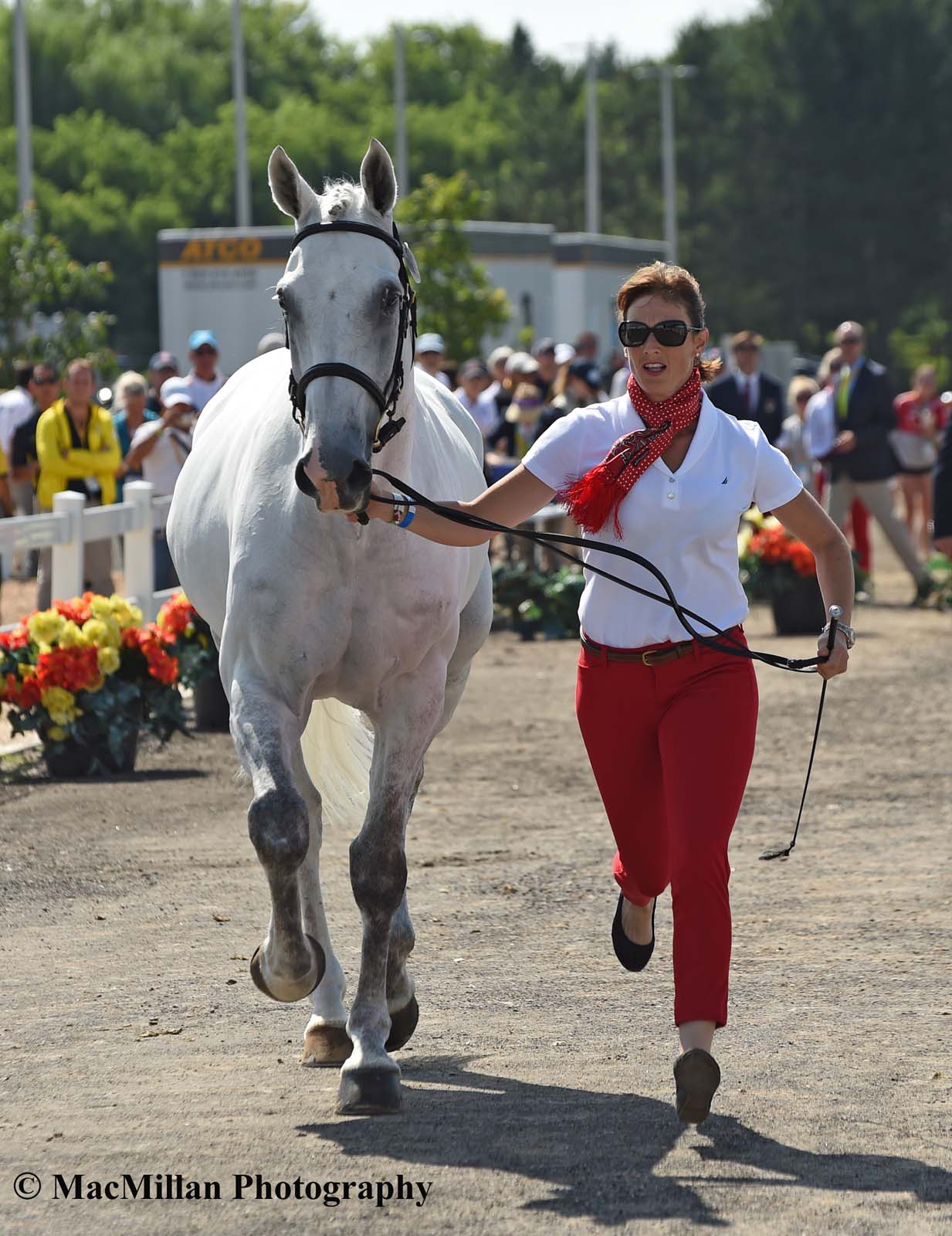 Colleen Loach, Canada, and Qorry Blue d'Argouges at the second horse inspection for the 2015 Pan Am Games eventing competition. Photo by Allen MacMillan/MacMillan Photography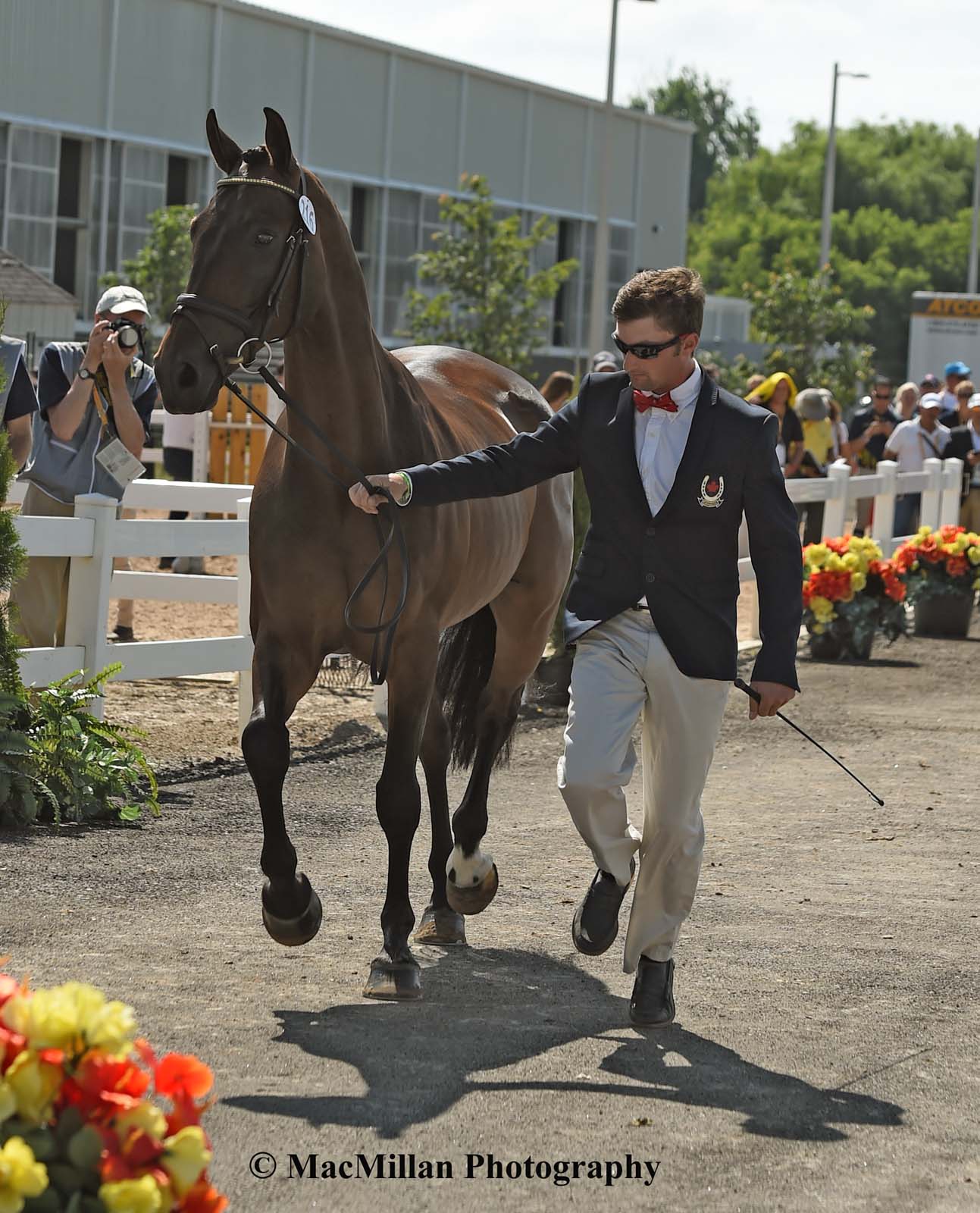 Waylon Roberts, Canada, and Bill Owen at the second horse inspection for the 2015 Pan Am Games eventing competition. Photo by Allen MacMillan/MacMillan Photography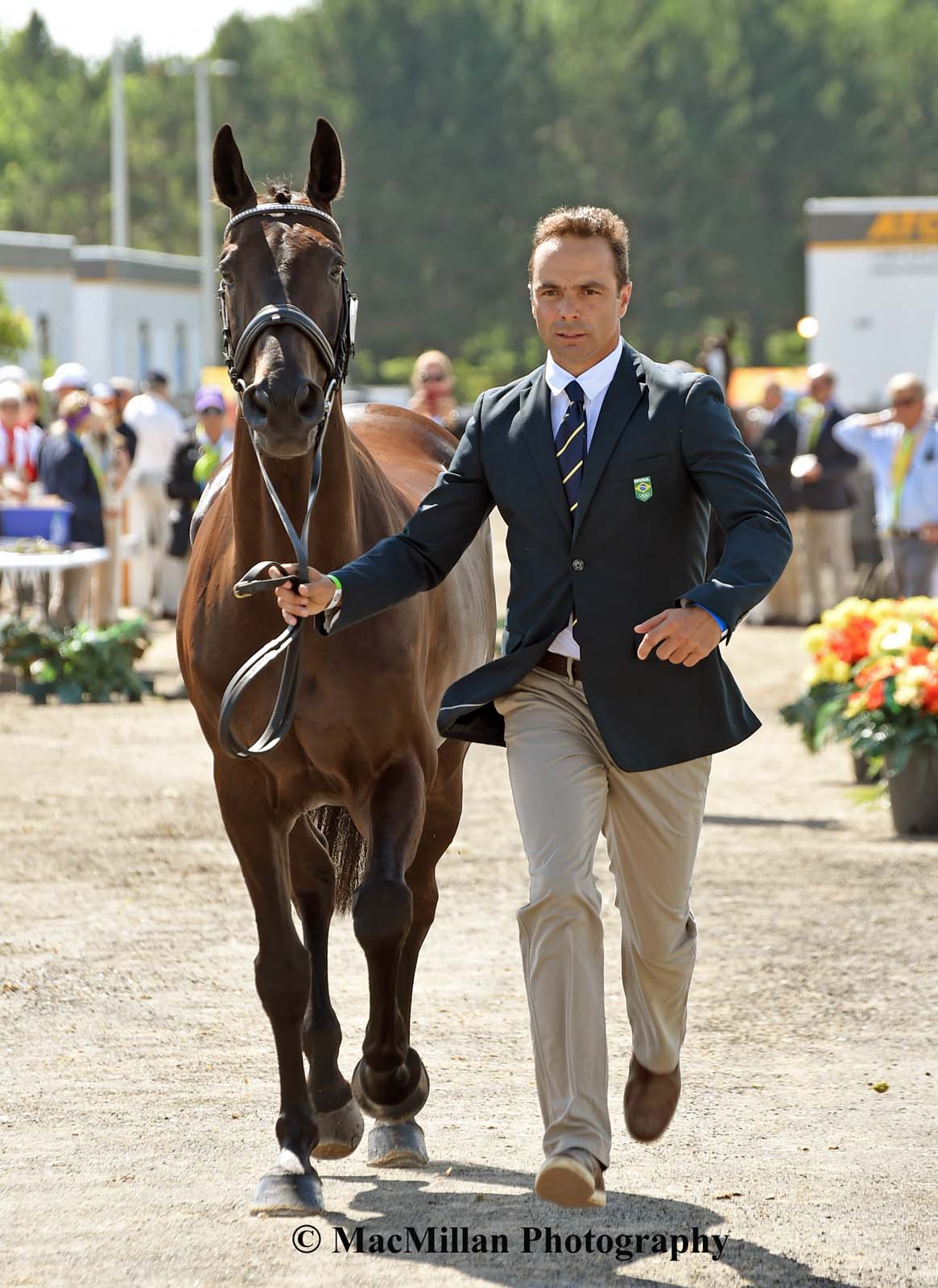 Ruy Fonseca, Brazil, and Tom Bombadill Too at the second horse inspection for the 2015 Pan Am Games eventing competition. Photo by Allen MacMillan/MacMillan Photography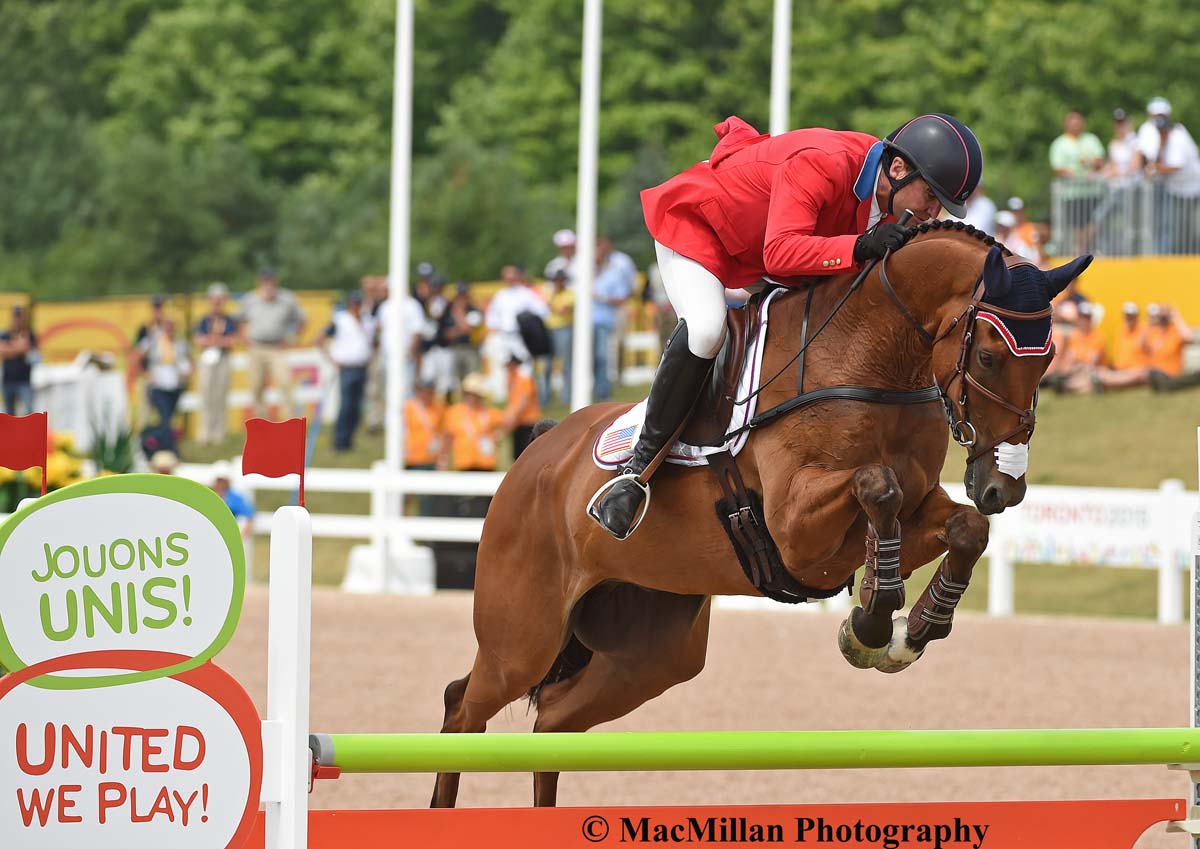 Phillip Dutton riding Fernhill Fugitive was the lead rider for Team USA. They were tied for eighth after dressage, then turned in a double-clear round on cross-country, but unfortunately dropped one rail in stadium to finish tenth overall. Photo by Allen MacMillan/MacMillan Photography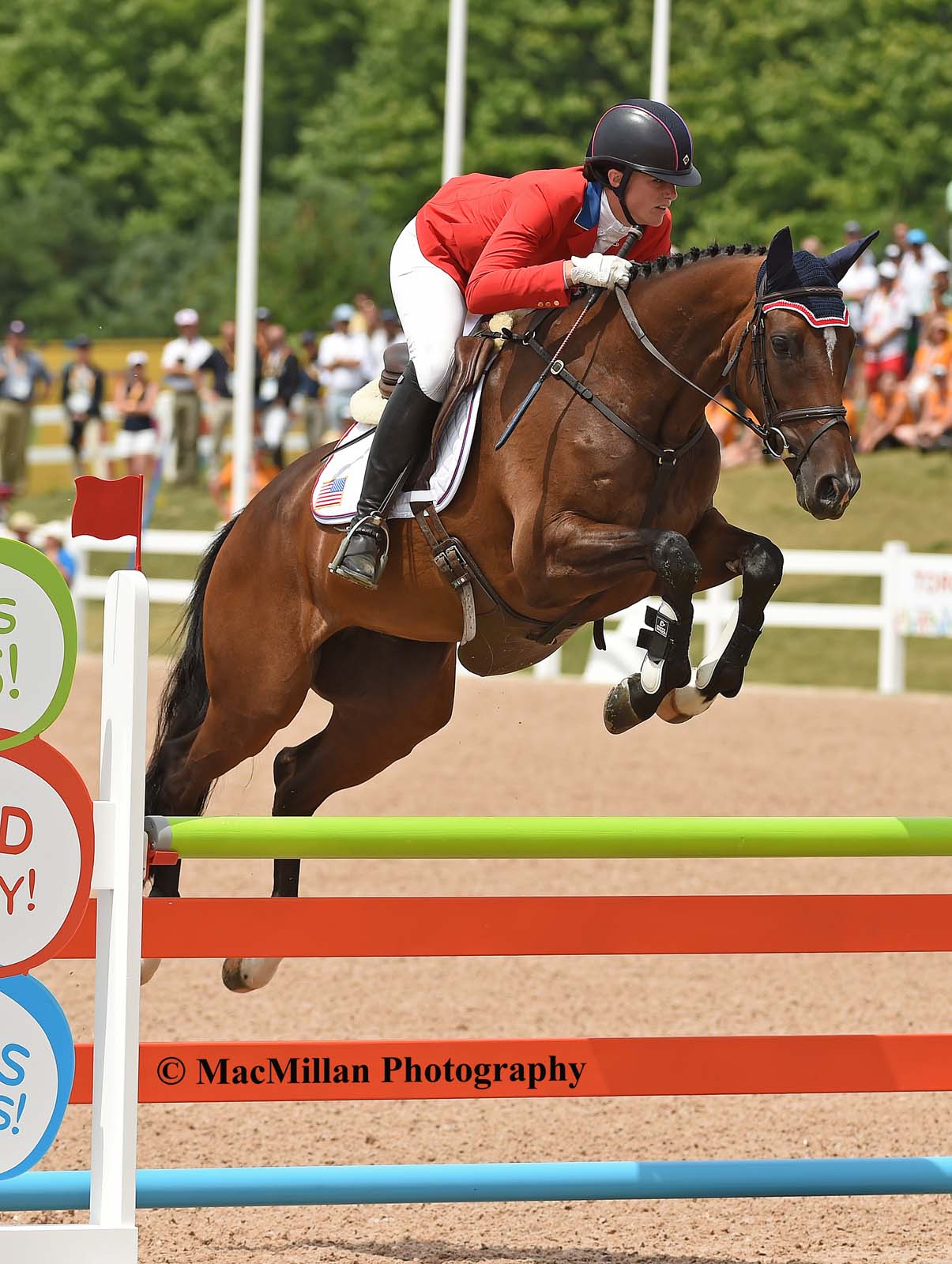 Team U.S.A.'s Lauren Kieffer and the eight-year-old mare Meadowbrook's Scarlett contributed to the team with a final seventh place finish. Photo by Allen MacMillan/MacMillan Photography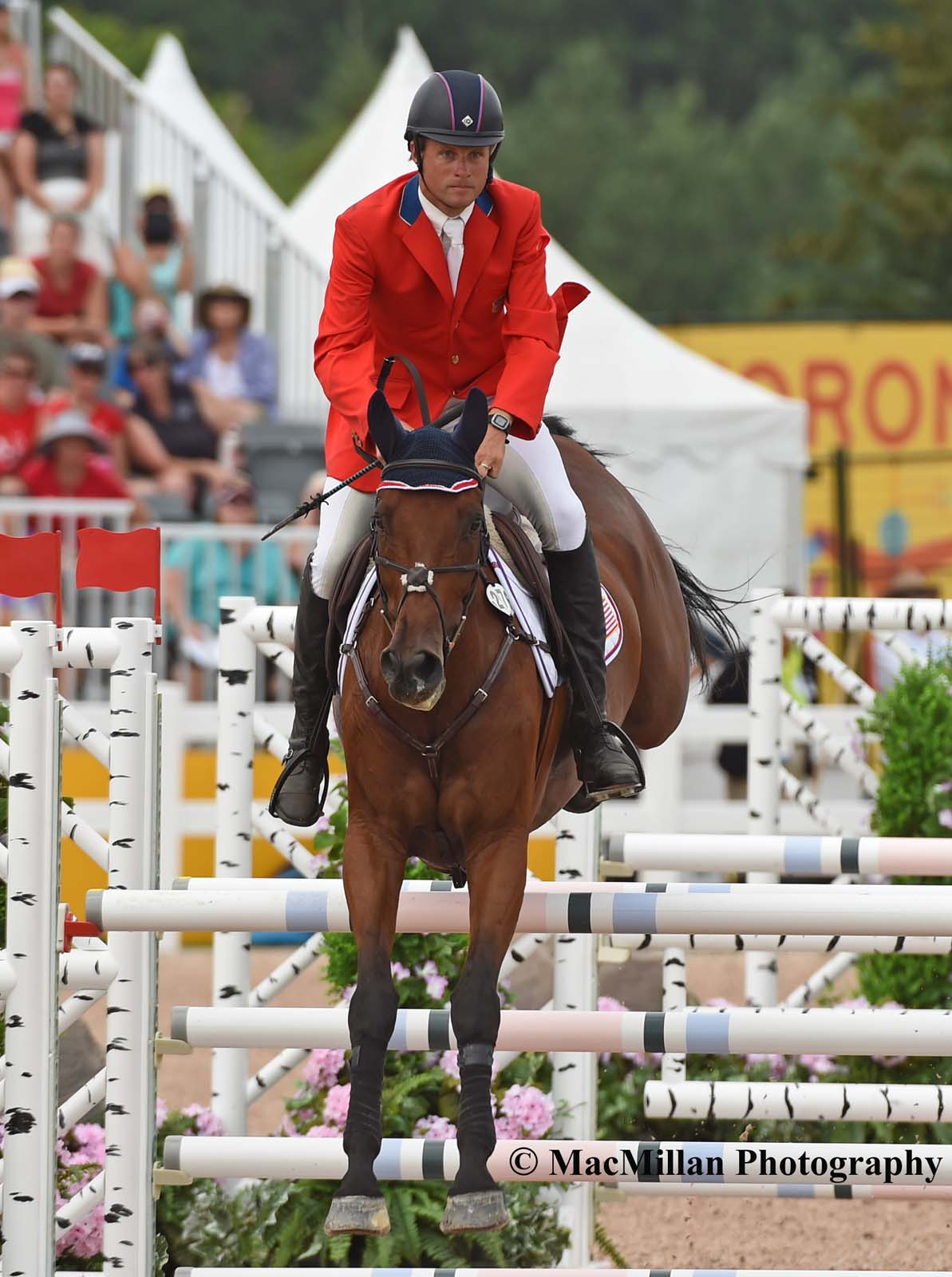 Boyd Martin was the anchor rider for Team U.S.A. on the 12-year-old Selle Francais gelding Pancho Villa. Photo by Allen MacMillan/MacMillan Photography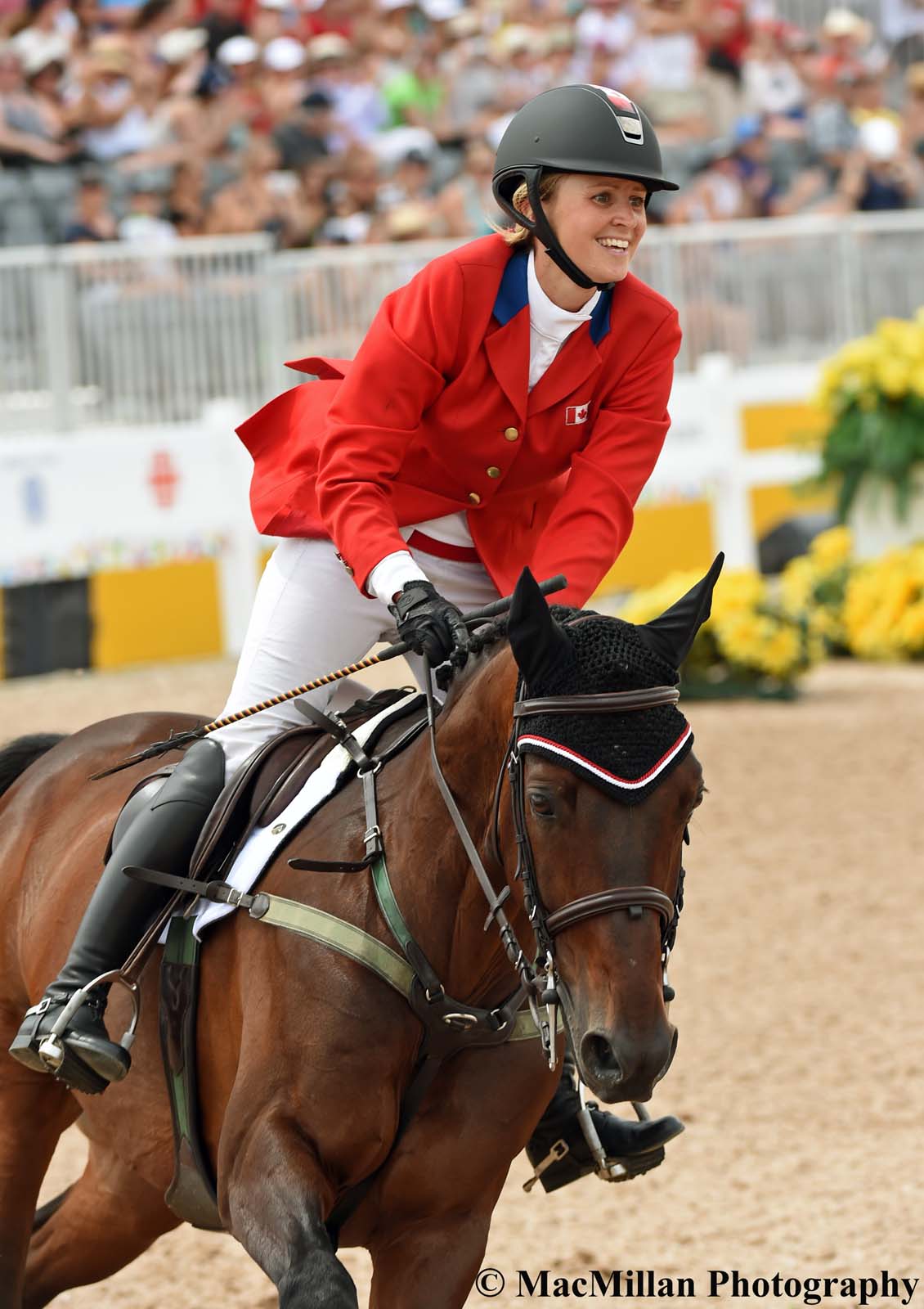 Jessica Phoenix, Uxbridge, Ontario, Canada, flashes a silver medal smile as she completes her double clear stadium round on Pavarotti. Photo by Allen MacMillan/MacMillan Photography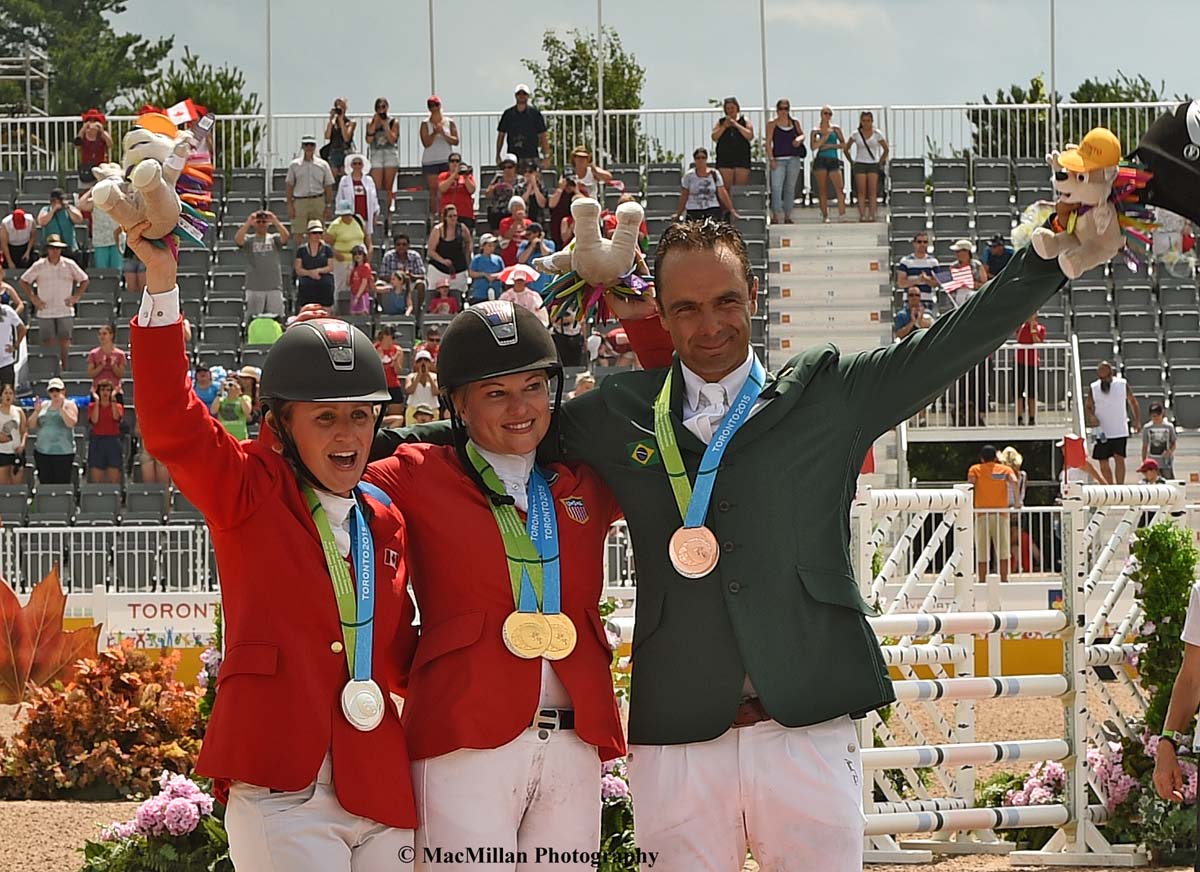 The 2015 Pan American Games individual medalists for eventing, left to right: Jessica Phoenix, Canada; Marilyn Little, U.S.A., and Ruy Fonseca, Brazil. Photo by Allen MacMillan/MacMillan Photography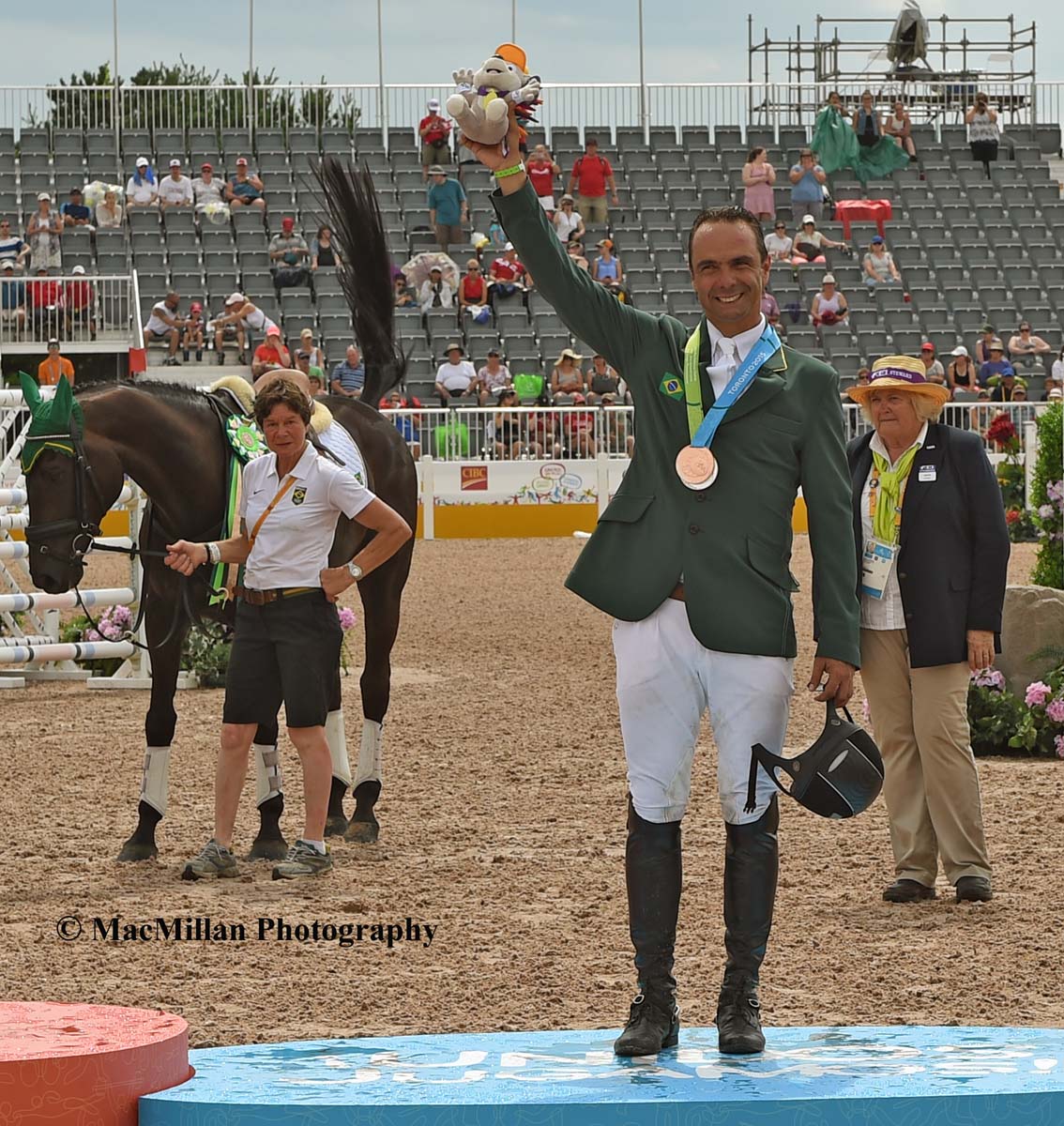 As Brazil's Ruy Fonseca holds up his hand in celebration of his individual bronze medal, his horse Tom Bombadill Too seems to also be saluting during the medal celebration by swishing his tail. Photo by Allen MacMillan/MacMillan Photography
See more photos from the 2015 Toronto Pan-Am Games:
Initial Dressage Horse Inspection
Dressage Team Competition Day One
Dressage Team Final
Dressage Individual Final
Eventing Preview
Eventing Dressage
Eventing Cross-Country