Veteran team member McLain Ward and his 2014 World Games partner Rothchild were first out for the U.SA. Photo by Allen MacMillan/MacMillan Photography
After the successful completion of their horse inspection held on Sunday, July 19, the show jumpers began competition on Tuesday July 21. The weather could not have been more perfect with sunny skies and highs in the low 70s and a good breeze to keep everyone cool. Fifty jumpers from 16 different nations took a turn around designer Michel Viallancourt's initial course. Thirty put in clean rounds with no rails down and within the time.
Georgina Bloomberg and Lilli were second on course for Team U.S.A. Photo by Allen MacMillan/MacMillan Photography

The rules this year have been changed and instead of using a first speed class, the class was operated under Table A, not against the clock and with no jump off. The height of the fences was 1.50 meters and there were 12 numbered fences with 15 total jumping efforts, including three double combinations and a liverpool. Though no one could tell me for sure, it seems that yesterday's class figures into the team rankings somehow, but not really the individual competition. By the time the show jumpers get to their final day of competition on Saturday though, the horse and rider scores are re-set to zero faults again. The riders had various opinions of this new format, some in favor and some not.
Lauren Hough on Ohlala rode third in the order for the United States. Photo by Allen MacMillan/MacMillan Photography

Both the U.S.A. and Canada had all four of their riders turn in clear rounds; they were the only countries to have all four team riders go clean on the first day. Representing the U.S.A. are: McLain Ward and his Rothchild, a 14-year-old Belgian Sporthorse gelding; Georgina Bloomberg and Lilli, an 11-year-old Brandenburg mare owned by James Doyle and Amanda Minikus; Lauren Hough and Ohlala, an 11-year-old Swedish Warmblood mare owned by Linda Hough and Mark Phillips, and Kent Farrington and Gazelle, a nine-year-old Belgian Warmblood mare owned by Robin Parsky and Alexandra Warriner.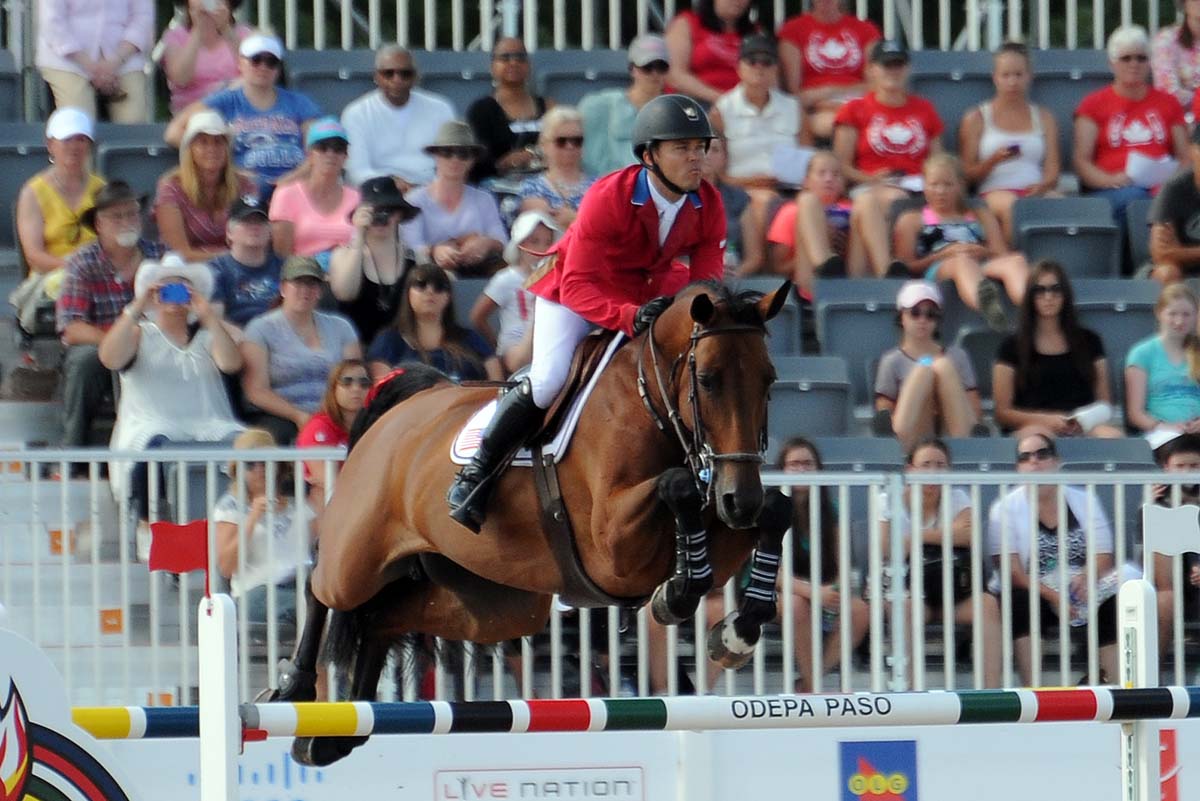 The anchor rider for the U.S. squad was Kent Farrington riding Gazelle. Photo by Shelley Higgins/MacMillan Photography

Canada's team members are: Yann Candele and Showgirl, a 10-year-old Selle Francais mare owned by John Edwards and Jennifer Rogers; Eric Lamaze and Coco Bongo, a 10-year-old Rhinelander stallion owned by Carlene and Andrew Ziegler; Tiffany Foster and Triple X III, a 13-year-old Anglo-European stallion owned by Caitlin Ziegler and Rebecca Foster (purchased from Great Britain after the stallion was part of the UK gold medal team in the 2012 Olympics), and Ian Miller and Dixson, a 12-year-old Belgian Warmblood gelding owned by Susan and Ariel Grange.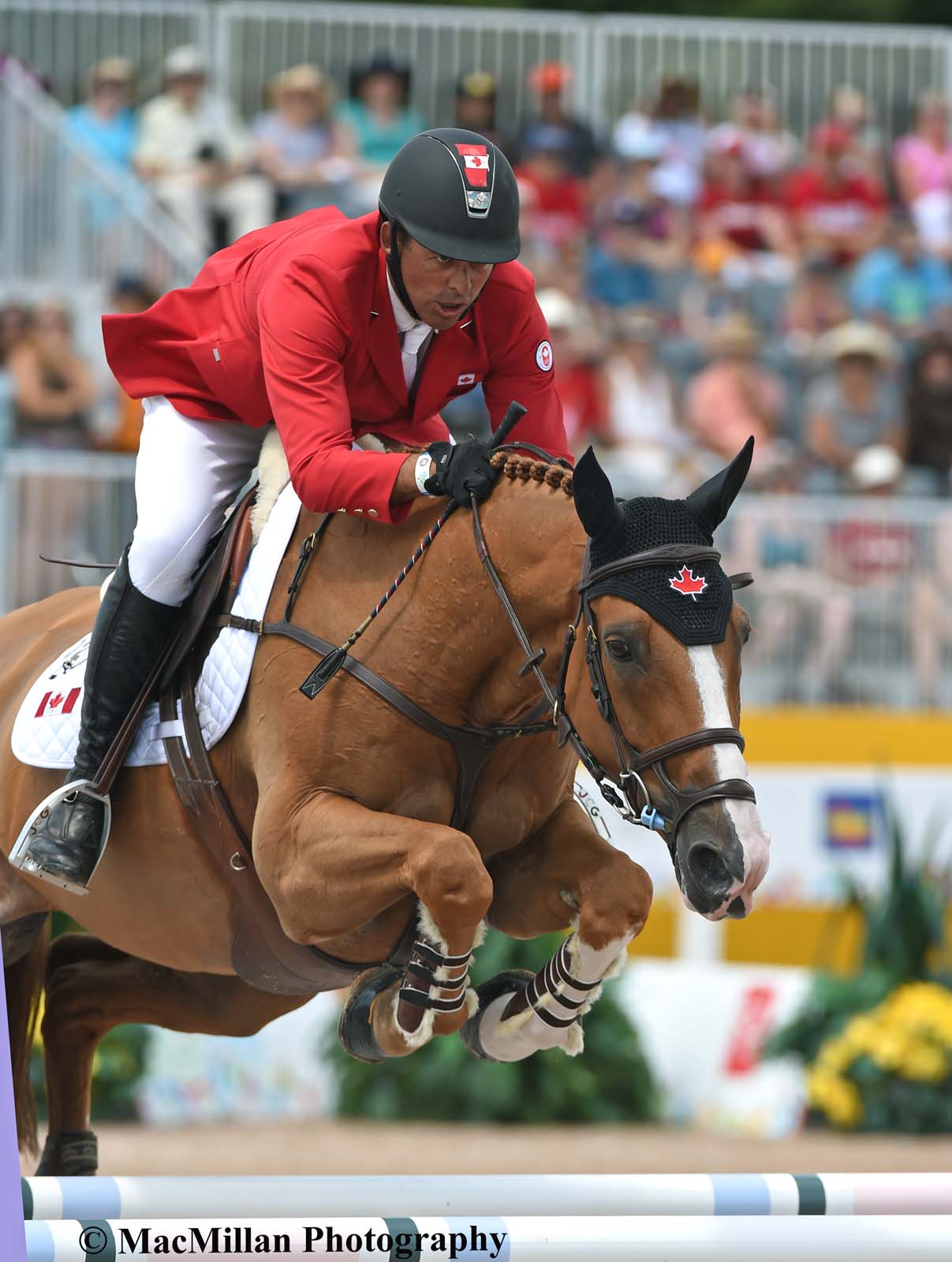 Yann Candele was first up for Team Canada with Showgirl. Photo by Allen MacMillan/MacMillan Photography

Assuming everyone is healthy and able; all 50 jumpers will return for the team competition on Thursday with two rounds (Nations Cup style) with team medal ceremonies following that. Then the field will be narrowed a bit for the individual finals on Saturday with two rounds that day as well with individual medals to follow to close out the 2015 Pan American Games equestrian competition. The show jumping was televised here in Canada on CBC last night and is available for viewing at espn.go.com for a limited time in the U.S.
For more information go to www.toronto2015.org for orders of go and results. More to come from the jumper competition tomorrow!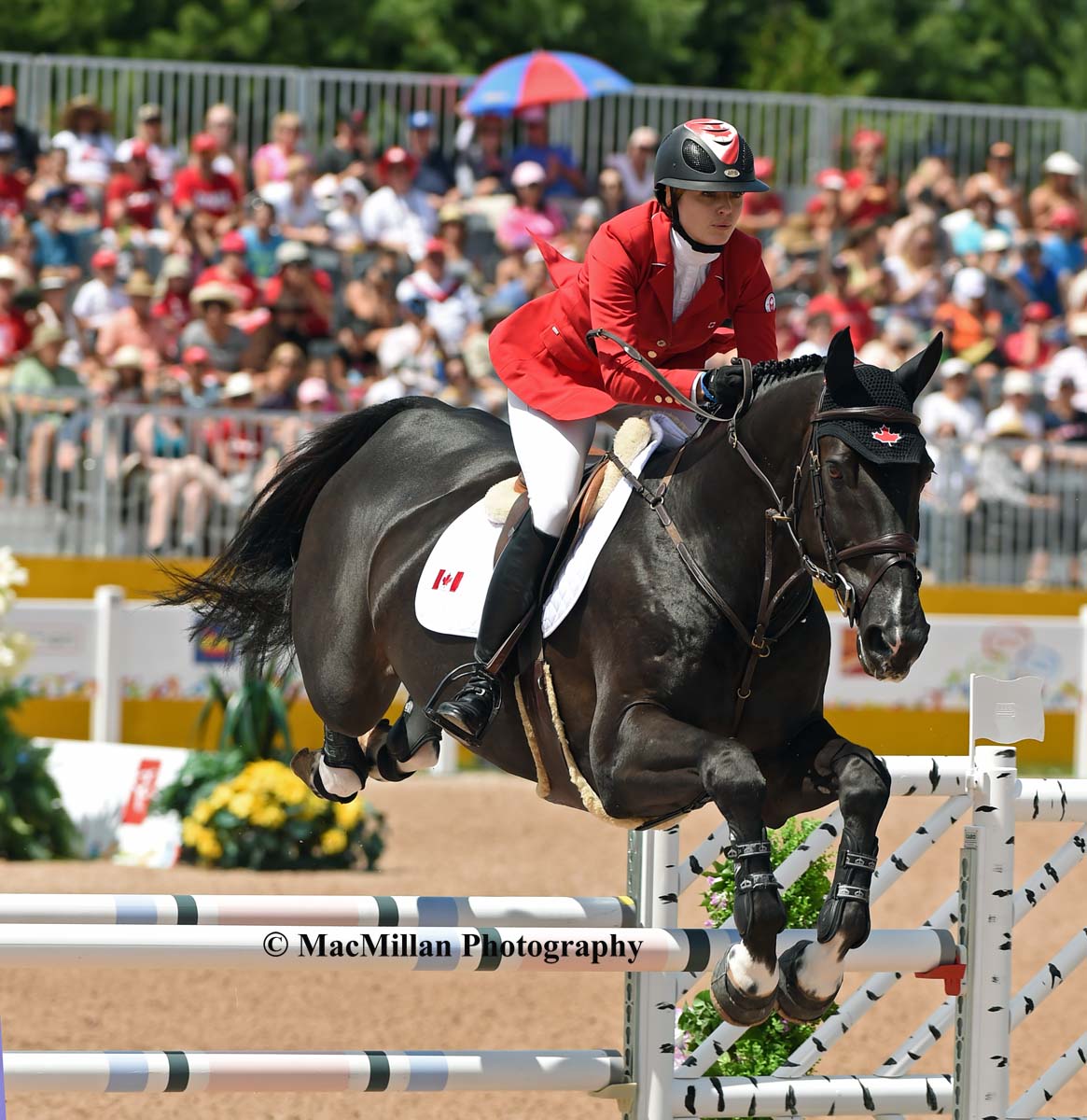 Tiffany Foster and the British-bred stallion Triple X III jumped around the course second in the order for Team Canada. Photo by Allen MacMillan/MacMillan Photography

Eric Lamaze's new stallion Coco Bongo did not want to touch the rails as they sailed around third on the list for the Canadian team. Photo by Allen MacMillan/MacMillan Photography

Ian Miller, a.k.a. "Captain Canada", is showing in his tenth Pan American Games and is 68 years old. He is riding Dixson in front of the home crowd in Ontario this time and the audience loves him! Photo by Allen MacMillan/MacMillan Photography

See more photos from the 2015 Toronto Pan-Am Games:
Initial Dressage Horse Inspection
Dressage Team Competition Day One
Dressage Team Final
Dressage Individual Final
Eventing Preview
Eventing Dressage
Eventing Cross-Country
Eventing Final