Did you miss any Toronto 2015 equestrian news? Click here to view all our 2015 Pan American Games Equestrian news and photos.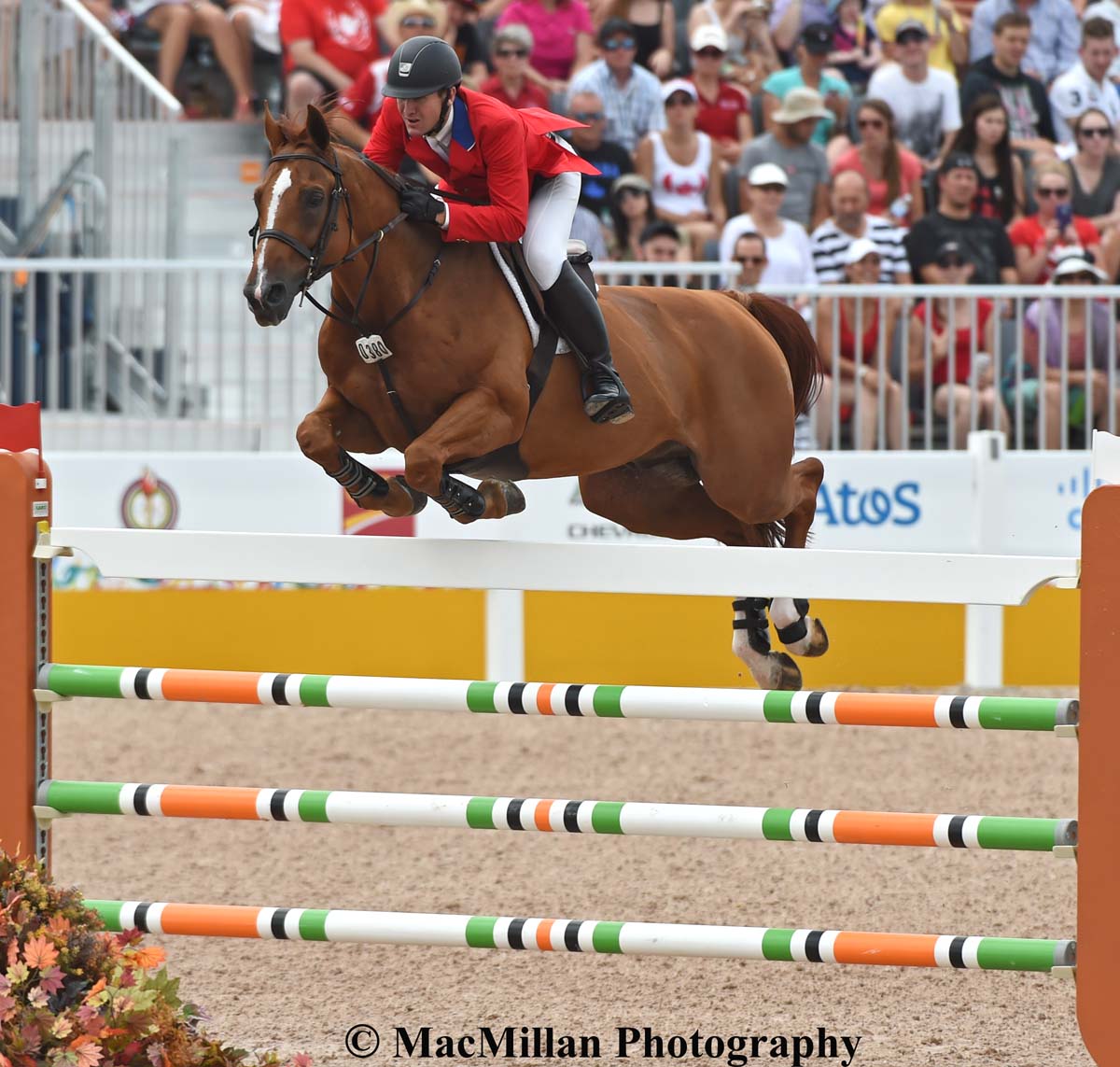 The white plank at the top of this open fence was almost impossible to see against the white arena background. Many brought it down. McLain Ward and Rothchild of the U.S. were clear in both rounds to qualify for the jump off against Andres Rodriquez and Darlon van Groenhove of Venezuela. Photo by Allen MacMillan/MacMillan Photography
The last two weeks have flown by here at the Pan American Games in Toronto! Saturday was the final day of the equestrian events – the show jumping individual finals – at the Caledon Equestrian Center about an hour and fifteen minutes north of Toronto. The day dawned partly cloudy and a bit warmer and more humid than the last few days. A 70% chance of rain was forecast by mid-afternoon, and though the skies did look threatening several times, happily it remained dry.
Yann Candele and Showgirl from Canada were first to go in the Pan Am individual show jumping finals. They carried eight faults from the first round and had two more rails in the second round to finish 19th. Photo by Allen MacMillan/MacMillan Photography
Thirty-eight horses of the original 50 show jumping entrants were invited to return for the finals. The second horse inspection was held in the morning at 8 a.m. and 37 horses were presented, jogged and passed to compete. The 38th horse qualified for the individual finals, Colombia's Woklahoma (Roberto Teran Tafur), was withdrawn before being presented due to a minor injury.
Canada's Eric Lamaze and the super careful Coco Bongo had a beautiful first round going when Coco Bongo stopped in the middle of the triple combination. They did not advance to Round B. Photo by Allen MacMillan/MacMillan Photography
The competition for the Pan Am Games individual show jumping medals is comprised of two rounds, each over a different course and is governed by Fédération Internationale Equestre (FEI) rules. Both rounds of jumping yesterday were operated under Table A, not against the clock, and a jump off could be done if needed to decide the winners of the three medals. For the individual championship the riders all started with a clean slate; none of their previous faults carried over from the first two days of competition.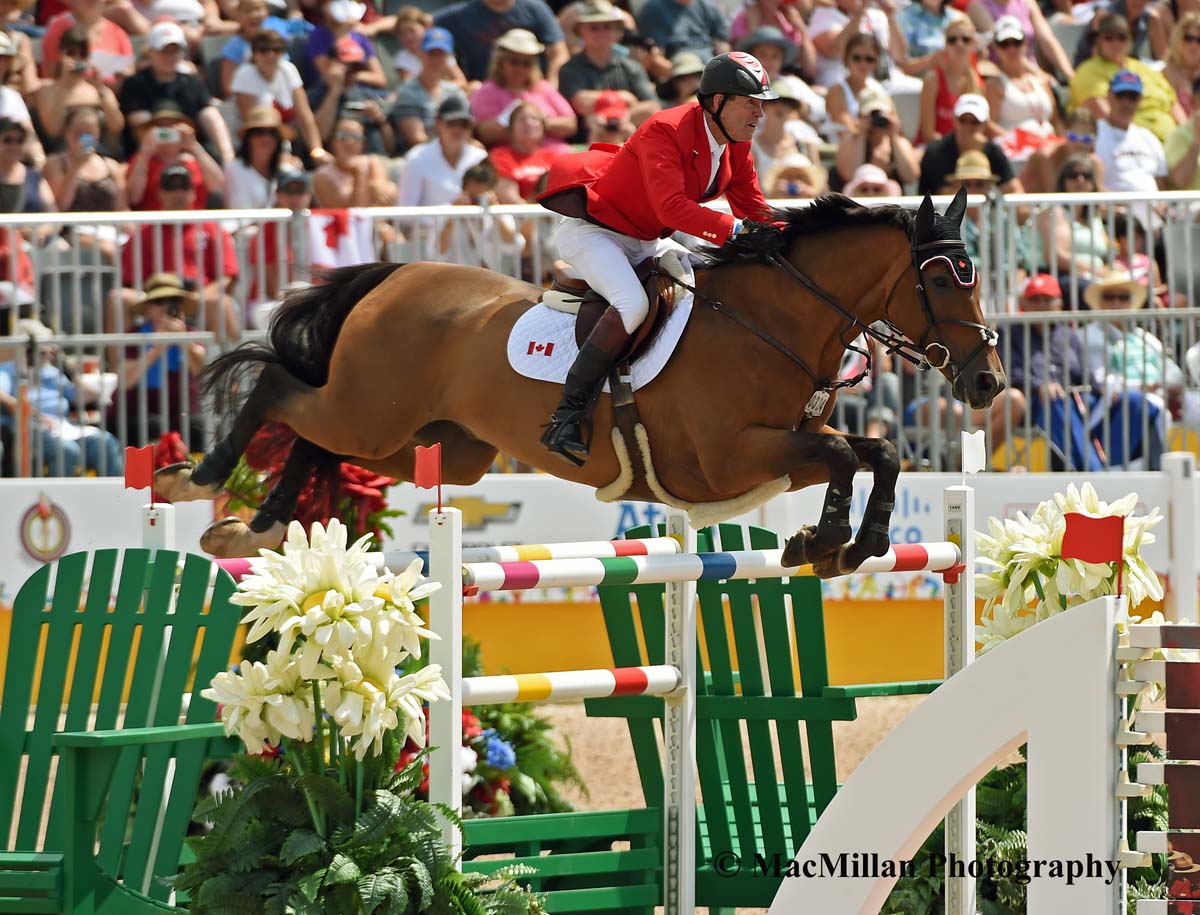 Ten-time Olympian for Canada, Ian Millar, and Dixson carried nine faults from Round A, but took a rail and a time fault in Round B to finish in a tie for 16th place. Photo by Allen MacMillan/MacMillan Photography
The jumps were beautifully decorated and included a plank fence with the Canadian Mounted Police drill team on it, as well as a Ontario wine country fence, a train trestle fence, the Toronto downtown skyline fence, the CN Tower fence and many other beautiful jumps. Both courses yesterday were designed again by Michel Vaillancourt. Round A were 12 numbered fences with 15 jumping efforts including double and triple combinations, a water jump and a Liverpool. The jump with the Mounties painted on it caused some concern for a few horses who I am guessing didn't think that they should be jumping other horses!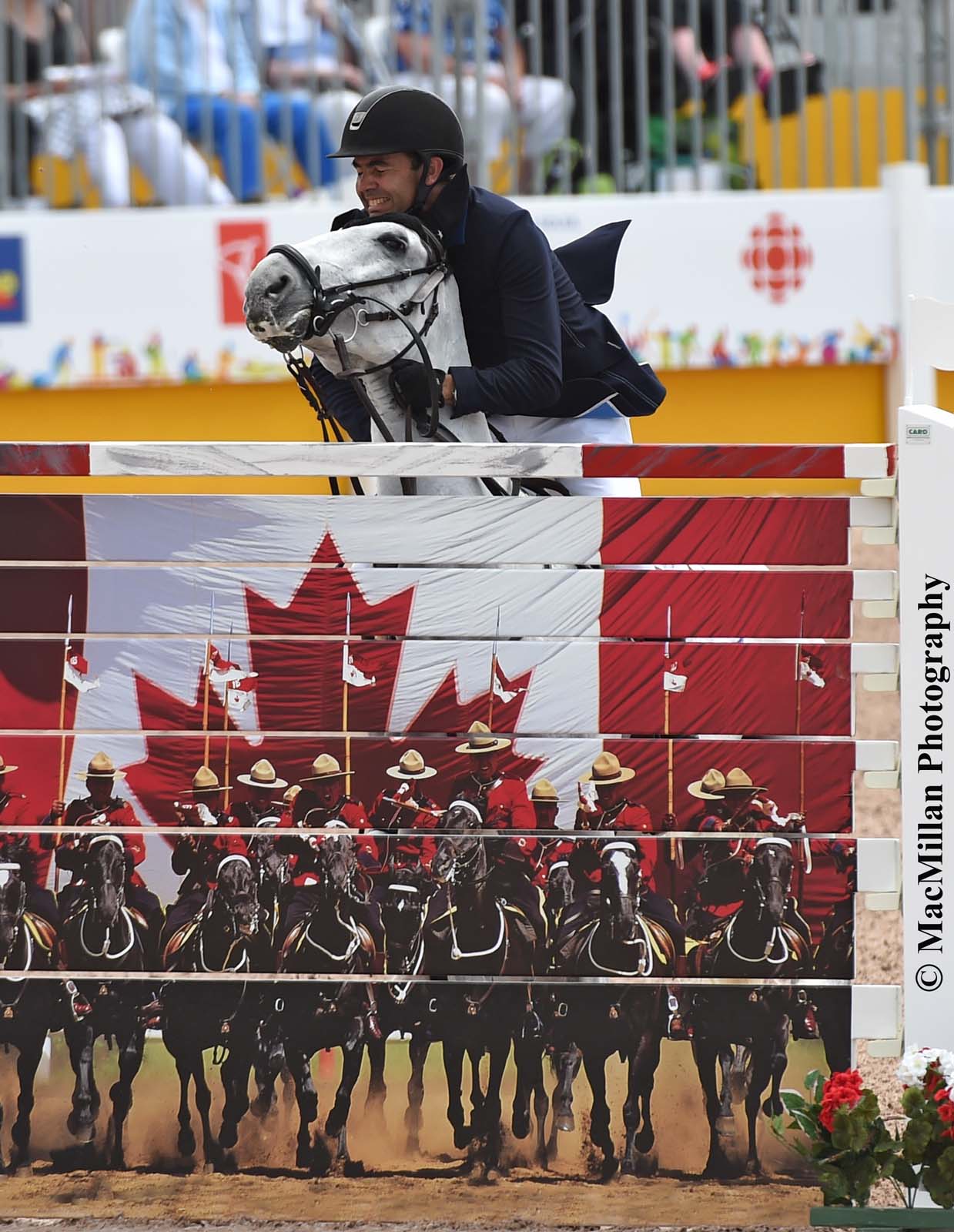 Juan Rodriguez Silva from Guatemala tries out a new technique to help Bugatti over the visually stunning RCMP Royal Canadian Mounted Police Obstacle which was used in Round B of the Pan Am individual show jumping finals. They did not make it on the first try, but cleared it successfully on the second attempt. They finished 21st. Photo by Allen MacMillan/MacMillan Photography
Eduardo Menezes from Brazil riding the lovely gray Quintol, shown here in the second round over the striking Canadian Mounted Police mural fence, put in consistent rounds only dropping one rail each in Rounds A and B. Photo by Allen MacMillan/MacMillan Photography
Thirty seven horses put their skills to the test in Round A. Riding for the U.S.A. were Georgina Bloomberg on Lilli, Lauren Hough on Ohlala and McLain Ward on Rothchild. Competing for Canada were Yann Candele on Showgirl, Eric Lamaze on Coco Bongo, and Ian Millar on Dixson.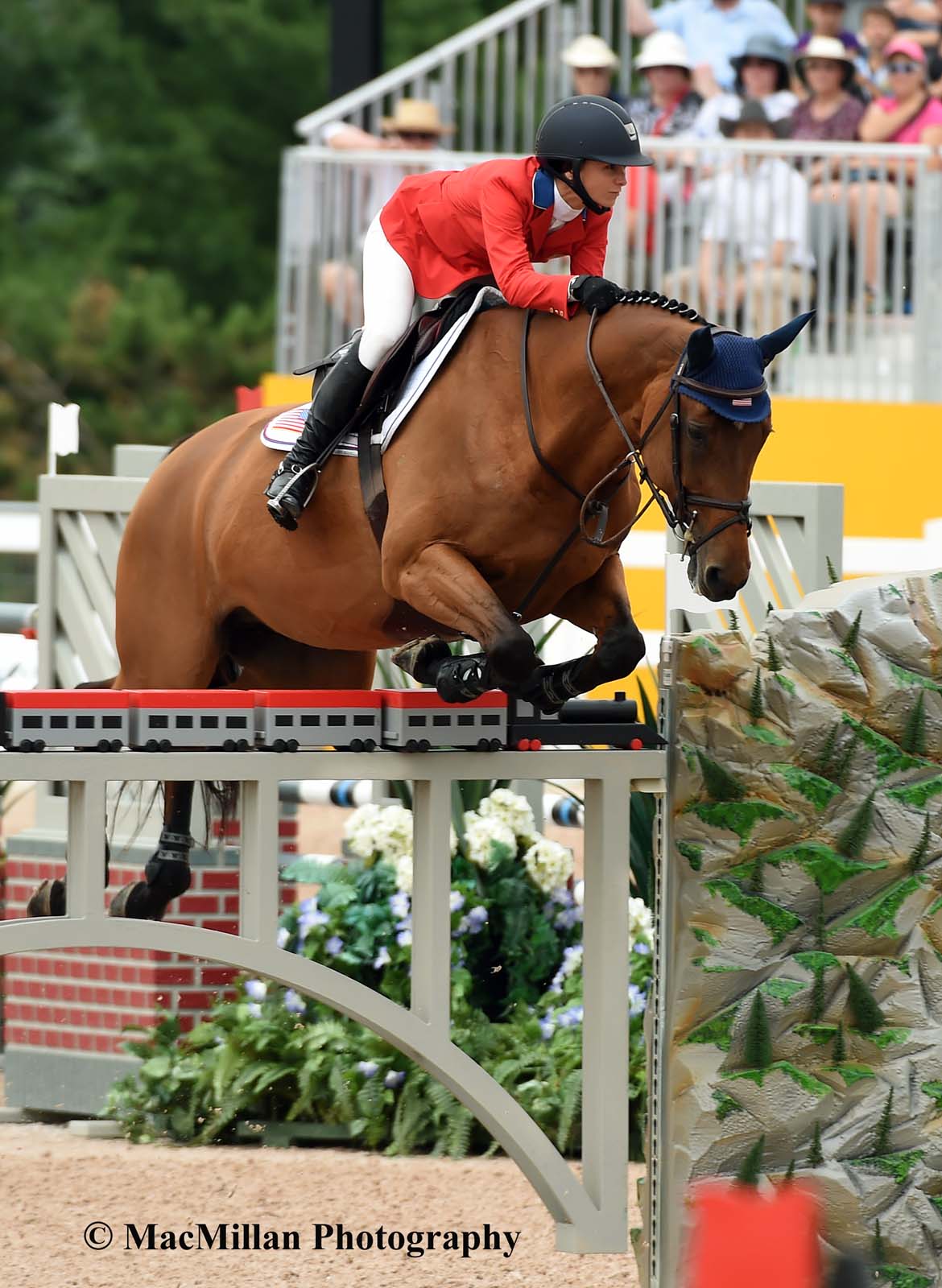 The U.S.A.'s Georgina Bloomberg riding in her first major games appearance guided Lilli to a four-fault trip in Round A, but then had two rails in Round B to tie for 11th place. Photo by Allen MacMillan/MacMillan Photography
Three horse and rider combinations jumped clear and within the time to tie for first after Round A: Andres Rodriquez, VEN, and Darlon van Groenhove; José Marie Larroca Jr., ARG, and Cornet du Lys, and McLain Ward, U.S.A., and Rothchild. Another eight pairs, including Georgina Bloomberg and Lauren Hough) had four-fault rides (one rail down), eight more had two rails down for eight faults and a final two riders had two rails and a time fault for nine total faults, for a total of 21 riders who returned for Round B.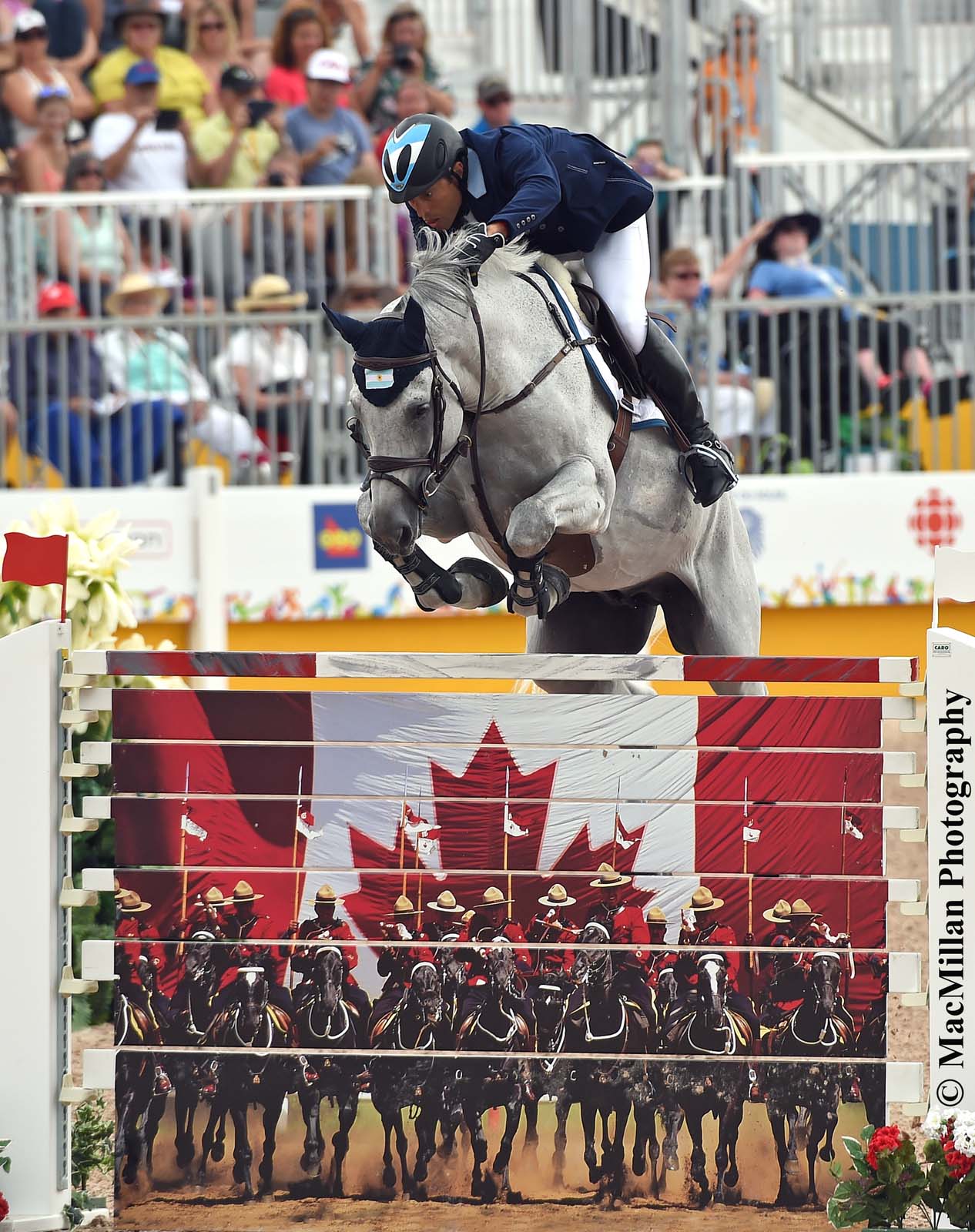 José Maria Larocca Jr. from Argentina and Cornet du Lys jumped brilliantly all week. They were clear in Round A of the finals, but dropped a rail in B. They jumped last in the order in the contest for the bronze, but took another rail to finish just out of the medals in fourth. Photo by Allen MacMillan/MacMillan Photography
Round B was slightly shorter with 10 numbered fences and 12 jumping efforts. The water jump was removed, but the Liverpool remained as did the Mountie plank jump and a triple combination. Twenty-one riders returned for Round B including: three from the Argentina, Brazil, Canada; two from Colombia, Uruguay and Venezuela, and one each from Bermuda, Guatemala, Peru and the Dominican Republic.
Uruguay's Nestor Nielson van Hoff showed extreme flexibility as they tried to get out of a tight distance. Unfortunately they took a rail down. They had one rail down in both rounds to finish in a tie for ninth. Photo by Allen MacMillan/MacMillan Photography
In both rounds the fences were international Grand Prix scope in height and width and the time allowed helped whittle down the field without any serious incidents. Although there was a rider fall or two and a number of fences down, but all were OK at the end of the day.
Brazil's Pedro Veniss was second to go in the jump off for bronze riding Quabri de L Isle. They had an unlucky rail to finish fifth. Photo by Allen MacMillan/MacMillan Photography
By the end of Round B there were two riders who went double clear in both rounds, McLain Ward for the U.S. riding Rothchild and Andres Rodriguez for Venezuela riding Darlon van Groenhove, so a jump off for gold was in the cards. Five more were tied with four faults: Emanuel Andrada, VEN, riding Hardrock Z; Pedro Veniss, BRA, riding Quabri de L Isle; Luis Pedro Biraben, ARG, riding Abunola; Lauren Hough, U.S.A. riding Ohlala, and José Marie Larroca Jr., ARG, riding Cornet du Lys. They jumped off for bronze.
Andres Rodriquez, Venezuela, and Darlon van Groenhove had no faults in Round A or Round B and jumped against McLain Ward and Rothchild for the gold. They had a lightning fast round going in the jump off, but tipped the top rail of the last fence. Photo by Allen MacMillan/MacMillan Photography
After a super exciting jump off for both medal spots the U.S. riders prevailed to take gold (McLain Ward) and bronze (Lauren Hough). Rodriguez, who went first in the jump off for gold, was unlucky to have a rail down at the final fence in the jump off even though his time was faster than Ward's. Hough and Ohlala were the only ones to go clean in the jump off for bronze.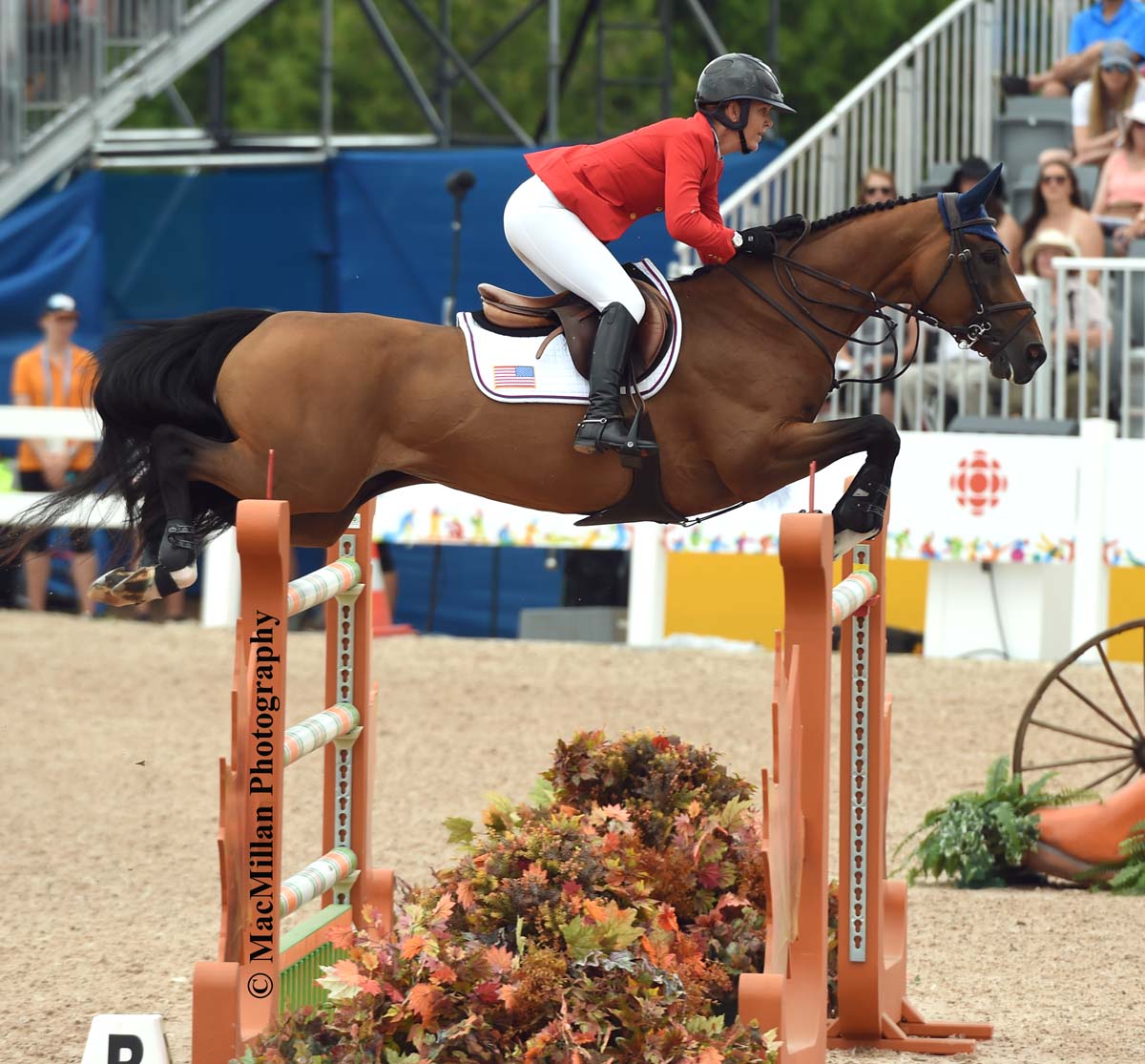 Lauren Hough, U.S.A., and Ohlala carried four faults from Round A, but jumped clear in Round B and in the jump off, where they went fourth in the order, to win the bronze medal. Photo by Allen MacMillan/MacMillan Photography
Through the individual finals several more riders qualified to go to Rio for the Olympics next year including the youngest rider in the field, 18-year-old Emanuel Andrade. He was thrilled and said in his post ride interview was that all that he wants to do is ride.
The youngest rider in the Pan Am show jumping competition, 18-year-old Emanuel Andrade (VEN) riding the stallion Hardrock Z, participated in the five-way jump off for bronze. They were first to go, but dropped two rails to finish sixth. Photo by Allen MacMillan/MacMillan Photography
For more news and results from the 2015 Pan American Games go to www.toronto2015.org.
Tonight is the closing ceremonies for the 2015 Toronto Pan Am Games after a few final sports venues finish up this afternoon, although equestrian ended yesterday. It's been a long, but interesting two weeks in and around Toronto. Though most of our time was spent an hour north of the city in Orangeville and Caledon where the horse sports were based, on our few days off we did get to photograph some track and field, gymnastics, racquetball, squash and handball. The Pan Am Park offered free concerts, a variety of family activities, sampling of foods from around Canada and a chance to "people watch" the sports fans attending from many nations.
We send out a hearty thank you to the 30,000 plus Pan Am Games volunteers and the Games Organizing Committee staff, and specifically our equestrian venue staff and volunteers, for a job well done and for their warm hospitality. A special thanks to Jean Llewellyn and her great staff of equestrian media center volunteers! Good-bye for now Toronto – see you in two weeks for the Para Pan Games.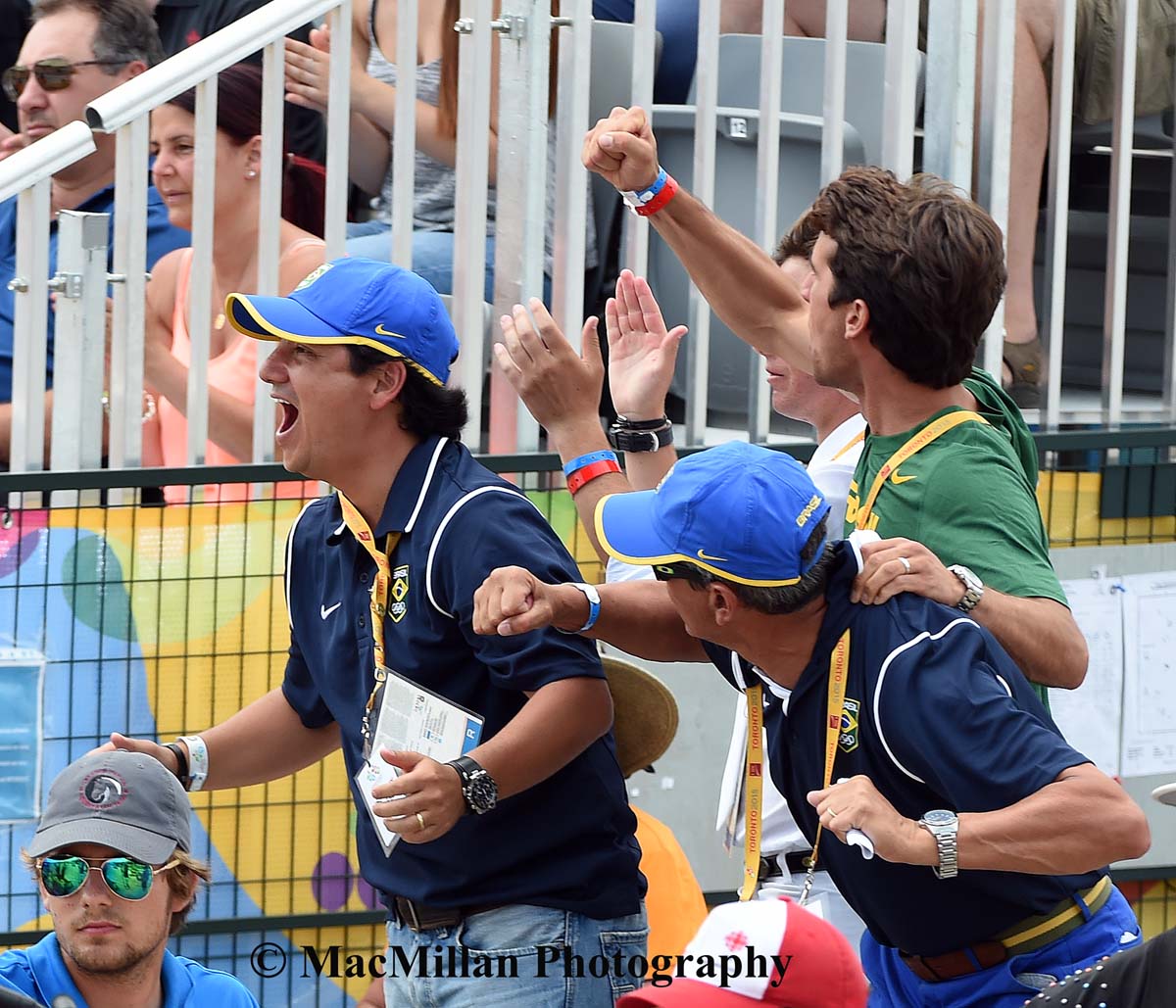 The Brazilian Team watching from the ringside platform cheered on Pedro Veniss and Quabri de L Isle during Round B where they jumped clear to qualify for the jump off. Photo by Allen MacMillan/MacMillan Photography
Luis Pedro Biraben from Argentina piloted Abunola to a clear round in B after only taking one rail in A. They jumped third in the order for the bronze medal fight, but dropped two rails to finish seventh. Photo by Allen MacMillan/MacMillan Photography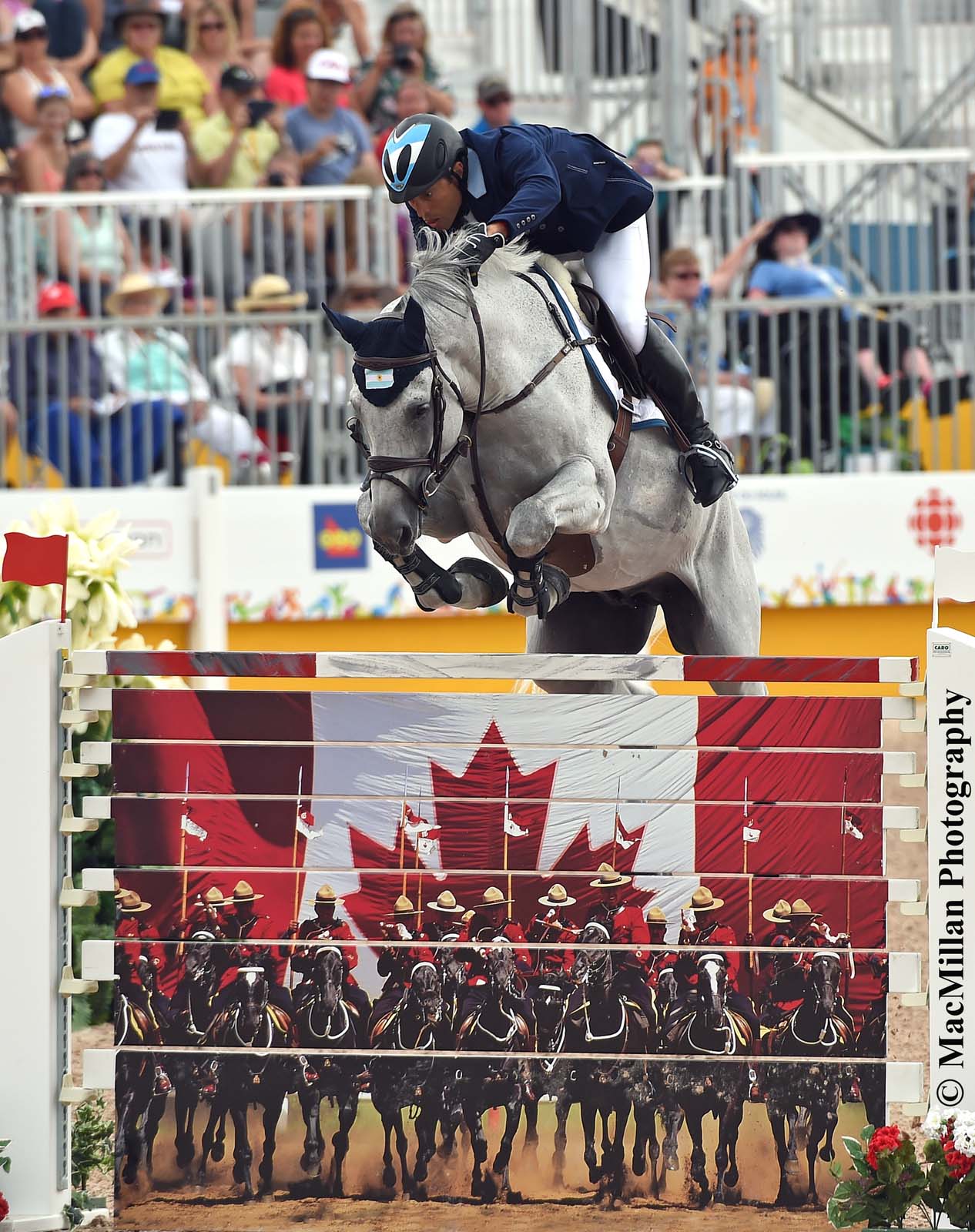 José Maria Larocca Jr. from Argentina and Cornet du Lys jumped brilliantly all week. They were clear in Round A of the finals, but dropped a rail in B. They jumped last in the order in the contest for the bronze, but took another rail to finish just out of the medals in fourth. Photo by Allen MacMillan/MacMillan Photography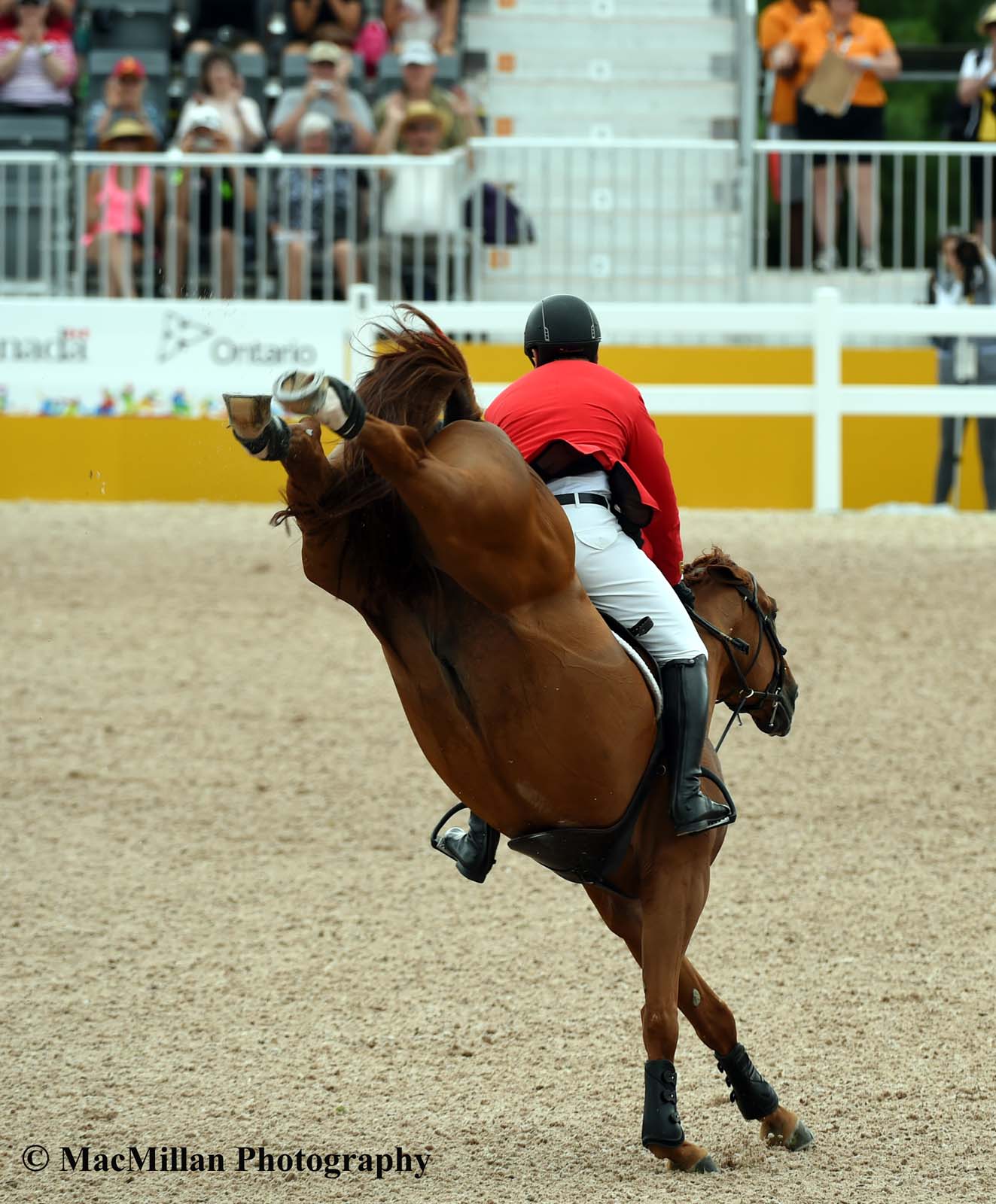 The diminutive and feisty Rothchild, ridden by the U.S.A.'s McLain Ward to individual gold, really puts on his game face when he competes and for good measure throws in an "in your face" buck at the end of his rounds. Photo by Allen MacMillan/MacMillan Photography
Rothchild puts on his happy face as he leaves the arena victorious and is offered mints by his groom. Ward says that Rothchild is a very personable horse in the stable. Photo by Allen MacMillan/MacMillan Photography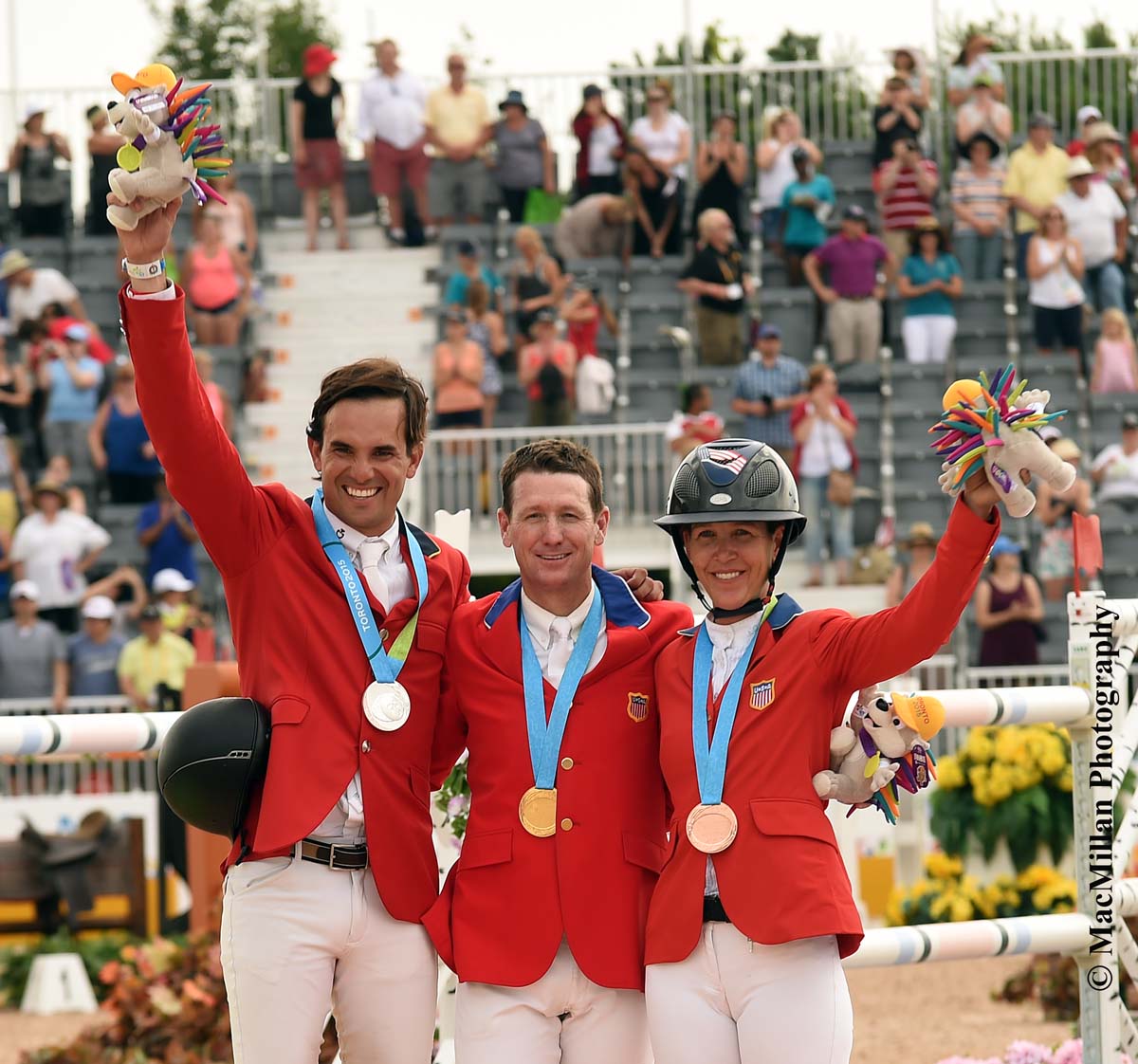 The individual medal winners in the 2015 Pan American Games show jumping are left to right: Andres Rodriquez, Venezuela, silver; McLain Ward, U.S.A., gold, and Lauren Hough, U.S.A., bronze. Photo by Allen MacMillan/MacMillan Photography
McLain Ward in his victory gallop. Rothchild doesn't like to do awards ceremonies, so Ward borrowed d'Ulieu van de Smeets for the festivities. Photo by Allen MacMillan/MacMillan Photography
A very happy Andres Rodriquez from Venezuela with his silver medal during the victory gallop He too borrowed another horse for the awards ceremony. Photo by Allen MacMillan/MacMillan Photography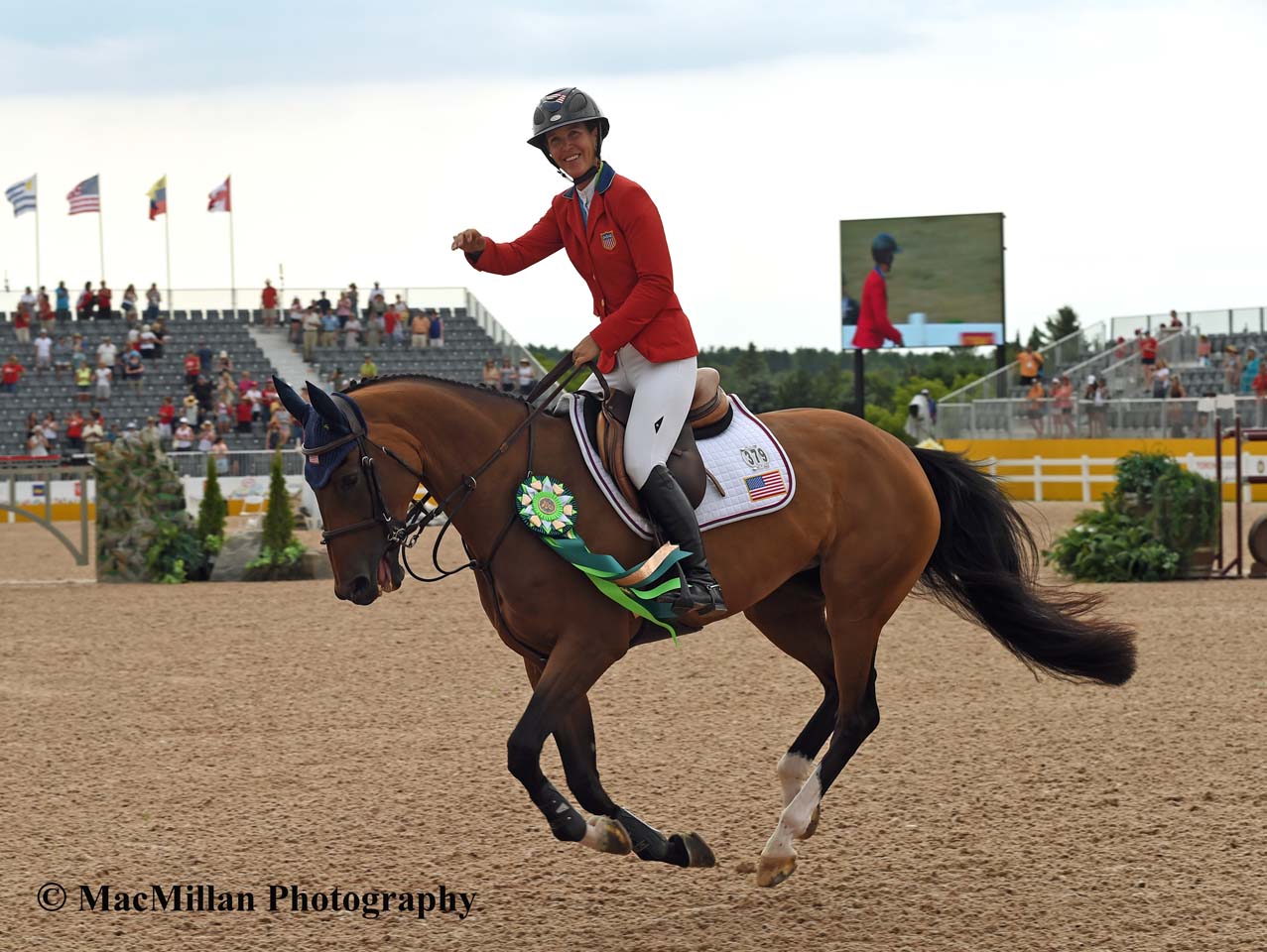 Lauren Hough did ride her bronze medal partner Ohlala for the victory gallop. Photo by Allen MacMillan/MacMillan Photography
Georgina Bloomberg and her son Jasper. Bloomberg (U.S.A., Team Bronze)and Jasper's father Ramiro Quintana (Venezuela, Team Silver) took turns holding their son as they each cheered on their countries' riders in the individual finals Round B. Photo by Allen MacMillan/MacMillan Photography