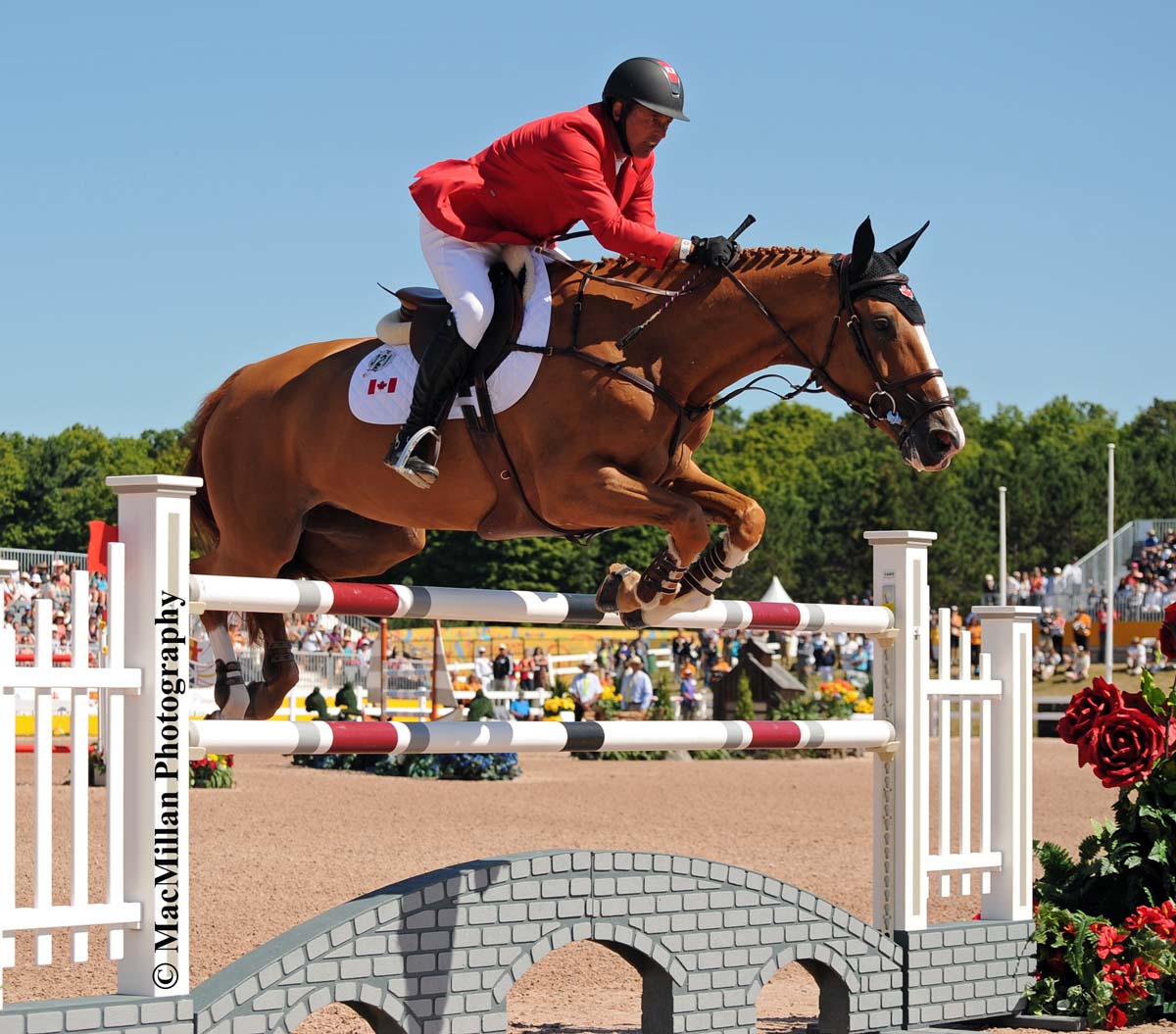 Team Canada's lead-off rider Yann Candele and Showgirl jumped consistently over two rounds leaving all of the fences up, but being a bit too careful and accruing one time penalty on each course during the Nations Cup format 2015 Pan Am Games show jumping team finals. Photo by Shelley Higgins/MacMillan Photography
Yesterday was all about the home team, Team Canada. The format for the show jumping medal rounds was, as always, Nations Cup; every horse and rider pair did two rounds over identical courses to determine the medals. Canada and several other countries were also looking to qualify for the Rio Olympics next year.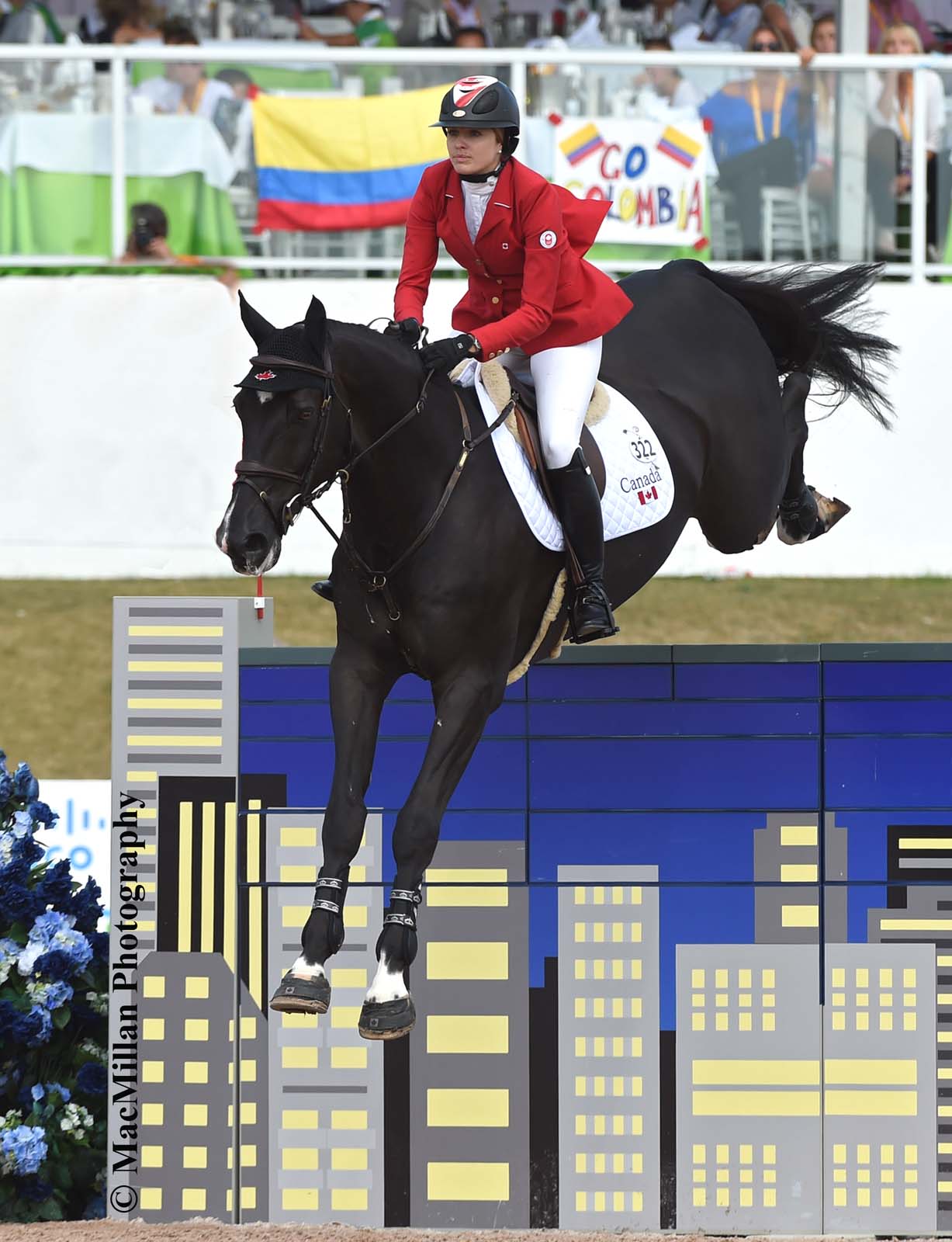 Tiffany Foster of Canada and the English-bred stallion Triple X III had an unfortunate stop in the first round of the Pan Am team show jumping competition, but redeemed themselves in round two by going clear. Photo by Allen MacMillan/MacMillan Photography
With the United States and Brazil already slated to make the trip to Rio (through qualifying elsewhere), Canada and the other hopefuls for next year just had to finish at the top of the nations not yet qualified. But perhaps more than that, Canada really wanted to win gold at their Pan Am Games. In the first round the Canadian team had two riders jump clear (Yann Candele and Ian Millar), but each of them racked up one time fault. Eric Lamaze and Coco Bongo took down one rail for four penalties which gave them a team score of six points. The Canadian team drop score was Tiffany Foster riding Triple X III; they had a miscommunication before fence 10 (the hockey fence) which caused a stop and earned them a total of seven penalties.
Eric Lamaze and his new ride Coco Bongo had an unlucky rail in the first round of the Pan Am team finals, but sailed over everything easily in the second round to help their team to gold. Photo by Allen MacMillan/MacMillan Photography
Colombia and Argentina had their own aspirations as well. Both teams turned in stellar first rounds of jumping with Colombia only having one time fault for exceeding the time allowed after all four riders had completed the course and Argentina carried only two time faults from the first round. This placed these two teams at the top of the rankings after round one.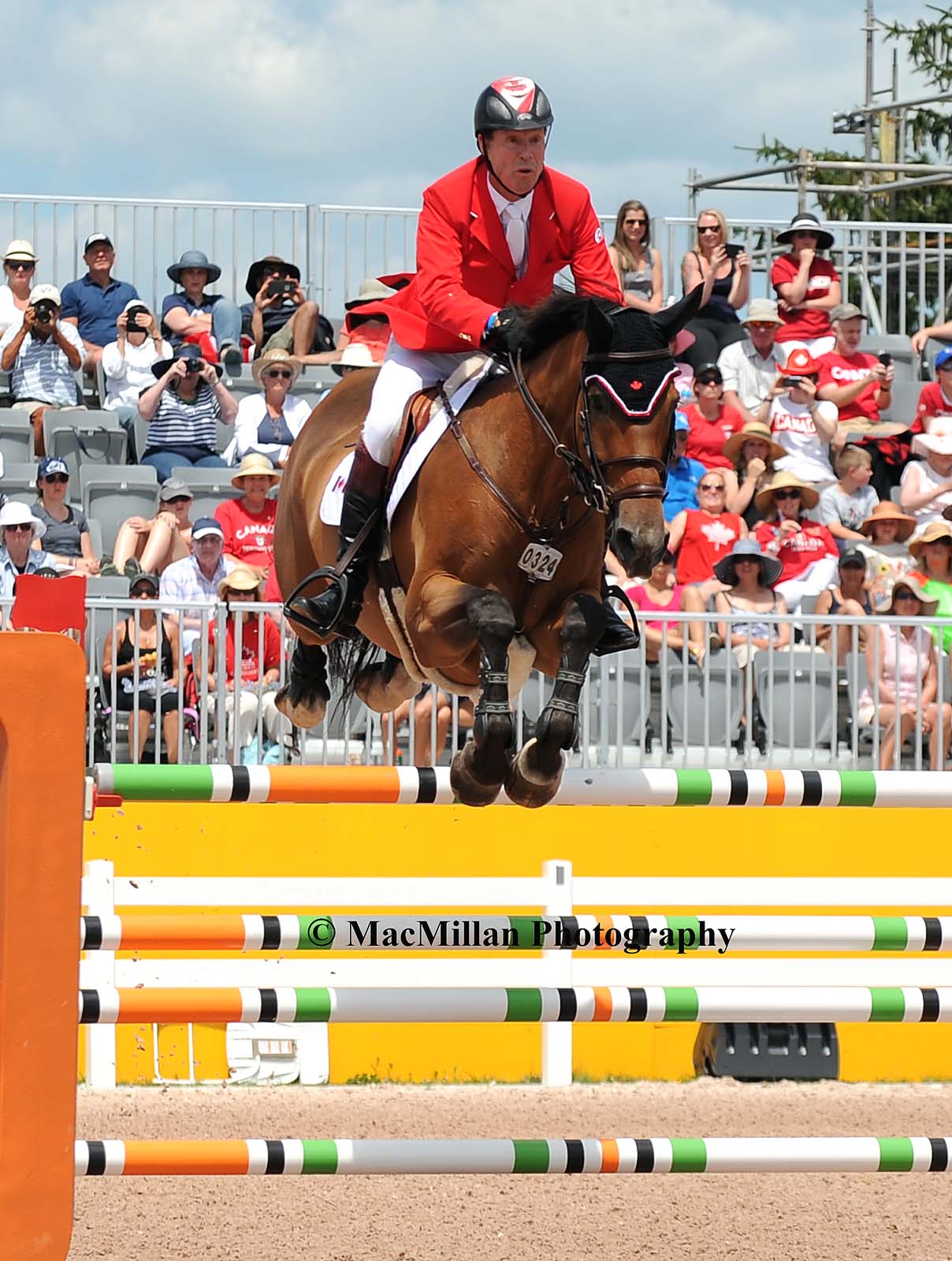 "Captain Canada", Ian Millar, expertly guided Dixson around the first course of the team competition incurring no jumping faults and one time fault, but had an unlucky second round with one rail and a time fault in round two. Millar, who is now 68 years old, has competed in 10 Pan American Games. Photo by Shelley Higgins/MacMillan Photography
In round one the U.S. team riders each had a rail down for four faults and a team total of 12 ending that round in a disappointing sixth place. McLain Ward explained in an interview that having four faults in the first round of a Nations Cup was "death" to the team's chances to win, so the American riders and fans had pretty long faces by mid-day.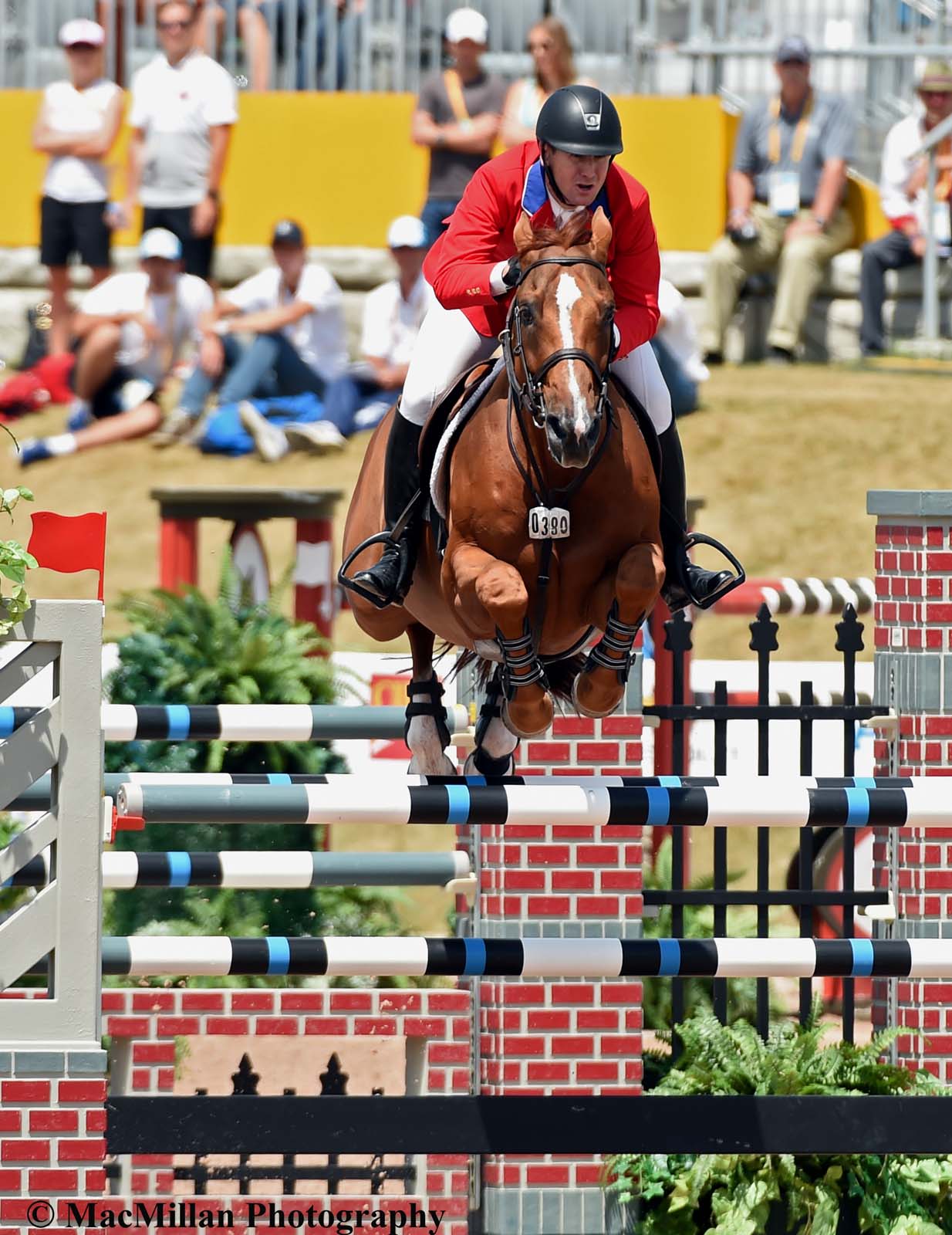 The U.S.A.'s lead-off rider, McLain Ward rode his long-time partner Rothchild whose fierce expression shows his determination to go clean, which they did in the second round after dropping just one rail in the first. Photo by Allen MacMillan/MacMillan Photography
A couple of hours later when the dust had settled from round two things looked quite different at the top of standings. Colombia's riders all had bad luck with three riders taking down a rail and their fourth taking down two, plus several time faults for good measure, to make their final team score 15.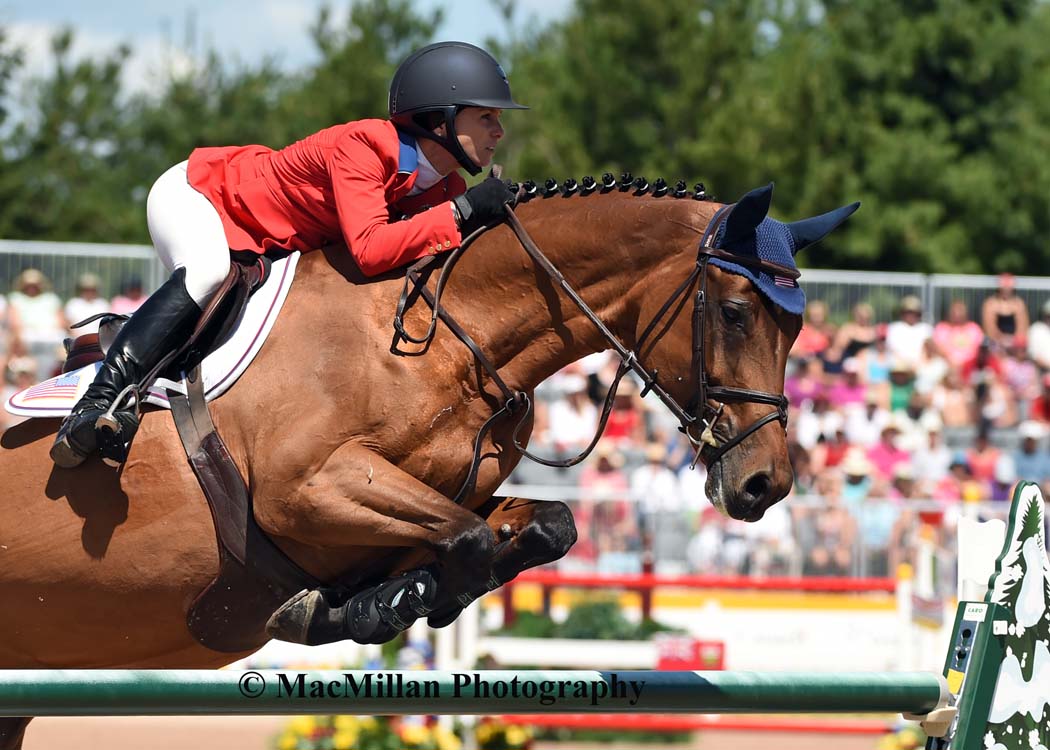 Georgina Bloomberg was a member of her first U.S. team at this Pan Am Games. She and Lilli had four faults in the first round and then jumped clear and within the time in the second round. Photo by Allen MacMillan/MacMillan Photography
Meanwhile the Team Canada saw their lead rider, Yann Candele on Showgirl, jump clean, but accrue one time fault. Their next two riders, Eric Lamaze riding Coco Bongo and Tiffany Foster on Triple X III both jumped double clear rounds. Their anchor, Ian Millar on Dixson earned their drop score by taking a rail and a time fault. Their final team score was seven points.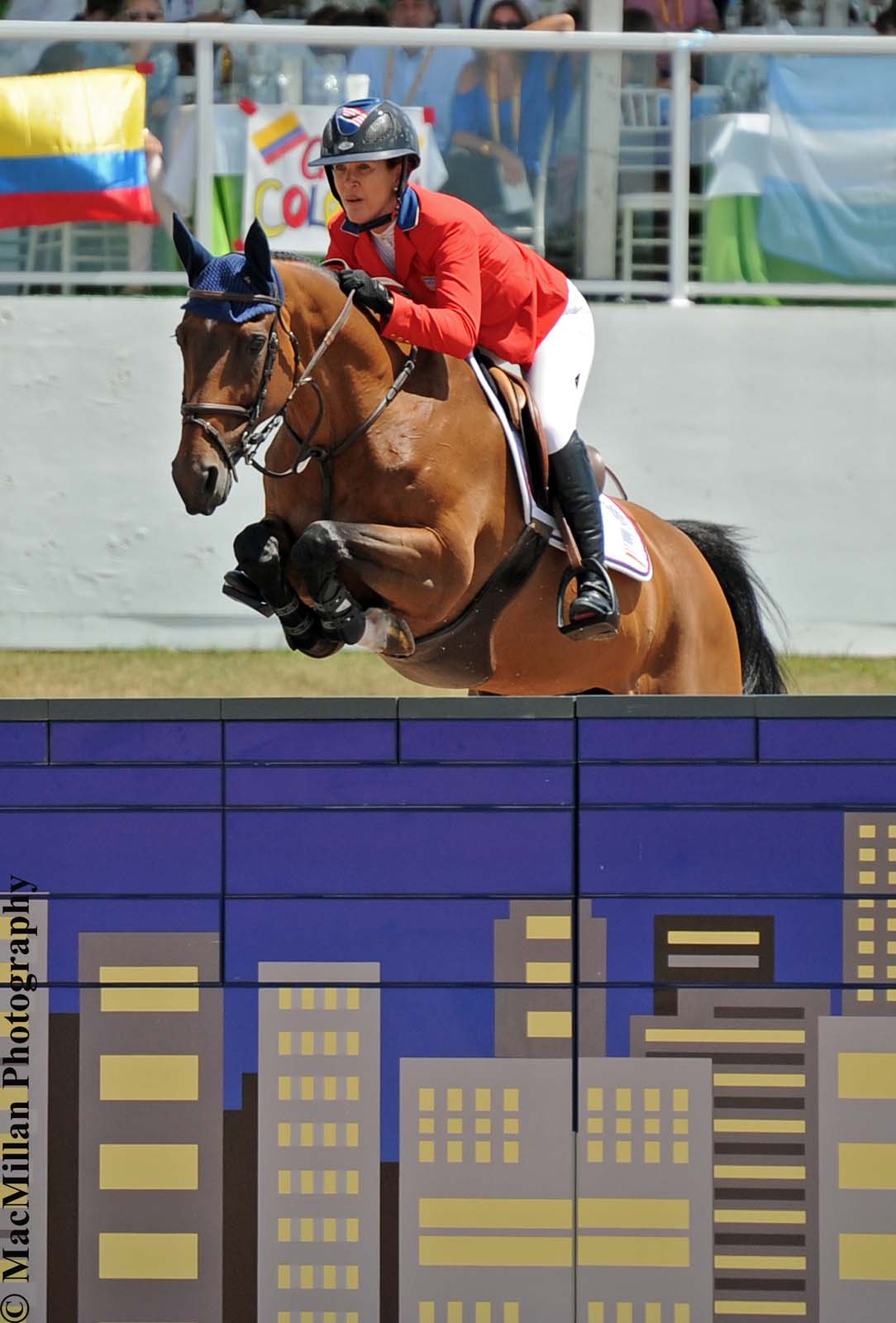 Lauren Hough piloted the young mare Ohlala to support Team U.S.A. with one rail down in the first round and a clean second round. Photo by Shelley Higgins/MacMillan Photography
Canada was now neck and neck with the Argentinean team. Team Argentina's first three riders had one double clear round, another jumped clear with an additional time fault and the third round was one rail down with two added time faults. By this time, with one more Team Argentina rider to go, many people were counting in their heads, on their fingers or on paper to see try to figure out how it was all sorting out. Canada knew by the time their fourth rider finished that they would either win or jump off with Argentina to break the tie.
Currently ranked number three in the world, the U.S.A.'s Kent Farrington brought his new mare Gazelle to the Pan Am Games for championship experience. Like their teammates they had four faults in the first round and jumped clear with no time penalties in the second. Photo by Shelley Higgins/MacMillan Photography
Then the final Argentinean rider, José Maria Larocca Jr. riding Cornet du Lys, entered and jumped clear, but exceeded the time allowed by less than a second chocking up one time penalty. The gold went to Canada. Red and white flags were waving wildly and strains of "Oh Canada" broke out at random. It was fun to watch the home crowd enjoy the win and the qualification for Rio.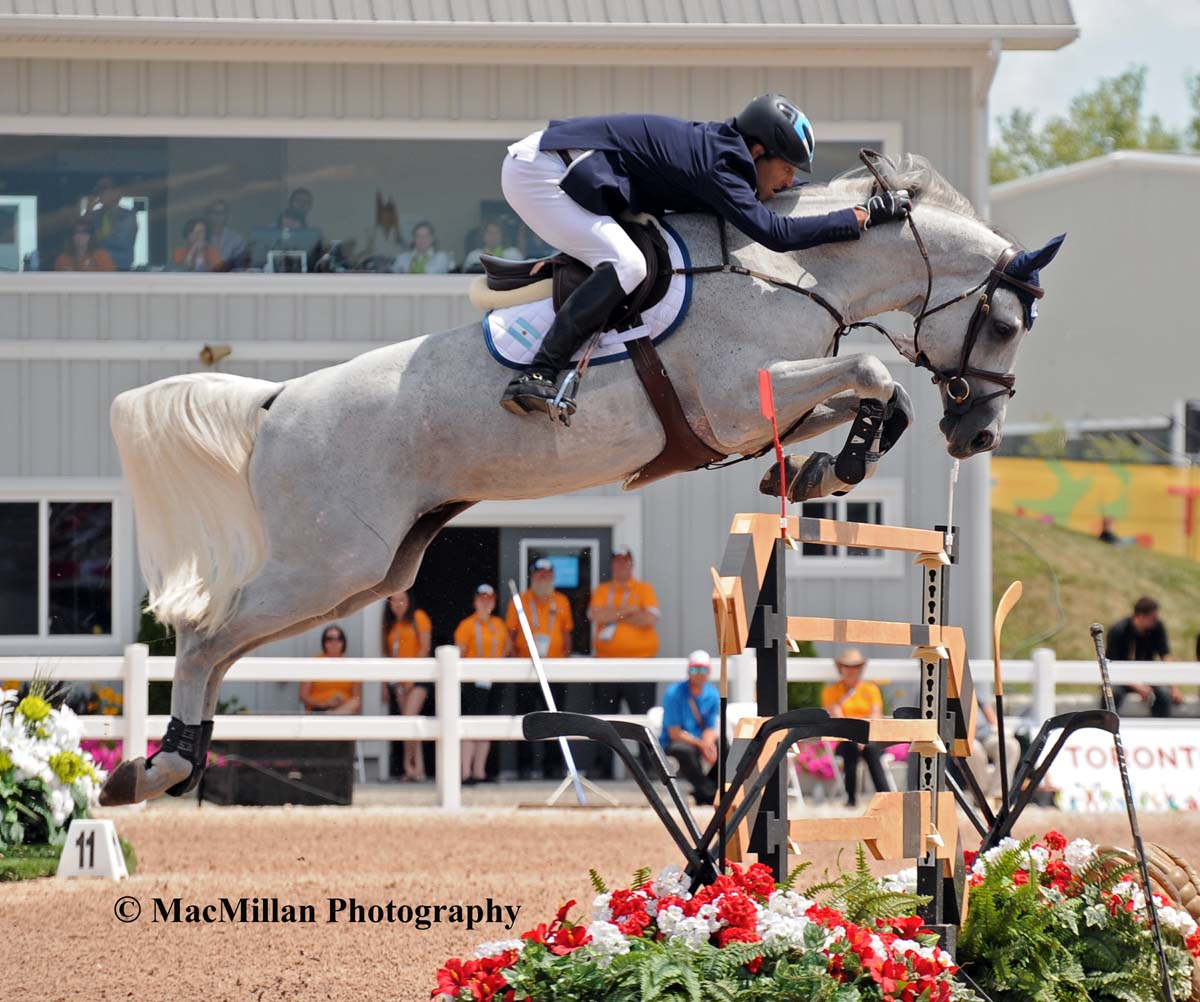 Argentinean José Maria Larocca Jr. riding Cornet du Lys was the final rider to go for their team. They jumped clean, but incurred one time penalty giving the Canadians the gold medal and solidifying silver for Argentina. Photo by Shelley Higgins/MacMillan Photography
Happily for Argentina even though they had to settle for silver, they did qualify for a spot to compete in Rio next year. On the other end of the spectrum the fans from Mexico got the unwelcome news that for the first time since 1960 they will not be sending a show jumping team to the next Olympics.
The Argentina team members and fans watching José Maria Larocca Jr.'s and Cornet du Lys' round. Photo by Allen MacMillan/MacMillan Photography
The U.S. team had a super second round with all four riders going clear and within the time. This added zero to their first round score of 12 and picked up the bronze medal to take home. Two of the U.S. team riders, Lauren Hough and Kent Farrington were both mounted on young, less experienced mares. According to Georgina Bloomberg, her mare Lilli has been her "back up" horse so far too, although she certainly earned respect during the week. McLain Ward and his well-seasoned Rothchild served as the "wise old men" on the U.S. team.
A tense Team Canada (left to right: Tiffany Foster; Mark Laskin; Yann Candele; Rebecca Foster; Eric Lamaze; Elizabeth Gingras, and Ian Millar) watches and waits during the final Argentinean rider's tour of the course on Cornet du Lys. They knew that the worst that could happen was a jump-off with Argentina for gold, but it would be a relief to win it outright. Photo by Allen MacMillan/MacMillan Photography
For complete results or an order of go for Saturday's individual finals go to www.toronto.org and click on "Schedules and Results". Three American and three Canadian riders are moving on to the individual finals. The finals are scheduled for broadcast in the States on ESPN 3 and in Canada on CBC. We will have a final wrap-up and photo gallery for you following the completion of those medal ceremonies.
An elated Canadian Team after they found out they won the gold and qualified for the 2016 Rio Olympic Games. Photo by Allen MacMillan/MacMillan Photography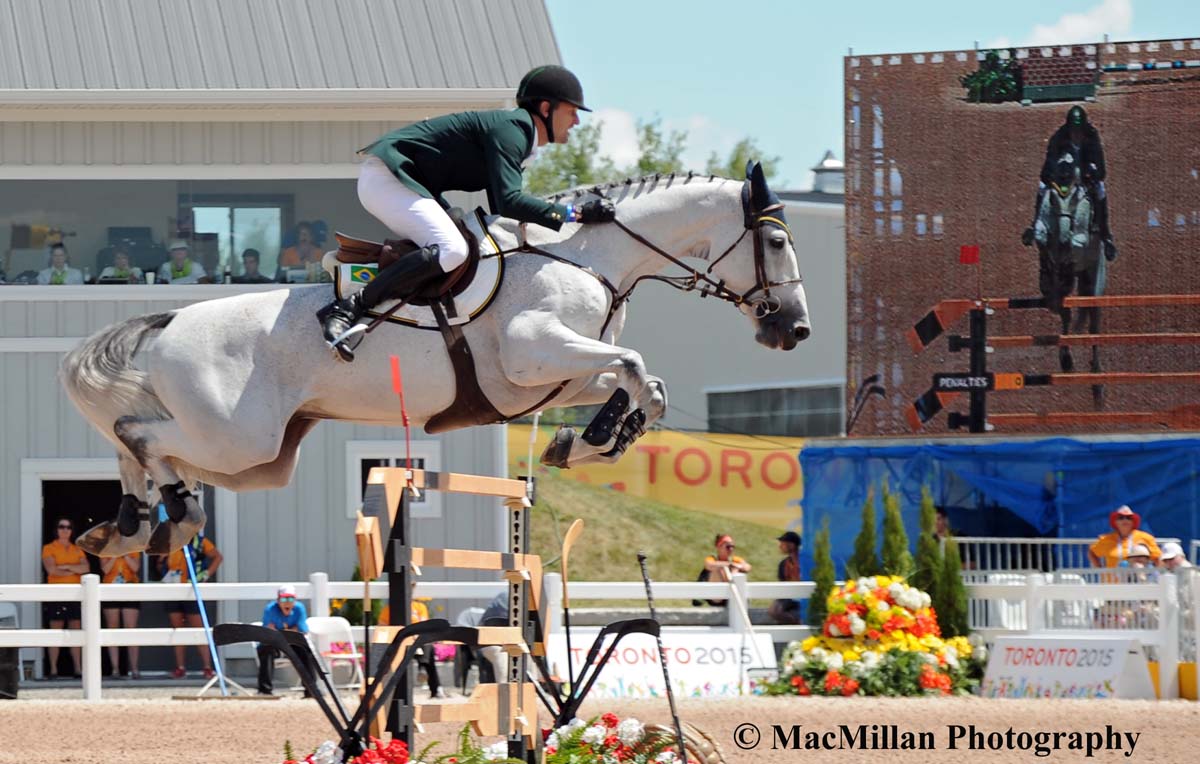 The current individual leader after two days of competition is Eduardo Menezes of Brazil riding Quintol. After jumping three courses, they have only one time fault and no jumping faults. They and 34 other riders have advanced to the finals to be held on Saturday, July 25. Photo by Shelley Higgins/MacMillan Photography
See all Toronto 2015 PanAm Games news and photos from dressage, eventing and show jumping >>