As a child I cried when I thought my favorite horse, Geronimo, was being yelled at (my 3-year-old self did not know the difference between a command and a punishment). Now as an adult when I hear about 200 horses being abused on a farm in Texas, that little girl who cried at any horse being treated in a way I thought was unfair suddenly springs up to the surface.
This past June, the Houston SPCA and Montgomery County police officers were onsite at the Calico Dairy Farm in Conroe, Texas to investigate claims of animal abuse,
ABC 13 reports
. Former employees of the farm made the claims, stating that the horses, as well as cows and goats, were malnourished, dying of starvation and lacking proper medical care. It was claimed that one horse "was left in the sun without any cover or water, causing the animal to 'cook' from exposure. Witnesses stated that the horses skin 'was falling off' upon being touched."
The Montgomery County DA office obtained a search warrant. Once on the property, authorities gathered enough evidence to arrest farm owners Herman and Kathleen Hoffman, who have each been charged with three counts of animal cruelty, ABC Eyewitness News reports.


The Houston SPCA removed the horses in the worst condition and fed hay to the remaining horses. Houston SPCA President Patricia Mercer told ABC Eyewitness News, "When you get to a point when you don't have any muscle mass left, it's really hard to stand. We have over 200 horses and we are going to be doing blood work, diagnostics on these horses, farrier work. Horses should have their feet trimmed every six weeks. Many of these horses it's likely that they've never had their feet trimmed. They're in very bad condition."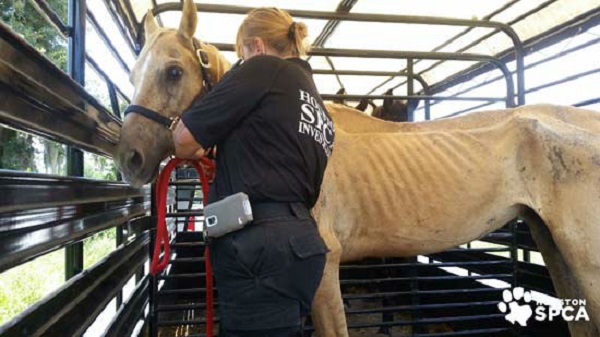 One of the horses seized from the Calico Dairy Farm. Photo via Houston SPCA

Given the size of the herd, finding places that will take them has been difficult. At the time of this writing, the majority of the horses are still onsite at the Calico Dairy Farm, under supervision of law enforcement, according to ABC 13. Sixty of the 200 horses were taken to the Dumb Friends League's Harmony Equine Center. They will receive rehabilitative care at the center.
The Hoffmans were released on $10,000 bonds for each count ($30,000 each); however, they are not allowed back on the property, ABC Eyewitness News reports. A court date has yet to be reported.