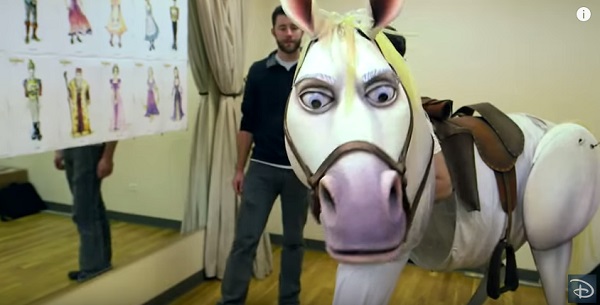 Horses make appearances often in Disney movies, often with big personalities. Remember Samson from "The Sleeping Beauty," Buck from "Home on the Range" and Bulls Eye from the "Toy Story" movies? What about Khan, Achilles and Pegasus? One of the most entertaining of them all to watch is Maximus, the horse in the movie "Tangled." With the popularity of that film, which is a remake on the classic tale of Rapunzel, Disney has been busy getting ready for "Tangled: The Musical," which will premiere in November on Disney Magic, the company's cruise line.
The musical will include puppetry, which is where Maximus comes in. Realizing the horse's facial expressions are vital to the story, the puppeteers have worked diligently to bring the horse to life on stage.
Check out this behind-the-scenes video on just how they're doing it:


Will you see Maximus in "Tangled: The Musical"?