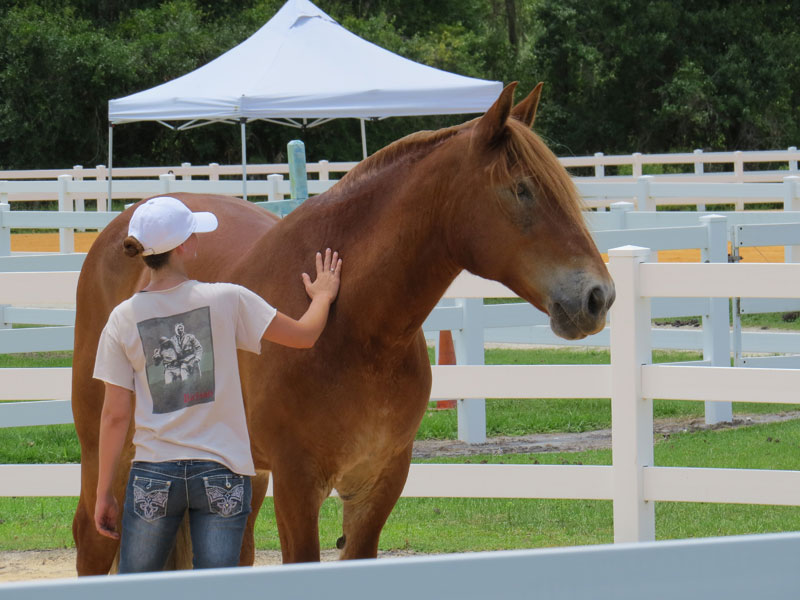 Read on to learn more about how equine assisted therapy and horses help our warriors and veterans in transitition to civilian life.
Every month, a group of military veterans travel from the Bay Pines Veterans' Hospital in Tampa, Fla. to the Sarasota-Manatee Association for Riding Therapy (SMART) in Bradenton, Fla. for an equine-assisted therapy session. Some of the men and women who make the trip are grappling with post traumatic stress disorder (PTSD), others need help re-establishing home front relationships; all attend SMART's day-long Warriors In Transition workshop hoping the horses will help them find peace.
"We've been doing this for the past six years and its always the same," says Gail Clifton, SMART's volunteer interim education program and facilities coordinator. "When the veterans get off the bus they're skeptical, then they're matched with the horses the magic happens."
According to Clifton, between 8 and 15 military veterans are referred to the equine-assisted therapy program by the recreational therapist at Bay Pines every month. Each workshop session runs a full day – from 9:30 a.m., to 3:30 p.m. – and includes the supervised ground handling of a single horse contained in a round-pen. Horses used in the program range from Percherons and other Draft horses to ponies and miniatures; all are trained therapy animals. The majority of the veterans who take part in the program have never handled horses before, Clifton says.
The equine-assisted therapy workshop begins when each horse is matched with a veteran who is equipped with a long Dressage whip. The veterans are instructed never to hit the horse, but to point the whip at the horse's feet if they want to animal to back away from its human handler. Over the course of the day, each veteran works on "inviting" the horse into his or her space with a goal of establishing a relationship with the animal, all the while recognizing how their behavior affects their relationships with other human beings.
"For example one woman got into the round pen, pointed the dressage whip at the pony's feet and walked around the pony," Clifton recalls. "After a while she came out of the round pen and wondered why the pony never approached her."
According to Clifton, the woman was able to relate the experience with the pony to her failure to make human connections.
"She said, 'That must be why when I walk into a room full of people, no one approaches me,'" Clifton says. "She just couldn't see herself using her body language to keep those people away."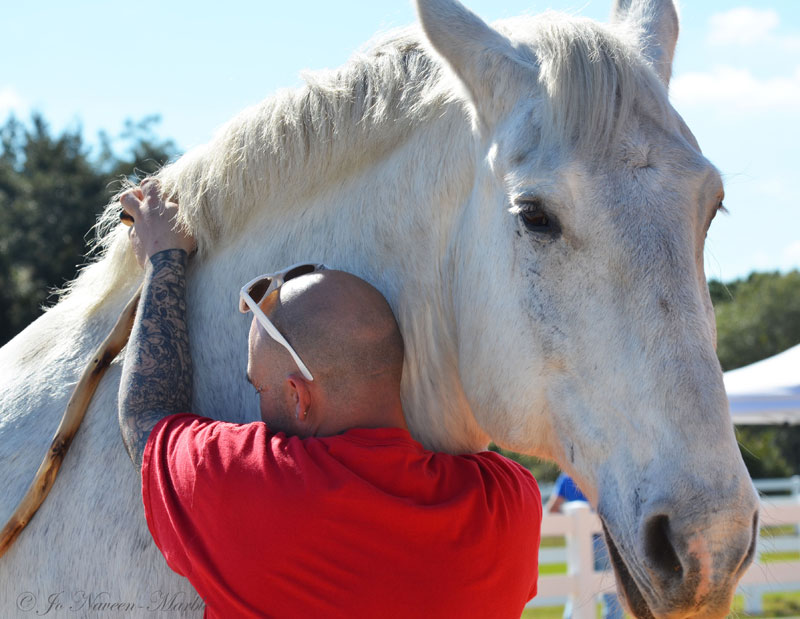 The story is typical, says Clifton. Most of the veterans to participate in the program begin the day keeping one another at arm's length. By the session's end, participants are hugging the horses and all laughing, even embracing one another.
"You'll see these big, burly guys burying their faces in the horse's neck just sobbing," Says Clifton. "I don't know how it happens, but it does; these horse are healers."
The developer of the Warriors In Transition program believes he knows exactly why it happens.
A veteran of the Cold War Naval Intelligence Service, Terry Murray developed the Warriors In Transition program after studying the Epona Equestrian Services system of equine-assisted learning developed by founder Linda Kohanov. Murray believes that the Warriors In Transition program works because horses and veterans have a lot in common.

According to Murray, it takes the military just 8 weeks' of basic training to strip recruits of their self-esteem and to replace it with so-called unit esteem – a kind of herd bonding. Later in the combat zone, soldiers on patrol are at high alert for long periods of time.
"They look for anything that doesn't fit because it could be an IED (improvised explosive device) ," Murray says. "They want to say alive."
As a result, returning veterans often find it difficult to form bonds with friends, spouses and others who never went to war. At the same time, they deal with the nightmares and flashbacks associated with post traumatic stress.
"When you come back, you see people in a different way – people walking around in a level 3 awareness, while you're walking around at a 10 awareness level," he says. "People want you to function at a level 3 – it just doesn't work."
Murray says horses are particularly helpful in veterans' equine-assisted therapy programs because horses and soldiers share a heightened sense of awareness and the desire to process information in order to protect the herd.
"Horses are hyper aware and very conscious that their awareness is information," Murray says. "In every herd there is a watcher and one that is being watched – sometimes its a mare, sometimes it's a stallion, but either way, it's about doing what is best for the herd."
According to Murray, the "magic happens" when veterans learn to see the dangers of their life experiences the way horses do.
"Horses use their awareness to see a threat, identify it, react to the threat and then go back to grazing," Murray says "We help veterans do the same thing – acknowledge that the threat existed and then get back to their lives."
At the same time, horses help mirror the way veterans behave around fellow human beings.
"You have to invite horses into your space," Murray says. "If you don't, they just don't care – they keep just on grazing."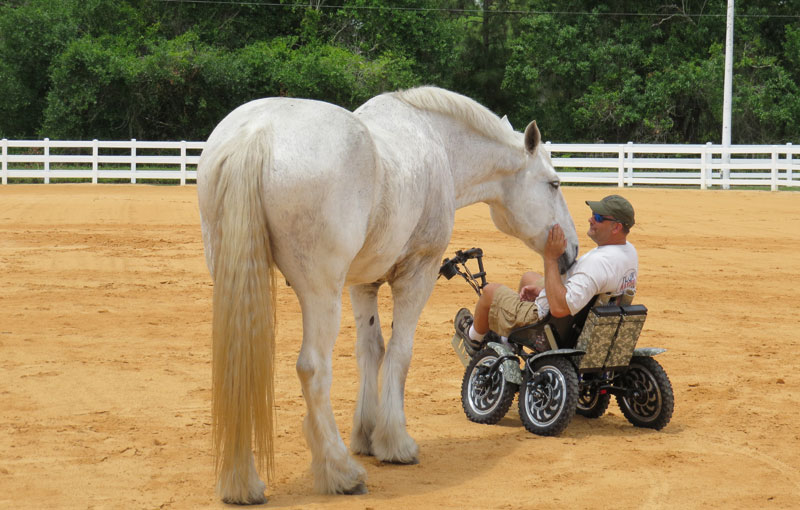 Finally, Murray says he developed the Warriors In Transition program to help veterans learn to bond and establish – or reestablish – their relationships with other human beings, but the program's ultimate goal is to help veterans thrive when they return to their families and their communities.
"In this war, so many of the soldiers were reservists, and when they came home they were supposed to dissipate into the world without support," Murray says. "It takes time to change the way veterans think about themselves and others, but the horses show them where to start."