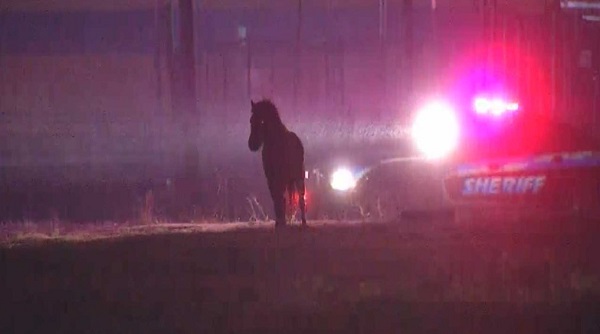 It isn't every day you hear about a miniature horse being taken into custody after a four-hour police chase, but that's exactly what happened early this morning in downtown Oklahoma City. Law enforcement started receiving 911 calls around 12:30 a.m. regarding the mini on the loose close to I-40 and Western, News 9 reports. Several patrol cars responded, along with Animal Control and the Oklahoma National Stockyards Company cowboys.

News9.com – Oklahoma City, OK – News, Weather, Video and Sports |
The horse was corralled in a field off of SW 3rd and Walker, News 9 reports, after it had ran across roads (and luckily wasn't hit by a car). Officials were relieved to get the mini in custody before morning rush hour.
While it is still not known who the horse belongs to or why it was on its own, Oklahoma National Stockyards Company's Jay Lewis told News 9 that the company "will feed the animal and care for it until the rightful owner comes to claim it."