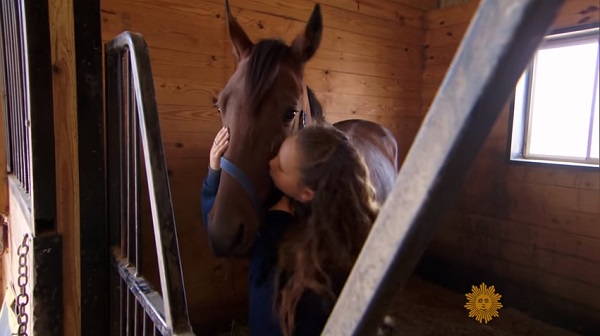 When 10-year-old Breanna Carsey was 8, she asked her parents for a horse. She wanted to raise a foal to become a harness racehorse. It was her dream. Her parents were worried about cost, the fact that they didn't have a farm of their own (more costs for stabling) and the unlikelihood that the horse their little girl chose would become a champion racehorse. However, Breanna's father, Brian, couldn't say no.
Breanna chose three Standardbred horses she liked from the catalog at the Blooded Horse mixed sale in Delaware, Ohio. Unfortunately, none of them were available. With only a $2,000 budget, Brian was worried his daughter would be disappointed. Instead, he had her look through the catalog again. "She opened up the sale book and she picked out Imageofasweetgirl," Brian told Harness Racing Update. "It was a broodmare, in foal to Trainforthefuture, so I told her she made a good pick. [We] were able to buy her for $1,700."
They had invested in what some would say was a far-fetched dream of a little girl, but she never lost faith in it, even naming the foal MJB Got Faith. The letters in the foal's name stand for Mackenzie, Jordan and Breanna – the Carsey children.
It's pretty unusual for a kid to own a racehorse, much less to manage a horse's racing career, but her father says that Breanna is very much responsible for MJB Got Faith.
"At first, we thought, 'Ok this is your horse, but maybe in reality it isn't going to be your horse,'" Brian told Harness Racing Update. "We didn't think she could really manage the horse. But my daughter had so much faith in this horse. My wife (Debra) and I…decided we needed to teach her that you can't always get everything you want out of life and sometimes you need to make tough decisions, and that is what would be best for her. She is going to be in charge, she is going to make the decisions."
The Carseys and trainer Steve Carter worked with MJB Got Faith. The training, the horse's ability and Breanna's faith in him led to him winning his first four starts, all of which were in Ohio Stakes. Knowing that other horses appeared stronger, faster, Brian told Breanna that when MJB Got Faith raced in the final if he placed third she should be proud. Breanna told her father that it didn't matter where he placed, she would be proud, but "He's going to win."
She was right. MJB Got Faith earned his 10-year-old owner $112,500. She's donated some of it to charity, put some away for college and plans on using the rest toward her own farm, Harness Racing Update reports. Her father suggested that the cost of the farm could be covered faster if MJB Got Faith raced in some open stakes throughout the rest of the year. But Breanna put her horse's health and happiness first; the horse had to rest, she said.
Got Faith's story will continue with the start of next year's racing season. In the meantime, CBS This Morning picked up the Hollywoodesque story and made Breanna and her dream horse stars beyond the limited world of harness racing. Regardless of what happens with Breanna and Got Faith, they now have a nationwide fan base cheering them on.