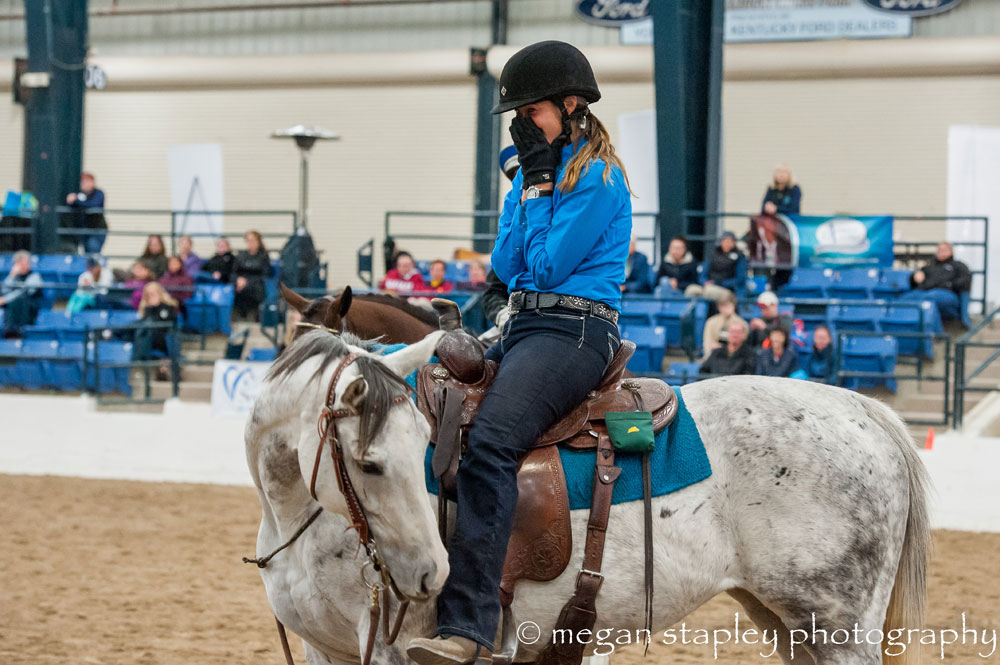 Trainer Lindsey Partridge reacts after hearing her horse, Soar, announced as the winner of the "America's Most Wanted Thoroughbred title. Scroll down to watch a video of the pair's freestyle performance. Photo: Megan Stapley Photography/courtesy Retired Racehorse Project
Last weekend, Thoroughbreds descended on the Kentucky Horse Park en masse, and not just galloping around the steeplechase track or jumping over stadium fences. Part of the Thoroughbred Charities of America and the Retired Racehorse Project's Thoroughbred Makeover and National Symposium, the breed of choice competed in disciplines ranging from polo, show hunters, barrel racing, dressage, eventing, field hunter, showjumping, working ranch and competitive trail.
The competition, designed to highlight everything Thoroughbreds can do when their racing careers are over, crowned one winner, dubbed "America's Most Wanted Thoroughbred," and dished out over $100,000 in prize money, divvied up between discipline winners and the overall champion.
How It Works
Designed to showcase what these ex-racers can do with just a few months of retraining, the event hosted nearly 200 horses and brought riders from 44 states, the United Kingdom and two Canadian provinces to the Park to show off what their horses had learned in a short amount of time.
In order to be eligible to compete in the Makeover, a horse must have a Jockey Club tattoo, and have been raced or be in race training after January 1, 2013. The horse must also not have had any significant training for anything other than racing before January 15, 2015.
While each competitor had to declare what discipline they would like to compete in, each rider had at least one chance to ride before the judges. The top three competitors from each discipline were then invited to compete in the Thoroughbred Makeover finale, which took place on Sunday. Each horse was placed first, second or third in their respective division and an overall winner, dubbed "America's Most Wanted Thoroughbred," was then chosen from the 10 discipline winners.
Ironically, the horse claiming the winning title was not an American at all; the winner was Soar, a 2007 Canadian-bred mare ridden by Ontario-based trainer Lindsey Partridge.
The Power of Social Media
Partridge's training business entails locating retired racehorses, then working diligently to train them in a discipline that suits them well, taking into account any physical limitations they may have and also what they enjoy doing; she then sells them to people looking for anything from a show horse to a recreational ride.
While Thoroughbred enthusiasts around the world were able to follow the competition via livestream and Facebook updates, social media also helped Lindsey locate her winning mount. Found from a picture on Facebook, Partridge bought Soar specifically to be her Thoroughbred Makeover mount. She also brought Lionofwallstreet from Canada to Kentucky to compete at the Makeover.
Partridge competed in both the Competitive Trail division and the Freestyle division on both horses, qualifying for the finals Competitive Trail on both horses and also for the Freestyle with Soar.
Riders in the Competitive Trail division completed an American Competitive Trail Horse Association style 6-mile ride over the iconic Kentucky Horse Park grounds, with one obstacle per mile (think water crossings, gate openings, etc.; a list of approved obstacles for the division can be found here: https://www.actha.us/obstacles). The Freestyle division was a catch-all division that allowed competitors to compete their horses in any manner that didn't fall into the other nine disciplines offered.
In the Freestyle division, Soar was able to show off her speed, bravery, movement and more. Take a look at her winning ride in the video below:
Something for Everyone
Also available to Makeover attendees were dozens of seminars all relating to the Thoroughbred; they included everything from aftercare, sport horse training and vet care to how to sell your horse and everything in between. Shopping, the launch of the new Off-Track Thoroughbred magazine, a Thoroughbred Marketplace and a "Picking Prospects" seminar hosted by David Hopper, Bernie Traurig, Denny Emerson and Tiffany Teeter rounded out the fun-filled weekend.
Check back at the Retired Racehorse Project's website for full results and information on the 2016 event! www.retiredracehorseproject.org
Sarah Coleman has a soft spot for chestnuts
with chrome, including her off-the-track Thoroughbred that she competes
in the hunters. Based in Lexington, Ky., she is the Director of
Education and Development for New Vocations Racehorse Adoption Program.