NBC29 WVIR Charlottesville, VA News, Sports and Weather

Back in October, more than 80 horses were rescued from an apparent neglect situation at Peaceable Farm in Orange County, Virginia. For some, it was too late. The dozens of horses taken out of that animal cruelty situation were placed with rescuers, but taking care of such a large number of horses is difficult. The rescuers have since created wish lists to help them do so.
Businesses – including an insurance agency and a nail salon as well as farm supply stores – have been joining forces to get the rescuers what they need to care for these horses. Many of the items have been collected at Dover Saddlery in Seminole Square Shopping Center, where customers are eager to show their support and help out. So far the saddlery has delivered several truckloads of supplies to the rescuers.
"This is sort of ground central for a lot of the horse community," Dover Saddlery manager Shawnee Baker told NBC29. "Most of us are willing to take this project on for the long term and see what we can do to help the animals that have survived."
It is hoped that the events at Peaceable Farm serve "as a lesson for the community to watch out for the welfare of animals," NBC29 reports.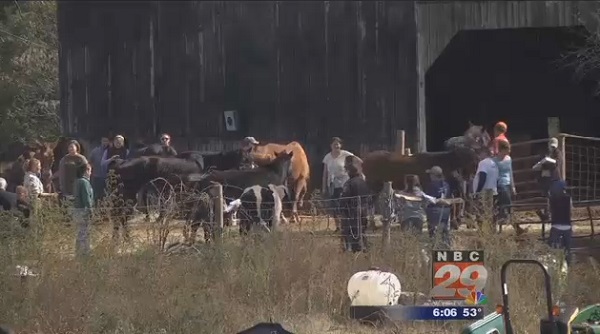 A website and Facebook page have been set up for the Peaceable Farm survivors.