Cristal Barton of Kenai, Alaska, is 26. She is also autistic, though highly functioning. Barton previously spent the majority of her day in her bedroom… until she met Major, a now 35-year-old horse. He has helped her tremendously when it comes to processing her emotions.
"Surviving, learning, living and loving unconditionally. He saved me and I saved him," Barton told KTVA. "In case I have problems or I'm frustrated or I'm sad or I'm pure angry, I use Major as my way of calming myself quickly."
Barton's mother, Kim Garretson, agrees, telling KTVA, "When you watch your daughter go from 23 hours a day in her bedroom to eight or nine, that's substantial."
That substantial improvement did not come without any complications. Because their home sits on a quarter-acre lot, it is deemed too small for Major, according to Kenai city code, KTVA reports. The Planning and Zoning Committee told the women last September that Major could no longer reside on the property. Seeing the importance of Major as an emotional support animal for her daughter, Garretson appealed the Committee's decision and requested a conditional use permit.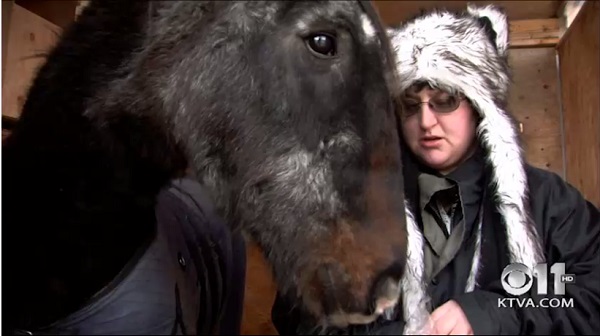 Major acts as Barton's emotional support horse.Screenshot via KTVA

"I love my daughter and as a mother I will do anything and everything to make sure that they have what they need to live a full productive life," Garretson told KTVA.
Thankfully, Major and Barton do not have to be separated (which would have been terrible for both of them). They were granted the conditional use permit yesterday.