Over the years, the White House has been home to a wide variety of animals; from dogs like Bo (the Obamas' Portuguese Water Dog) and Millie (George and Barbara Bush's English Springer Spaniel) to more exotic pets such as Abraham Lincoln's goats, John Quincy Adams' silkworms, and Benjamin Harrison's opossums.
However, on this Presidents' Day, we thought it would be appropriate to remember some of the famous equine members of the presidential households. They may not have lived in the White House themselves, but these horses have earned a place in history. Here are a few of these presidential equines.
George Washington. (1890) [New York: Cosmos Pictures Co., between and 1900] [Image] Retrieved from the Library of Congress, https://www.loc.gov/item/98501986.
Old Nelson, Blueskin, and Magnolia
Although we don't know their breeds, we do know that Old Nelson and Blueskin were two of George Washington's favorite horses. He rode the two of them throughout the Revolutionary War, although he preferred riding Old Nelson in battle because Blueskin was shy of gunfire. After the war he retired them both to his estate, Mount Vernon.
Magnolia, however, was not a warhorse, but a prize stallion and riding horse. Magnolia was reputed to be a paragon of equine virtues and was a popular stallion in the colonies, but Washington gave him to Lighthorse Harry Lee in 1788 in exchange for a huge parcel of land in Kentucky.
Cold Harbor, Virginia. U.S. Grant's horses: on left, EGYPT, center, CINCINNATI, right, JEFF DAVIS. (1864) [Image] Retrieved from the Library of Congress, https://www.loc.gov/item/cwp2003004802/PP.
Cincinnati and Jeff Davis
Ulysses S. Grant had a wide variety of horses in his time, especially during the Civil War, when it seems he was constantly acquiring new horses to ride in battle. But his most famous horse, and his favorite, was a 17-hand Thoroughbred named Cincinnati, a son of the legendary racehorse Lexington. He rode Cincinnati throughout the latter part of the war, including to the surrender at Appomattox Courthouse. You might even say that Cincinnati was a favored horse of two presidents; the other one was Abraham Lincoln, who—according to Grant—rode Cincinnati every day during a visit to the camp.
Jeff Davis was a black pony that the Union Army captured from the plantation of Jefferson Davis' brother, Joe. Jeff Davis was originally given to Grant's son Frederick, but he quickly became one of Grant's preferred riding horses, and after the war ended he had a happy home with the Grants.
Thruxton
This presidential equine belonged to Andrew Jackson, and in 1806 Thruxton was the indirect cause of a duel. Thruxton was one of Jackson's racehorses, and an argument took place between Jackson and another racehorse owner, Joseph Erwin, over the outcome of one of Thruxton's races. The argument soon escalated to the point of Jackson challenging Erwin's son-in-law to a duel. Jackson won, and Thruxton went along to the White House when Jackson was elected president.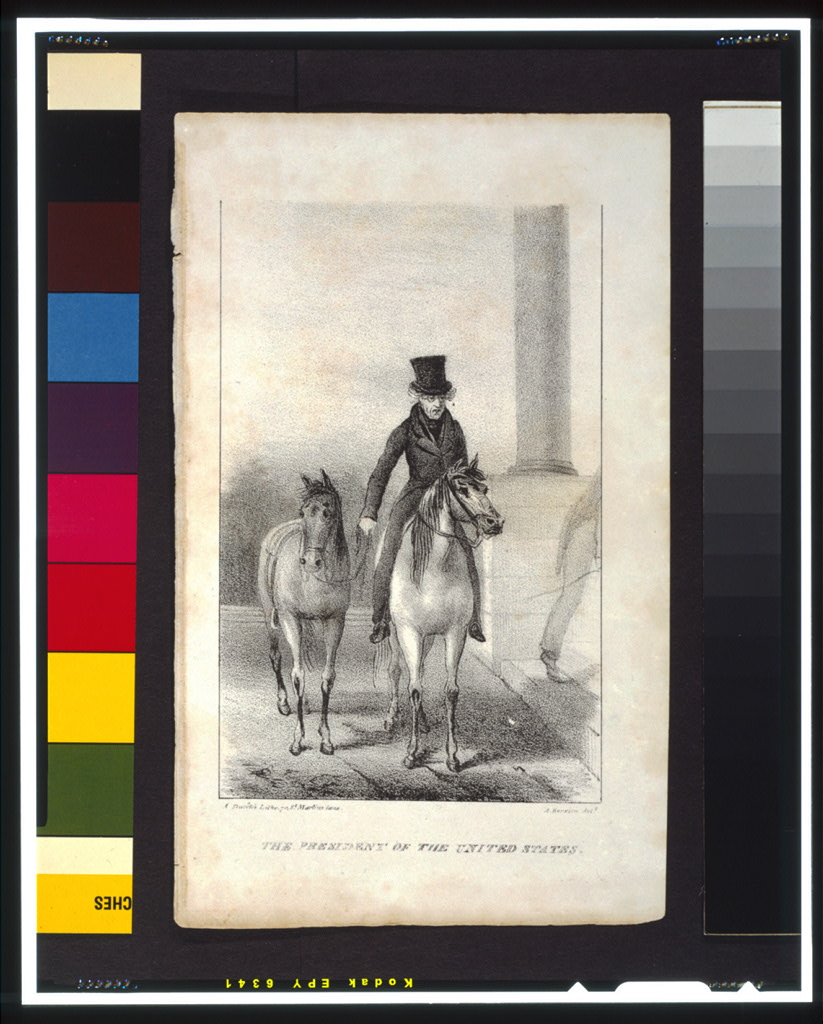 Ducôté, A. & Hervieu, A. (1829) The president of the United States / A. Ducôte's Litho. 70, St. Martins lane ; A. Hervieu delt. [Image] Retrieved from the Library of Congress, https://www.loc.gov/item/98519835.
Jackson also brought many other horses, including Sam Patch and Lady Nashville, to the White House and had a stable built there specially for them.
There have been many other horses owned by U.S. presidents and their children; Macaroni, for example, was a part-Shetland belonging to Caroline Kennedy. The Kennedys also had two ponies named Tex and Leprechaun and a horse named Sardar. Algonquin and Fidelity were two ponies that belonged to Teddy Roosevelt's family. Other presidents had ponies and horses named Mason and Dixon, Old Whitey, The General, Caractacus, Cleopatra—the list goes on and on. It just goes to prove that horses are definitely a favorite among U. S. presidents!
Samantha Johnson is a freelance writer and the author of several books, including The Field Guide to Horses, (Voyageur Press, 2009). She raises Welsh Mountain Ponies in northern Wisconsin and is a certified horse show judge. Follow her on Twitter: @miraclewelsh