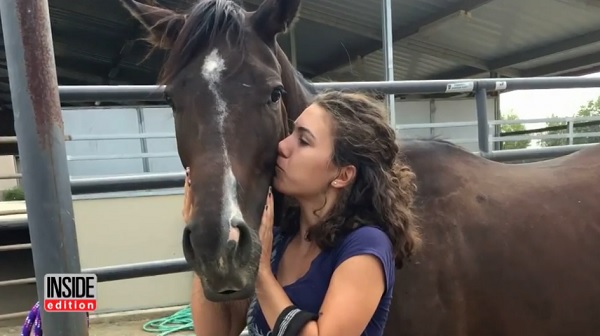 The owners of the horses
who died as a result of the tainted feed are devastated over their loss. Screengrab via Inside Edition


Last September five horses died at Black Fence Farms in Clovis, Calif. after consuming Monensin, a toxin to horses that was reportedly found in Western Milling's Western Blend Horse Feed. The product has since been voluntarily recalled. Unfortunately, the recall did not come soon enough, and the death count is now up to 13 horses.
As a result, Katie Flanagan, owner of Black Fence Farm, has filed a lawsuit against Western Milling, KMJ NOW reports. It was filed on Feb. 25 in the Fresno County Superior Court.
"We watched our horses die, not only for the first 48 hours, horrifically die, seizures, crashing through fences, falling down on top of buildings, the most horrific things you could ever imagine witnessing, horses were dying so violently we couldn't even get them euthanized because the vets couldn't even get next to them," Katie Flanagan told KMJ NOW.
Inside Edition released a video of footage of the horses' deaths, as well as footage of various horse owners' thoughts and feelings about the loss and potential loss they have experienced. Warning: the video, shown below, is graphic and disturbing. Watch with caution.


According to KMJ NOW, attorney Sean Simpson said that the feed contained toxic levels of Monensin. "They could do it right, if they didn't put profits over safety, if they had necessary safety precautions we wouldn't be here."
Simpson told KMJ NOW that the lawsuit is asking for a multimillion-dollar figure. Flanagan said that she wants Western Milling to "pay for the loss of her horses, the new horses she has had to purchase and pay for the care of the horses that still have lived but have been damaged and may still die from the poison."
"The main reason we're here is so that these people who have lost horses to either illness or death, can be treated fairly and given reasonable compensation what they've lost," Simpson added.