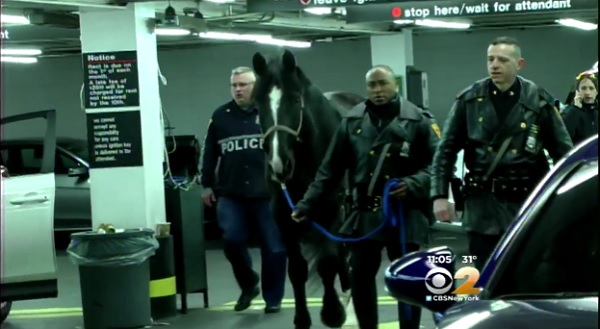 It's probably safe to say that we all know someone who's had an "unscheduled dismount" when their horse spooked (it may even have been us). Last night, a police officer from NYPD's Mounted Unit was unseated from his horse, Gunny, thanks to a loud noise.
Gunny heard the noise around 7:45 p.m. when he and the officer were on 48th Street between Sixth and Seventh avenues,
CBS2 reports
. The officer, who has not been named, was thrown and Gunny bolted east toward Sixth Avenue. Fortunately, Gunny remembered how to get to the place where he and his fellow equine officers hang out. He headed south to 47th Street and then went west to a parking garage the mounted police officers take their horses to during breaks.
Gunny and his human partner are reportedly uninjured, although a few vehicles took some damage during Gunny's run through the city.
While three vehicles were damaged during Gunny's run, the officer was not injured. However, as a precautionary measure, he was taken to Bellevue Hospital Center.