Update 3/14/16: The mosaic of Olivia Inglis, created using some of the countless images shared under the hashtag #RideForOlivia by equestrians around the world, has been unveiled: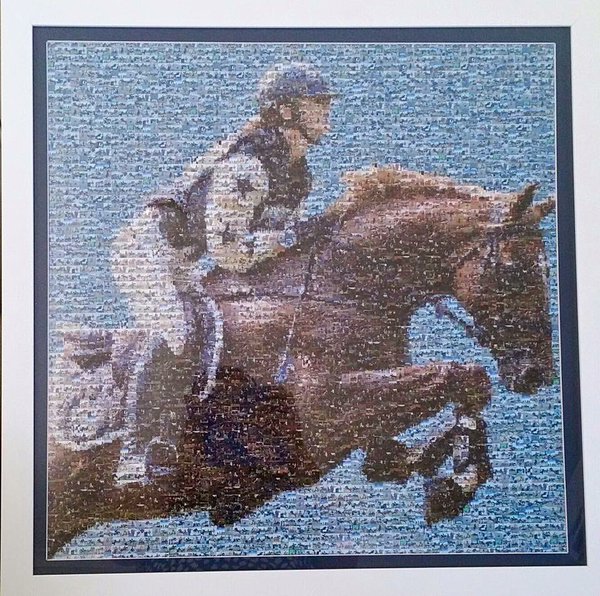 Original Article posted 3/9/14:
As you likely have heard by now, tragedy befell the equestrian community when a young rider named Olivia Inglis died during an event in New South Wales, Australia on Sunday. The 17-year-old died after a rotational fall of her horse, Coriolanus; he reportedly caught his knees on the fence and flipped over, crushing Inglis. Paramedics rushed to help Inglis, but sadly they were unable to save her. It has also been confirmed that Inglis's Coriolanus was euthanized on Tuesday under recommendation from a veterinarian because the fall resulted in a displaced fracture in his neck.
In touching tribute to the young equestrian, people from all over the world are posting notes and photos of themselves and their horses using the hashtag #RideForOlivia. The images will be compiled and made into a photo mosaic and given to Olivia's parents.

#rideforolivia today and every day pic.twitter.com/0GfTgA2voF

— Charlotte Dujardin (@CSJDujardin) March 8, 2016
Today we #RideForOlivia.
We
offer our condolences to the family of Olivia Inglis. #HorseHour
pic.twitter.com/8wBBP8d6hp

—
BlackStarSportHorses (@blackstarhorses) March
9, 2016
#rideforolivia
pic.twitter.com/V4nZpyvsOI

—
Chrissy Mae?? (@CFMhorses15) March
9, 2016
Such sad news ??
#RideForOlivia
pic.twitter.com/brTDNcmL78

—
Xanthe (@XantheMarieX) March
9, 2016
L'équitation un sport magnifique et à haut
risque.. RIP ?? #rideforolivia
pic.twitter.com/RJAhQiXFp0

—
Barb (@Barbarac20) March
9, 2016
We
know how dangerous is, but we still love it. En los corazones de todos jinetes
y amazonas #rideforolivia
D.E.P pic.twitter.com/oRJGAYppm7

—
Laura dSC (@desancris) March
9, 2016

Inglis's parents, Arthur and Charlotte, have spoken out about the tributes. "We have been overwhelmed by the kindness and sympathy from family and friends throughout the school, equestrian and thoroughbred communities. We are so proud of Olivia and the beautiful young woman she was in every way. We are blessed to have had the opportunity to share our passion for horses with our children. This has led us on a great journey where we have been able to spend countless happy moments and special family times. So much to celebrate and a life so joyous and well lived."
The services are scheduled for Monday, March 14, in Sydney. To participate in the #RideForOlivia project, simply post a favorite photo of yourself and your horse on social media and include the hashtag #RideForOlivia.