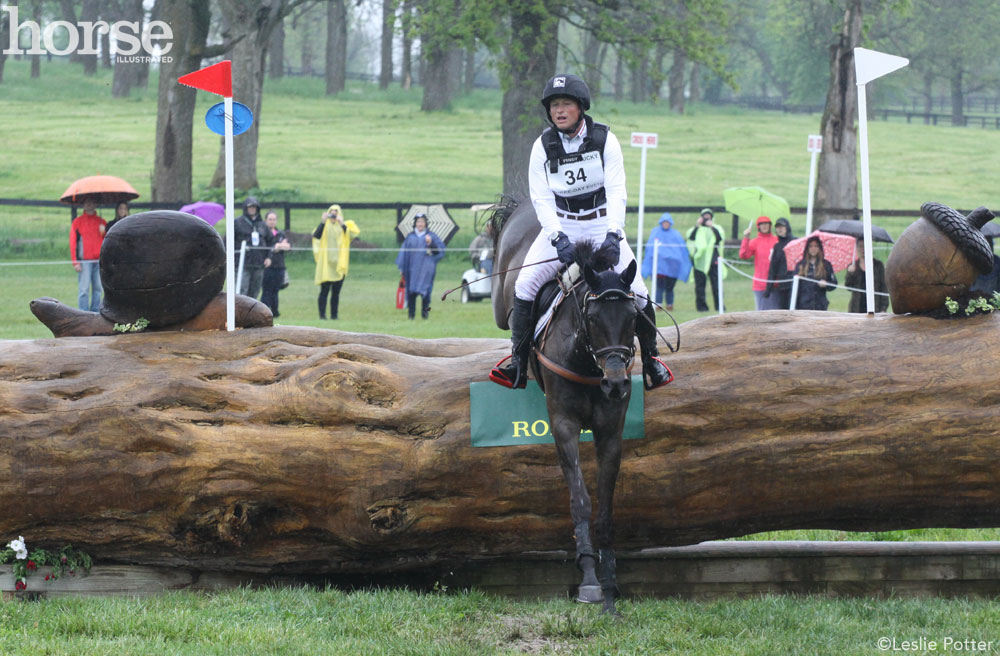 Michael Jung and Fischerrocana FST
Under rainy skies at the Kentucky Horse Park in Lexington, Ky., the unstoppable Michael Jung of Germany put in a brilliant cross-country round and maintained his vast lead at the Rolex Kentucky Three-Day Event.
Due to the increasingly soft footing, most riders were racking up double-digit time penalties while trying to jump cleanly. But Jung made it look fast and effortless aboard the mare Fischerrocana FST. This should come as little surprise, considering he is the reigning Olympic and Rolex champion. In eventing, so much can go sideways at any point, but for Jung, it very rarely does.
Phillip Dutton and Fernhill Fugitive
Next weekend he will compete at the Badminton four-star in England aboard his longtime ride, La Biosthetique-Sam FBW. If he wins here at Rolex (which appears likely) and at Badminton, he will complete the Rolex Grand Slam of Eventing and win a $350,000 bonus.
"I'm happy about my mare," said Jung of Fishcherrocana. "She was absolutely fighting and concentrating and trusting me. It gives you as rider a very good feeling. In the beginning, the idea was to give her more time galloping up the hills, but she was galloping fast, and at the end, she had enough power that I could go a little more forward."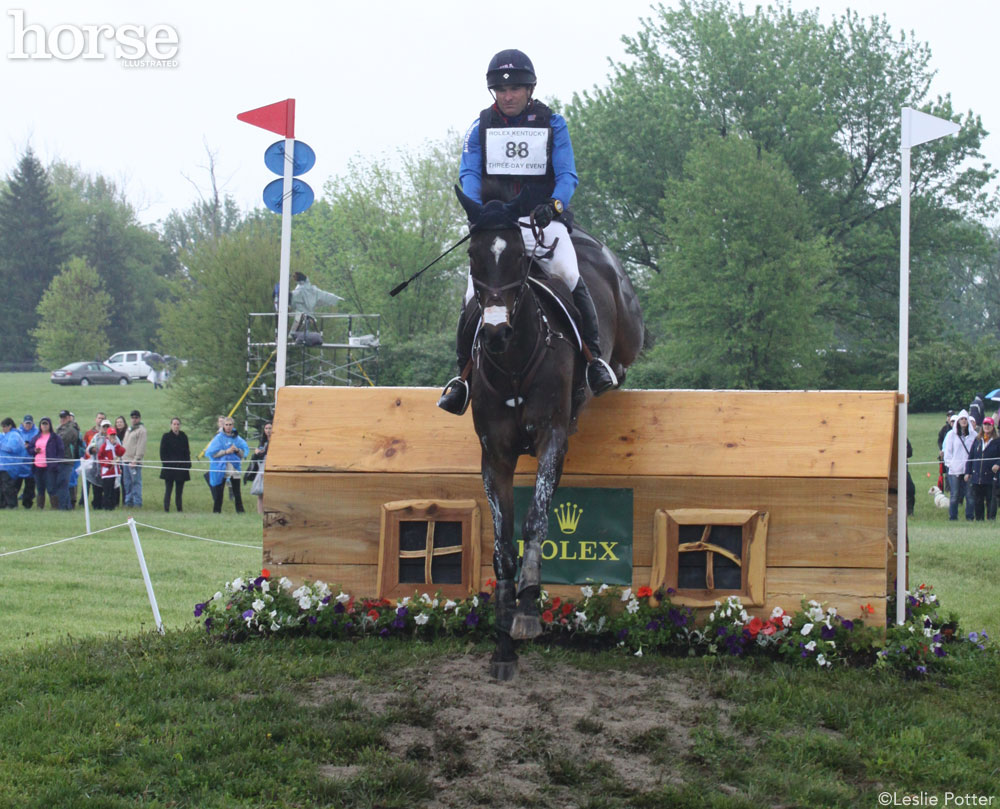 Phillip Dutton and Mighty Nice
Jung had the fastest ride of the day, only two seconds over the optimum time, for 0.8 time penalties. Allison Springer, who was in second place after dressage, had an unfortunate refusal with Arthur to drop them well down the leaderboard.
Third place finishers after dressage, Marilyn Little and RF Demeter, also had a mishap on cross-country, falling at fence 22, the Tobacco Stripping Bench. Both were up and OK after the fall.
Maya Black and Doesn't Play Fair
In fourth place after dressage, a third U.S. woman, Elisabeth Halliday-Sharp riding Fernhill by Night, withdrew from competition before cross-country.
As they say, "it's not a dressage competition."
Boyd Martin and Shamwari 4
Moving up from fifth to second with a quick and handy round were Phillip Dutton and Fernhill Fugitive. Having won Olympic gold for Australia before riding under the U.S. flag, Dutton was the last American to win Rolex (2008). He also moved up from 11th to third on one of his other two rides, Mighty Nice.
"It was not easy," said Dutton. "Especially as the day went on, the galloping was hard work pulling out of the ground. It's always hard to make time, but this year there were sharper turns, and if you ever got down on time it was hard to catch up."
Even with the poor weather, 34,552 superfans came out to watch cross-country.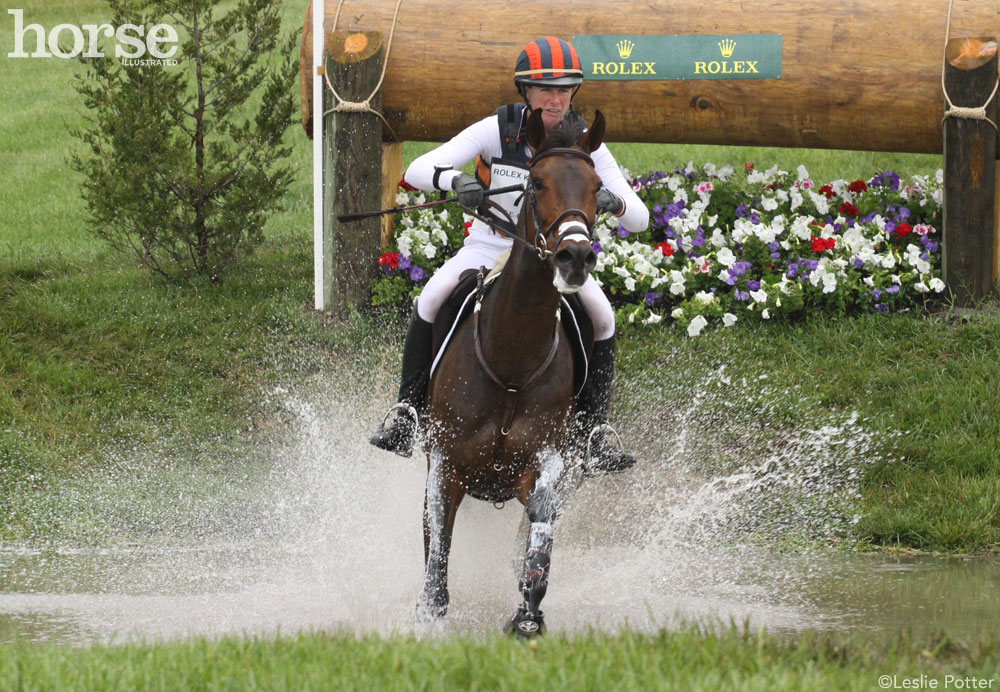 Lauren Kieffer and Veronica
Stay tuned for show jumping on Sunday. Even though Michael Jung has three rails in hand, it's still sure to be an exciting final day of competition where rails can get expensive: first place takes home $110,000, while second place takes home $55,000, on down to $2,000 for 20th place.
Go to www.rk3de.org for a complete schedule and placings.
Top 10 after cross-country:
Fischerrocana FST / Michael Jung (GER) 35.2
Fernhill Fugitive / Phillip Dutton (USA) 47.5
Mighty Nice / Phillip Dutton (USA) 49.8
Doesn't Play Fair / Maya Black (USA) 49.9
Shamwari 4 / Boyd Martin (USA) 50.2
Veronica / Lauren Kieffer (USA) 51.5
Landmark's Monte Carlo / Lauren Kieffer (USA) 52.8
Petite Flower / Buck Davidson (USA) 53.9
Fernhill Cubalawn / Phillip Dutton (USA) 55.4
Blackfoot Mystery / Boyd Martin (USA) 55.6
Petite Flower and Buck Davidson
Phillip Dutton and Fernhill Cubalawn
Boyd Martin and Blackfoot Mystery
Sinead Halpin and Manoir de Carneville
Mark Todd and NZB Campino
Matthew Brown and Super Socks BCF
Elisa Wallace and Simply Priceless
Catch up on all the Rolex news at HorseChannel.com/Rolex2016.